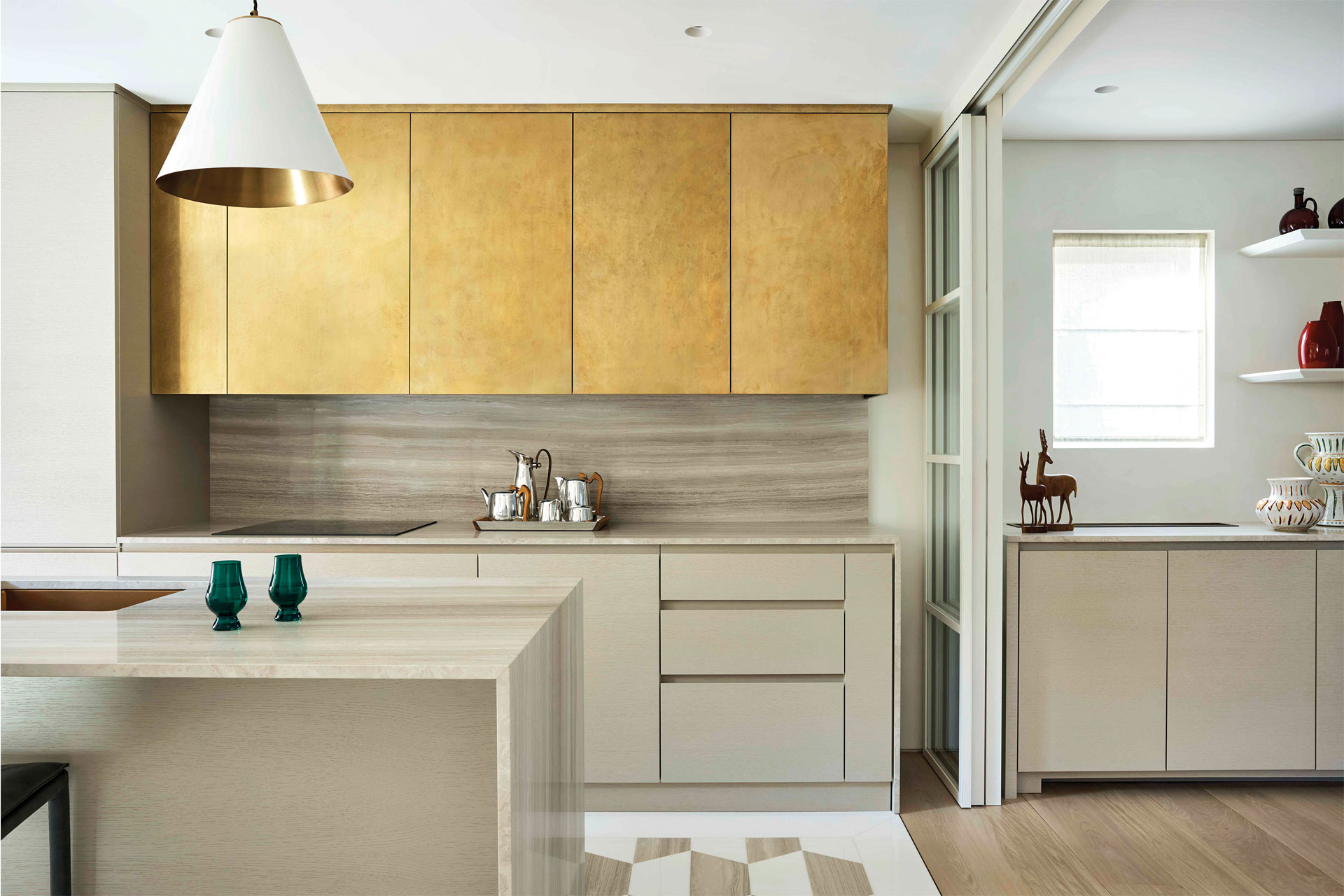 Carte Blanche: OWN LONDON Design A Contemporary West Kensington Townhouse
When given complete free reign by their clients, OWN LONDON produced an elegant living space for the whole family
Jorge Khawam and Harshida Gadhiya of OWN LONDON chat to Carole Annett about being given free rein to create a contemporary home in West Kensington.
Given Free Reign: How OWN LONDON Ran With It In A West Kensington Home
OWN LONDON is a multidisciplinary studio which spans the fields of architecture, spatial planning and interior design: a one-stop-shop for any project from small private residences to large commercial developments. 'We start with the principle that anything is possible,' explains head of design, Jorge Khawam. Here the client's brief for their terraced townhouse included three essential elements: to reconfigure main living areas for multi-functional use, to add in an extra bedroom and bathroom (they have three children and wanted each to have their own room) and to turn the small, dark rooms into light-filled, open-plan spaces. 'There was a high level of trust bestowed on us by the client, which allowed us to make informed and creative choices on their behalf,' explains Jorge, 'the success of the project is testament to that.'
The key challenge was to balance a need for space, while maintaining a sense of cohesion and harmony. Over the course of a year, the team reconfigured the property to suit the family, creating a basement playroom, laundry and loo, a ground floor formal living area and kitchen, master bedroom, bathroom and family sitting room on the first floor and at the top, three children's bedrooms and a shared bathroom. A U-shaped garden flows around the property. Once walls were removed, the stairs were widened and original cornice replaced with shadow gaps to enhance the feeling of light and space. 
OWN LONDON is renowned for its modern, eclectic approach: 'We love to bring in the unexpected,' says Harshida, 'like metallic-front kitchen cabinets which patina over time from the natural oils in your hands'. 
White Crittall doors divide the reception room and kitchen where Carrara marble in a bold geometric pattern covers the floor. The natural stone hues sit beautifully with the silver travertine of the worktop and light-reflecting warmth of liquid-metal cupboards.
Statement marble is also a highlight of the main bathroom which is like entering a forest glade. It is accessed via a door in a section of fluted wood panelling along a wall in the master bedroom. An air-conditioning unit and other essential but ugly service paraphernalia are all hidden behind the sleek frontage. Upstairs, clever use of space creates a third bedroom. 'We managed, through very thorough space planning to add an extra room and it is very, very small,' says Jorge, 'we even created a pull-out bed underneath so friends can stay.' The back wall, where the head of the bed lies, is all storage. 'We added a bit of playfulness with a fabric-wrapped panel on the wall, it injects warmth,' adds Harshida.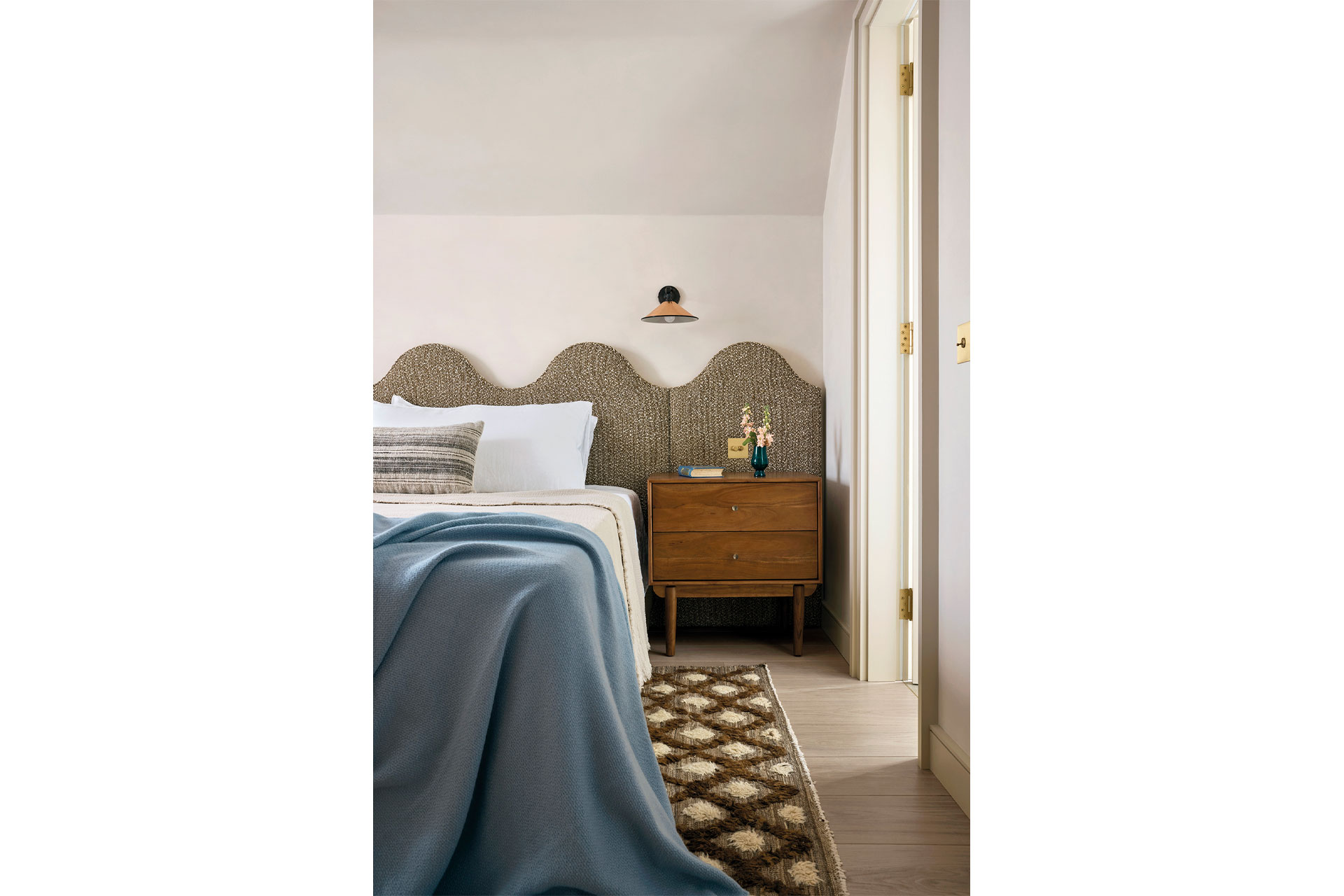 OWN LONDON sourced all furniture and decorative pieces for the house. They have their own supplier for sofas and armchairs so seating can be personalised for depth and height preference (the sofa here is upholstered in a Romo fabric) and the team actively seek out small suppliers such as Norfolk-based Laura Huston who makes ceramic lamps. 'We mix and match diverse elements to create a visually stimulating space,' says Jorge, 'We visit auctions and fairs and often buy without knowing where things will be used. We fell in love with the burr wood Art Deco bedside tables as soon as we saw them. They came from a European hotel that was closing down.' The client fell in love with them too and ones originally earmarked for the room were used elsewhere. The same happened with three carved north Indian print blocks that adorn niches along a wall originally intended for hanging pictures. 'It's sometimes only when you go in and start to install that things fall into place,' says Hashida. 
When it came to the Alejandro Correa artwork in the reception room, Jorge had no doubt. 'He's a Venezuelan artist from New York who paints these very cool, eclectic pieces. There is so much pain in there – I fell in love straight away. It's an angel with an aura and it's as if he is trapped within the square of the frame. It adds that punchy element to a room that makes you stop – hate it or love it, it stays with you when you leave the room. And that's what we wanted.'