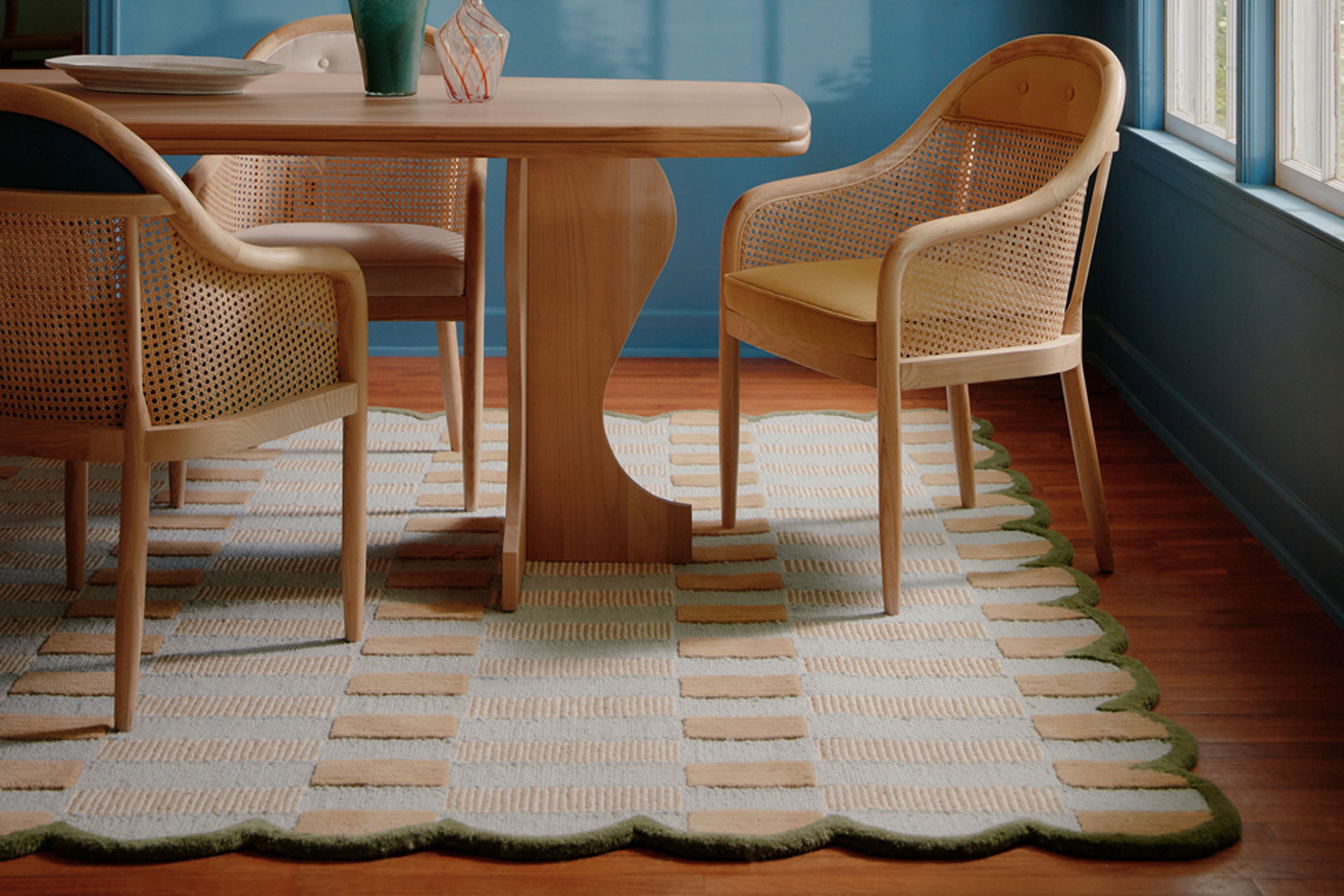 A Guide to Buying Living Room Rugs
---
Plus: five expert buying tips from the founder of Piglet in Bed.
Criminally underrated of all furnishings, beautiful rugs are the masters of making subtle statements; here are 10 of the best living room rugs.
10 Beautiful Rugs for Your Living Room
If we're honest with ourselves when we think of our perfect living room — a rug rarely is front of mind. Or sometimes it barely even makes a footnote. We tend to magpie for the bold aesthetic statements: be it the eye catching headboard, the knockout painting or trendy vase. And then we don't leave much budget at the end for the actual important stocky stuff.
But this is a woeful mistake: because investing in a beautiful rug is like buying socks for your wardrobe. Make the investment once, and you'll have it and cherish it forever in ultimate comfort and joy.
If your after a second hand rug. You'll want to follow @nataliavioletantiques and @louandpickle on Instagram for affordable gems, and Vinterior and Ourika for investment pieces. If you're buying new, Piglet in Bed have just launched a new range of rugs which we're loving if you're inclined for a more earthy chic look. Head to Loaf for cosy cream farm house minimalism, Soho Home for more contemporary design-led pieces at a higher price range, then The Rug Company for the ultimate statement piece that'll pack more of a punch than any artwork could compete with.
5 Living Room Rug Tips, From Piglet in Bed Founder
We speak to founder of Piglet in Bed, Jessica Hanley, who shares her best buying practices for sourcing beautiful rugs. 
1. Eyes on Size
Measure up your space. It sounds obvious but it's easy to end up choosing the wrong size. Consider whether you want to rug to go underneath furniture like sofas or tables or whether you want it to sit in the middle of the room. A rug that is slightly too big or small could make the space look cramped or smaller than it really is.
2. Texture is King
Consider texture. A rug is just an important as any other item of décor in your room, from wall colour, to art or furniture. Are you looking for warmth, for colour or for texture?
3.  Know Your Materials
Materials and care are important. We are more and more considered when it comes to our homeware purchases, so it's good to know as much as you can about sourcing and the eco-credentials of your rug. Is your rug made out of natural materials? Is it sustainably sourced? Choose a supplier that provides that information as they are more likely to have taken time and care over their products.
4. Get Practical
Think practically. Your personal circumstances are going to affect your rug-buying options. If you have pets or small children, a delicate white rug might not be the most practical option. If the rug is intended for the kitchen, you might want to look as how easy it is to wash or spot clean. If your looking for a rug for a high-footfall area like a hallway, you will want a hard-wearing material that will last. It's good to bear all this in mind when considering your choices.
5. Do you Actually like it?
Do you like it?! Ultimately, you want to buy something you love, regardless of the above! If a particular colour, design or style catches your eye, then go with your instinct. The most successful homeware purchases are the ones you love and have personal meaning to you, so with that in mind, it's hard to go wrong.
You can check out Piglet in Bed's new line of Jute rugs here: pigletinbed.com
SEE MORE
How to Buy an Antique Rug / 7 of the Best Moroccan Rugs
Main Image: Feather Marble Maroon Rug, £4,912, by Mary Katrantzou The Rug Company, therugcompany.com