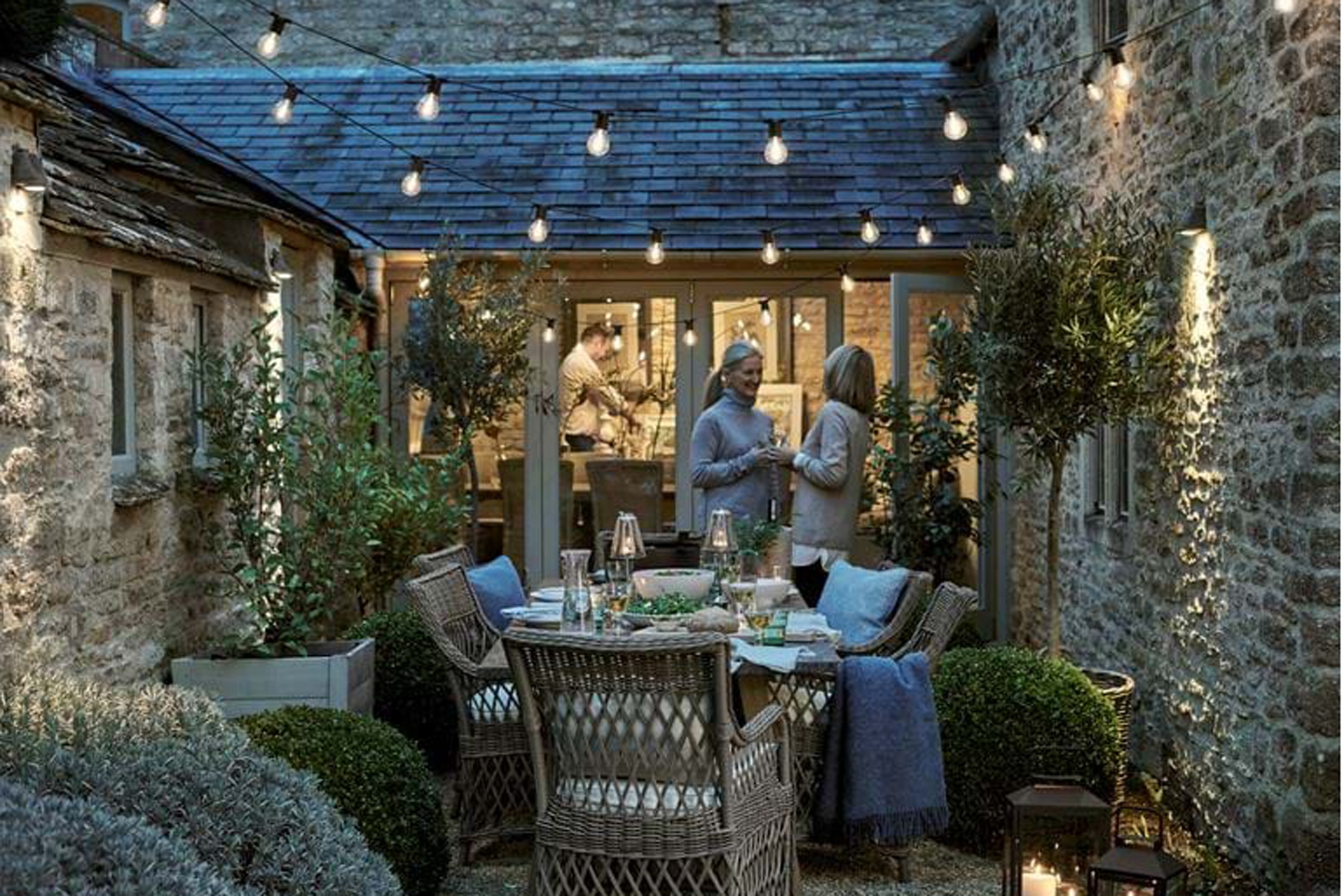 The Guide to Outdoor Lighting
---
Ready to light your garden like a film set? Read on for our guide to lighting your outdoor spaces
A garden, courtyard or lawn can be elevated to a magical space with a bit of dressing. Create an enchanting backdrop to an autumnal garden party (and wow guests) with flickering ambient candles, atmospheric torches and glimmering fairy lights threaded through foliage.
The Best Outdoor Lighting
The Ultimate Guide to Outdoor Lighting
Choosing your outdoor lighting
Sconces and wall lights are a good starting point to build the foundations of your lighting plan and beautifully elevate the exterior of your house. When it comes to style, you can play with contemporary or traditional (carriage, bulkhead or miner) designs to contrast your or complement architecture. Avoid overscaling which will overwhelm the rest of your scheme, and a statement feel can be achieved with an aged brass, pewter or matt black finish. Station your wall lights to frame and balance exterior doors and porches with plenty of space between fixtures.
The Best Outdoor Furniture Edit
A guide to lighting the ground
Add intrigue and interest to your outdoor lighting plan by mixing the levels of your lighting between ground, overhead and eye level. If you have decking (and more budget to play with) soft yellow spotlights are a good permanent option to soften the overall feel of your outdoor space. For a more easy-to-install option, stake lights or flaming torches look magical marking a pathway, or flickering from foliage borders.
Get your colour palette right
Softer, yellow light creates a burnished effect in the evening, setting a romantic mood for al fresco entertaining. For a sharper, more modern feel choose brighter, white bulbs and spotlights. If you're using natural candlelight, choose softer, golden-toned bulbs to build atmosphere.
Get Summer Ready With These Luxury Hot Tubs
Fairy lights and string bulbs
To create a touch of magic, you can't go wrong with strings of fairy lights glittering overhead. Luckily, there are plenty of options to match every size, shape and style of garden. For the more eco-friendly option, we love Cox & Cox vintage rechargeable solar powered bulbs. Period or walled gardens with crumbling stone walls and overflowing ivy and roses are a perfect backdrop for larger, modern bulbs like these ones from Neptune. And if you're lucky enough to have a pergola, this is the perfect frame through which to thread string lights to cast a soft, flattering glow from above.
Stylish Ideas for Postage Stamp Gardens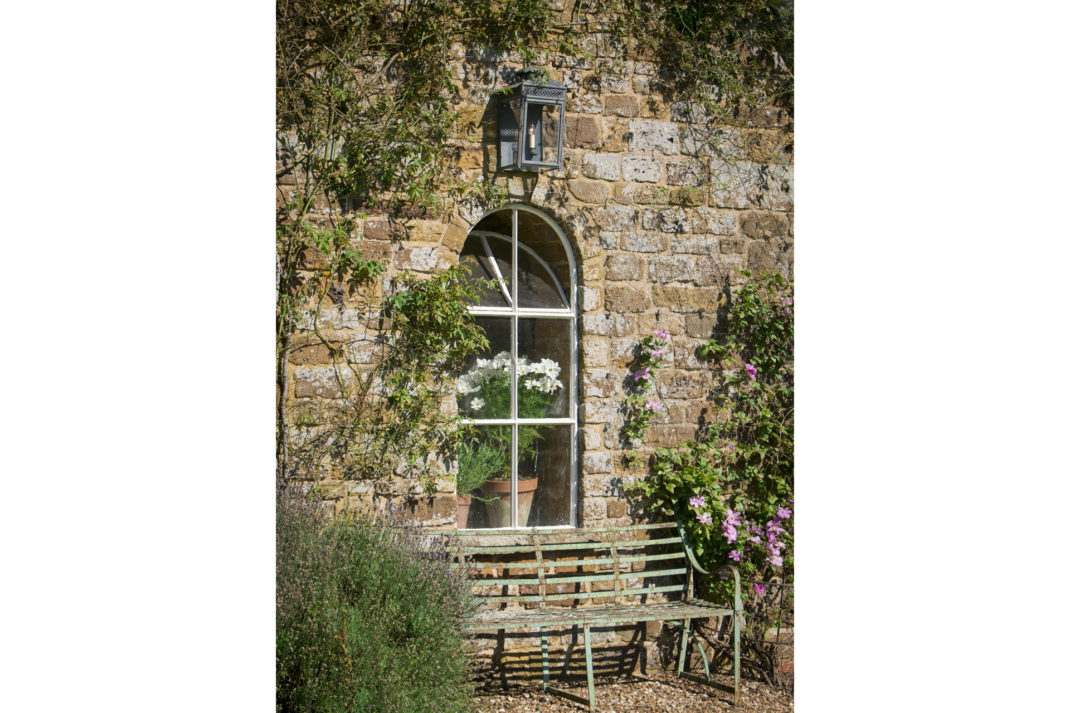 Layering outdoor lighting
Now that you've expertly planned your outdoor lighting you need to go about creating ambience and incorporating a little character and enchantment. You can't beat candlelight for atmosphere, so hurricane lanterns are a must. Choose different sizes and styles to cluster together in corners for a relaxed, cosy feeling. You can also station hanging lanterns by doors, on side tables, or (if you have them) in stone alcoves and ledges to create small moments of interest around your garden.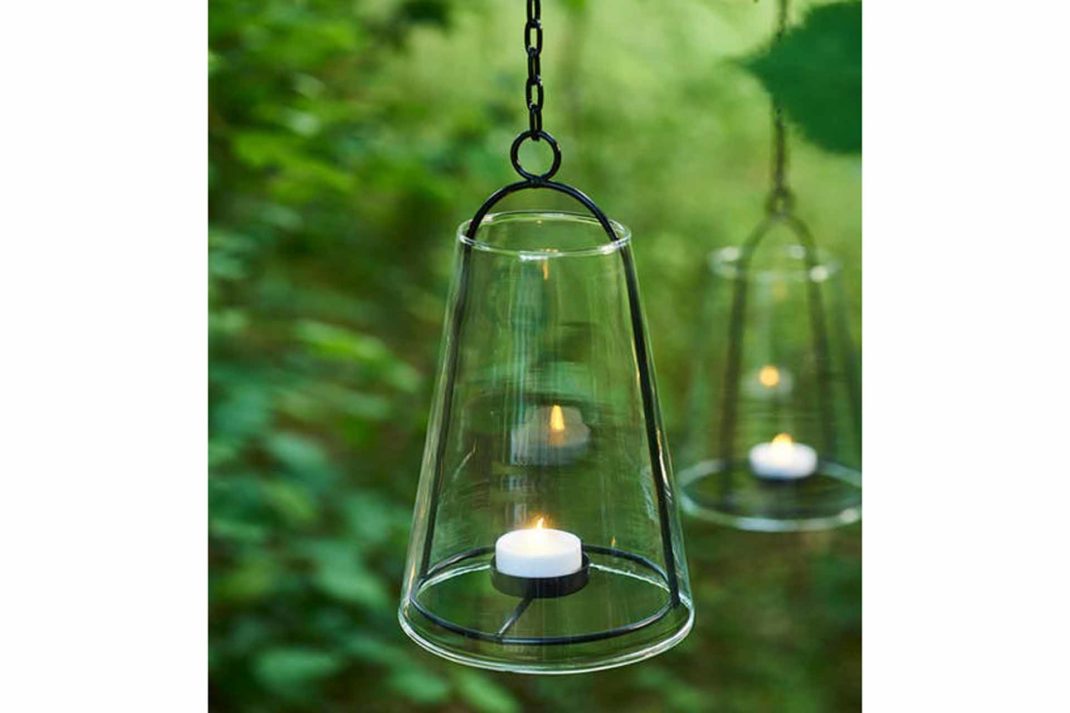 Small scale lighting
If you're working with less space or want a busier, brighter feeling, smaller hanging tealight lanterns work just as well strung up in a line or hanging like decorations from smaller potted trees. Or, scatter across surfaces and trestle tables with bud vases of wild flowers. Just make sure you choose well-contained tealight holders to avoid any fire hazards – we're a fan of Sarah Raven's statement glass lanterns.
Main image: Neptune
READ MORE
The Best Outdoor Furniture Edit / The Fanciest Barbeques and Outdoor Kitchen Accessories / Get Summer Ready With These Luxury Hot Tubs