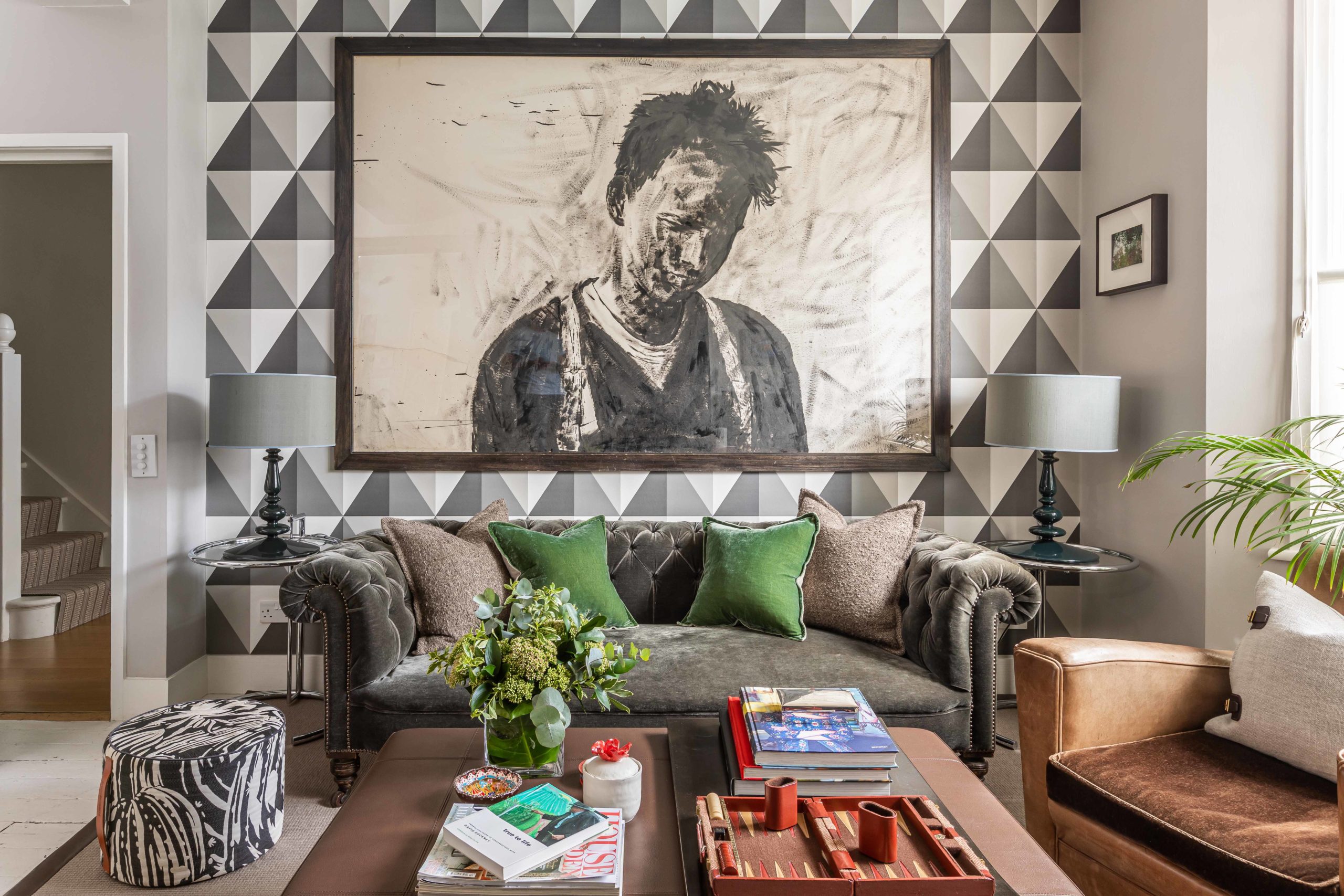 At Home With… Henrietta Holroyd
---
Interior designer Henrietta Holroyd shows C&TH around her London home
Interior designer and decorator Henrietta Holroyd's eclectic, light-filled London home weaves together global influences with pieces from local artisans and makers.
At Home With Henrietta Holroyd
What's the story behind your home?
I'm one of the Londoners who, after swapping city life to live rurally and then in Cape Town, returned here in 2003. Living in South Africa and then rural Gloucestershire in previous years was fantastic, but London offered everything I needed for my young family. My main priorities were finding a school and having proximity to green spaces for my children. Fortunately, a Victorian semi-detached house came up in probate just five minutes' walk from a school, in a pretty conservation area of tree-lined streets. It needed total renovation and I was ready for a fresh start so I could design a home unique to myself and my children. I put in a side return to the kitchen, extended the overall footprint to gain more space, and a loft extension and office followed.
What was your inspiration when it came to designing it?
I was inspired by the light when I lived in Cape Town, so I wanted to emulate this in my home as well as creating clever space solutions. I added light with picture windows, roof lights and full-width folding doors, and valuable spaces such as the utility room and larder that are cleverly hidden away from the kitchen and living area. Seventeen years later the internal spaces I created are still performing well, but a designer's mind never stops assessing and redesigning. My dream refresh would draw on the Japanese aesthetic, using clean lines, simplicity, and natural materials. I visited Japan three years ago and was captivated by the materials, architecture, and how everything is seemingly designed to have a purpose.
Do you have any interior brands that you love and always go back to?
Current loves are Christopher Farr Cloth for vibrant colours and patterns. I always return to George Smith for a sofa or armchair; they're timeless, built to last and so comfortable. Robert Langford is my go-to for designing headboards and bed bases – Robert is super helpful and always ready to collaborate. We're designing more and more bespoke items for our clients, so I've also found Instagram a brilliant tool for tracking down new suppliers and one-off pieces. For a mix of antiques and modern I head to Hastings and St Leonards-on-Sea which are both full of interesting independent shops, quirky specialist stores, makers and artists. Overall, our business ethos is to support local where possible – so for art, tableware and glassware we buy from artisan makers, ceramicists, potteries and artists' open houses.
What's your favourite room in your house and why?
Without a doubt the kitchen dining area: it's at the rear of the house, looking onto the west-facing garden and flooded with light. Although 17 years ago it was unusual in a residential setting, we installed doors designed by Cantifix which fold right back to open up the dining area onto the garden. These kind of bi-fold doors have now become standard, and they've endured the test of time beautifully. I also put in a large statement window which creates a 'picture frame' view of the garden. I have an extremely comfortable (probably vintage, by now) George Smith armchair in the corner, perfect for curling up in with a book with the doors wide open in summer, and watching the seasons change over the winter months. My gallery of wall art is emotionally meaningful. Set on an earthy Farrow and Ball Tanners Brown backdrop, it features pieces collected on my travels and paintings by both my daughter and my great grandfather. This room really is the heart of the home.
Does your house in any way reflect your profession?
It does in terms of being creative, but it's underpinned by my own personal style and is certainly an expression of my personal taste. When I'm designing for clients, I tailor my approach to reflect their personality and wishes. Everything in my own home has a story and meaning, and I try to do that with my clients homes. This could be adding new elements such as art that will be unique to them or ensuring an inherited piece of furniture becomes a focal point.
What's your best view?
In the kitchen, there's a picture window which frames the garden. Looking out onto year-round evergreen is a joy during the bleak winter months; it's a calming antidote to a busy life.
What's your signature dish – can you share the recipe with us?
I grew up on the Yorkshire moors, where tea and home baking was always part of the day.  It was often a choice between Victoria Sponge or, equally comforting and delicious, date and honey bars.
Ingredients
6ozs dates stoned and chopped
2 level tablespoons thick honey
2 tablespoons lemon juice
2 level teaspoons plain floor
4ozs self raising flour
2 ozs demarara sugar
5 ozs rolled oats
6 ozs melted butter
Method
Butter a 7 inch square, 1 inch deep tin and place dates, honey, lemon juice, plain flour and eight tablespoons water in pan. Bring slowly to the boil, stir and cook gently for 3-4 minutes. Mix self raising flour, sugar, oats and melted butter together and spread half onto the tin, pressing down well. Spread the date mixture on top and finish with the remaining oat mixture – pressing down evenly. Bake in oven at 190o degrees 375F mark 5 for about 25 mins until golden. Then cool in the tin for at least 30 minutes, cut into bars and ease out of tin. Recipe (source anon) from my mother.
Share your top five books with us if you were to start a book club – and why:
If I'm forced to choose, these are memorable:
A Tree Grows in Brooklyn, by Betty Smith – an American modern classic and coming of age story about a young girl who lives with her immigrant family in early 20th century Brooklyn.
Love's Executioner and Other Tales, by Irvin D Yalom – I studied psychotherapy and this book beautifully recounts Irvin Yalom's encounters with his patients. It's an inspirational book that I will always return to.
The House of The Spirits, by Isabel Allende – an epic novel that chronicles four generations of two families. It's full of magical realism, and Allende's creative imagination appealed to me.
Just Kids, a memoir by Patti Smith – I first went to New York in the 80s and reading this was like being right there again, listening to Patti Smith and being carefree.
American Dirt, by Jeanine Cummins – recently finished and a compelling read.
Share your must-see TV and movie list
As a side line to my interior design business I studied sociology so I'm drawn to films about the human condition. Tokyo Story by Yasujirō Ozu is a must: a beautiful piece of art and cinema based on a Japanese family's interaction with each other. A close second is Les Amants Du Pont-Neuf directed by Leos Carax – a romantic French drama set in Paris about two homeless people sleeping rough on the Pont-Neuf. For sublime style and art direction, A Single Man; and for inspirational colour schemes, Les Parapluies de Cherbourg. For binging on a Sunday afternoon, it would have to be This is Us, an NBC series about the ups and downs of family life set over three generations.
Describe your office space?
I've sequestered my office away at the top of the house, which helps create a physical separation from the distractions of being in the home. A few years ago, we opened up the roof space to create a light and airy space where the team can work comfortably together. We have a pinboard for ideas, samples and inspiration, an extensive material library and a long table for laying out schemes to get an overview of each project.
What's the first thing you do when you get up in the morning?
I tune into the Today programme on Radio 4, make myself a large glass of hot water and lemon, and sit in my armchair and look out onto the garden contemplating the day ahead. It's my own version of meditation. Then I shower, dress, drain a cup of Earl Grey tea from the Rare Tea Co and off I go.
And how do you love to spend your evenings?
For the last month I've been spending more time by the seaside – a bracing dip in the English Channel is a great way to end my day.
If you were to throw a party at home, what are the key ingredients to make it go with a swing?
Food, drinks, music, lighting and of course an eclectic mix of people. There must be lots of delicious food because there is nothing worse than leaving a party hungry. For those that don't drink, a mix of interesting non-alcoholic drinks, and a good quality cocktail for those that do. Dancing is good for the spirit, so every party needs a good playlist that includes a mix of genres; rock 'n' roll, swing, jazz and disco. The final touch is atmosphere-enhancing, ambient lighting – I like table lamps and the recently discovered Candled LED candles.
What gadget could you not live without in your home?
My Vitamix, it can blend a mean green juice and whizz up a warming hot soup in minutes. It was worth every penny!
How's your garden behaving at the moment?
My garden has been my saving grace during lockdown: as it's a relatively compact area, I built rendered borders to give an illusion of depth, and filled with box trimmed into various shapes. Unfortunately, these have been destroyed by box tree moth so we have replaced them with Euonymus japonicus which is a type of hedging that can be clipped into shapes. We planted Phyllostachys nigra at the rear to create a privacy screen. I'd love to extend this to make a row similar to the elegant, perfectly manicured bamboo wall at the private Nezu Art Museum in Tokyo designed by Kengo Kuma. I recently invested in an outdoor L-shaped sofa which not only looks great, but has plenty of room for social distancing (next on my wish list is a fire pit).
Whose home would you like to be a fly on the wall in and why?
The interior designer, Kelly Wearstler. I'm staggered at how much she gets done, and how well she does it. I'd love to know her secrets and see inside her wardrobe – she always looks fabulous.
Has lockdown made you reassess your work-home life balance?
In some ways yes, we've had to adjust how we work as a team and discussing projects with clients virtually. I'm currently working on a project in the Bahamas and another in the South of France so managing from afar has been a considerable challenge. I do miss the contact with suppliers, visiting showrooms and attending events. Last year I had the great pleasure being a panellist at Decorex for Camberyard, which this year will be a hugely different experience. I'm drawn to people, the visual and textures so looking through a screen doesn't have that same feeling for me, yet we're adapting like everyone else.
What makes a house a home?
However big or small, for me a home should be a welcoming place where, when you come in from the outside world you can recharge and feel free to be yourself. It's also a place where my children can have their friends over, and all generations mix together and enjoy each other's company. I'm big on comfort too: a comfortable bed for a good night's sleep, generous sofas to curl up on and read or watch TV, flowers to add colour, art for substance and greenery to connect with nature. A home should reflect you: a place to enjoy and make memories, imbued with your desires, layered with your chosen pieces and a place to relax, and be restful.
Follow Henrietta on Instagram @studiohydrox. henriettaholroyd.com
READ MORE