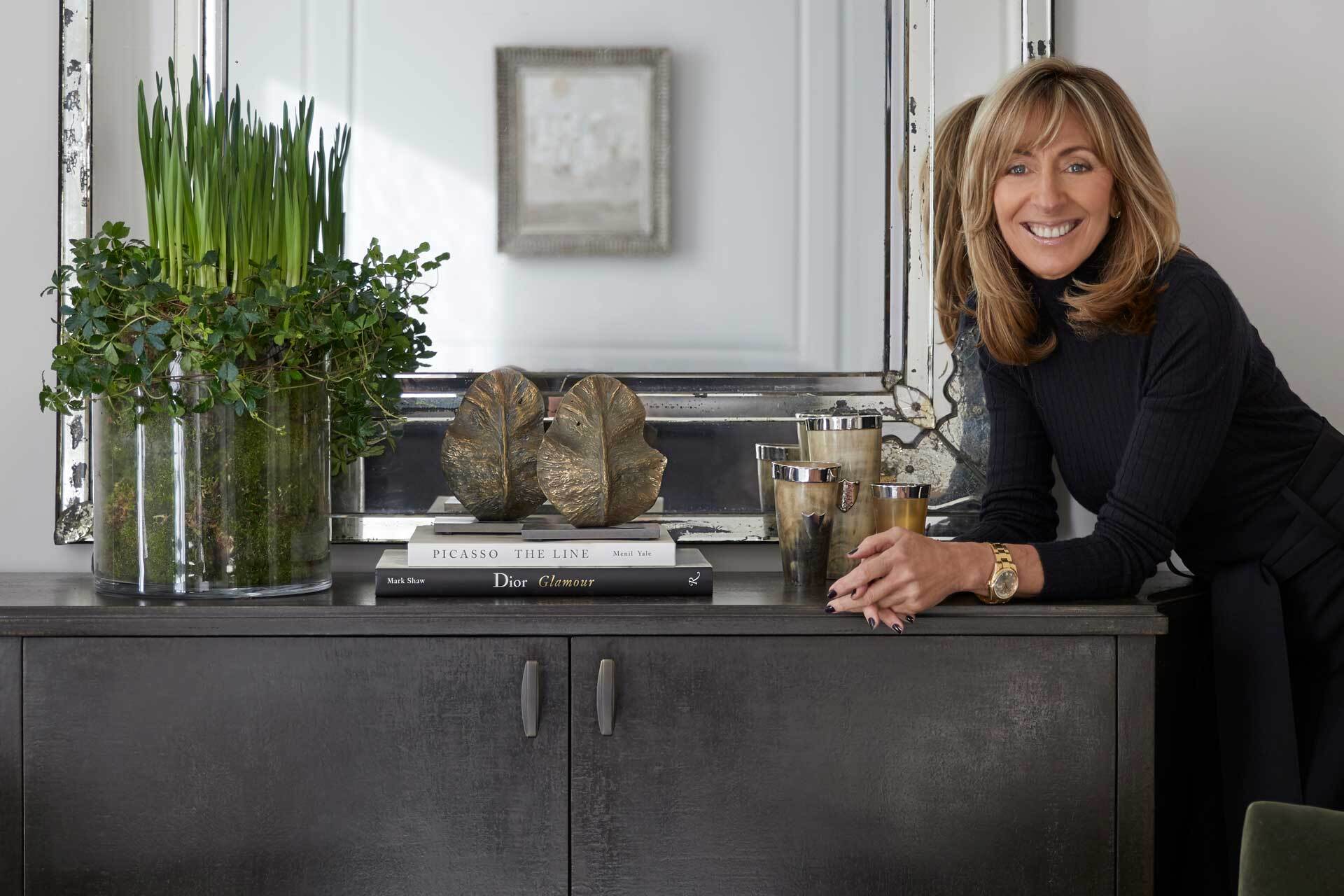 At Home With… Louise Bradley
---
Step inside Louise Bradley's London home
Interior designer Louise Bradley needs a close connection to nature, the outdoors and plenty of natural light…
At Home With Louise Bradley
What's the story behind your home?
It took me a few years to find the right London home. It's an elegant townhouse in the perfect location: walking distance from my studio and showroom, and in the heart of Chelsea. The house sits at the end of two parallel terraced streets, with wonderful views over the neighbouring gardens. It was one of my key requirements to be in central London, yet feel surrounded by greenery; a peaceful escape from the city. It took two years to completely redesign its interior architecture to create a space which suited my lifestyle, tastes and needs. All of the interior spaces were reconfigured, the only original remaining element is the façade – as it's in a conservation area.
What was your inspiration when it came to designing it?
I always had a vision of how I wanted my London home. Being in the creative business I'm in, I'm fortunate to be inspired in my work daily, and constantly sourcing and creating beautiful pieces for our clients. Whether it's my home in London or clients' residences in the UK, Europe or worldwide, we all crave a sense of luxury, but ultimately your home has to be a sanctuary for you to retreat to.
When designing my London home, the priority was to fill it with as much natural light as possible. It was important to me that I saw trees from every window, as I wanted the connection to nature – I'm a strong believer that our wellbeing thrives on being surrounded by nature. I introduced a light well into the basement area, which became an open plan kitchen with casual dining and a relaxed snug area. This brought in natural light and gave my much-loved Camellia tree a perfect home. It can be viewed wherever you are, and at night it's beautifully lit and adds a lovely statement to this space. This area really is the heart of the home, and the combination of natural finishes have all aged beautifully giving a real sense of character. On the ground floor, I created an indoor-outdoor garden room, using bespoke, bronze floor-to-ceiling windows with large doors leading outside, and natural finishes create a relaxed, organic feel to the interior. I often use this room for dining and entertaining as the outside space is beautifully lit in the evenings.
Do you have any interior brands that you love and always go back to?
When it comes to furniture, the pieces designed by our in-house product design team are always at the heart of our projects, and made by talented artisans in the UK. For a good night's sleep, I recommend Savoir beds dressed in beautiful bespoke bed linen handmade in Europe. For crockery and glassware, I'm a big fan of Jaune De Chrome for beautiful French artisan porcelain and I love to collect antique linens whilst on my travels to dress a table. Lighting is hugely important in every project, and I always work closely with John Cullen Lighting to add the final layer to a project.
What's your favourite room in your house?
In the winter, it has to be the open space in the lower ground level of the house. Whilst the property had an existing basement kitchen and dining space, I increased the footprint of both of the spaces and achieved higher ceilings by digging down and back. The resulting open plan kitchen/dining area/snug became the core of my home, perfect for both relaxing and entertaining.
In the summer, it has to be the ground floor and the garden room. I love spending time with the doors open – although only small, the garden is completely surrounded by jasmine and brings the outside in.
What can you see from your window?
I've taken great care when designing the house to maximise the natural light in all rooms. I framed the view as much as possible, and managed to achieve that even in the lower ground space which features a winter garden with my much-loved Camellia tree. In the bedroom, I've placed two Japanese cloud trees on the balcony so when I wake up, they're my first sight. The drawing room has a Juliet balcony looking out onto a small courtyard garden lined with jasmine – in the summer as it blossoms the scent is incredible.
What's your signature dish – can you share the recipe with us?
One of my favourite summer lunch dishes is a simple Madeleine Shaw recipe of roasted apricot chicken. It's so simple, takes very little preparation and it's always enjoyed by guests. Paired with a glass of ice cold rosé on a summer afternoon: bliss!
Share your top five books with us if you were to start a book club
I like to read or listen to Audible whilst at home. I like to read books that educate me and are focused on wellbeing and mindfulness. My recent reads include, Deepak Chopra The Healing Self, Daniel Goleman Working with Emotional Intelligence, and Rick Hanson's The Buddha's Brain. I also loved Paulo Coelho's The Alchemist, and for a summer read, Captain Corelli's Mandolin.
Share your must-see TV and movie list
I absolutely loved watching Normal People during lockdown. I'm also a huge fan of Big Little Lies – the acting and the writing is incredible, as are the homes and cinematography!
If you're working from home at the moment, how have you designed your space and have you got any tips for other home workers?
I've been working from home for a number of weeks now. However, we're slowly making the transition to going back to our studio; which I've definitely missed. At home, I've arranged my working space in the garden room ensuring I have everything to hand: from my notebooks to the laptop and phone. Its's been important to stay in touch with the team as they've also been working remotely, I must say they've all been amazing. My key advice for working from home is to try and stay in your routine and work from a space that has the best access to natural light – it'll make you feel healthier and more positive.
What's the first thing you do when you get up in the morning?
I'm usually woken up by Ellie, my miniature wire haired dachshund expecting her breakfast, before her walk in Hyde Park. That's a great time to collect my thoughts and plan the day ahead.
How do you love to spend your evenings at home?
I love curling up on the sofa with my dachshund Ellie, either reading or taking design inspiration from magazines and online. I also can't wait until we can spend time with family and friends, long summer lunches in the garden room and winter gatherings around the fireplace. I really miss the vibrancy of London at the moment, I'm looking forward to being able to eat out and go to galleries again.
If you were to throw a party at home, what are the key ingredients to make it go with a swing?
Delicious food, atmospheric lighting, good company and my favourite playlist. The most important thing is to be organised, and ready for when your guests arrive so you can spend time with them and enjoy their company. I feel most comfortable at a simple gathering with close friends, their dogs and when everyone's at ease.
What gadget could you not live without in your home?
My coffee machine. I love my morning almond milk cappuccino following a walk with Ellie!
How do you keep fit at home?
Yoga is my go-to way of keeping fit when it comes to both my body and mind.
What are you doing in your garden at the moment?
Enjoying watching the changes in season; having spent so much more time at home than usual at the moment it's been a real pleasure to watch the garden bloom. I relish my outside space. It's small, but I enjoy growing herbs to use in my kitchen.
Whose home would you like to be a fly on the wall in?
This is a difficult one, there are so many inspirational people and homes. But if I had to choose one, it would have been Christian Dior who has always been a design icon, and true inspiration to me.
What could you really do with now you're spending more time at home?
My family, friends and my studio team – I miss everyone a lot. In the current situation, many of us have realised that it's our relationships and connections that matter the most.
What makes a house a home?
I think it's the underlying personality of the space and that lived-in feeling. Your home should be a reflection of you, and layered with memories collected over the years. I'm very attached to pieces that I have collected or that have been given to me. My parents collected artwork, so that become a passion for me too; my father had a piece commissioned by the late artist Gino Hollander of myself and my three sisters which I have hanging in my drawing room. It's very special to me.
MORE AT HOME WITH:
Chrissie Rucker / Matthew Williamson / Martyn Lawrence Bullard