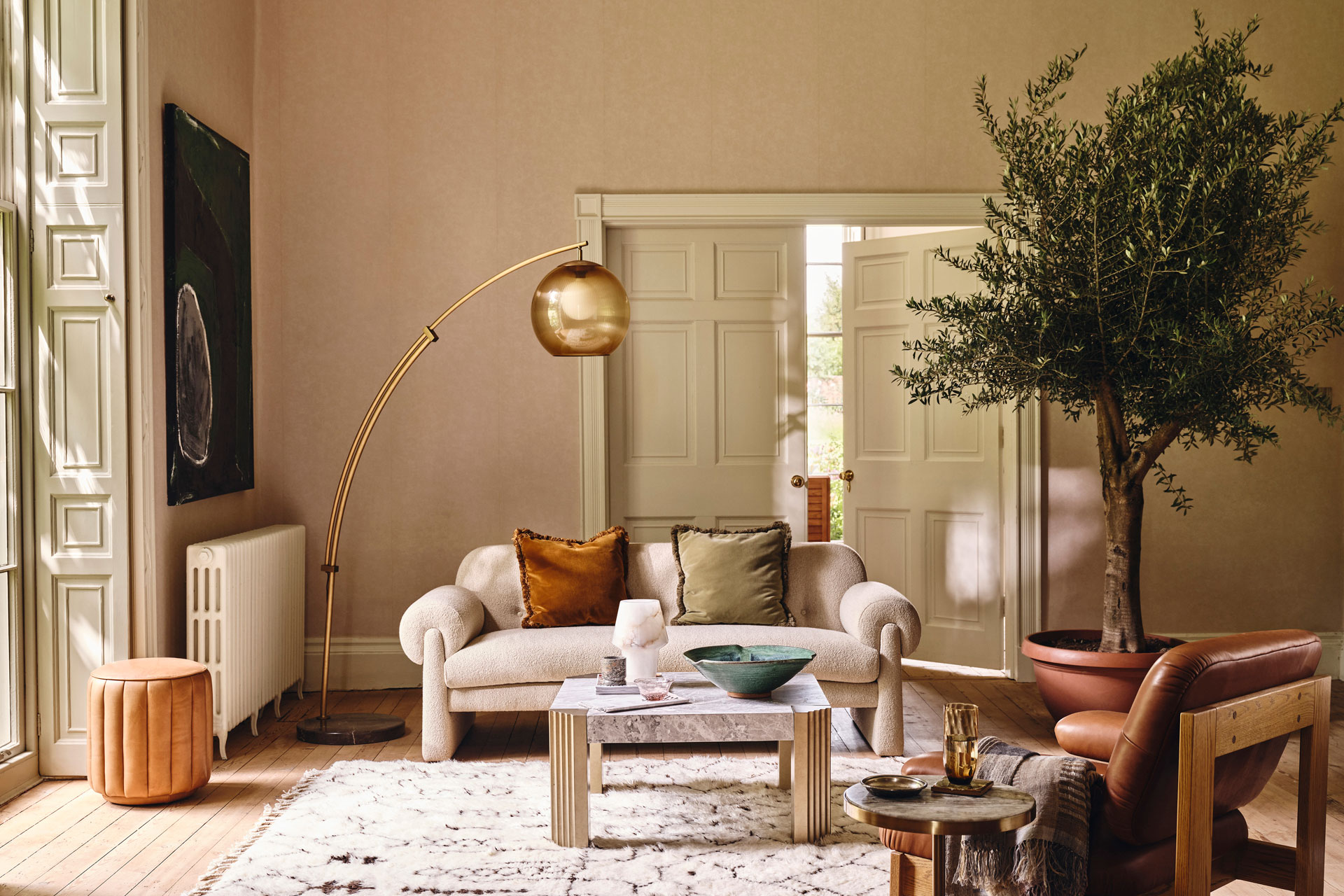 7 Ways to Get Your Home Autumn Ready with Soho Home
Light a candle; throw a throw.
It's cocooning season. And with Autumn upon us, comes the perfect opportunity to give our homes a seasonal refresh.  With us to share her expert advice, is Soho Home's Lead Designer, Jessica Sims-Wilson, who takes us through everything from texture to tactile layering. 
Get Your Home Autumn Ready, with Soho Home
Even if your happy place is sitting on a beach with a cocktail in hand, there's one good thing to be said about the turn of the seasons – it's a chance to give your home a nifty re-design. For interiors enthusiasts, this is the moment to go wild with throws, cushions, candles and maybe even a furniture piece, or two.
With a few clever tricks and some new homeware, you can create a haven of cosiness and atmosphere, optimising soft textures, sinkable seats and lamps galore. 'This is my favourite time of year,' says Soho Home's Lead Designer Jessica Sims-Wilson, who works with clients of the brand's interior design service.
'It's so easy to make that transition into autumn and winter and the difference it makes for the next six months is huge. By changing up a few things I help Soho House members and Soho Home customers embrace their space for winter.'
Here, Sims-Wilson shares seven essential tips to prepare your home for the colder months using soft furnishings, artwork and homeware.
1. Update Your Home Fragrance
'One of the easiest things you can do to make your home feel more seasonal is update your home fragrance,' says Sims-Wilson. 'I can't bear to see a flame in summer so I dot diffusers around, but when it starts to get colder I bring my collection of candles out.
'This time of year is associated with lots of nostalgic, seasonal smells. Play up to that by opting for rich, woody and festive scented candles. Layer them around the home as some scents are more suited to certain spaces than others.
'Try Soho Home's Leather & Oud candle in your hallway, Fireside Rocca Marble candle in the living room and our Blackcurrant Cedar candle in the bedroom. Also, for this time of year I'd opt for the marble vessels.'
2. Introduce New Artwork
'Art is often responsible for a large part of the home's colour scheme, so you can switch up the palette of a room by incorporating some new pieces. 'I use a print ledge so that instead of re-hanging a whole picture wall, I can quickly swap in and out prints. Whether it be a smaller, more casual art print or a huge painted canvas, choose pieces which feature darker, moodier colours.
'Soho Home has recently collaborated with art gallery and styling service M.A.H whose founder, Laura Fulmine, has curated an exclusive selection of works from incredible artists. Definitely check it out for beautiful, wow-worthy art works for you home.'
Explore M.A.H x Soho Home collaboration here
Soften a Wooden Floor with an Extra Large Rug
'Many of our Soho Home Design clients have open-plan spaces with wooden floors and need help zoning and softening areas at different times of the year. 'Put down a thick pile, extra-large rug under your seating area to have something warm underfoot in winter, stretching outwards to encompass the sofa, coffee table and potentially chair opposite, too. For autumn, I really like the hand-knotted Alderton Rug or the Raya Rug in rust.'
The Catherine Rug, £3,495, sohohome.com
3. Experiment with a Lick of Paint
'Aside from art, the easiest (and actually, the cheapest), way to transform your space is painting a wall (or four) in a richer colour. Darker colours are typically thought of as harder to use, but Soho Home has teamed up with Lick to choose an edit of Soho House-inspired tones that are easy to master and perfect for this time of year.'
'If you're nervous, start with a low-traffic area such as an entrance way or a guest bedroom and if you like it, try in other areas of the home. Or, if you have an already room that doesn't get much light, play into that by painting it a dark colour.'
'From our edit I would recommend Purple 03 DUMBO House and Teal 03 76 Dean Street. They even look really nice together, you could use one for the skirting boards or the ceiling.'
Teal 03 Dean Street paint, £42, sohohome.com
4. Add Depth with a Throw
'It's the oldest trick in the design book, but it's one of my favourites because it really does work. A strategically positioned throw can change the overall feel of a room because of the way we are instinctively drawn towards warm, cosy textures when in hibernation mode.
'Layer a throw across the end of your bed, on the arm of an armchair and along the back of a sofa. Better yet, roll three or four and display in a large wicker basket, sat next to your seating area ready to grab when needed. I feel warmer just thinking about it.
'My go-to is the Maria Alpaca Throw which comes in seven colours. As it's 100% alpaca wool it is impossibly soft and is inspired by many of the throws used around Soho Farmhouse. And, you can have it monogrammed for a personal touch.'
The Obie Bedspread, £550, sohohome.com
5. Bring a Chair into the Bedroom
'In Soho House bedrooms, we try and include an accent chair wherever possible. At the foot of the bed, by a dressing table or under a window, an armchair gives the space something extra – and it's perfect for throwing your clothes on when in a rush.
'In winter, an upholstered armchair brings luxe and warmth to the bedroom. Accessorise with a soft throw, layered across the back and just like that you have a cosy corner to escape to.'
'I love the Stanton and Theodore Armchairs, they come in mohair and velvet respectively and that slightly richer texture is perfect for the season. It's something to sink into.'
Stanton Armchair, £2,695, sohohome.com
6. Turn Up the Atmosphere
'I love a chandelier – in my opinion, it's the difference between looking at a room and saying, "this will do", and making it look designed. Lighting brings atmosphere to a room, which is crucial when it's dark from late afternoon, and chandeliers do this in a big way.
'You don't necessarily need loads of space or high ceilings for a chandelier either. We have just introduced some new designs for the season including the Oliver Mid Century Chandelier which is a retro, more accessible take. If you want some glamour, though, look at the Elodie. Its twisted Italian glass segments delicately refract light around the space for a wow moment.'
Oliver Mid Century Chandelier, £1,950, sohohome.com 
7. Get Excited for Inside Dining
'After a summer of al fresco lunches, put time into preparing your interior dining space for entertaining through winter. There are a couple of ways to do this – first layer up table linen in deep colours. For this, I like our Rosa linen tablecloth in Midnight blue. 'Candlelight is an important tool on dark evenings so stock up on long dinner candles (try the Rose Dinner Candles in a set of eight) and position in striking candle holders, grouped together in an odd number. I would use three or five of the Bruyere holders, mixing both Patina and Brushed Brass.'
Set of Two Bruyere Candleholders, £130, sohohome.com
Curious to find out more?  Soho Home offers a bespoke one to one interiors consultation that's complimentary for Soho House and Soho Friends members. You can find out more here.