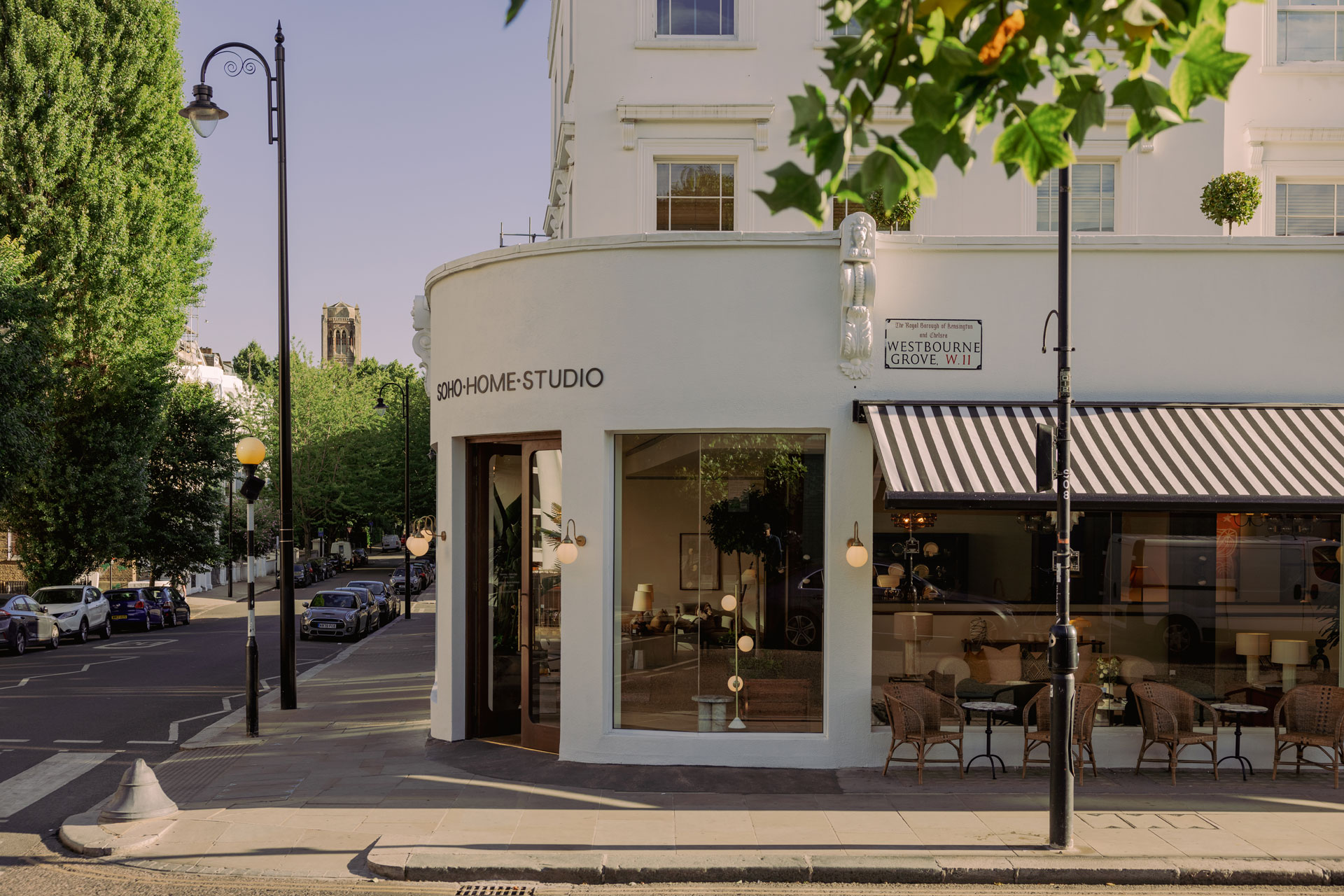 Soho House Members: You Can Now Claim a Free Interiors Consultation
---
Soho Home's latest outpost is offering a bespoke interiors service
Are you a Soho House Member? You can now claim a free interiors consultation at Soho Home's new outpost in Westbourne Grove.
Soho House's New Westbourne Grove Outpost is Offering a New Bespoke Interiors Service
Soho House is opening a new store in Westbourne Grove this July, which is offering a new unique interiors bespoke service to Soho House members and non-members alike.
The Store, set in Notting Hill's fashionable Westbourne Grove, is packed with the best of their interior offerings. (You'll see statement sofas, open shelving, and beautiful lamps —  all beautifully curated, of course). And downstairs (which, intriguingly, used to be a former car garage), you'll find bedrooms of different aesthetics that are sure to set some inspiration for your home.
Expect to also find limited edition artwork from Soho Home's ongoing collaboration with M.A.H Gallery and the AU collection, a unique curation of antiques, mid-century and vintage objects, by interiors stylist Anna Unwin.
The Studio's highlight is their dedicated interior design service where members and non-members will be able to receive design advice or book a dedicated consultation with one of the leading interiors experts from the Soho Home Design team.
The studios that you'll be able to book are no less gorgeous, finished with screens you'll be able to cast on all your mood boarding. Plus, there's a small library and fabric samples, as well as other intriguing objets d'art strewn about that'll get your creativity flowing.
The 50 Best British Places to Buy Furniture From
The Westbourne Grove store, a second iteration of Soho.Home.Studio in London, is a result of the pent up demand to recreate the look of Soho Home at home that's been burgeoning ever since the Pandemic. Just like their other Soho.Home.Studio outpost at Chelsea's Duke of York Square, you can expect an events calendar, and lounge and try out their furnishings for yourself.
How Does it Work? And, Are You Eligible for the Free Interiors Consultation Service?
Tailored to each individual and home, the Soho Home Design service is on hand to provide expert guidance for everything from room styling and colour selection, through to a wider redesign. Prices start from £300 for one room, redeemable on a £3,000 spend. Soho House, Soho Friends receive a complimentary initial interior design consultation.
To book a consultation, head here and fill out the contact form. You can expect a member of the Soho Home team to then arrange a suitable time and location – either virtual or in person at either Westbourne Grove or King's Road Studios.
With the service, you'll also be able to use Soho Home's Made-To-Order service, providing a choice of fabrics – including House favourites such as linen, velvet, and mohair – available on select furniture products.
The Best London Members Club Interiors 
Soho Home Westbourne Grove: A Sneak Peak