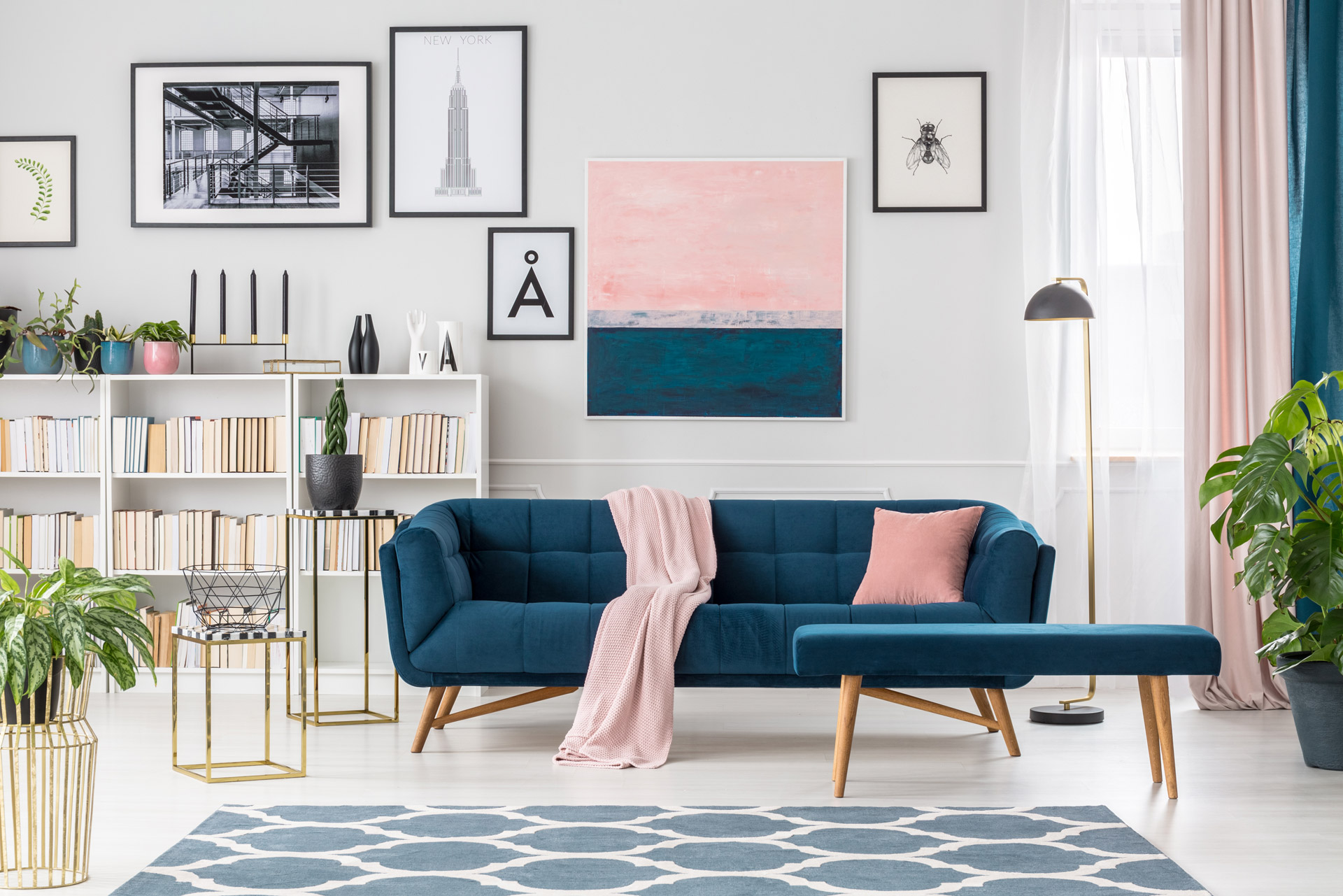 How To Buy Art For Your Home
---
Art advice from the experts
Artworks can make or break an interior, so how do you develop an eye for visual and sensual synergy? Amy Bradford seeks advice from the experts.
Katie Terres' Guide to Creating the Perfect Gallery Wall
Home Is Where The Art Is: How to Buy Art
For those used to thinking of art as a finishing touch to a room, it may come as a surprise to learn that interior designers often plan entire homes around clients' art collections. Rather than viewing it as an afterthought, therefore, planning an art scheme in advance – as you would with lighting or furniture – can have a radical impact on your home's visual impact and character. But if you're not a connoisseur, where do you start?
'Whatever level you're at – whether you have a 100-piece collection or have never bought art before – the first step is to decide why you want an art collection in the first place,' says Patrick McCrae, CEO of Artiq, an art consultancy and art rental service that works with institutions like the V&A as well as with commercial and private clients. 'It's important that it reflects your personality and complements your space, but it should also tell a story. When curating collections for clients, we often look for links with works they already own or causes that are important to them. We also take time to understand artists' backgrounds, and why they create the work they do. This helps us find the most captivating pieces to suit people.'
The Guide: How to Start Your Own Art Collection
Once you have an idea of the story you want to tell, McCrae recommends exploring online and on social media to find artists you engage with. 'Instagram is particularly good, as it allows you to connect with artists directly,' he says. 'Try searching by your local area, or by medium. There's also a great initiative started in response to Covid-19 called the Artist Support Pledge. It showcases thousands of artists around the world who are selling works for around £200. Not only does it support artists, it's also a great way to discover affordable work.'
Before you start buying, define your budget and get to know the artists that interest you. 'Galleries are usually happy to offer advice to collectors,' says McCrae. As for the tricky business of displaying art, he advises against the obvious – trying to match pieces too closely to architecture. 'Juxtaposing old and new is a great way to curate a collection. For new collectors, I love the "salon hang" – a mix of different works on the wall as you'd see at the Royal Academy's Summer Exhibition – which you can lay out on the floor beforehand.'
For further inspiration, we asked three decorators to tell us how their designs are influenced by working with artists and artworks.
Petra Arko
The Slovenian-born founder and director of London studio Bergman & Mar is known for cool, contemporary interiors that incorporate characterful artworks, which she hunts for wherever she goes. 'London has lots of small galleries that I am forever stumbling upon,' she says. 'I also thrift in vintage shops and on eBay, and browse Instagram for emerging talents.' She takes a high-low approach to art, mixing investment pieces with affordable finds. The latter are often found at Desenio, Spacey Studios and The Poster Club.
One of Arko's latest art-led projects is the Makers apartment, a show flat at the new Bollo Lane project in west London by developer Pocket Living. 'We invited British artisans and artists to showcase their work in the space,' she explains. Working with art consultancy Cramer & Bell, she found pieces that complement the colours and textures of each room, including a rose-toned portrait by Elena Gual for a pink bedroom, ceramic wall hangings by Unit 89 that echo textured rugs, and an abstract oil painting by Sarah Needham that reflects the markings of a wooden sideboard. This sensitive approach is typical for Arko, who allows art to guide her on style, colour, patterns and finishes. 'It works like a conductor for my creative process,' she says.
Arko's practical tips for working with art centre on proportions and framing. 'The most common mistake is buying a work that's the wrong size,' she points out. 'I think works always look better if they're larger, so hang a paper mock-up on your wall before you buy. Moreover, don't forget that the frame can create just as much interest as the piece itself.' bergmanandmar.com
Natalia Miyar
Chelsea- and Miami-based interior designer Natalia Miyar is known for her richly layered spaces, which combine one-of-a-kind furniture and artworks with fine materials. One of her favourite projects in which art took the lead was a London apartment for a client with an impressive modern art collection. 'It was a contemporary space with crisp, modern lines, and the brief was for a masculine, clean and neutral interior as a backdrop for the art,' Miyar explains. 'I chose to complement the colours in the artworks with mink-toned flooring, grey stone and accents of blue, ochre and rust, which also created a warm feel.'
Details in bronze, richly veined marble and linen added depth and character, along with a mix of antiques and one-off pieces. 'This project was about encouraging the client to play with colour, texture and pattern,' adds Miyar, 'but generally I think it's important to decorate with colours and textures that complement rather than overpower artworks – you don't want things to fight. Lighting is also key when there is lots of art – if necessary, I will install additional windows or skylights.'
When it comes to building an art collection, Miyar recommends trusting your tastes. 'Buy things you want to look at every day; don't be distracted by recommendations from others,' she advises. 'Even if you're using a designer to help, make sure they follow your tastes, not their own.' Equally, don't be in a hurry. 'It takes time to hone your eye,' she explains. 'Start by buying a few small pieces and see how they work in your home before investing in anything expensive.' Miyar looks at online auctions and visits art fairs to see what's out there, and recommends seeing art in person before you buy to get a true impression of its tactile qualities. Which artists does she love right now? 'I recently discovered LA artist Hiejin Yoo. Her work is defined by abstract pops of colour and layered marks – it makes a bold statement in a hallway.'
Shalini Misra
Art and statement furniture play a leading role in the work of this London designer, who creates homes, hotels and restaurants around the world. She has relationships with a network of major galleries, but also tours every art fair she can. 'I enjoy Art Basel, Frieze, the Affordable Art Fair and PAD – you get to see the big names alongside newer artists' work,' she enthuses. 'The Royal College of Art graduate show is also great for commissioning new talent.'
A particularly memorable project for Misra was designing a Chelsea home for a major art collector. 'The starting point was a large, heavy sculpture by Antony Gormley, which we had to reinforce the floor to accommodate,' she remembers. 'The location had to be decided early on – it took a primary spot in the ground-floor atrium and greets the family and visitors as they enter the house.' The project also demonstrated the importance of factoring lifestyle into art choices – Misra didn't shy away from putting a favourite artwork in the kitchen, because the family spends much of its time there.
Unsurprisingly, Misra advocates planning an art scheme in advance. 'I measure the weight, size and volume of each piece before deciding where it goes. Major pieces go in 'hotspots', such as reception and dining rooms, but staircases are also great for encouraging people to pause between floors.'
Misra has lots of useful advice for those working on their own. 'First, be mindful of the artwork's colour and shape – you don't want a "loud" piece in a quiet room,' she says. 'I like placing sculptures on plinths and positioning them like side tables, so they frame a sofa. Lastly, consider longevity and versatility: you may move home and [need to] position your art in different locations.'
To develop your eye, Misra recommends taking note of artworks in restaurants, clubs and hotels – you might discover a new favourite. 'Right now there are two artists who inspire me,' she says. 'Rana Begum, who makes colourful abstract works, and Natalia Kapchuk, who uses mixed media to explore ecological issues.' shalinimisra.com
Where to buy art online…
Rise Art
Famous names like Sir Peter Blake and Bruce McLean jostle with emerging talents in this gallery, where you'll find everything from an affordable print for £175 to bronze and neon sculptures that cost thousands. The advisory service, where you can get help from a team of expert curators and commission bespoke designs, is a great extra, as is the art rental service if you want to experiment before you invest. riseart.com
Affordable Art Fair
Even if you can't make it to an Affordable Art Fair (they're held in Battersea and Hampstead), you can still buy art from this insider source, which boasts photography, prints, collages and sculptures as well as drawings and paintings. It's easy for beginners to navigate, as you can search by budget as well as by medium. Check out what's popular in the 'Bestselling Artists' section. affordableartfair.com
Partnership Editions
Whether your taste runs to Petra Börner's whimsical botanical ink illustrations or Emily Forgot's punchy, Modernist-style painted plywood sculptures, there's a real sense of discovery on this website, which features lots of young talent. Prices start at £180 and it's straightforward to search by style (choose from abstract, figurative, botanical or colourful). partnershipeditions.com
State of the Art
Fast becoming the go to market place for emerging artists, State of the Art (or SOTA) has everything from abstract prints to show stopping canvases to funky ceramics that will brighten up any room. The brainchild of aspiring artist Emma Lang, the site is easy to navigate and has the benefit of allowing you to follow your favourite emerging talents and their work. Perfect for entry level creatives, and entry level buyers. stateoftheartmarketplace.co.uk
…And ways to display it
TM Lighting
When Hampton Court Palace and Waddesdon Manor need picture lights, they call on this brand, which crafts timeless, subtle designs that use cutting-edge LED bulb technology. Ingeniously, they both flatter artworks and help to conserve them via controlled light levels. tmlighting.com
John Cullen Lighting
Shalini Misra comes here for advice on lighting artworks – it not only has a collection of spotlights fit for purpose, but also boasts a consultancy service that will bring specific projects to life. johncullenlighting.com
Well Hung
Patrick McCrae of Artiq loves this Shoreditch gallery and workshop – not only for its exhibitions by emerging artists, but also for its bespoke framing service, patronised by many a museum. Everything is made by hand on site, and it works with 3D objects as well as pictures. wellhung.co.uk
Featured image: GettyImages
What to Buy: The Best Art Books Ever / The Best Art Exhibitions of 2021