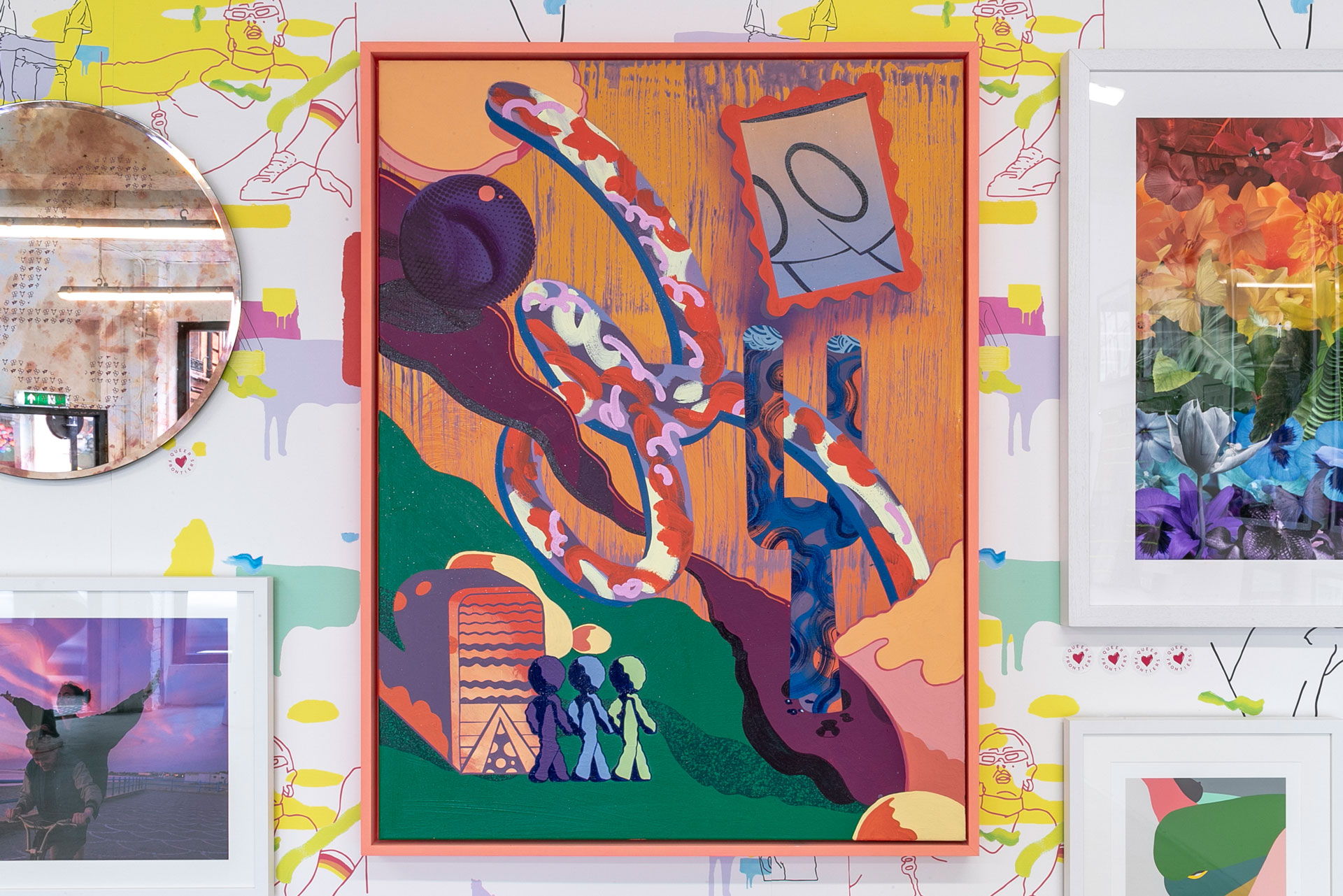 Katie Terres' Guide to Creating the Perfect Gallery Wall
---
A simple way to transform your interiors
2021 has certainly seen a whole host of interiors trends take off. From tablescaping to the art of Japandi, the demand for spending more time at home has seen even the most minimalist-inclined looking for creative ways to spruce up their pads. Enter the gallery wall: a simple and effective way of adding vibrance and colour to any room, whether it's a playful collection of prints or a series of formally hung portraits.
Sign Up to The C&TH Interiors Newsletter
The popular interiors trend has saturated the likes of Pinterest and Instagram of late – in which #gallerywall now boasts over 1.4million mentions on the social networking platform – despite voguish restaurants such as Sketch (which houses a series of frolicsome David Shrigley wall hangings in its pink Gallery) having committed to the craze long before 2020. Even award-winning florist Nikki Tibbles and journalist and former House Guest Pandora Sykes has got one. So, perhaps we should jump on the bandwagon?
View this post on Instagram
"A gallery wall is great for so many reasons," says Katie Terres, COO of art consultancy ARTIQ which has selected works for the likes of The Gleneagles Hotel and The Principal Edinburgh Charlotte Square. "First off, it's a fantastic way to start building your collection. Because the aim is to have lots of different pieces; you need not worry about spending lots of money on investment art. It's more fun and informal, and a fantastic opportunity to be a bit experimental with your taste." If you're not sure where to start, Terres shares her top tips for creating the ideal bespoke gallery wall here, from selecting a theme to exercising colour and framing.
Katie Terres' Guide to Creating the Perfect Gallery Wall
The first thing to consider
I like to think about tones, styles, and subject matter. I have a large landing and have used different walls to explore distinct themes and colours. For example, on one wall I have a mixture of prints, photography and posters with a lot of abstract movement, predominantly in black and white. On another wall, the art is brighter and the subject matter more architectural.
Another great thing to consider is adding 3D dimensional objects to draw the eye to different areas. For some of our clients, we've curated gallery walls around female and BAME artists, environmental issues, or based on something purely aesthetic, like a specific colour or texture. In terms of inspiration, I recommend checking out the Boulevard Theatre in Soho, which we curated to be a playful, minimalist approach to a gallery wall, using bold colour and cool, young artists immersed in the LGBTQ+ art scene.
If you're new to art collecting
Start small and inexpensive to see what you like. The first pieces of art I bought were exhibition posters, and I still love them because they recall pleasant memories with friends and family. The most important thing is that whatever you buy, it resonates with you. Another wonderful way to test the water is by visiting graduate shows in your local art school, where you can find up-and-coming talent and develop a relationship with artists at the start of their career. Their art is often moderately priced, and you have the bonus of owning something that no one else has. During the pandemic, an incredible initiative launched on Instagram, called @artistsupportpledge, organised by artists selling their work for artwork under £200. It is still going and there are some great finds from around the world.
View this post on Instagram
Choosing a theme
This year has been full of huge changes regarding how we experience and view the world, and it has encouraged businesses and individuals to be more proactive and engaged with social, political, and environmental issues. From a thematic perspective, you don't need to be literal – instead think about using community groups and social media to discover local artists, artists who resonate with the causes that matter to you.
How to exercise colour
In terms of colour, an elegant choice is to keep your gallery wall to a few key tones, but on the other hand, don't be afraid to play with colour if this is more your style. Packing art together in a variety of colours can make a small space exciting. 
How to get started with hanging
A top tip from our senior art handler is to first select your "key" artwork, and to build everything around this. Another great piece of advice is to ensure the gaps between pictures are evenly spaced. Personally, I like a bit of breathing room between my art, so usually have a gap of around 15cm, but you could reduce this if you have a lot of pieces or smaller works.
Top tips for selecting frames
Think about the overall composition. Some of my colleagues prefer a uniform grid pattern – if this also is you, then ensure all frames and mounting are the same for every piece. If, like me, you prefer a more eclectic style that can be built up over years, ensure you use a mix of different frame styles, and don't be afraid to play around with the scale and colour of mounts. I always go for sustainably sourced solid wood frames, or metal – avoid cheap veneers at all costs. Smart framing can really elevate inexpensive art. One of my favourite paintings was bought at a charity shop for £2, but I consulted with my framer and the result looks much more expensive! My top tip is to make friends with your local framer – you're not just supporting a small business, you're also getting an expert opinion without a huge price tag.
View this post on Instagram
How to know if a piece will work for you
Investment pieces are always an option, but not necessarily a choice for all of us. Ask yourself if you love it – I apply the walk-away rule: if I predict disappointment the next week if it's not hanging in my house, then it's probably a yes. And remember, art is subjective. Don't expect everyone to love your taste, the most important thing is that you do!
London-based art consultancy, ARTIQ curate art for lease and purchase across EMEA. Supporting creatives with fair pay, to date, ARTIQ has paid back £6 million to artists, makers and institutions." artiq.co | @artiqgram
Featured image: GettyImages
The Ultimate Gift Guide For Interiors Lovers / Interiors Inspiration: Dried Flowers / The British Interior Design Collaborations To Know About