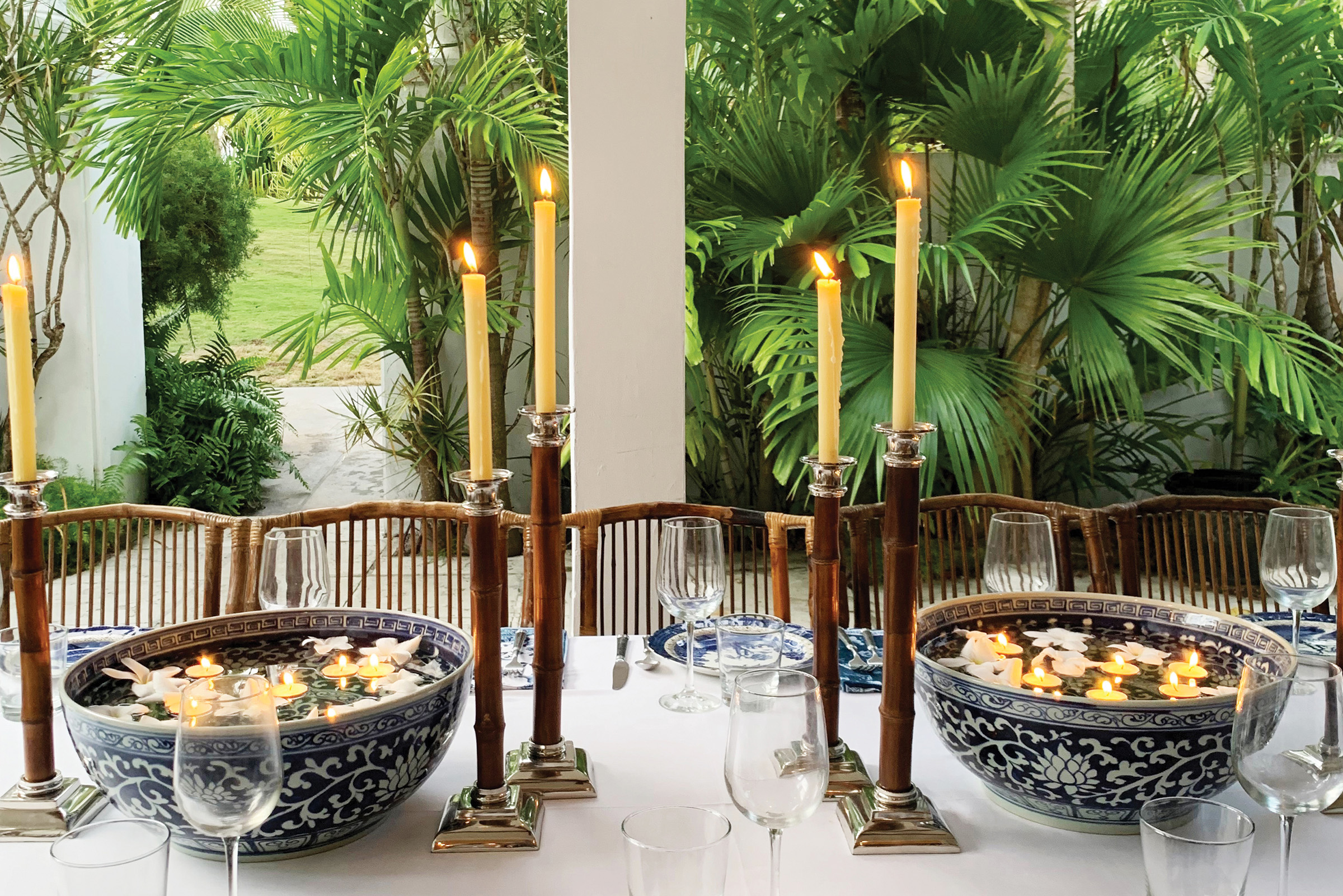 At Home With… India Hicks
---
Meet the writer, interior designer and television presenter in her Bahamas home
Ever dreamed of living in your own tropical paradise? At her Bahamas home, complete with palm tree fronds, deep blue waters and rich natural textures, learn the art of (lockdown) home entertaining from interior designer, author and TV presenter India Hicks…
At Home With India Hicks
What's the story behind your home?
When we first went to view our potential future home in the Bahamas, the housekeeper looking after it refused to let me in because I was quite literally barefoot and pregnant – she found me very suspect. Despite only being allowed to peer through the windows the house felt at once like it could be our home; luckily, it turned out to be. We've lived here for 25 years raising five kids and there's also a rather crowded pet cemetery which I think is always the sign of a property well loved.
What was your inspiration when it came to designing it?
Both David, my other half, and I are designers of a sort. Neither of us have had any formal training but I imagine living under the imposing eye of my father, David Hicks, for so many years gave me some kind of understanding and education in interior decorating, and David has an innate sense of style. Thankfully, we share the same tastes: otherwise it would have been a terrible few decades of conflict!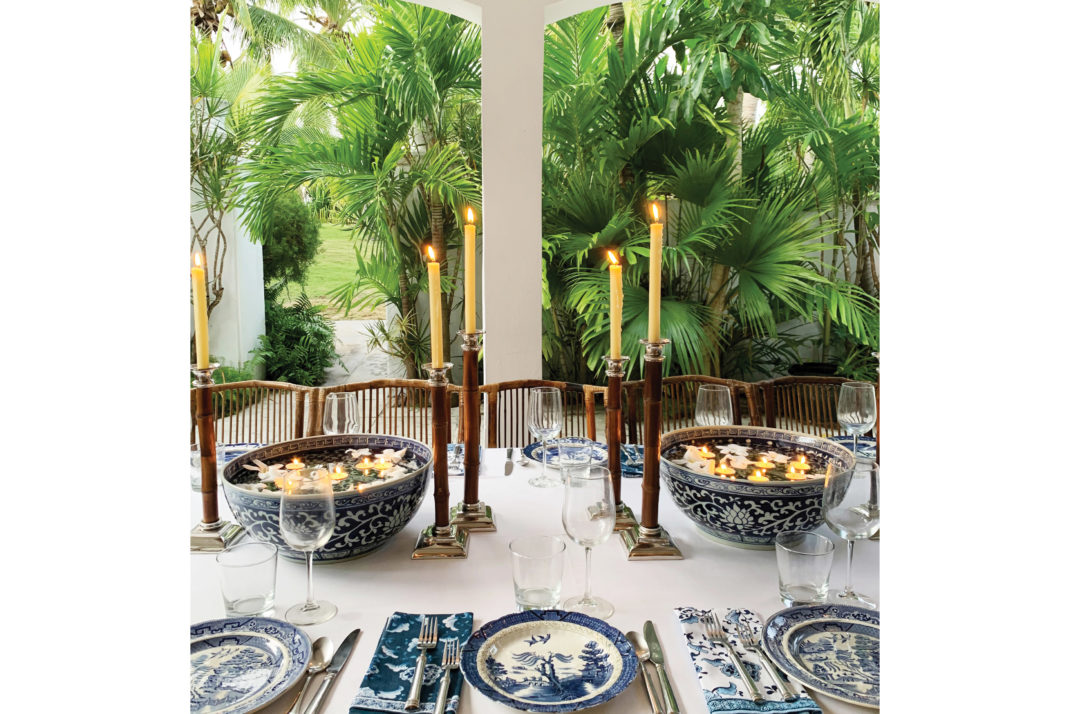 Do you have any interior brands that you love and always go back to?
When I am in England I tend to turn to John Lewis, because they offer a comfortable selection of everything from rose and violet creams to yoga mats and king-size beds.
What's your favourite room in your house?
Probably my tiny bathroom, which is so small you can hardly change your mind in it. But it has a deep bath, lots of hot water and it's the place that I can switch off my phone and not have to make any decisions for a little while.

Does your house in any way reflect your business?
Our home is quite informal, mad cap and hectic (which I hope isn't reflective of our professions!). You'll always find a child of some age wandering through, always be offered a Bloody Mary and we hope you'll feel welcome enough to stay for second.
What's your best view?
My bedroom looks over the terrace and down the garden to an avenue of palm trees that David planted for me in the early years of moving to Hibiscus Hill. The trees have grown from tiny coconut husks into large, handsome palm trees forming an impressive canopy of shade.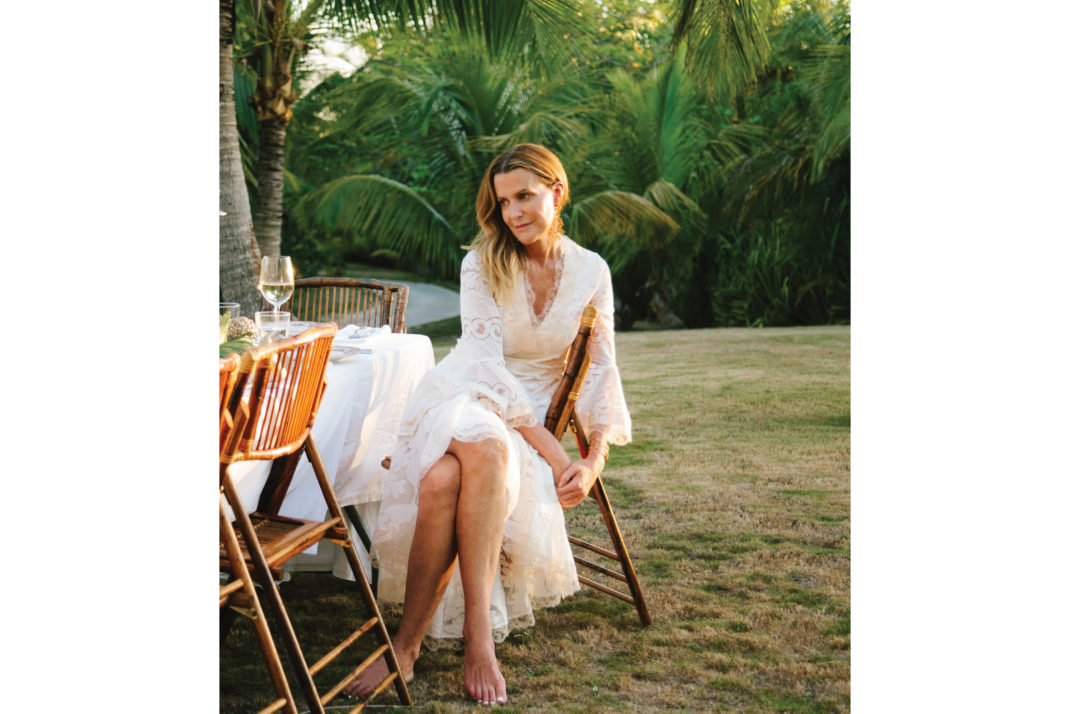 What's your signature dish – can you share the recipe with us?
I'm an utterly hopeless cook, but a passable baker. I became quite skilled at decorating birthday cakes during lockdown – four out of my five children celebrated their birthdays, so there was no alternative. Corona cake was the most successful: I created a large and convincing face, complete with mask, out of icing sugar and marshmallows. Who knew melted marshmallows could become fondant icing?
Share your top five books with us if you were to start a book club, and why:
Because I ran a business for six years and commuted to an office in Los Angeles, I spent most of my time reading design decks or boring excel spreadsheets and Pantone colour charts: running from meeting to meeting and airport to airport meant there was never any time for anything else. But when the world stopped, I picked it up again. Currently I'm reading A Princess Remembers: Memoirs of the Maharani of Jaipur: a fascinating story of one of the world's most beautiful women, who also had the most staggering majority ever earned in an Indian election. She also shot her first panther when she was 12 years old, and lived in a palace. It's world long lost.
Share your must-see TV and movie list
The Painted Veil is a must-watch.
Describe your office space?
We're seeing rapid and dramatic changes in the way that office spaces are now set up. Perhaps I made a mistake in making my own home office a little too comfortable: I often seem to find several of my children (and dogs, and cats) stretched out on the sofa, using the printer, searching the cupboards for drawing materials or looking through old scrap books. I have no idea how I get any work down.
What's the first thing you do when you get up in the morning?
I'm ashamed to admit the first thing I do is to reach for my phone – but I try to be at my desk by 8am, cup of tea in hand. Then I'll normally phone my mother in England while it cools down, and check in with the food bank team: the project that has taken up most of my attention recently. We've been able to provide food security to those in need in our community. Donations to the project can be made at gofundme.com/briland-food-bank – and each little bit counts.
And how do you love to spend your evenings?
If I can, I take my dogs for a long, slow run as the sun is setting and the island begins to creep towards dusk.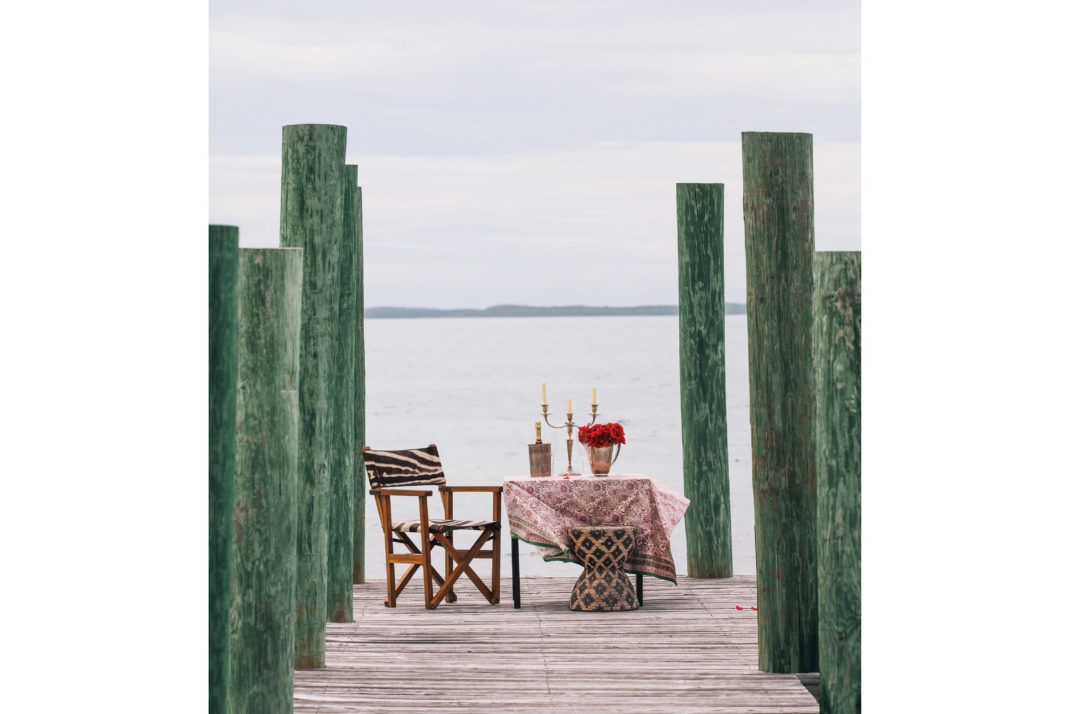 If you were to throw a party at home, what are the key ingredients to make it go with a swing?
I think now we'll see the main ingredient to any party is intimacy: keeping it small, with an eclectic mix of guests and interesting conversation. Of course, a pretty tablescape helps make it all the more memorable.
What gadget could you not live without in your home?
A milk frother – my mother is always appalled when she realises that I pour hot milk in my cup of tea: almost sacrilege.
How's your garden behaving at the moment?
Presently we're in hurricane season. There are a lot of afternoon thunderstorms, and as a result a lot of rain and sun so the garden blooms. We have to watch the hurricane tracks carefully: and if we see something turning towards us, we immediately cut down the low hanging palm fronds and coconuts. You don't want a coconut flying around in a large tropical storm.
Whose home would you like to be a fly on the wall in and why?
I'm currently consulting with a young British brand called Hester Bly, named after two intrepid and courageous women, Nellie Bly and Lady Hester Stanhope. Both of these women were pioneers in their own right, and I would have been fascinated to hear some of the conversations in their homes.
Has lockdown made you reassess your work/home life balance?
How could it not? We took so much for granted that is now challenged. At home, we're careful with who we see, it's important to be mindful that most of the time we live on a small island with a population of people who could be at high risk. I do miss hugging friends – knocking elbows is not quite the same thing.
What makes a house a home?
David always says paintings and books make a house a home. I would say, my three legged dachshund Banger.
MORE AT HOME WITH: