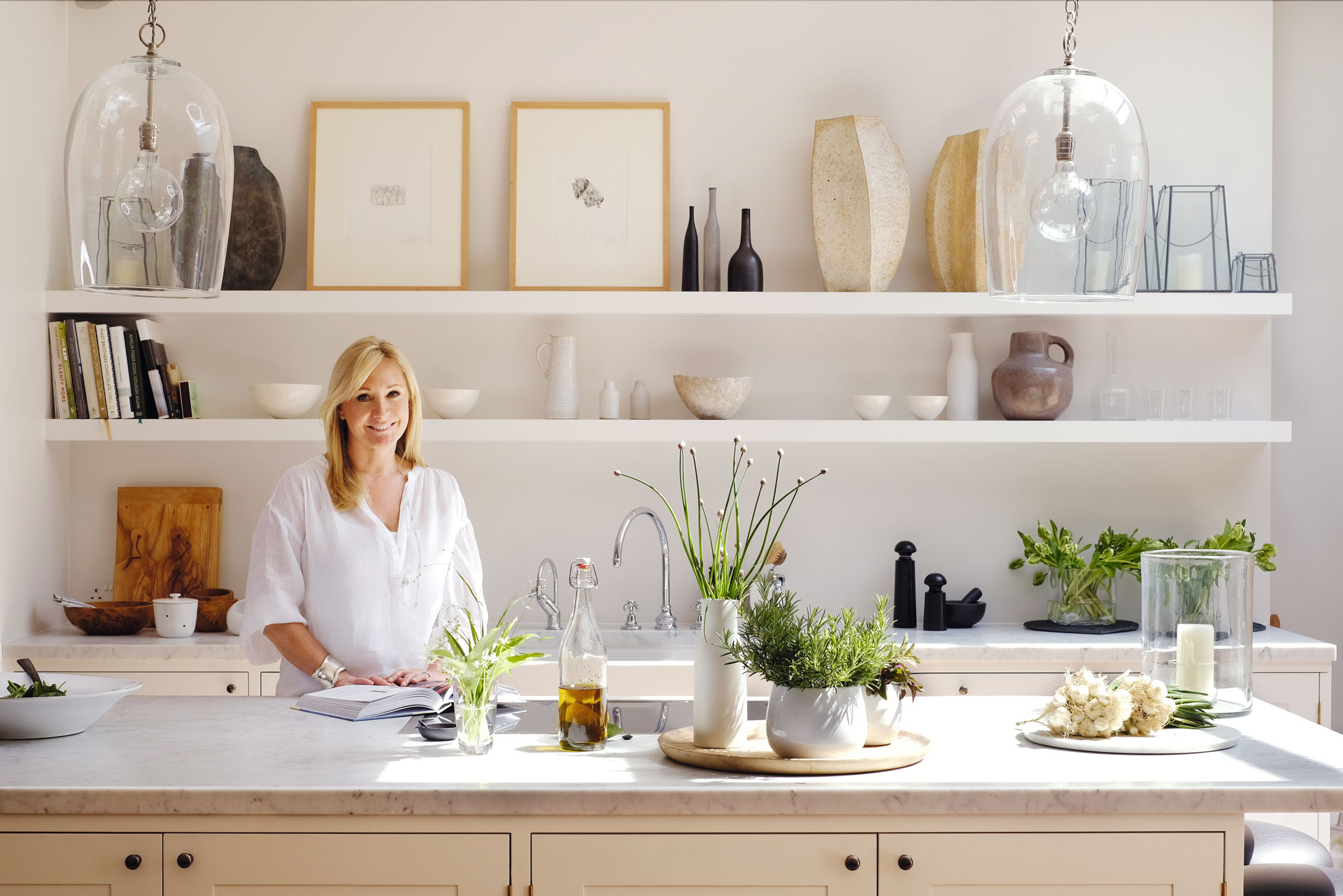 At Home With… Chrissie Rucker
---
The White Company founder on her London home
The founder of The White Company, Chrissie Rucker OBE, on the importance of sleep and white in her life
Sign Up to The C&TH Interiors Newsletter
At Home With Chrissie Rucker
What's the story behind your home?
We fell in love with our London house over 23 years ago and moved in the week after we had our first baby Tom. It was very tired, run down and damp! But it had lovely original architectural features and a special charm. Although the house is on a main road, it's well set back and you walk to the front door through a tree filled garden, which makes it surprisingly quiet for London.
It had a fantastic lateral ground floor, with lots of little rooms at the back. I remember as we reached the top floor feeling it could almost have been in the country as each bedroom had a fireplace and leafy view. We lived in it for a year before doing any work and knocked out the small rooms at the back to make one large family kitchen with a small walled garden outside.  It needed totally re-wiring and redecorating.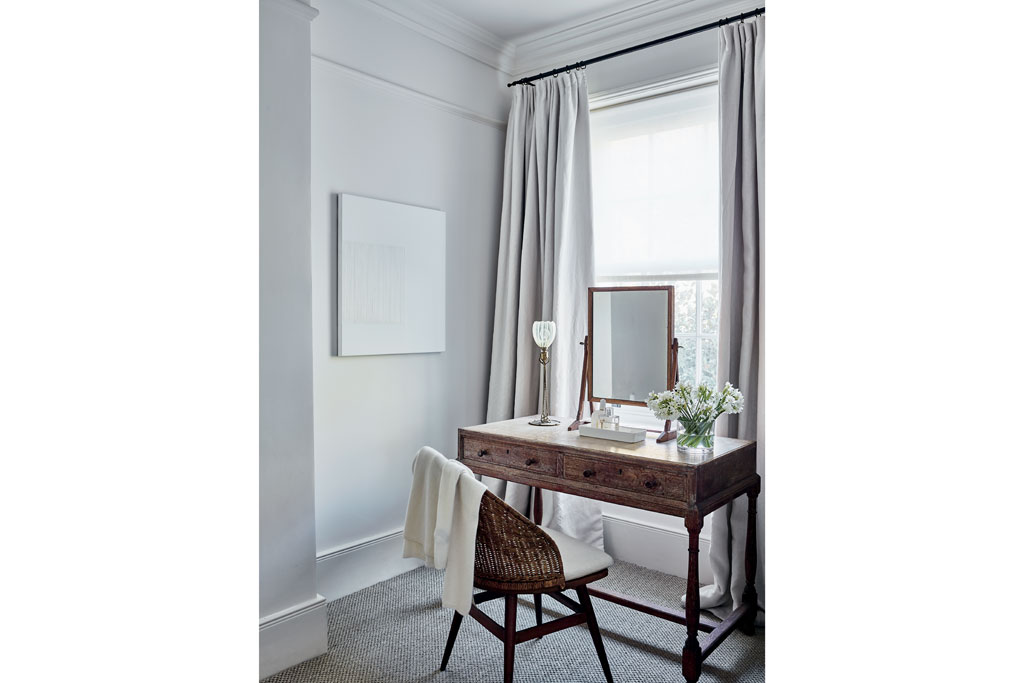 What was your inspiration when it came to designing it?
I wanted it to feel light, airy and calm. I have always loved the combination of chalky whites, natural finishes and love to mix old and new. We painted the entire house Slate 1 by the Paper and Paint Library, which is a great warm white, chose a wooden floor for the ground floor and seagrass throughout for the stairs and bedrooms. I always love to bring some outside in too with indoor trees, or just simple greenery and fresh flowers.
We refurbished recently, over 20 years after we first moved in. I was helped by Rose Uniacke who I love working with. I trust her implicitly – she is brilliant at laying out the flow of house, has a phenomenal eye for antiques and light fittings, designs joinery that is very simple, yet so beautiful, and she understands me which is a joy. She makes sure the scale of each piece is just right for the room and designs the beautiful curtains, which hang from hand beaten iron poles. Using layers of natural linens and voiles, they bring a wonderful ethereal feeling to the room, which is magical.
Case Study: Chrissie Rucker's Buckinghamshire Home
Do you have any interior brands that you love and always go back to?
All my linens, beds, towels, china, home accessories and candles come from The White Company. We have always been truly passionate about creating lovely white pieces that are simple yet beautifully designed to stand the test of time. We design in-house and source directly, to ensure the best possible quality that is also affordable.
Many of the antique pieces and the kitchen table, came from Rose Uniacke. Some of the side tables and vintage wall lights came from Hillary Batstone. The wishbone chairs in the kitchen are by Hans Wegner.
What's your favourite room in your house?
I love being at home either quietly switching off or filling it up with friends and family. The kitchen has always been fantastic for fun gatherings and on a lovely day we open the doors and spill out onto the terrace.
My favourite rooms are our bedroom and bathroom and I am a real sleep evangelist! Climbing into a blissfully comfortable bed at the end of a busy day is a joy. And I know I am someone who needs a good eight hours to be in good shape for the business, as well as a wife and mum. Our bathroom is my favourite place to escape to. Every bath or shower we have it's an opportunity to create an at home spa moment, even it's just for 10 minutes. Wonderfully soft towels, a lovely scented candle and relaxing bath soak make time here feel so restorative.
What's your best view?
When the sun shines, I can open the double doors in our bathroom, which always feels very special.
The 50 Best Interior Designers
What's your signature dish – can you share the recipe with us?
Sadly, I don't have time to cook much during the week, so cheat is often my mantra! I always want to make the table look special, make some great cocktails and have fun together. I often use Potage which delivers great home-cooked, fresh food which I decant into handsome serving platters, sprinkle with fresh herbs or icing sugar and no one needs to know! A simple green salad always looks great if dressed up in a fantastic bowl. And a selection of delicious cheeses, fresh bread and apples will always look great on a beautiful board. Sally Clarke is my go-to for amazing cheeses and bread.
For a special G&T, I love Chase Gin, Pink Pomelo or Elderflower – both are amazing with Fever Tree Mediterranean Tonic, sliced fresh lime, lemon and mint leaves. Or an Elderflower Hugo. A dash of elderflower cordial and sparkling water topped up with prosecco, a slice of orange and sprig of rosemary – it's an extra-special spritzer.
Share your top reads with us
When I created our first home, I remember feeling very overwhelmed about how to tackle it, so as part of our 25th anniversary, I spent over a year creating our first interiors book For The Love of White by Chrissie Rucker and The White Company. It celebrates 12 very different homes (including mine, which are pictured here), all lovingly curated over time. There are homes in the town, the country and on the coast, belonging to designers, architects and creative thinkers who also love white. It's also full of lots of easy and clever styling tips, which can really transform how a home feels.
I also love Mathew Walkers' book, Why We Sleep, which was a life-changing read for me. Did you know, when we sleep for six hours a night, instead of eight, our cognitive brain ability is halved! Once I managed to master eight hours, I could not believe what a difference it made. My energy and clarity of thought improved significantly, plus I lost weight, too – just by sleeping more.
If you're working from home at the moment, how have you designed your space and any tips for other home workers?
Like many I've been working from home recently. It's important to create a designated space to work and make it somewhere we can enjoy. Being tidy is key for clear thinking and small vase of the simplest flowers and a scented candle always lift the spirits. It's important to set boundaries about when you are at work and when you are at home. I still fill in my diary every day with meeting times, time to exercise and with no commuting now, time to learn. This is something I have really enjoyed. Finding a great Ted Talk or Webinar to listen to and I have become stricter with myself about stopping on time – otherwise I get brain fog and become unproductive.
What's the first thing you do when you get up in the morning?
I take my little dog Mouse out, she's 16 and sleeps on our bed!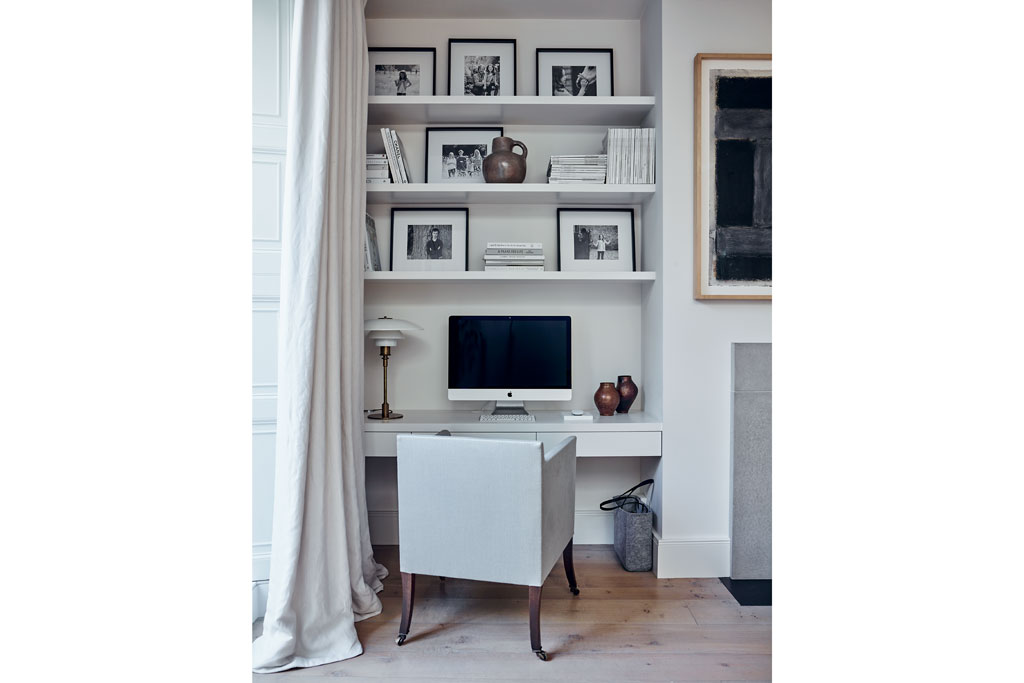 If you were to throw a party at home, what are the key ingredients to make it go with a swing?
Always try to make the house feel really welcoming, warm and upbeat. Lots of scented candles, simple flowers and good music are a great start. For drinks, I love to use fun glasses which make even the simplest sparkling water or gin and tonic look good.
A selection of dishes rather than plated food is a great way to manage the inevitable variety of dietary requirements. A beautiful table to sit at is essential – lots of candles, simple greenery or flowers and napkins are quick – and make it a place you want to linger for longer at and enjoy.
How do you keep fit at home?
During the lock down, I've discovered some great online programs. Yoga Burn for everything from shaping up to winding down to sleep. Tracey Anderson for fun, tough dance work outs that are great fun (although I haven't mastered the speed of it!) – and my girls love Centrfit.com for fantastic 20 minute HITT programs. My husband, Nick, and I also take it easy and just walk the dogs.
What could you really do with now you're spending more time at home?
I miss seeing all our amazing team at the office and our parents and friends, but we're making up for it on Microsoft Teams and Zoom.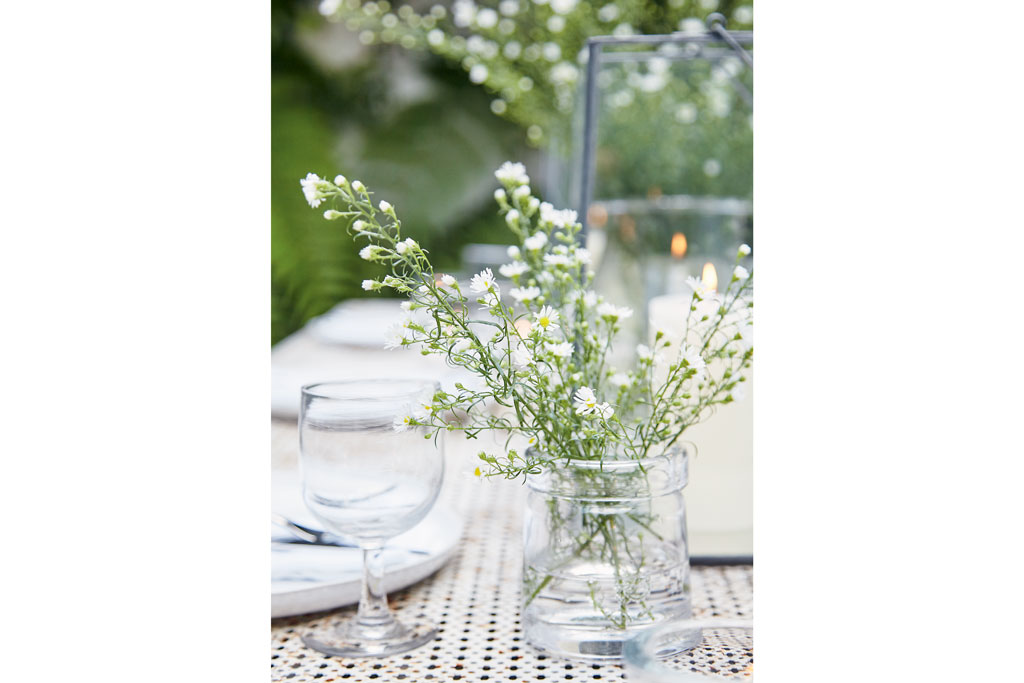 What makes a house a home?
It takes love, patience and time as it continually evolves with us. I love a home to feel warm, inviting, personal and lived in. Creating one we love, is one of the most important things we can do. It's the place we escape to at the end of a hectic day, so should feel calm, organised and peaceful. It's also a place to really enjoy with family and friends. To have long lunches, play games, turn up the music and have fun in. I'm a great believer in buying essentials that will stand the test of time, because they will be used and loved for many years to come. The most important thing is it should be somewhere we all cherish and make memories in.  
 THE PRINCES TRUST
Chrissie is The Founding Patron of The Change A Girls Life Campaign. Bringing together a diverse group of women in business and philanthropy to support young women in the UK facing significant challenges and helping them into a first job, further training or starting a business.
Portrait shot by Romas Foord
All lifestyle photography taken from For the Love of White: The White & Neutral Home by Chrissie Rucker & The White Company is published by Mitchell Beazley, £30.00, thewhitecompany.com
Image Credit: Chris Everard
MORE AT HOME WITH:
Matthew Williamson / Monica Vinader / Martyn Lawrence Bullard / Theo Fennell