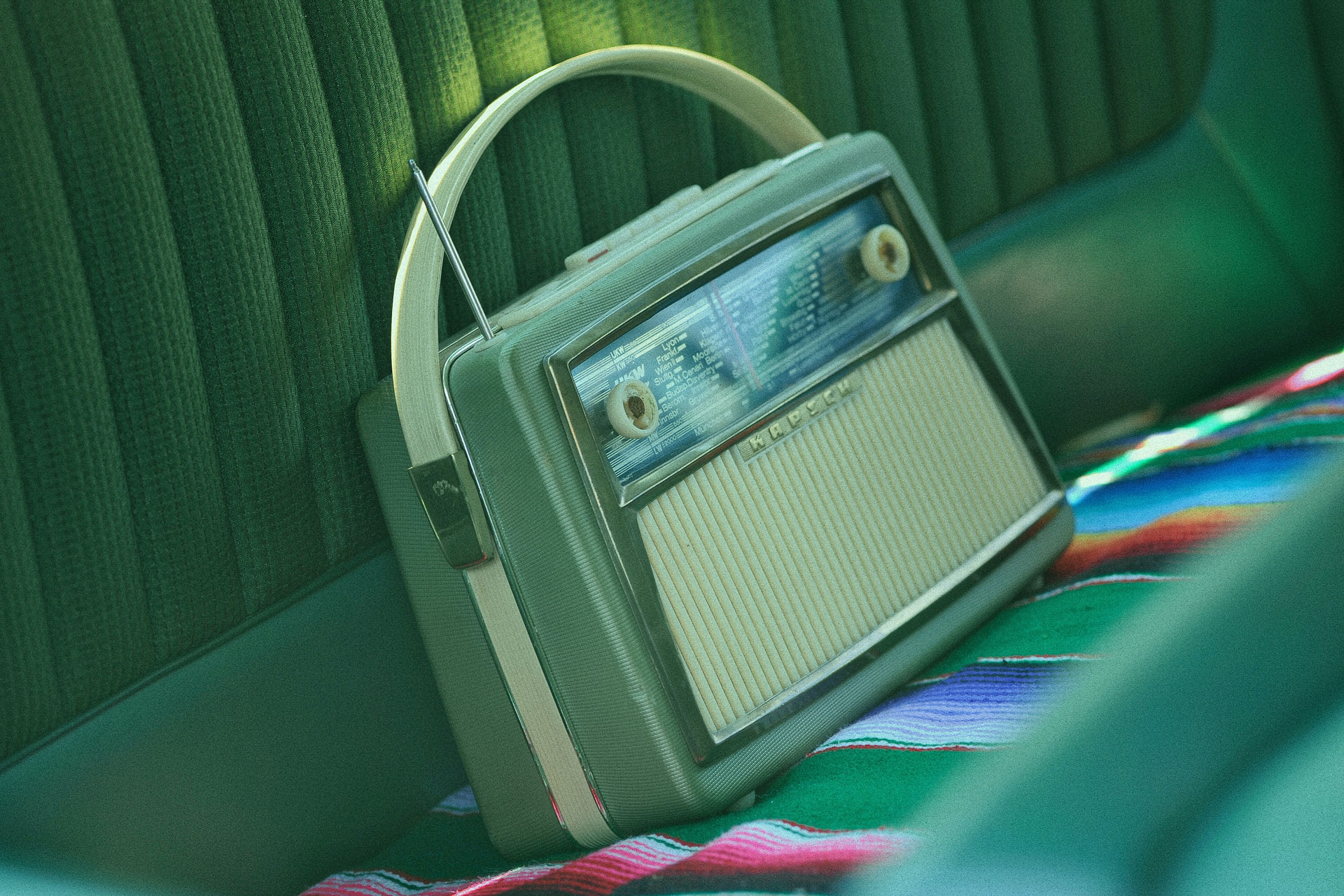 Interior Design Podcasts: Here are 12 of the Best for 2023
For the beginners, the fixer uppers and the industry expert aficionados
From practical advice for beginners, to decorating on a budget, to expert knowledge from industry insiders, here are the best interior design podcasts worth tuning in for. 
The Best Interior Design Podcasts Worth Subscribing To
If you're flicking through an interior coffee table book, painting a wall, doing a complete clean of the home, we can't really think of a better way to finesse your knowledge than through interior design podcasts. If you're after the scoop on the nitty gritty practicalities of actually decorating your home, we'd go with our House Guest Podcast, Affordable Interior Design and The Great Indoors.
For those involved in the industry, Interior Design Business, Chairish, and Design Time are good listens. And those looking to learn more about design and architecture as more of a cultural analysis, Monocle on Design, and Design & Architecture by 99% Invisible's would be are go-tos.
Listen to the House Guest Podcast: How To
1. House Guest Podcast: How To Country & Town House
Our Interiors Editor Carole Annett chats with experts from the world of interior design and decoration, the people behind the houses and hotels you see in glossy magazines like ours. This series, called 'How To', sees experts guiding listeners on a particular area of their own expertise (think Louise Roe on rattan, Nina Campbell on decorating), where you'll pick up learnings you'll take with you on your next project.
Listen on Spotify | The Latest Guest is Martin Hulbert Design
2. The Modern House Podcast
View this post on Instagram
The Modern House, otherwise known as every interior lover's Instagram (@themodernhouse), has a brilliant podcast that asks guests to pick their three favourite homes from anywhere in the world, ranging from estates to a ramshackle hut in a field. The Modern House brings in editors, designers, artists, and architects to lend their expertise, and of course offer their sharp eye on how to create beautiful living spaces.
Listen on Spotify | themodernhouse.com
The Essential Interior Design Books
3. Monocle on Design
If you love Monocle's print magazine – that's a beautiful coffee table style, slow gratification kind of read about all sorts of intriguing things happening across the world – then you'll love their podcast, Monocle on Design. The podcast is decidedly broad, ranging across everything from the world of design, from fashion, up and coming designers, to the latest news coming from the industry. There's some pretty niche listens (hungarian weaving, anyone?). But episodes like play in design, restoring the UK's interwar year housing will make you look at interior design from a completely different perspective. Best for those invested in the socio-political angle of design, and interiors. Not for practical tips.
Listen on Spotify | monocle.com
4. The Great Indoors
TV presenter and designer Sophie Robinson and author and journalist Kate Watson-Smyth chat the latest trends and topics on the home front. This one's fabulous if you're focused on improving a specific area of the home (there's an episode dedicated to galley walls, and one on rental furniture). But there's also plenty of other episodes discussing wider themes, and the duo also bring on a litany of star-studded guests, so it's up to you on what might suit you best.
Listen on Spotify | podcasts.apple.com
5. Affordable Interior Design
This one is for the fixer uppers on a tight budget. Affordable Interior Design, an American podcast, is hosted by Betsy Helmuth, who takes you through all the secrets and hacks that you don't often get to know outside of the industry. Helmuth is a New York based designer, who's appeared on a string of US shows (NBC's Today Show as case in point), and she's also the author of the book, Affordable Interior Design. The podcasts are decidedly on the practical side (aka: Picking Doors for Your Kitchen Cabinets), and we can't think of a better thing to listen to tune into when you're on the way to a DIY or interiors shop, so you're all informed with expert knowledge before you buy.
Listen on Spotify |podcasts.apple.com
6. Design & Architecture, 99% Invisible
This one is for the deep thinkers. Design is everywhere you look. But how much do you stop and notice what's there? 99% Invisible (you'll need to go specifically their Design & Architecture section, by the way), takes you through design in a way like you've never seen before. Think the history of food aisles, the history of postcodes, or how about why we put things in alphabetical order? Fascinating listens await. This definitely isn't one for practical tips, and leans far more into more academic cultural analysis of design.
Listen on Spotify |99percentinvisible.org
7. At Home with Lauren Keenan
Interiors stylist Lauren Keenan takes you through everything you need to know to curate and create your perfect home. Keenan interviews industry insiders (like Wendy Moore) and drops tips and tricks (think: kitchen and bathroom lighting mistakes to avoid, lighting is always key after all). The tone is light, fun, and frothy, and it's just as welcome to beginners and first time home buyers, as it is to those involved in real estate.
Listen on Spotify | podcasts.apple.com
8. Dear Alice
Jessica Bennett and Suzanne Hall (owners of Alice Lane Interior Design) cut through the fluff of what sometimes can be an inaccessible and gated world of interior design. With wit and taste aplenty, Hall and Bennett walk you through the minutia of interior design, where, after listening to five or six episodes, you'll be quite impressed by how much you already know. This podcast centres on the specifics, so for example there's not one but two dedicated to cabinets (that's two hours on cabinets, you'll be the world's next best genius on this furnishing). But in all seriousness, it's a great way to inform yourself before you make serious investments with your money and time on your interior furnishing.
Listen on Spotify | spotify.com
9. Interior Design Business
This monthly podcast, Interior Design Business, is focused for the industry design professionals in the UK. So expect to hear all from all the practitioners and experts in the field on the challenges they face, both day to day and in the long term. It's a great way to dip your toe in and discover more if you're on the fence about whether to set up your own interior design company, for example. The episodes take the form of bit by bit practical advice like 'how to attract the perfect clients' and 'cutting through greenwash', and plenty more.
Listen on Spotify | interiordesignbusiness.castos.com
10. Duchess
View this post on Instagram
If you love any of the following: The Crown, Downtown Abbey, Bridgerton, Emma, Pride & Prejudice, or anything around historical houses, The Duchess podcast has your name written all over it. We're playing a little loose with interior design specifically, but the host, The Duchess of Rutland, takes you through the historic homes of Great Britain, where she interviews the owners and custodians of these mighty estates (oh, and castles, manors, and palaces, naturally).
Bridgerton: Where Was it Filmed & Can You Visit?
The Duchess of Rutland herself has an interesting story: she grew up far away from an aristocratic upbringing that many of her guests had, but when she married her husband, The 11th Duke of Rutland, she immediately became a custodian to one of the most important buildings in the UK: Belvoir Castle. The Duchess wanted to learn more about this world: and the podcast was created.
11. Chairish
Hosted by industry insider, Michael Boodro, this podcast takes a look at interior design as a whole, at a point where it's going through a huge amount of disruption, from everything around marketing, to sourcing clients, to the housing crisis as a whole. Boodro talks to industry experts, as well as dropping many insider niche pearls of practical wisdom (things like 'what's blooming in the world of floral design', as case in point). This one's most useful for the industry professionals looking for extra hacks and tips in the game.
12. Design Time
This weekly podcast, Design Time, is all about solving creative problems in your home to make your everyday mundane moments that much more special, fun, artistic and personal. From renovation hacks to insider scoops, you'll have information aplenty for your next project. Design Time has some pretty famous guests too (think Bobby from Queer Eye, Johnathan Adler, Matilda Goad), so this one's definitely worth a listen.
Main Image: Milivoj Kuhar, Image courtesy of Unsplash
SEE MORE
The Best History Podcasts to Listen to Right Now / The 50 Best Interior Designers