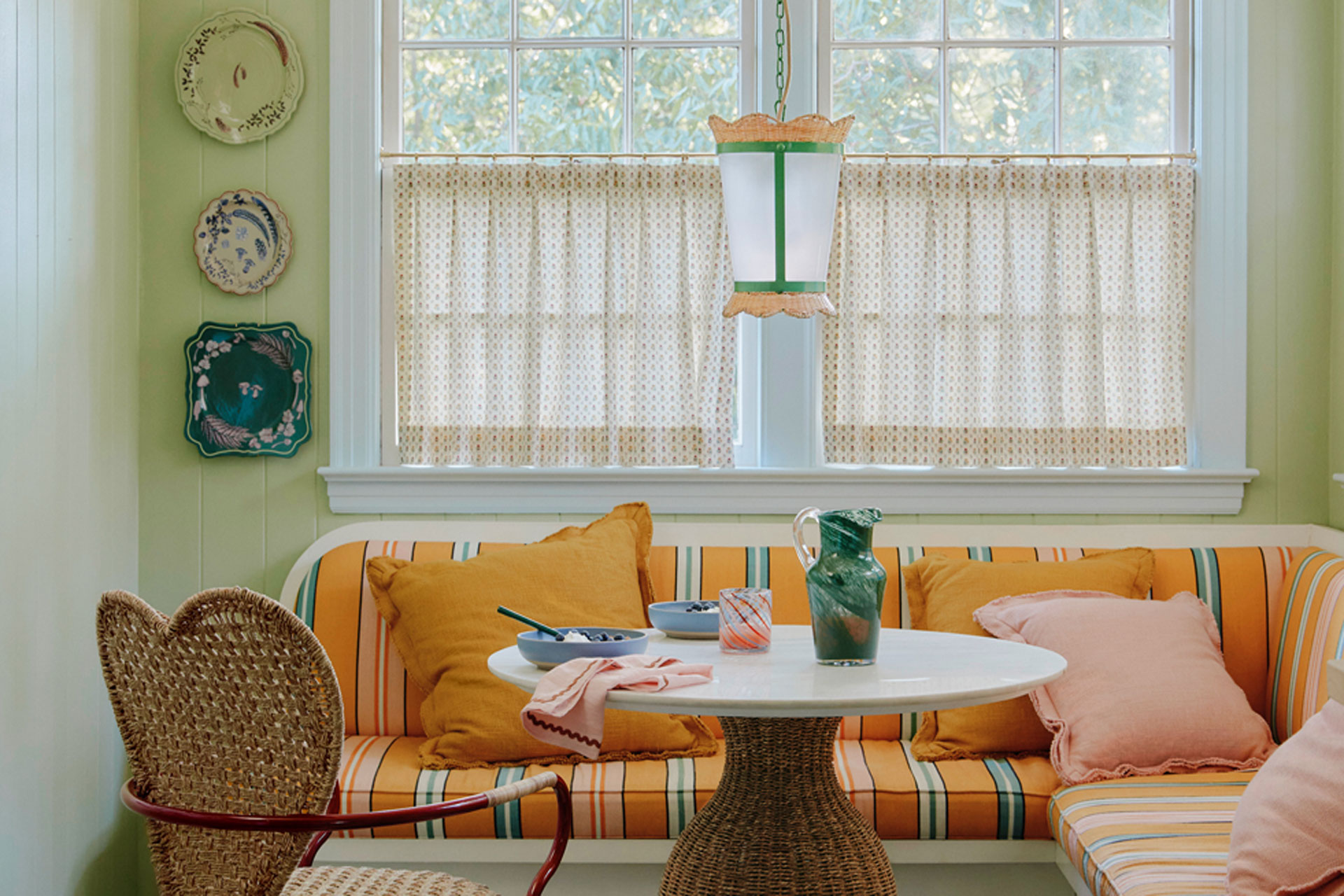 Interiors Microtrend: Cafe Curtains
---
It's insulating; it's light loving
Cafe curtains — once spotted in the windows of everyone's grandparents — now hangs in the homes of the fashion pack. Here's why the cropped curtain is back in the zeitgeist this autumn. 
Interiors Microtrend: Cafe Curtains
Cafe curtains — if you didn't already know — are the informal siblings to the full length curtain. Think of them as the abbreviated version, that offers privacy, and (much coveted) insultation, but doesn't compromise on a good flush of light. The cafe curtain provides a kind of softness, an extra layer, and intimacy to a space like nothing else.
Now you'll spot them in the background shots of a Matilda Goad x Anthropologie Collaboration. Or you'll see the humble cafe curtain in the living room of chic interior designer and tastemaker, Lucy Williams (@lucywilliamshome).
You might also clock the the cafe curtain getting a fresh modern twist (and scrunch) in Luke Edward Hall's forthcoming book, A Kind of Magic, that sees a blush pink curtain pop against a green wall.
You can trace it's origins way back to 19th Century Vienna's cafe culture scene. The curtains would act as screens from the diners to the passers by, to offer privacy and a hint of glamour. It was also a cheaper alternative to costly full length curtains for the cafe owners.
The trend then entered the domestic sphere, and has waxed and waned in fashion ever since. You can style this curtain perhaps behind a banquette in the kitchen, like Matilda Goad has in her collaboration. Or it could work well to offer a sense of cosiness for a guest bedroom window, or a window behind a bathtub.
For high quality linen minimalism, head to East London Cloth. If you're after a colour popping statement (pink and green perhaps?), you could turn your hand and try and make it yourself, by buying high quality fabric, second hand or otherwise, leaving you total creative freedom.
Cafe Curtains: Where to Buy