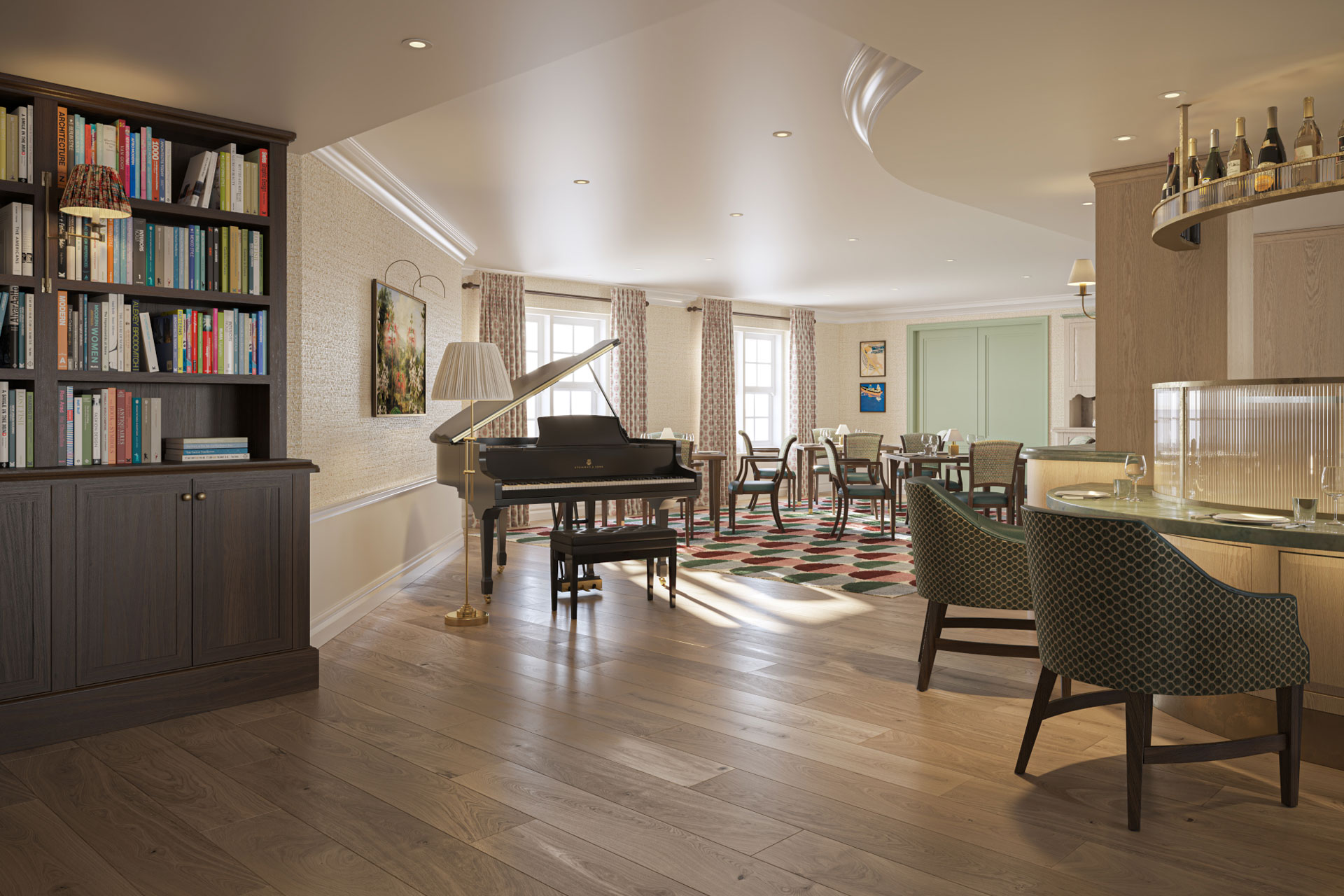 Is This The Most Beautiful Care Home In London?
Nina Campbell reimagines getting older in luxury
Step inside this luxury care home designed by Nina Campbell.
Nina Campbell is a name you'll probably have heard of in design. Or if you haven't, you'll know her clients, which have included Ringo Starr and Sarah Ferguson. She boasts a portfolio of over half a century of colourful and tasteful houses and projects – her designs marrying a sort of American fantasticism (a 'yes-and' approach to interior design which she has long admired of the Yanks, although she is British, Scottish and Austrian through and through) with timeless British heritage. And her designs are forthright, beautiful and detailed, having transformed many homes. Her career speaks to a lifelong dedication to demanding beautiful spaces for people. 
So, her latest project is a simple extension of this. With a crisis in the care home sector – exacerbated by COVID-19 – that left many alienated from these living spaces, Nina's latest project with KYN was to redesign a care home to her exacting standards. And she'd consider the project 'a triumph'. Step inside KYN Bickley, one of London's most luxury care homes.
Nina Campbell Interior Design: Reimagining KYN Bickley Care Home
Enter the Eden Room in KYN Bickley, London, and you'll be drawn in by rich, warm colours – greens that speak to nature, yellows and reds that sit warmly against each other, and the soft glow of Porta Romana's Edith wall lights. This inviting space is furnished with elegance in mind, and makes up one of a few communal areas for residents of this property. The residents in question? The elderly, as this is no ordinary home: KYN Bickley is one of London's most plush care homes. It's no surprise, then, that its interiors are equally plush. They've brought in the legendary Nina Campbell to re-envision the space, and she's created a carefree haven for residents to host, relax and live well with access to the uttermost levels of comfort. 
'I create mood boards for all my projects', says Nina, 'and for this project, I wanted to create chic and authentic spaces to give residents a vital sense of belonging, and make the transition for incoming residents as easy as possible.' 
The moodboards comprise a medley of colours, lighting and, more widely, a patchwork of what the entire home will look like. An interior designer typically presents this back to clients, receives feedback, and adjusts accordingly. They'll consider the flow of the space – how do people traverse it? are there any busy hotspots? – and map it out via floor plans and digital renderings of the final space. Nina is famously a stickler for details, so when considering a care home, there were also some additional considerations. 
'We found the most suitable fabrics for care home usage,' she says. There are regulations to adhere to; so planning a space like this is about meeting luxury and look with what is actually permitted. But there remain some nooks and crannies which provide opportunity for fabric freedom. 'We had some flexibility on cushions and the backs of chairs – in the entrance hall, for example, there are two Gainsborough chairs with my fabric Holkar in Aqua. It provides an antique feel.' 
There are some clear moments of inspiration in treading the balancing line between a beautiful space and a practical one. When these moments work, they're unquestionably good. 'I collaborated with bed company Accora to provide a stunningly beautiful nursing bed tailored to residents' needs – turning form into design to create a homely ambience.'
A key goal for this project was to make residents feel safe and at ease, the transition to a home firmly in mind. Nina thinks they achieved that: 'I hope my part in this will help enrich the lives of residents as much as possible, and when the first group of care home specialists came to see KYN Bickley, they were blown away by the consideration put into making the home attractive – I would consider that a triumph.' 
The end result? A home full of love and warmth – and gorgeous interiors.
Nina Campbell was commissioned by KYN to design the interiors of its new care home in Bickley. kyn.co.uk