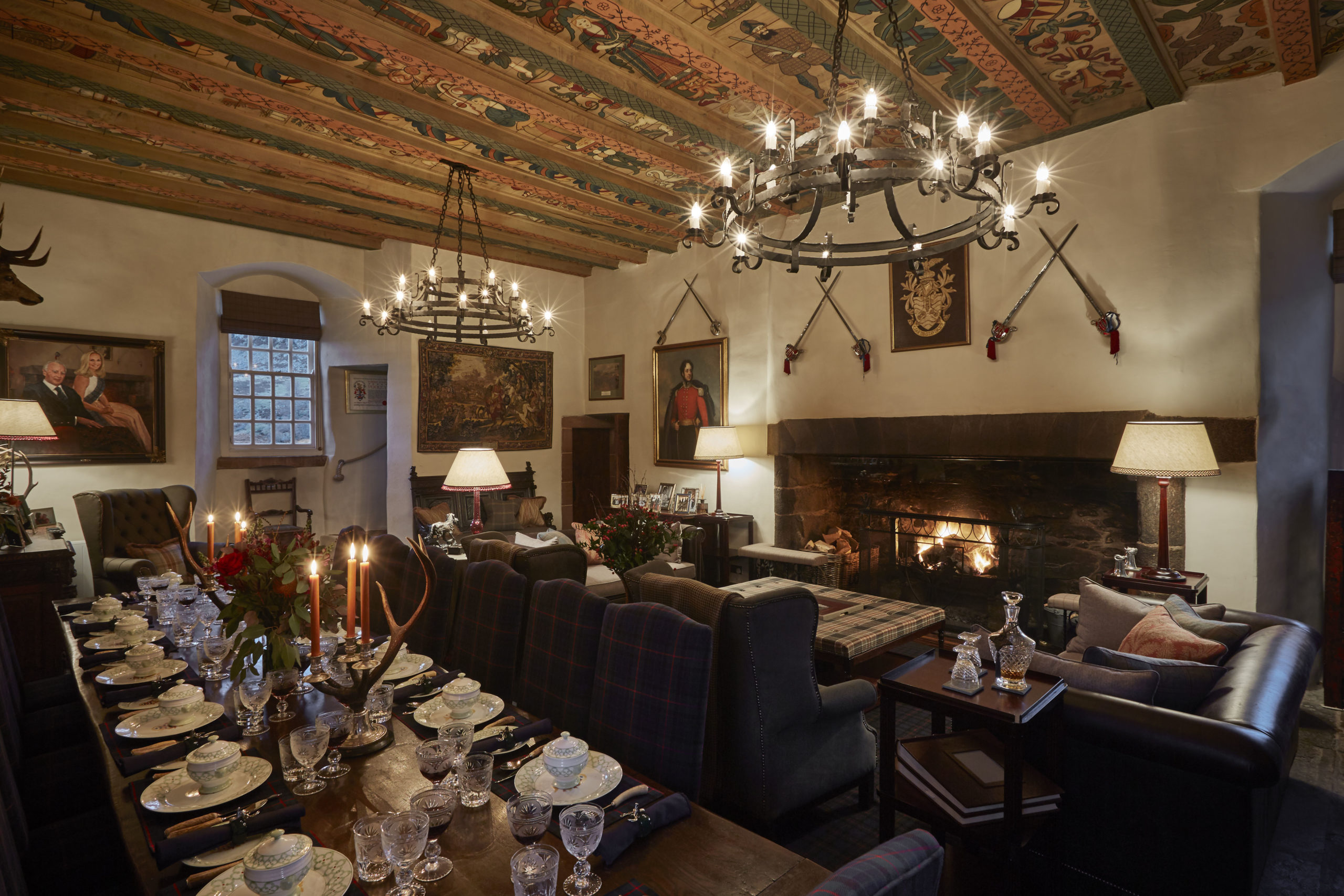 At Home With… Katharine Pooley
Step inside interior designer Katharine Pooley's Scottish castle
Interior designer Katharine Pooley's takes us on a tour of Forter castle. Step inside the Scottish fortress – a dream winter sanctuary complete with roaring fires, restored original features and a team ducks. 
At Home With Katharine Pooley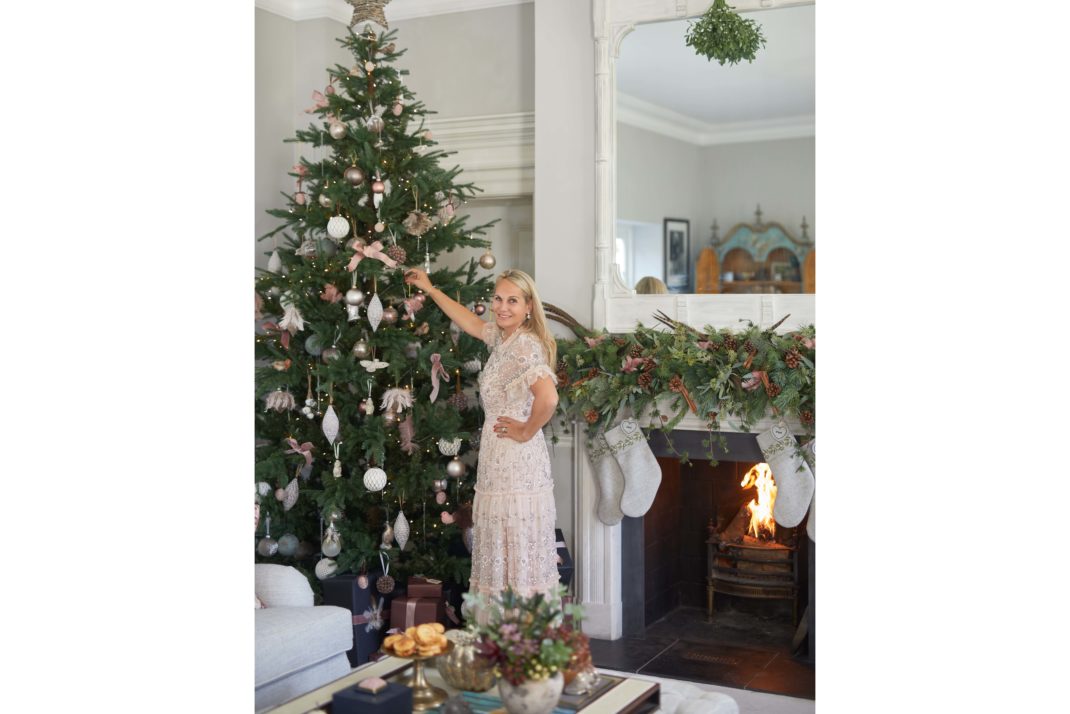 What's the story behind your home?
When my father, Robert Pooley, first laid eyes on the castle it was a complete ruin; just crumbling blackened stones with two mature trees growing amongst them, the only inhabitants it had seen in  340 years. Forter's history is one of drama and violence, it was burnt to the ground on the orders of the Duke of Argyll (who was incensed that Lord Ogilvy would not sign the National Covenant). Over the next 20 years it was painstakingly rebuilt, mirroring the original layout with stone pieces reclaimed from the surrounding fields. Specialist craftspeople, historical renovators and specialists all worked on the detail, the Great Hall's painted ceiling took 30 days and was tirelessly replicated as it would have been.
What was your inspiration when it came to designing it?
I oversaw the interior design, though overcoming some of the complications took considerable imaginative thought! Large pieces such as four poster beds and the grand dining table had to be sawn into pieces and reassembled in place. While perfect for historical defence, elements of the fortification (such as the spiral staircases and tiny windows) made access a complete nightmare for getting in the super king beds, freestanding baths, and wrought-iron stag horn chandeliers for the plush Laird's Master bedroom. That aside, it's very much a family home full of personal details. We spend much time there throughout the year, and rent out the castle for special occasions and weddings. The tiny chapel in the basement is very intimate and romantic. 
Do you have any interior brands that you love and always go back to?
de Le Cuona, Holland & Sherry and Elizabeth Eakins – they have fantastic ranges for the heathery hills of Scotland.
What's your favourite room in your house?
The Great Hall: I love the mural on the ceiling, which is so unique. And the huge fireplace is perfect for toasting marshmallows.
What can you see from your window?
Mount Blair – it's very dramatic whatever the weather.
What's your signature dish – can you share the recipe with us?
Pooley's egg on a Saturday morning. Just fry sliced onion, bacon, coriander, sweetcorn and avocado and place on top of a poached egg on toast, and there you have it. It's super breakfast food.
Share your top books with us if you were to start a book club
Private Peaceful, Michael Morpurgo
Billion Dollar Whale, by Tom Wright and Bradley Hope
The Artist's Way, by Julia Cameron
What the Health, by Kip Anderson
Share your must-see TV and movie list
Chernobyl
Normal People
The Spanish Princess
The White Princess
The Great
Succession
The Morning Show
Little Fires Everywhere
If you're working from home at the moment, how have you designed your space?
I've made a board with the KPL logo on it, so when I'm on a Zoom call with a client the space behind me looks a little less like a living room. I've also built a moveable and foldable desk to store everything neatly away. My top home working tip is to make sure the light and position is right for your skin, and for clients to see you clearly. And to retreat to a quiet space where the kids arguing or the dog barking can't be heard in the background!
What's the first thing you do when you get up in the morning?
I feed the animals – which includes two dogs, one cat, ten chickens, two swans and five ducks. I'm a secret farmer! They keep me grounded.
How do you love to spend your evenings at home?
Alas: work, work, work. But after making up an adventure story for the kids.
If you were to throw a party at home, what are the key ingredients to make it go with a swing?
Good music, quality gin and the best company (people who know how to laugh).
What gadget could you not live without in your home?
I would rather live in a world without gadgets.
How do you keep fit at home?
Walking my dogs, cycling with my boys and constant hoovering!
What are you doing in your garden at the moment?
Building a cutting garden, and a duck pond for my five new Indian runner ducks.
Whose home would you like to be a fly on the wall in?
I'm currently redesigning an incredible chateau in the South of France set in vast Italianate gardens. It was the setting for one of my favourite Cary Grant and Grace Kelly films, so to travel back 65 years and watch Hitchcock at work there and see the original interior would be incredible.
What could you really do with now you're spending more time at home?
I could definitely use good internet connection, and a bread making machine!
What makes a house a home?
Memories and photographs.
MORE AT HOME WITH:
Louise Bradley / Louise Kennedy / Hannah Cecil Gurney