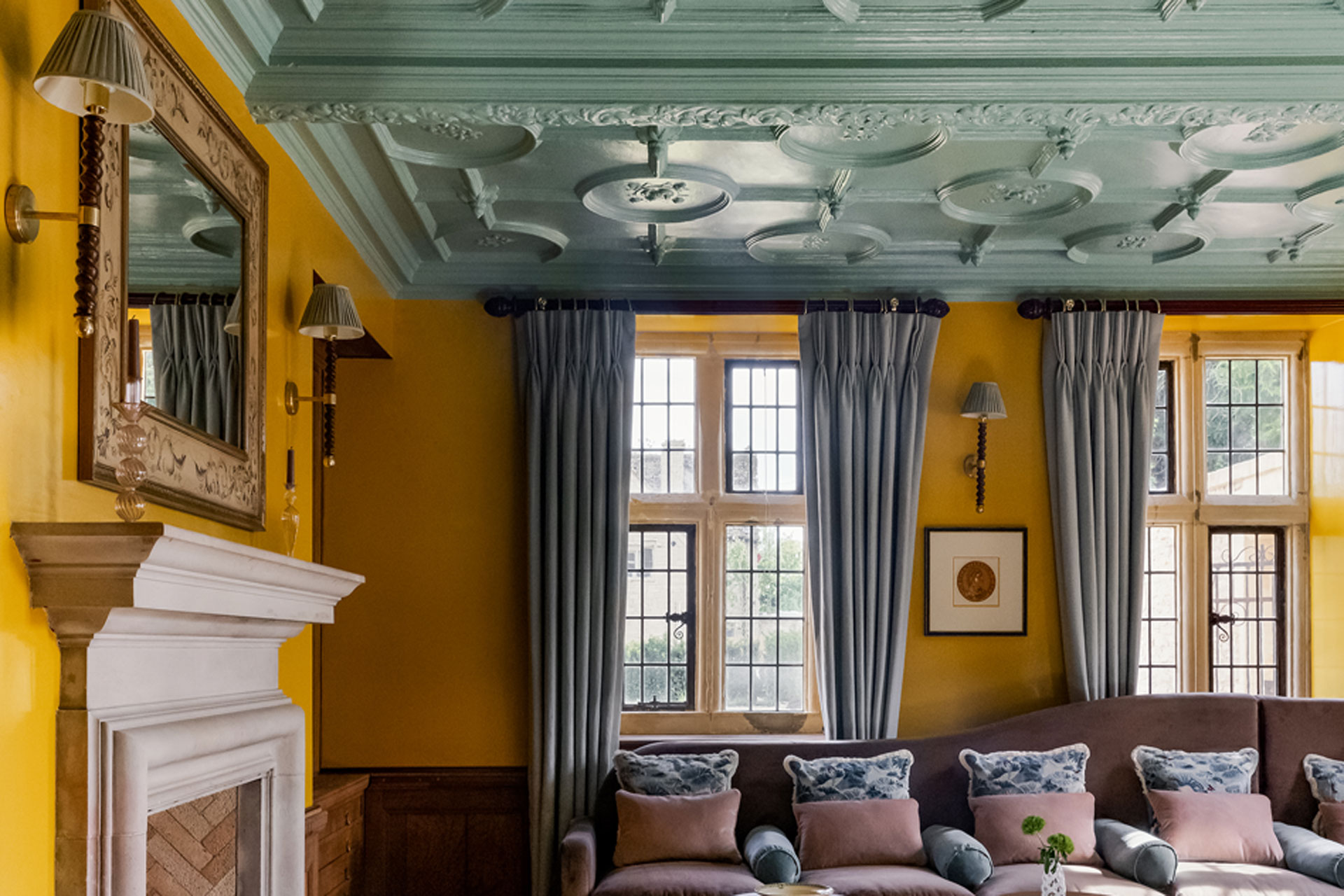 Kin House is a Love Letter to Colour
---
The opening of Kin House hotel, designed by Barlow & Barlow, shows chromophilic interiors are making a comeback. 
Colour is Back in the Zeitgeist. Barlow & Barlow's Kin House Shows us How It's Done.
If you haven't already noticed, playful touches of chroma have been hitting the hallowed halls of many historic homes these days. First it came with the 2004 film, Nanny McPhee, with it's kaleidoscopic delight pops of zingy hues providing the backdrop of the beautiful chaos of the Brown family. Then came Autumn De Wilde's adaptation of Emma in 2020, which saw pops of pastels of minty greens, pale pinks play the onlookers for Austen's glossy Georgian drama.
Anya Taylor-Joy on Becoming Austen's Emma
Now we're seeing a thirst for this huey kind of hedonism for our homes go viral on TikTok. It all kicked off when a blog post by MacLeod Sawyer explained how we're loosing colour more than ever in our built environment.
The post, featuring backed up data with graphs and statistics pointed out how are cars aren't as colourful, how our homes aren't as kaleidoscopic (which The Guardian picked up with the rise of 'greige' interiors, a sad blend of grey and beige), as well as visual branding.
It struck a chord, hitting views in the hundreds of thousands online. The post's been snowballing, on IG officialsadbeige, and by Tiktokkers like @wolkeerikson.design and Emma Mcmorran stitching their take on it, and receiving traction in the millions.
You could say that this counter-colourful clapback is drip feeding how we're decorating the most illustrious heritage spots in the UK.
That's exactly what's happened when creative duo Lucy Barlow and husband Joshua Sear designed the exuberant interiors of the July opened hotel, Kin House. It's a private Georgian manor in the Wiltshire countryside, that offers the ultimate private hotel experience tailored exclusively to private events.
The Grade II* manor in the pretty village of Kington Lanley, Kin House, signals the sea change the historic restoration. Because now, you'll find that fun, play, patterns, and maximalism have as much stake in the game as much as being a custodian bringing historic homes to the next generation.
but don't be thinking this is your typical beautiful historic home turned into a hotel. The space is designed exclusively for a private party takeover, where you'll be able take up all of the twelve bedrooms of this Wiltshire based pile in a true no holds barred knees up party house.
So, it makes sense that this kind of hire-the-whole-house Gatsby fever is reflected in this playfully decadent décor.
It's all a result of the acclaimed designer, Lucy Barlow (of Barlow & Barlow), who has a signature, recognisable take on colour. You'll find clashy but cute pastel pops of pinks, greens, baby blues, chequered everything, and many a patterned wallpaper.
Having fun with history is the name of the game. You'll find contemporary prints shoulder grandiose antique paintings. You'll see prawling leopard prints pop next to pristinely restored heritage pieces hanging in the West Country Manor.
Check mate. The house is packed with maximalist exuberance, and that's no less the case in the chequered bathroom. Chequered bathrooms is catnip to the style set these days, you'll find it in Luke Edward Hall's new book, It's a Kind of Magic, as well as in pretty much every Soho House, to the point that the brand actually made fun of itself in a series of images on Instagram.
10 Pink Bathroom Ideas to Inspire You
Bombastically bold clashes of green and pink is the 'it' colour combination of the interiors set (see interior designers, 2LG Studio, craftmaker Issy Granger, and Mellerstain House for style notes).
Toile du Jouy meets contemporary minimalism in the interiors of Kin House. We're especially loving the pouf chairs peppered about the place to add a sense of play.
There's masterful attention to detail: the framed shell prints reference the original shell historic symbols of Kin House. Plus, the pastel pinks, greens, and blues framing the pieces add a fabulous balance of hues, but still retain the history of the space.
Maximalist botanical wallpaper lines the walls of Kin House, we have a particular penchant for this blue on blue moment.
Kin House is available for private hire now. All Images courtesy of Barlow & Barlow. 
SEE MORE