Creating the Perfect Larder for Your Home
Plus, an exclusive offer for Country & Town House readers...
Redesigning your kitchen this year? How much thought have you put into your food storage system? A focus on the perfect larder is one of this year's biggest kitchen interiors trends, and to get you started, we spoke to the experts at Great British Brand Smallbone about how to create the perfect larder. (Plus, we've got an exclusive Smallbone offer for our readers, see the end of this feature for more details.)

Why a larder?
'At Smallbone we believe that the kitchen should be an experiential space that inspires and stimulates senses. With food defining the way we live, the kitchen is more than ever the real heart of the modern home, a place of self-expression and social interaction. As people spend more time cooking, the larder has become the ultimate storage solution that keeps all ingredients on hand and at the right temperature. In addition, with food packaging evolving as it has over the last 30 years, well-displayed provisions can be a thing of beauty and a well-stocked larder an inspiration to cook.' – Iain O'Mahony, Director of Special projects, Smallbone.
From larder to fridge and back to the larder – today's food storage trends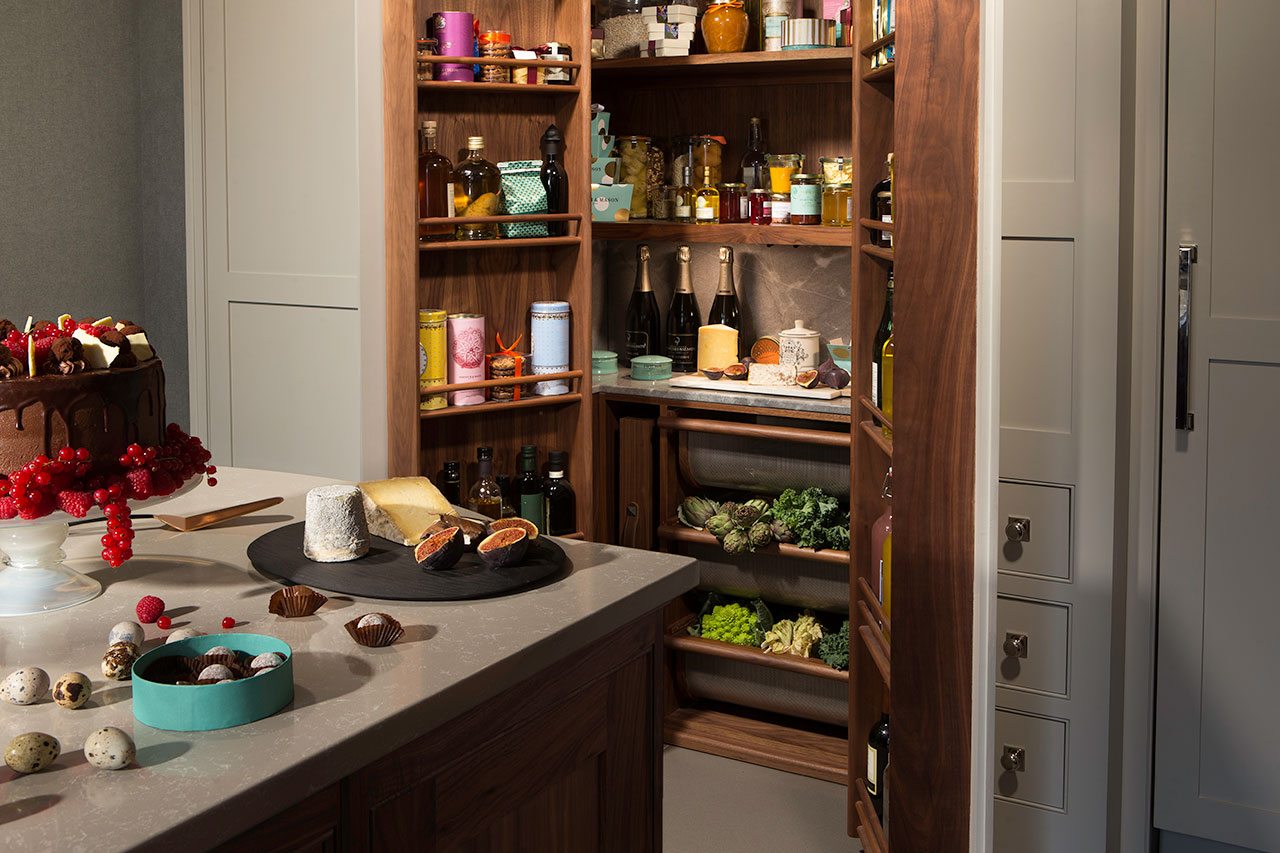 'Larders were originally a way of extending the shelf life of food by placing it on a cooler North facing wall and ventilating it top and bottom. However, when refrigerators became more available in the 60's wall units became the place to put your cans and dried goods,' explains Smallbone's Iain.
Iain also explains why the larder is a must-have in a modern kitchen design: 'In the early 2000s we started storing all of our food in large American-style fridges but have since realised that it is often better to keep food at an ambient temperature.
'A traditional form of storage like the larder does this while keeping all provisions and condiments in one easily accessible place.  The larder is a stylish way to help manage the amount of food we have.'
'Now, with exotic ingredients more accessible than ever and cooking less a necessity than a real pastime, it is not unusual to have a large quantity of spices, different types of oils, flours and sugars. Therefore, you need space to be able to present these in a manner that makes them accessible to the busy cook.'
How is this achieved? 'Racks on the back of doors, adjustable deep shelves, internal accessories for storage, generous tall doors allowing plenty of access and, best of all, a clear view of what you have in the larder, have all been part of Smallbone's continued evolution as we have worked with our clients to listen to their needs and refine their storage requirements,' says Iain.
Larder trends – what's in fashion?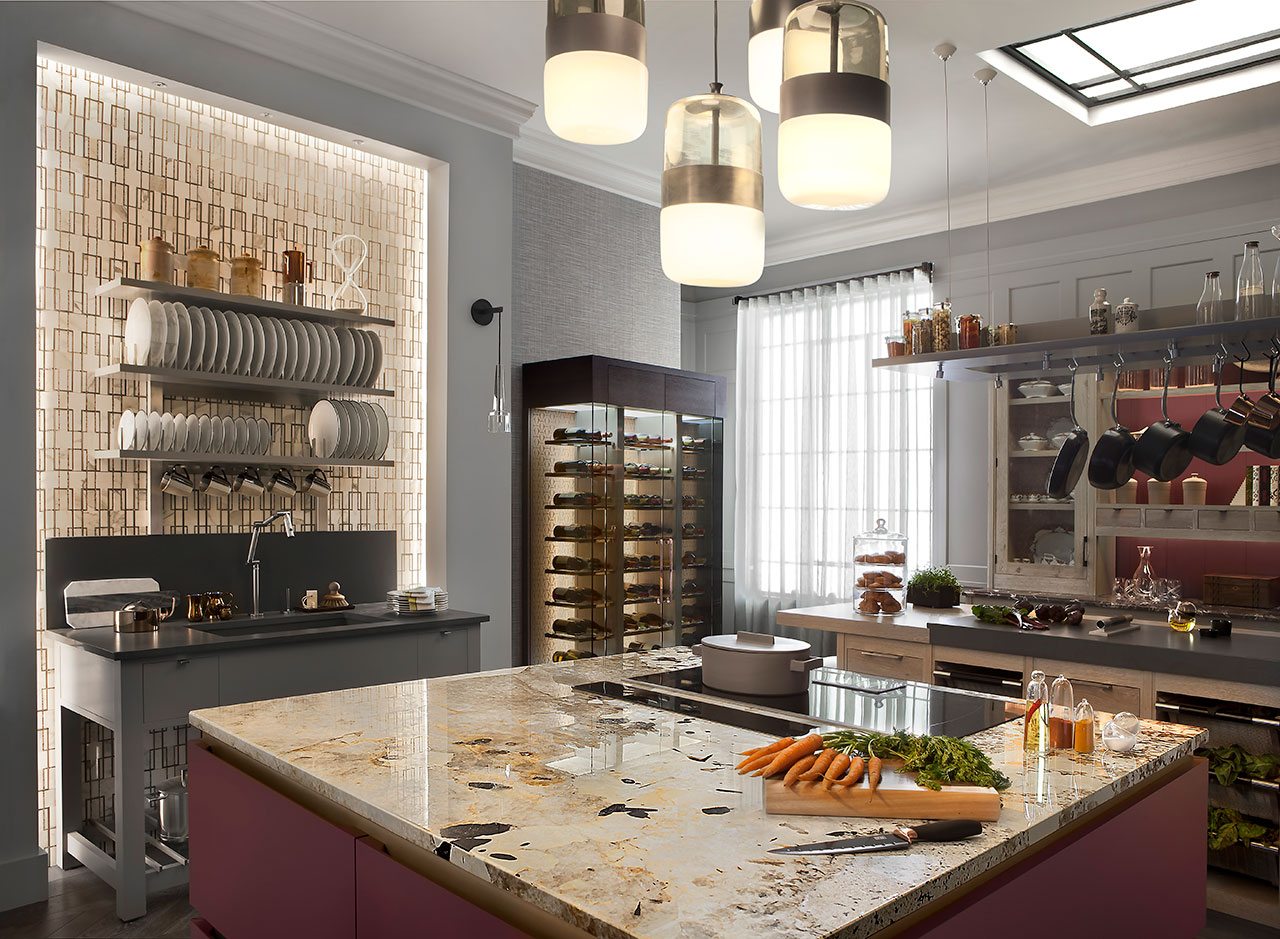 Practicality rules when it comes to larder design, so it's all about working with your kitchen designer to think about what makes sense with your home and how you cook. It's all about carefully thought out storage solutions and solid, durable designs. 'Funnily enough, we seem to have largely skipped the wirework revolution and our larders are more often than not a reflection of our craft,' says Smallbone's Iain O'Mahony. 'Beautiful, robust tall doors, hand-finished dovetailed solid wood internal drawers, intricately executed pierced metal vegetable baskets with delightful turned wooden pulls, all handmade by one of our highly skilled craftsmen.'
It's about deciding what will be most useful in your home, from 'willow baskets for vegetables and pull-out trays for your specialist teas or herbal infusions' to 'custom china stores and spice racks'.
The breakfast cupboard
'A recent evolution of the larder, the breakfast cupboard is another key innovation. Including cool granite shelves for eggs, cheese, etc as well as sinks, refrigerators and coffee machines, it keeps breakfast items in one place and easily accessible. Each larder is handmade in Smallbone's Devizes workshop and designed to suit a client's exact specification and lifestyle.' – Iain O'Mahony, Director of Special projects, Smallbone 
How to create the perfect larder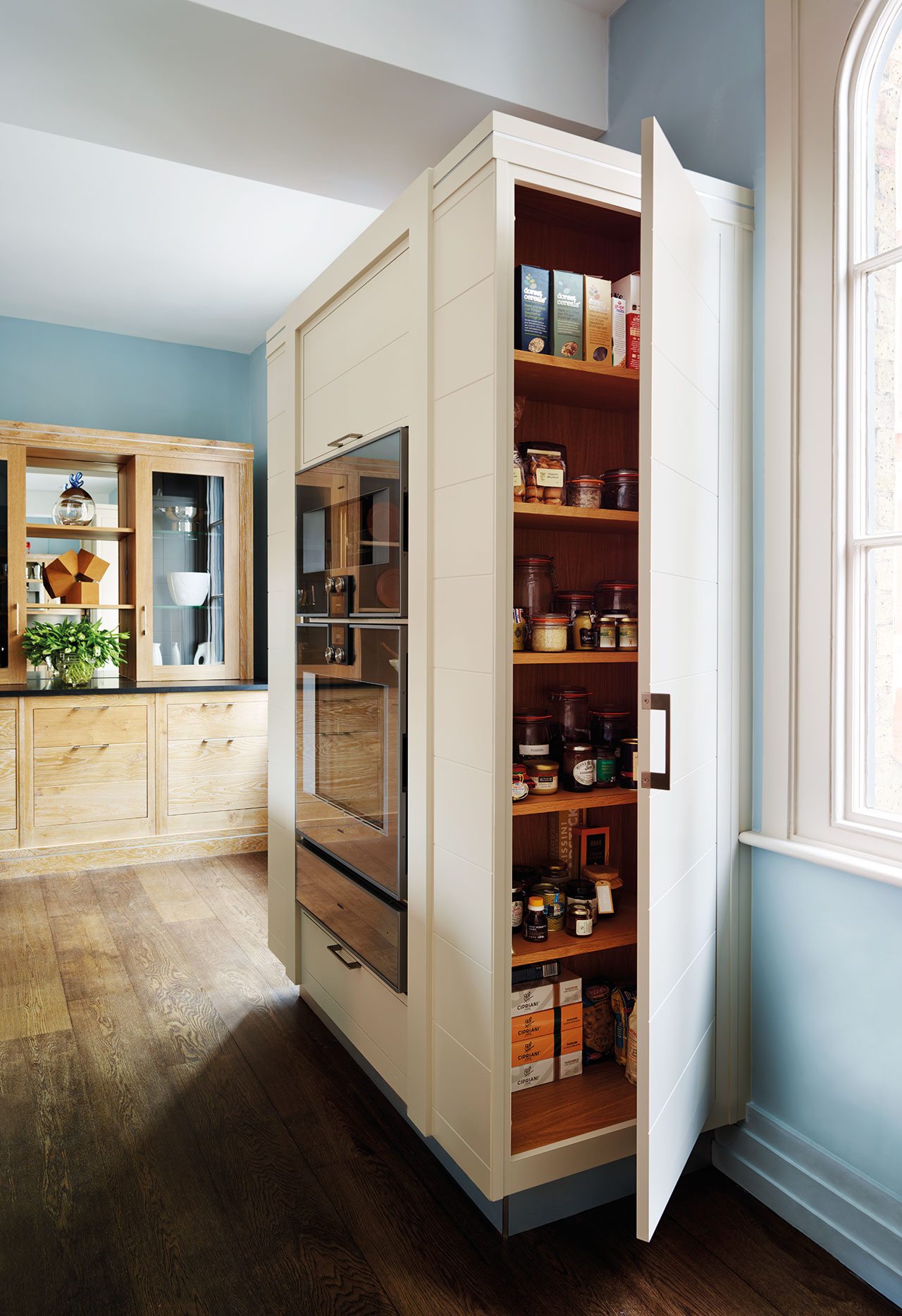 Iain gives us the Smallbone 4-step guide to designing the perfect larder space.
SPACE: Consider how much space is available
PRACTICALITY: Think about what type of provisions you usually store and find out what is currently missing. The question you need to ask yourself is: what drives you crazy because you can never find it when you need it?
ERGONOMICS: Often with a deep larder it can be a challenge to access the back so it is worth keeping in mind how far you can easily reach.
AESTHETICS: This is, of course essential as a well-designed and appointed larder can be as beautiful as an 18th-century Armoire.
'Traditional joinery skills combined with prowess in cabinet making are key to designing a good larder. When closed, it should look sleek and elegant, and when open, everything should be visible and accessible but still look beautiful.  If it is a Smallbone design, we always consider both.' – Iain O'Mahony, Director of Special projects, Smallbone
An exclusive Country & Town House reader offer for Smallbone customers
Thinking about adding a larder to your kitchen, or looking for a complete makeover for 2017? Smallbone is offering Country & Town House readers a luxury Fortnum & Mason hamper worth over £500 with every Smallbone Furniture Commission until the end of April.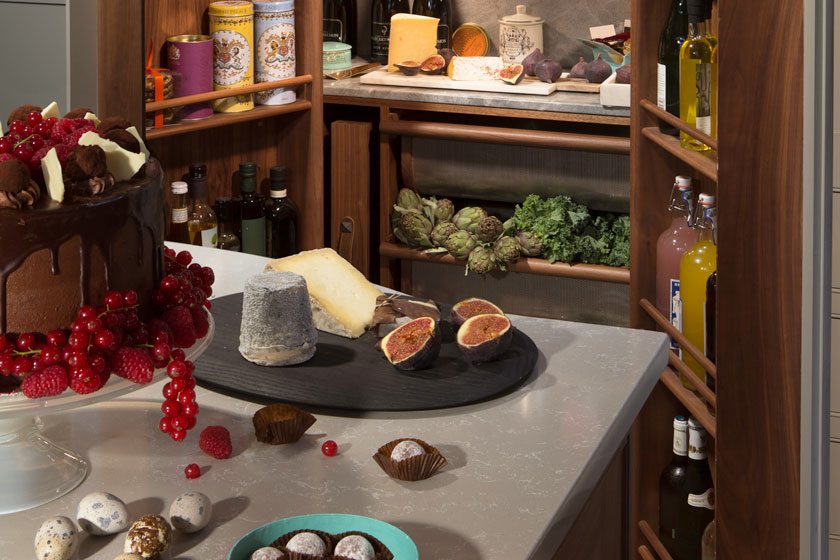 The Offer: Receive a complimentary Belgravia Fortnum & Mason Hamper when you commission a Smallbone project before 30 April 2017.
Enjoy the finest things from smoked salmon to marmalade glazed ham, vintage champagne and opulent sweets, beautifully presented in a traditional wicker hamper.
Contact details – 0207 5895998
Terms & Conditions:
The Fortnum & Mason Belgravia Hamper is valued at £550
One hamper per Smallbone commission
This item is for UK Delivery only
A C&TH Partnership in association with Smallbone
---