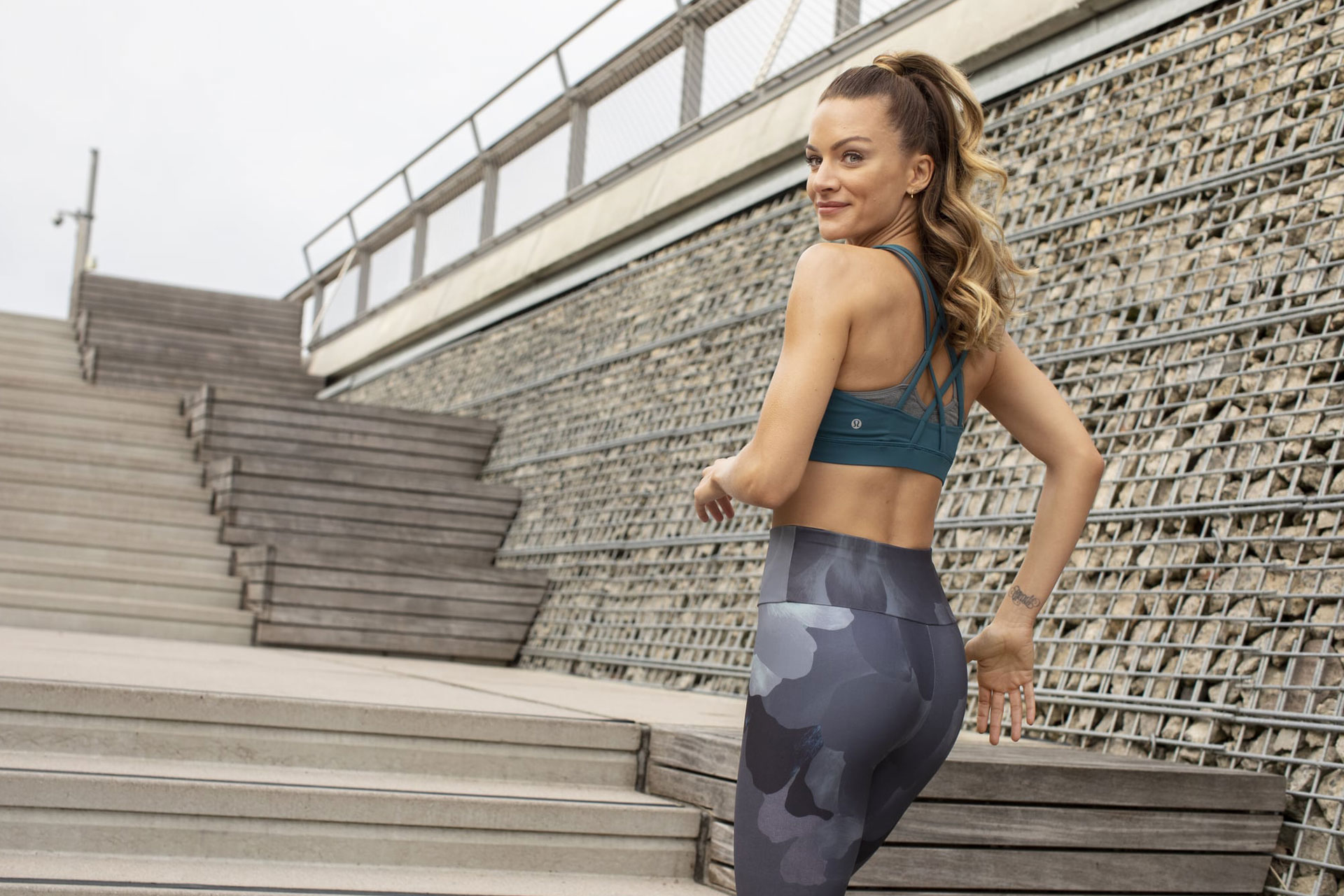 Leanne Hainsby – Here's How I Make My Interiors Motivate Me
The basement is your secret weapon
Peloton's first UK female instructor, Leanne Hainsby, has the power to motivate people. Her catchphrase 'yes to you' (as well as her infectiously zingy energy) has got even Rishi Sunak in a spin; rising at 6 am to attend her classes. But he's not the only one. Amassing a following just shy of 300k IG followers there's no doubt she's made happier, more endorphin-drenched mornings for the thousands who join her classes. 
Discipline can be difficult, and staying motivated is even more fleeting. So how does Leanne make her home workout space, workout for her? 
Leanne's Interior Hacks
View this post on Instagram
1. Put the bike on show – you'll use it more
'Set up your Peloton Bike or Treadmill in a space where you know you will use it. Don't have it 'out of sight, out of mind.' You'll only get frustrated with yourself for not using it, and I always think it's motivating to see the Peloton, so embrace having it on show.' That includes making it a clutter-free area too, Leanne adds. 
2. Cut out the distractions – but add a little fun
'I like to have a very simple, practical workout space, with a little hint of fun. Fewer distractions, more focus on the workout, with a reminder to have a good time with it, is definitely my vibe. Having some kind of storage within the space is a great idea. We have a unit from IKEA that does the job well. A good plant or two is visually pleasing and will help to keep the air clean. I love a diffuser with mood-boosting essential oils (we have a Neom wellbeing pod), and a motivational poster or artwork of someone inspiring for some wall art. We're on the search for something like this at the moment. A big, wall mirror is also a great addition. For a hint of fun, we have a yellow Mickey Mouse figure by artist Leblon Delienne on display. He always makes me smile, and that's a good start to any workout! Our members get so creative with their workout space, so it's great to get inspiration from them!'
View this post on Instagram
Air Purifying Plants For Your Home
3. Temperature is King
You can cut the excuses for being too hot or cold to train when you're a bit savvier with your workout space, Leanne says. The ideal room? Go for the basement. 'A basement stays cooler in the summer and warmer in the winter, which is healthier for working out.' Think about investing in a portable fan too. 'We invested in a great fan at the start of the pandemic, which has meant we can keep our workout space nice, and cool. During the summer, this eliminated the excuse of it being too hot to train.'
4. Don't Take Shortcuts On Setting Up
'Do place a mat underneath the bike to protect the floor, and do think about the healthiest environment to work out in. Spend some time setting up your bike, making sure your seat, and handlebars are set up properly, so you're as comfortable riding as you should be.'
5. Make Small Spaces Work For You
'The footprint of the Peloton Bike is 4'x2' and so it's more compact than people think, so this may help your decision. My advice would be to keep the space you do have, as clutter-free as possible. However, if you don't think you have space to have the Peloton Bike or Tread, my advice would be to use the Peloton App. It's a treasure! There are thousands of workouts that don't require any equipment, so you can still get a really effective workout,' Leanne Hainsby adds. 
Leanne's Interior Picks