A Beginner's Guide to Upholstery, with Micaela Sharp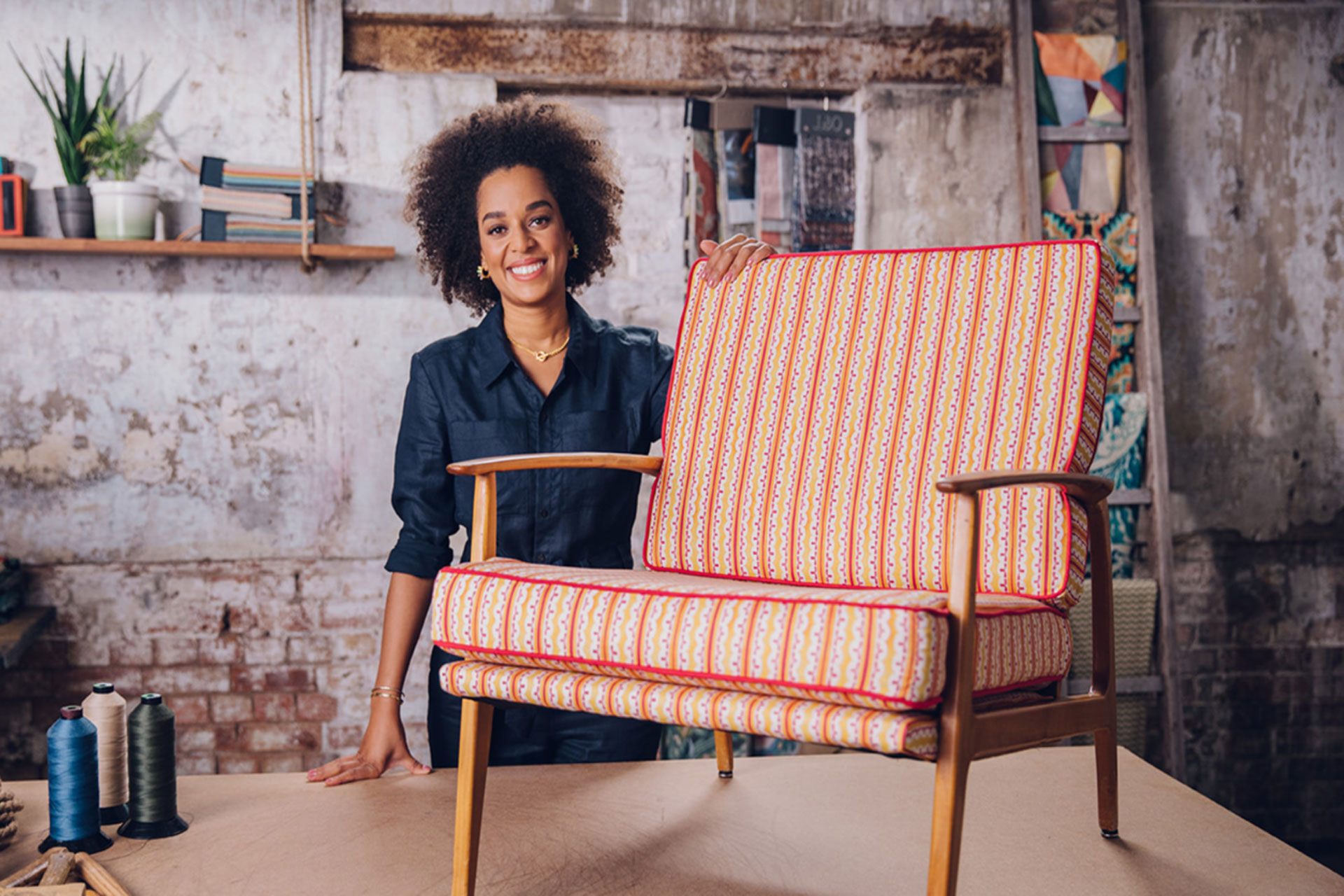 A Beginner's Guide to Upholstery, with Micaela Sharp
---
Want your interiors bolstered? Get your chair upholstered
We caught up with designer, upholsterer and all round creative polymath, Micaela Sharp, who shares her pearls of upholstery wisdom for upholstery beginners.
If you want to find out more, her new online course with Create Academy, Introduction to Upholstery, dropping this Thursday (29th September), will take you through a step by step guide on upholstery. 
Are You a Beginner to Upholstery? Micaela Sharp Shares her Hacks
Always Check the Frame is in Good Nick
When buying vintage pieces I check if the frame is sturdy. It's usually going to be reupholstered so the fabric doesn't have to be in good condition or a colour I like as I'm going to redesign it. But a solid frame is a good starting point.
Avoid Metal Frames for Upholstery
Certain shapes often have metal frames making them more complicated for reupholstery so you should try to avoid those. Especially if you want to reupholster it yourself as you can't staple into a metal frame everything must be hand sewn.
Look Under the Chair
You can often tell if a chair has a metal frame of it is really heavy or check with a magnet along the top back edge. Looking underneath a vintage chair is always a good idea as often you'll see the springs are sagging or have ripped through in which case it's going to need reupholstering sooner rather than later. You may also find a makers mark or stamp on the bottom to indicate the designer or year it was made.
Clean Carefully to Prolong its Life
Careful cleaning is always a must. Take time to use the correct products to care for wood, metal or leather. Often using natural products and a little elbow grease is better in the long run than using harsh chemicals. A mix of vinegar, linseed oil and white spirit is great for cleaning up wooden frames, especially where sticky fingerprints have built up.
Favourite Sustainable Stores?
I am the co-founder of Studio Janettie, and our sustainable range of cushions made from recycled plastic bottles and limited edition heirloom furniture. I also love Hannah Simpson for lighting, Casa Celva for glassware and Studio Sugar for ceramics and small homeware items.
Buying Interiors? Think Long Term
Think long term when you're buying items for your home. These things will exist forever and we want to avoid sending things to landfill so if it's flimsy, plastic or not exactly your style, don't buy it. Natural materials, well crafted items and solid pieces stand the test of time. Shopping from local independent makers will also mean you can not only buy more unusual items but potentially you could order a bespoke size, shape or colour.
Is your curiosity piqued? You can sign up to Michaela's Introduction to Upholstery online course at the Create Academy that's coming out this Thursday (29th September). 
SEE MORE