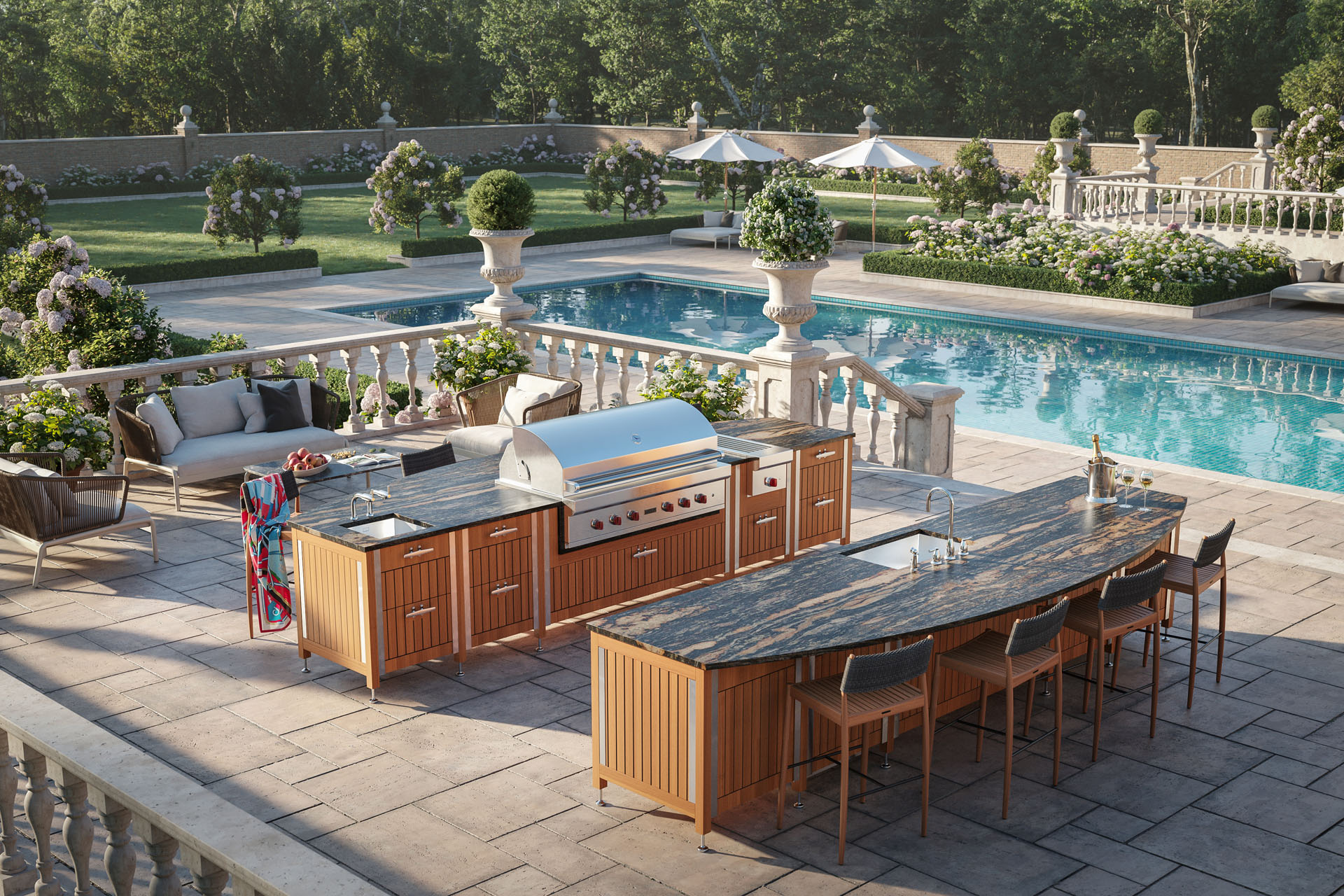 Outdoor Kitchens: The Ultimate Al Fresco Accessory
---
Barbeque not cutting it anymore? It's time for an upgrade...
An outdoor kitchen is the ultimate luxury garden update. We've rounded up some inspiration to start planning (or dreaming about) one of your own… 
In no particular order, our dream English country house includes a sprawling landscaped lawn, serene turquoise pool, well-stocked library and, of course, an outdoor kitchen. Already popular in the Mediterranean, the past few summers proved to be the catalyst to make outdoor kitchens the must-have garden accessory. Here are three of the finest luxury outdoor kitchen designers, to make all of your al fresco cooking dreams come true. Plus, expert tips on how to go about designing one of your own.
The Best Outdoor Furniture Edit
Clive Christian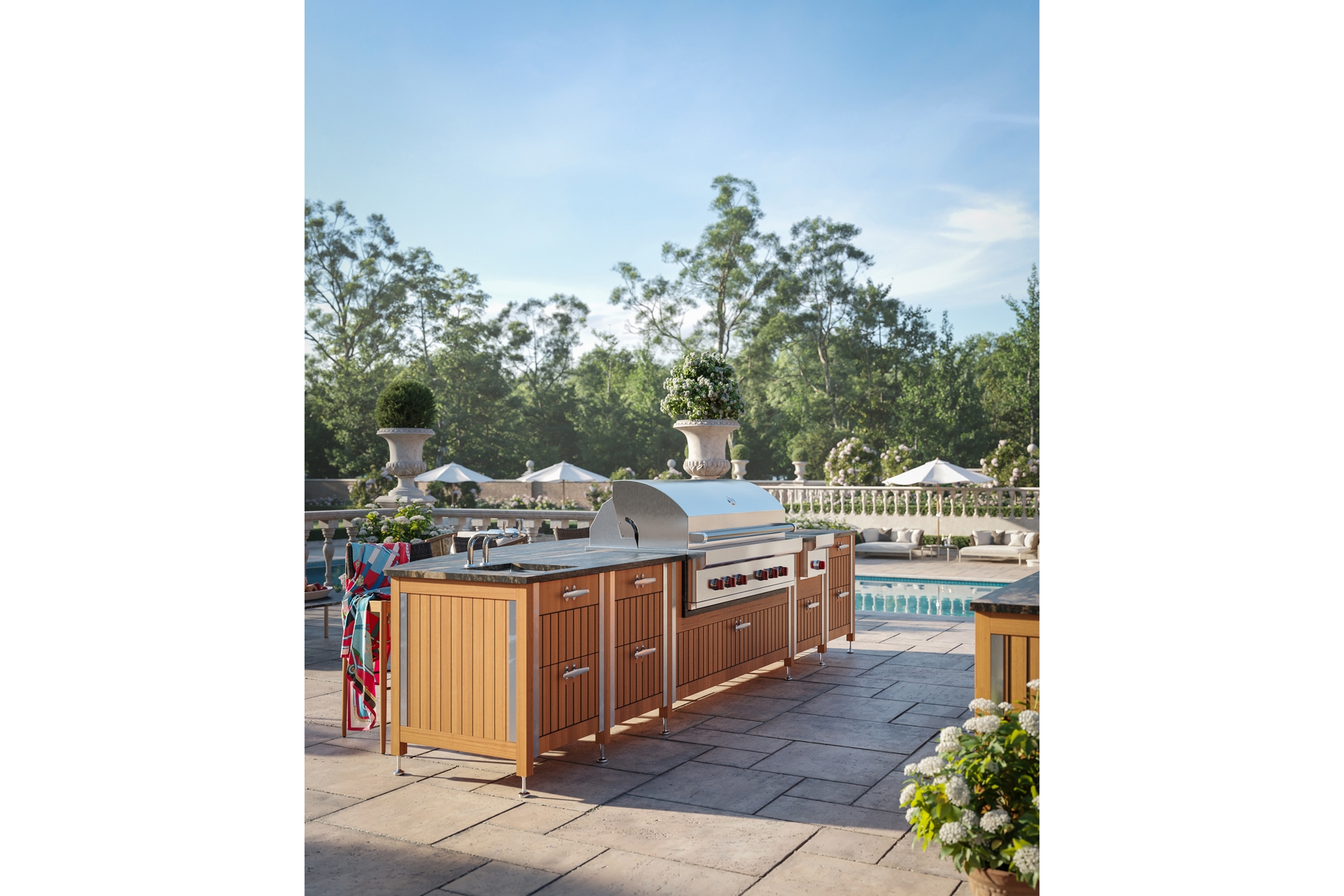 Nothing proclaims 'decadence' like Clive Christian's Garden Kitchen. This culinary superstation is a first for the brand, already expert designers of luxury kitchens, dressing rooms, home bars, libraries and more. Translating Clive Christian's prestigious craftsmanship and design prowess to an outdoor setting for the first time, the Garden Kitchen is the ultimate luxury poolside addition. Its design is inspired by the glamour of classic yachts, with pinstriped decking and expert marquetry detail. The perfect stop-off point between cocktails by the pool and lounging on the lawn. Martini anyone?
Clive Christian's Top Outdoor Kitchen Design Tips:
What area of the garden is best for an outdoor kitchen?
It's important to take into account your lifestyle, and the environment of your garden. The location of the sun setting, or an area which captures the afternoon shade whilst watching the fishing trawlers return to port could provide the inspiration for your outdoor kitchen. For an urban space, it could be a lofty position overlooking a bustling cityscape. Usually, the ideal space is the one that gets the best of the sunset, and plenty of warmth and light throughout the day.
What are the most popular materials and features for outdoor kitchens?
I always select materials which are at home in the elements. Stainless steels, purposed timbers and statement stones. You should also curate your outdoor furniture so that it can be enjoyed for generations. At the moment it's very popular to integrate gadgets like pizza ovens, wine coolers, roasters and grills.
Design points to think about when planning your outdoor kitchen?
It's important to think about exactly how a kitchen will be used, and consider the weather conditions. Shades, shelters, wave breaks, heat sources and cooling pools (if you're lucky enough to live in a sunny country!) all adapt outdoor spaces to their most enjoyable state. For gourmets, gas grills, wood-fired pizza ovens and teppanyaki plates are a must. For cocktail connoisseurs – refrigeration, sunken ice buckets and backlit marble displays. clivechristianfurniture.com
The Fanciest Barbeques and Pizza Ovens
Gaze Burvill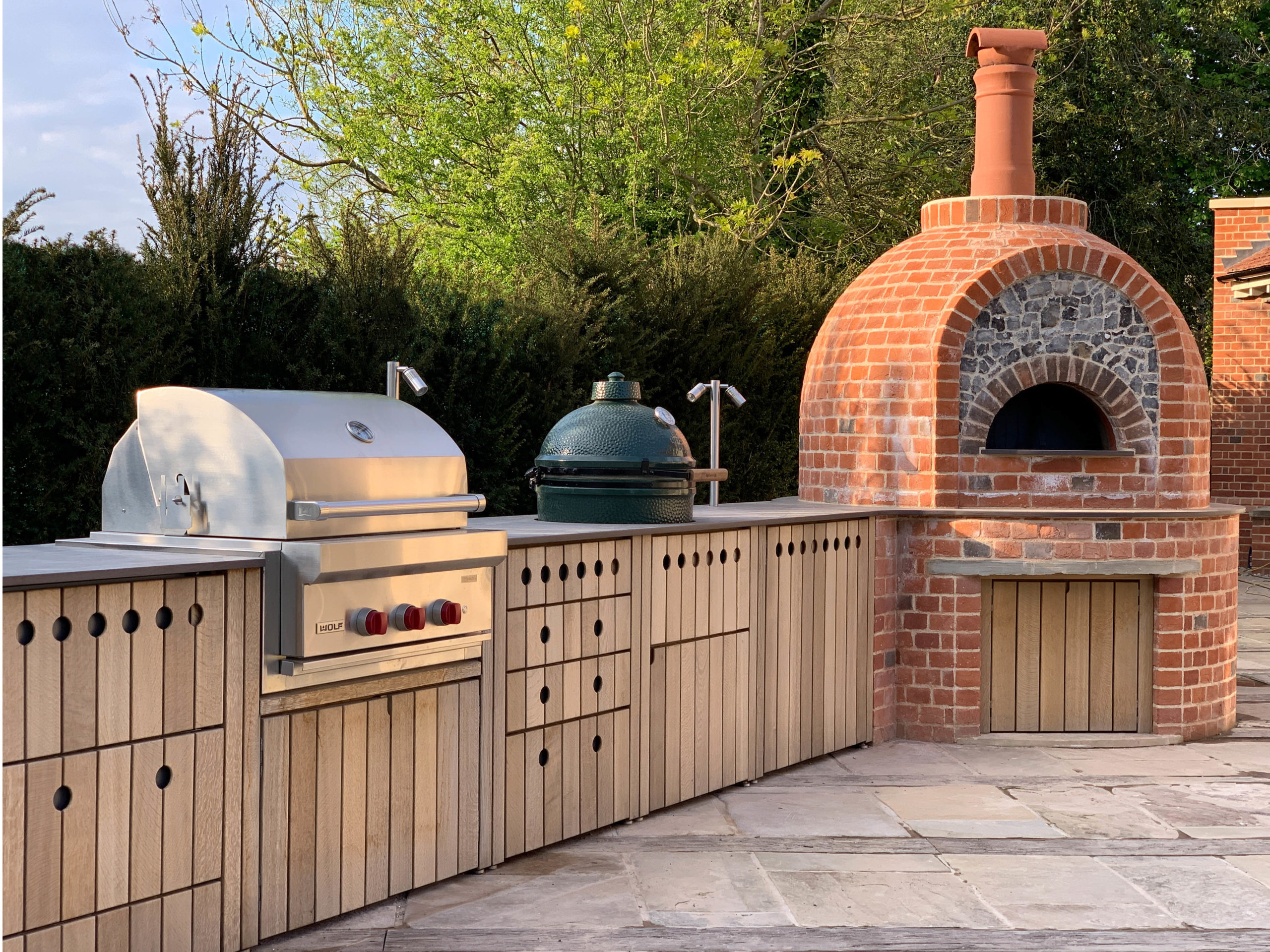 We could happily spend hours in this Gaze Burvill A La Carte outdoor kitchen, which comes with all the bells and whistles – from a wood-fired pizza oven to a chef's grill and Big Green Egg barbeque.
The kitchen design is streamlined for ease, with precision-built units and plenty of storage for your best outdoor dinnerware and utensils. All of the materials have also been carefully thought through, from joinery made from sustainably-sourced oak to concealed stainless steel hinges and interior lighting. There are also a number of smart add ons you can incorporate to create your dream outdoor cooking space. Teppanyaki grills, log storage, fridges, wine coolers and warming drawers can all be built in depending on your preference (and level of culinary prowess).
Gaze Burvill also offer a 3D visuals and printed model service, so that you can get a preview of the end result before committing. gazeburvill.com
Interiors Inspiration: Home Wine Cellars
Blakes London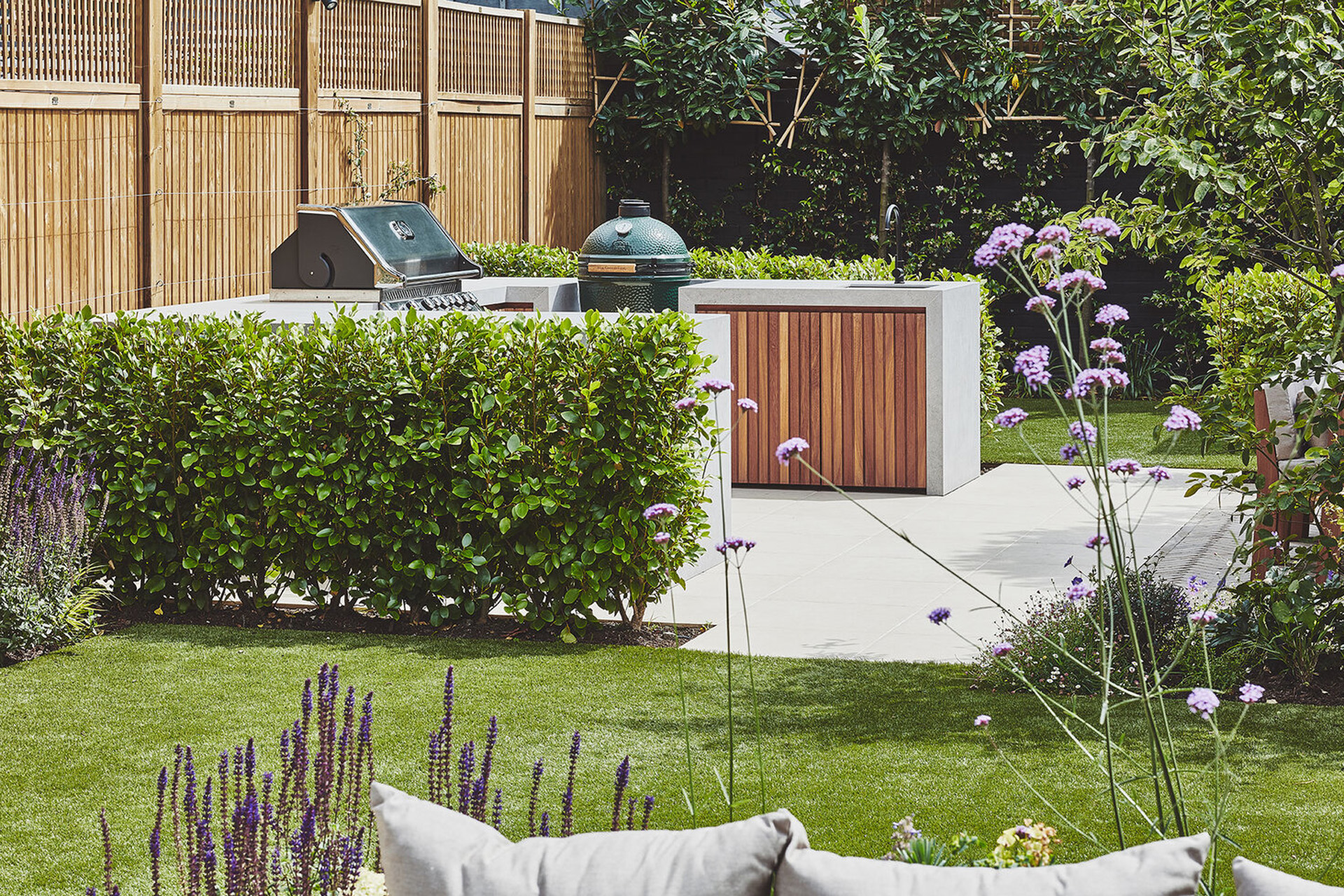 Cleverly identifying the lockdown boom in popularity for outdoor kitchens, Blakes London launched its first-ever outdoor kitchen in 2020. All of Blakes' kitchens are beautifully design-led and stylish, and its outdoor kitchen is no exception. In addition to being durable and designed to withstand Great British downpours, the materials are just as streamlined and good looking as they are in Blakes interior kitchens (an important criteria if you're planning to do a lot of post-lockdown entertaining).
Proving that outdoor kitchens aren't just for blistering climates or enormous spaces, this design fits perfectly into a midsized urban garden, enhancing the landscaping and creating the perfect compartmentalized space for socialising. All it needs is a bottle of rosé on ice (luckily there's a built in wine fridge), some artisan kebabs sizzling on the grill, and a cohort of your closest friends and family. We also love the contrasting marble countertops against the more rustic slatted Iroko wood cabinets. blakeslondon.com
Blakes London's Top 5 Tips For Outdoor Kitchens