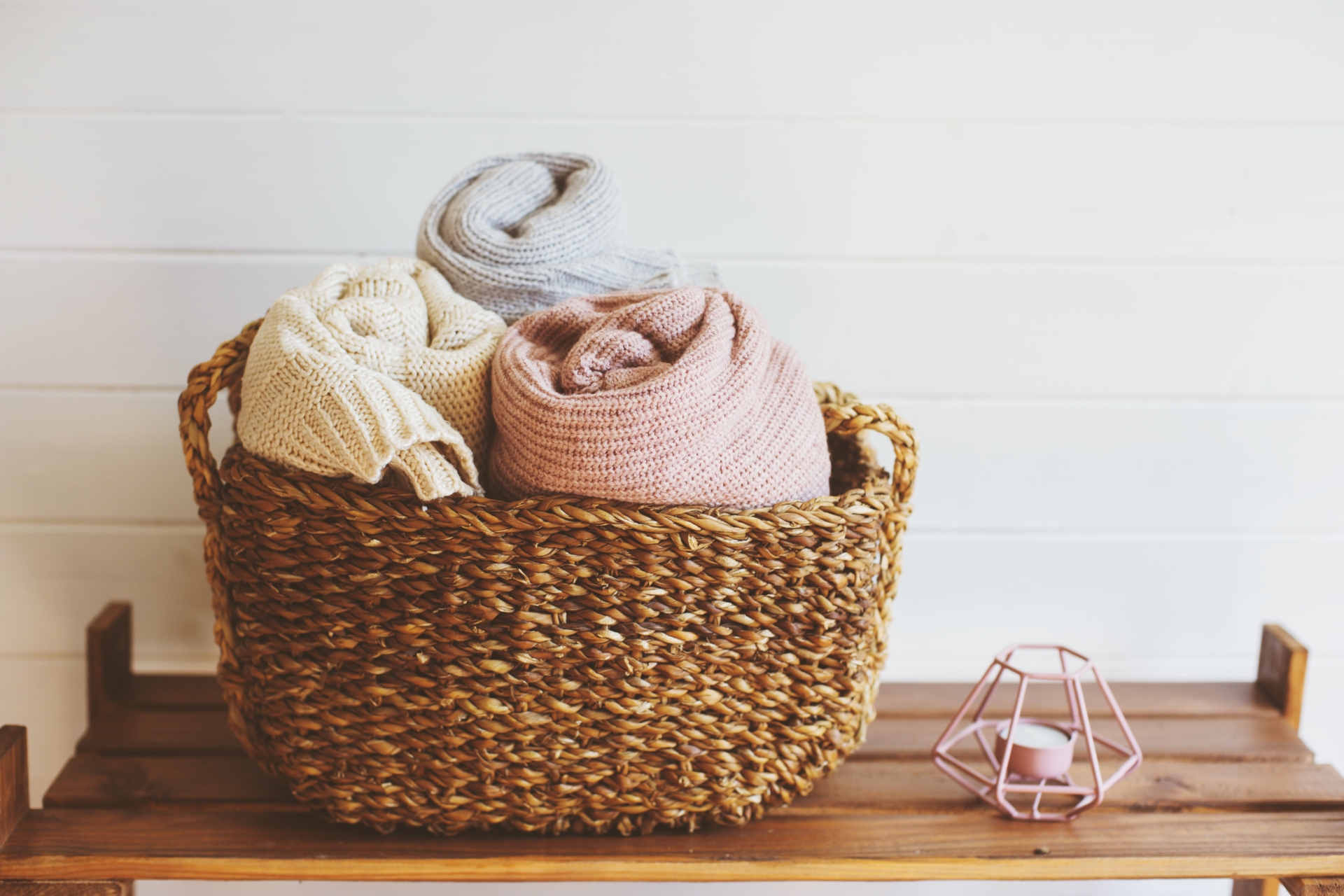 Sustainable Storage Solutions
---
Stay organised with these green ideas
When we think of storage, the first thing that usually comes to mind is stacks of plastic boxes you can shove under the bed or sofa. But why invest in these planet-punishing materials when you can kit out your home in an eco-friendly way? Read our guide to sustainable storage for a bit of extra inspiration…
A Guide to Buying Eco-Friendly Candles
Sustainable Storage Solutions
The modern consumer packs their household with around 300,000 items. Many of these items fall into the category of 'clutter', and are destined to be shoved away in a box somewhere – and then forgotten about. The box of choice – usually plastic – is not only bad for the environment, but bad for your home environment. What's the point in storing things away if you can't even remember what or where they are after a few weeks?
Instead, invest in some planet practicality with these storage solutions, from reusing old containers and finding something second-hand to sourcing storage that uses the right materials.
Do you need something new?
According to the waste pyramid, the best thing you can do before buying something is first assess whether you could prevent or reduce the need for said purchase. Could that storage solution already be lying around somewhere in your home, waiting for a second lease of life?
Household items like old glass jars and shoe boxes an easily be repurposed rather than thrown in the bin. Glass jars especially can find a home anywhere: as a pencil holder sat on your desk, as a container for salts in the bathroom or simply as a means of storing dry foods and herbs in the kitchen. And shoeboxes? Use them to store anything from sewing materials and knickknacks to small toys and accessories.
Other items that can double up as storage include old Tupperware (the last thing we want to do with plastic is throw it away), baskets, washing up bowls and even old crockery.
What materials are being used?
If buying something new is unavoidable, then make sure you consider what it really is your buying before you click 'Add To basket'. It is estimated that the UK produces approximately 1.7 million tonnes of plastics raw materials annually, so ideally we want to avoid adding to this number when we're trying to find new storage options.
Many materials are better than plastic, but these are some of the best when it comes to storage:
Willow – A rapidly renewable material that once cut can grow back to the same height within a year. Artisans use these raw fibres to handcraft woven baskets.
Rattan – An exceptionally sustainable wood. It is the quickest developing tropical wood, renewing over a span of five to seven years. Rattan furniture manufacturing is also low tech, meaning it doesn't require production facilities that pollute the environment. However, it should be noted that rattan supplies are now rapidly threatened due to deforestation and overexploitation.
Seagrass – A natural and sustainable material that is hand-picked and dried out before use. The fibres can woven together to make baskets and rugs.
Jute – A long, soft, shiny bast fibre that can be spun into coarse, strong threads. Jute is completely biodegradable and recyclable, and can reach maturity over the span of four to six months (meaning it is very renewable). Another bonus of Jute is its natural UV protection and ability to grow without the use of fertilisers or pesticides.
Cotton – Organic cotton is a sustainable, renewable and bio-degradable fibre that is ideal for fabric-based storage containers. Just make sure to avoid non-organic cotton, which can actually contribute to environmental pollution through the use of pesticides and insecticides.
Canvas – When organic, canvas can be a highly sustainable material. Like all other animal-derived materials, canvas is both a natural fibre and biodegradable unless heavily treated with chemicals. However, just keep in mind how the material is produced; elements like water, energy and land usage also factor into the sustainability of the material.
Recycled Materials – When treated and sourced correctly, recycled materials can make for a great alternative to traditional textiles, fibres and woods. Examples of recycled materials include ECONYL or Repreve, which are both made from fishing nets and ocean waste.
Can you get it second-hand?
Alternatively, you an avoid the production of new materials all together and go for something second-hand. The antiques market in the UK is home to great finds throughout the year, from vintage jewellery holders and boxes to old wooden crates and ottomans.
The Best Places to Buy Antiques Online
Sustainable Storage We Love