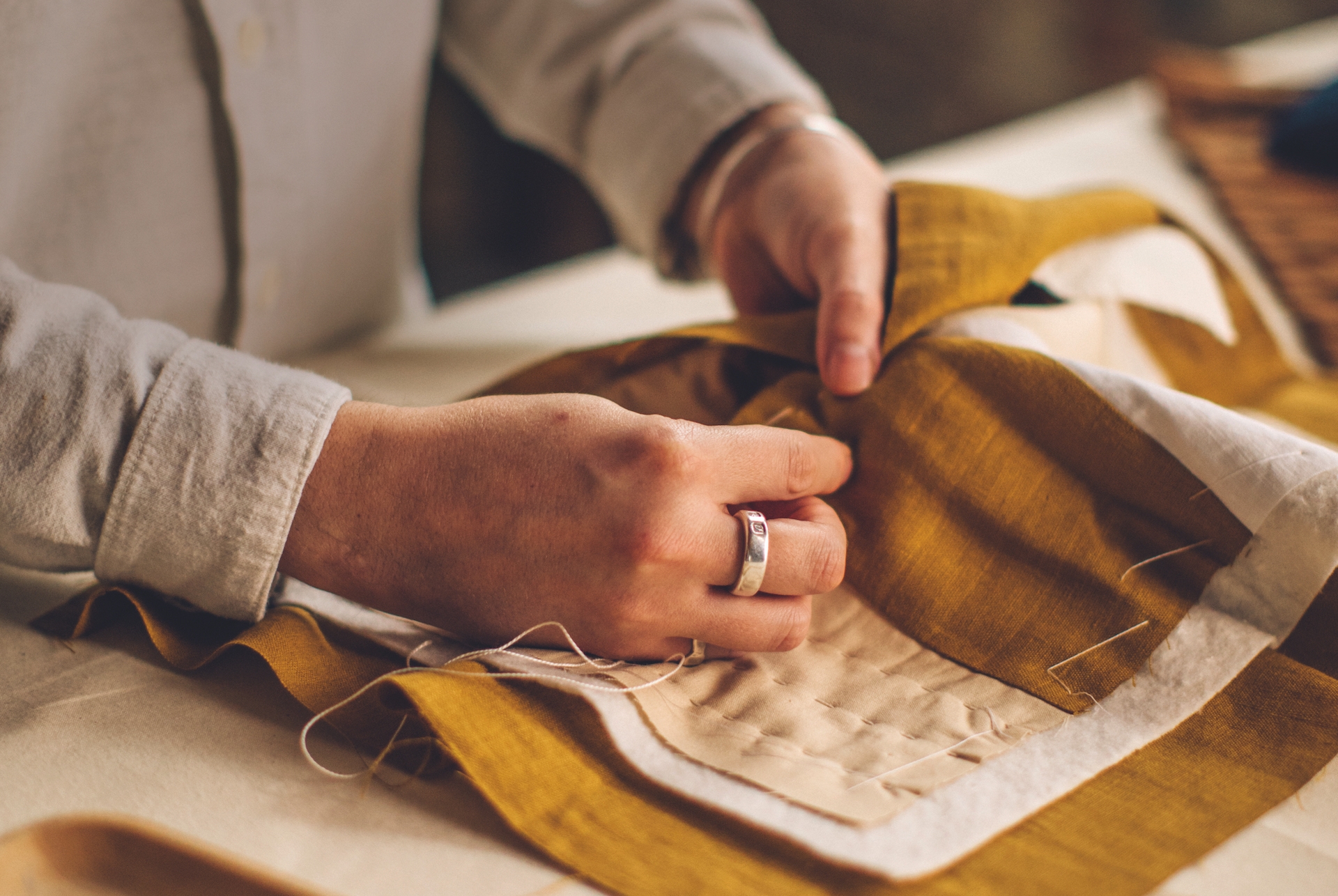 The Bright Young Talent Behind the Interiors Craft Revival
---
From quilting to marbling and weaving to marquetry, these forward-thinking young craftspeople are keeping traditional interiors craft skills alive. By Claudia Baillie
The Interiors Craft Revival
In a world where technology moves at lighting speed and the things that surround us are, for the most part, mass produced, it's never been more important to champion traditional crafts and those striving to help them flourish. Fortunately, a raft of innovative young makers are breathing life into age-old techniques, creating distinctive pieces that encapsulate their unique vision and will stand the test of time.
One such craftsperson is London-based Chelsea Vivash who specialises in the time-honoured art of marquetry. 'I've always been fixated with textures and colours in wood grain, and marquetry combines making with my love of drawing,' explains the Edinburgh College of Art graduate. 'It's like I'm drawing with wood; I enjoy the precision involved in cutting veneers, and from the first samples I made, I knew I wanted to hone the skill.'
In her studio in Hackney, Chelsea uses veneer remnants to create a range of mirrors and artworks, which are available through Partnership Editions, where she was one of 12 winners of the art platform's Home Open Call. 'My work is a contemporary take on the craft,' she says. 'I taught myself how to cut and press veneers, so my practice has developed over time. You can't predict how wood will behave and it's not until the piece comes out of the press and is sanded that the final image is revealed. As a technique, it's a slow process but it's worth the wait.'
Another maker with a laborious process is weaver Dalia James, but it can, she says, be wonderfully meditative. 'It is time consuming, but the fact that you start with a bunch of yarns and end up with a three-dimensional object is amazing. I'm from a creative family; my mother spent hours teaching my siblings and me to make things, so I like using my hands and I knew weaving was the medium for me. I'm also a history nerd and I love the idea of taking an ancient craft and making contemporary work.'
Awarded a Developing your Creative Practice grant in 2021, Dalia is part of Toast's 2022 New Makers programme that supports emerging artists and is now represented by Cavaliero Finn Gallery. Future plans include applying for an Arts Council project grant to create an installation for 2024's Collect Open, a platform pioneering rising artists at the Crafts Council's influential fair, Collect. 'I'm also looking into designing a range of textiles that can be produced by a micro factory, then I've got my sights on furniture,' she says. 'I'd love to work with a furniture maker on statement pieces using my fabrics.'
A similar passion for textiles led Julius Arthur to his practice, which sees him stitch contemporary quilted pieces under the name House of Quinn. Having originally studied fashion and business at the University of Brighton, the self-confessed fabric obsessive's aim was to follow a more explorative process.
'I love to paint and print on fabrics, to cut them and collage them back together with patchwork or appliqué, stitching on shapes and building the composition,' he explains. 'It's a departure from the repetitive process of designing and making clothes, which I find very freeing. Craft can have twee associations, but quilts come in many forms. I want to create objects that resonate with people, that have a story and also the ability to take on meaning as they get used.'
One of Toast's New Makers in 2019, last year saw Julius launch a book, Modern Quilting (Hardie Grant, £18.99), and he is being kept busy with upcoming exhibitions and workshops in London and Margate. He's also just launched an online quilting course with Create Academy. 'It's been exciting sharing the process with people all over the world,' he says. 'Quilting is accessible; there are basic skills, but once mastered, fabric, scissors and thread are all you really need, and old clothes and scraps can be transformed into incredible things. I like to champion that.'
For Margate-based designer Nat Maks, freedom is also a quality that she relishes in her work, where she employs long-established marbling techniques and a bespoke 3 by 1.5 metre water tray to produce wallpaper, murals and art. 'It's such an organic and hands on method of creation,' she says. 'It's a joy and a surprise every time I lift the paper from the water. Nothing ever feels repetitive, and the pieces hold a lot of emotion.'
A serendipitous discovery while designing stationary led her to the Japanese marbling method of Suminagashi, and she hasn't looked back since. 'I found practice makes a master and I've been doing it for seven years now, although I'm currently working on new ways of applying inks to form a colour-block effect, which is unpredictable so I'm still learning!' she says. 'Unlike traditional repeat-pattern wallpaper, there's no consistency, which is something I convey to clients who are brave enough to trust me with making them something unique. What I love is how physical and symbiotic it is. Being connected to the paper and the water feels like a very positive and balanced act.'
Physicality plays a key part in metalworker Jess Wheeler's process too, and the melting, bending, and ultimately the satisfaction of turning a raw material into something delicate and considered is what she really enjoys. A former illustration student and set designer, she moved to rural Wales several years ago, which brought with it the opportunity to explore crafting with metal. 'I spent time in the workshop of an incredible Welsh sculptor, Stan Jankowski, who taught me how to construct my designs in brass,' she explains. 'His free yet meticulous attitude has been massively inspiring.'
A fruitless search for candle sconces led her to make her own, which take their cue from French toleware and the leaves of an ancient oak in the field behind her workshop. 'I began by painting the brass but then lit an unpainted sconce and things changed in an instant. The raw metal confers a modernity that shifts the focus from colour to form. All the brass is recycled and I use silver solder, which creates an incredibly strong bond,' she explains. 'I like to think they transcend trends, and will last forever.'
Going forward, Jess is developing a new collection using an ancient technique known as 'lost wax' casting and is also filming a course with Create Academy. 'There are projects people can literally do at their kitchen table,' she says. 'I'm excited to share what I've learnt and to inspire others.'
READ MORE
Interiors Trend: Dark Academia /50 Finest Interior Designers 2022