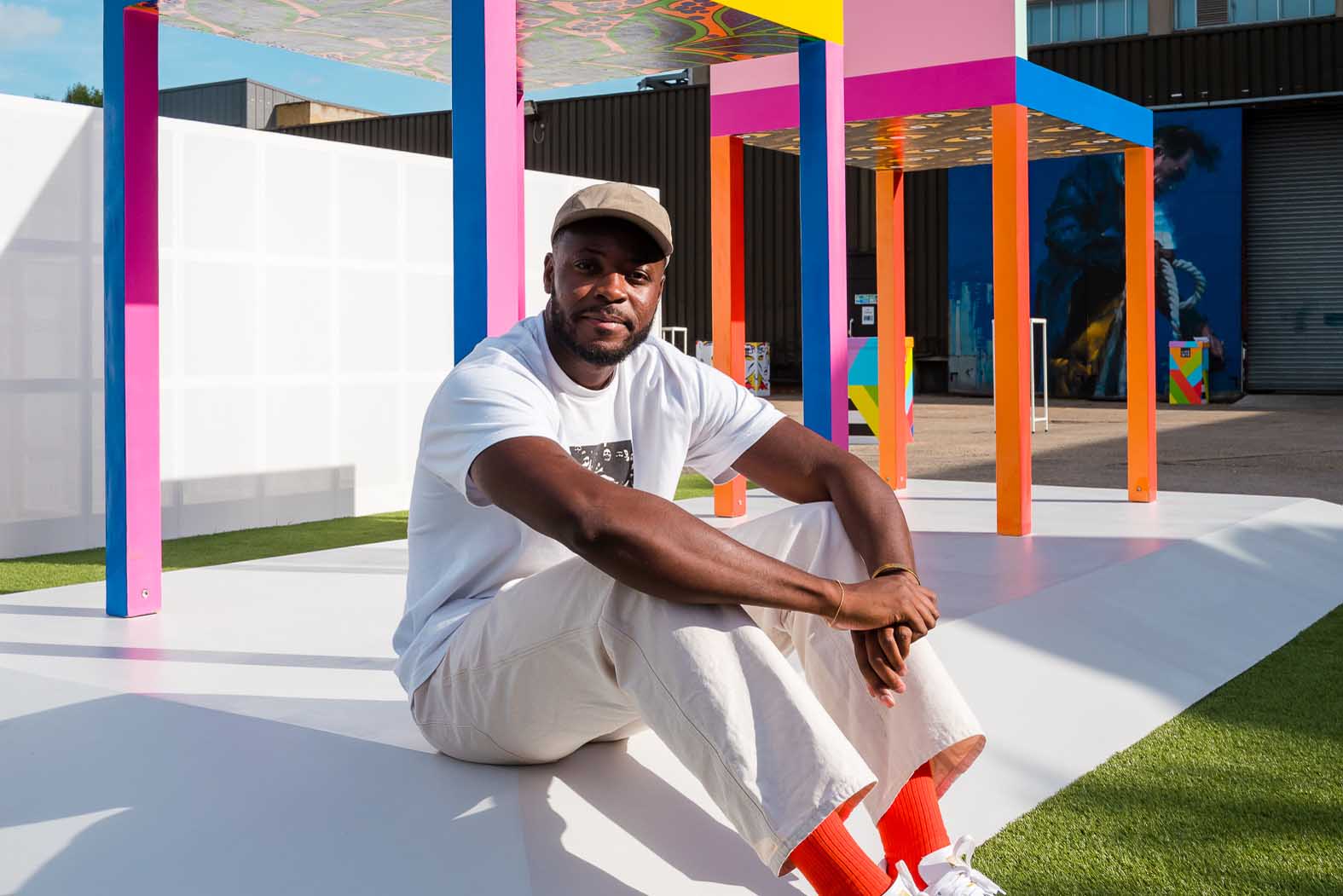 Artist Yinka Ilori on Finding Inspiration In Lockdown
---
Yinka Ilori, the artist behind the colourful Brits' set gives the inside story behind his inaugural homewares collection
Wondering who designed the colourful set and awards for the Brits last night? Let us introduce London artist Yinka Ilori, who we interviewed on creative inspiration, identity and voice, and launching a project during lockdown
Who Is Yinka Ilori?
British-Nigerian artist Yinka Ilori has made not so much of a mark as a technicolour splash on London's art scene, with graphic outdoor installations: from rainbow arches at Somerset House to the acid bright-matchstick walls of his Colour Palace at Dulwich Picture Gallery and Alice in Wonderland-esque chairs of surreal size and structure.
For the 33-year-old artist, though, lockdown brought about a different sort of project. In December for the first time he released a collection of plates, cushions, trays, tablecloths and bowls which turns the maxim of life imitating art on its head – yet all of which can be enjoyed right at home. With so many museums, galleries and exhibitions closing their doors indefinitely over the past months, it's a project perfectly suited to lockdown, giving everyone a way to experience, enjoy and appreciate Ilori's art within the confinement of four walls. But after years of creating installations in large, public spaces – made to be enjoyed in the open – what prompted Ilori to cross the divide from art and foray into interiors?
'It's a natural progression one might take,' Ilori explains, from his studio in north London. 'Over the years I've always wanted to do a homewares collection, I just didn't know how. But lockdown happened – and I did it.' In his early days as an artist, Ilori scoured thrift shops and roadsides searching for chairs which he would upcycle, transforming them into multicoloured, adventurously surreal pieces with an otherworldly quality. They quickly became a signature, earning him solo exhibitions in London, Lagos, Stockholm, Bilbao and beyond and remain an instantly identifiable part of his work today. As early pieces that hold close connection to the home, one has to wonder, was it was always in his plan to extemporise on this theme with an interiors collection?
'The chairs were always one off because it was dependent on what I could find in a thrift store or public space or skip,' he says. 'But what I did find was that people who came across my work in an exhibition or a public space wanted to have six of that one chair. I wasn't able to do that, because one of the beautiful things I found about the chairs was they were all unique and had their individual stories, it wasn't about duplicating.' But designing something that synthesised his instantly-recognisable style and use of colour into a collection for the home was something which held creative appeal. 'There's definitely a synergy there,' he muses. 'Over the years I've wanted to create a collection that could be a foil for the chairs, and to curate a lifestyle that was a Yinka Ilori experience within the home.'
It all began with a pair of socks. In early spring of 2020 when lockdown hit, along with a huge number of artists and professionals in the creative industry who rely on public forums to perform or display their work, Ilori found himself at something of a loose end with many planned projects suddenly on hold. 'I thought "How can I use this time?"' He recalls. 'It was really tough for everyone and I was looking for a way to turn it into something positive.' When a picture of a pair of brightly-patterned socks he printed with 'one of those companies that'll print anything' and posted to Instagram on a whim received thousands of likes in the space of minutes, it gave him the idea that people were searching for something positive and joyful – and to create a response to the bleakness of lockdown that was full of optimism and colour. He had the socks produced professionally, moved on to experiment with stoneware and plates, and from there a collection began to take shape.
Identity and voice also played a key role 'I felt there was a gap in the market, in terms of my British Nigerian heritage – which is in the collection,' he elaborates. 'I wanted to bring a different voice and story – the collection encapsulates what my view of hope and happiness is.'
Influences and Inspiration
Indeed – when it comes to influences and inspirations, his British Nigerian identity has always been central to Ilori's art, the colours and patterns that saturated younger years made an impression throughout his childhood, and his powerful relationship and connection to colour became a mode of storytelling. Nigerian parties were 'always like a fashion show' and made a keen impression a young Ilori, where groups and couples identified themselves by matching fabrics and outfits. 'People powerfully identify where they're from with colour and pattern,' He reflects. 'My parents wore so many expensive, beautiful fabrics – jacquard weaves, full of different colours and patterns. I'm influenced by that. Not everything I do is similar – but I think I have a style which people recognise as being me.'
Approaching an interiors collection was no different, growing up on an estate on Essex Road, north London, 'Cooking was always a huge part of the household,' Ilori explains. 'Nigerians love food, we love sharing our food. Homeware was a big thing, my parents really took pride in their cutlery, their plates, bowls and glassware were always to display and show off.'
The memories of these meals and the association with status represented through china, plates and cutlery – the finest of which were always on display, is a thematic thread in the collection, drawing directly on Ilori's own experiences and memories. Interestingly, setting it apart from other interiors collections, it's also been designed with the same approach Ilori takes to creating art. 'I have a terrible memory,' he says, 'but when it comes to piecing together a particular moment in my life I remember through colour. The way I can re-tell and reconstruct memories and events I went to with family and friends is through colour and pattern – I compare it to an artist illustrating on Crimewatch. I use colour to construct my memories and start to build up a scene or a moment.'
Stand back from the whole collection, and at a distance it's hard to tell whether you are looking at a vividly-composed still life, a scene from an art house film, or a peacock-bright party table. But ambiguity is all part of the beauty.
In a world where interiors is catching up with fast fashion in an environmentally disastrous race to turn over trends, and ever-easier one-click purchase options, Ilori's designs are antithetical to throwaway culture; making a case for truly beautiful objects to be woven into the fabric of your house, bringing joy and whimsical positivity that stands the test of time.
'Art and design is something we all interpret differently,' he reflects. 'I want people to get a sense of joy from the collection. but also an insight to me and my story. The story I'm trying to tell is about how culture sets you apart, and how design can be inclusive.'
Has he styled any of the pieces from his collection in his own home? 'During lockdown I did something very similar in my house to my project at Somerset House,' he says. 'I wanted to create a gallery within my home. But also a place which makes you feel instantly alive as you walk into a pink kitchen or turquoise living room.'
What's Next For Yinka Ilori?
Browns and Matchesfashion have already picked up the collection, and with exclusive and limited edition pieces planned for the future and plans to expand the collection, Ilori shows no signs of slowing down. But we can expect to continue enjoying his art outdoors, and in public forums, too: 'We'll be doing more public projects – I did a few murals around London before, so it will be something similar to that but I can't say too much about it, yet,' he says, cryptically. 'There will be more public projects, through.' The promise of more of Ilori's boldly distinctive, chromatic murals spreading messages of love and optimism is something we can all look forward to as London eases out of lockdown, and we slowly journey out of the home and back into the wealth of galleries, exhibition spaces and public art displays which have lain dormant for so many months.
But in the meantime, why not bring a little of it to your table, favourite chair or shelves? While we might all be more than ready to get out of the house, the beauty of Ilori's homeware collection is that it offers a piece of his art which is not purely made to observe and interpret, but which can be enjoyed, cherished, and bring happiness for a lifetime – a slice of art that can stay right in your own home.
READ MORE 
Inside Luke Edward Hall's Whimsical Imagination / The Best British Interior Design Collaborations / The 50 Best Interior Designers