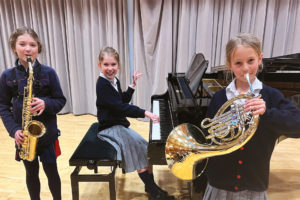 Address: 68-74 Nightingale Lane, London SW12 8NR
Website: www.northwoodschools.com
Founded: 1984
Number of Pupils: 250
Ages: Girls, 8–13 (7-13 from 2024)
Fees: Day, £7,535 (22/23). Fees inclusive of all tuition, lunch, compulsory school trips and most schoolbooks & equipment.
Head Teacher: Louisa McCafferty; Group Principal: Mr Kevin Doble
Religious Affiliation: Church of England but all welcome
Entrance Procedure: Automatic entry from Broomwood pre-prep at 8 (7 from 2024); additional places at 11. External candidates via digital testing & Head's interview
Contact: The Admissions Team: 020 8682 8830
Email: [email protected]
School Visits: Open Mornings 10 March, 4 May and 6 Oct 2023. Booking essential 
The Curriculum
A broad and stimulating mastery approach, with technology used at every level fosters a love of learning and bolsters self- confidence, creativity, and critical thinking, helping girls to maximise their potential. We support and stretch in equal measure
Games & the Arts
Wide variety of sports, e.g. netball, hockey, tennis, football, rugby, cricket, cross-country, athletics, and swimming. Exceptionally strong music, art & DT, and drama departments. New art and DT block. On-site cookery school.
Pastoral Care
Small class sizes, an excellent tutor system and mindfulness and wellbeing programmes built into the curriculum.  We nurture the whole child and focus on developing individual strengths, so that when girls leave at 11 or 13, they are happy, well-rounded individuals, academically and socially prepared to tackle the future with confidence.
Recent Scholarships
25 percent of leavers win awards across all areas at both 11 and 13. 17 scholarships to 11 schools in 2022. Senior exit schools include mix of London day (e.g. Alleyn's, Emanuel, Francis Holland, JAGS, Streatham & Clapham High, Woldingham) and out of town boarding (e.g. Benenden, Bradfield, Downe House, Marlborough, St Mary's, Ascot, Sherborne, Wellington).
Head Teacher's Philosophy
We prepare for life, not just the next school. Girls are stimulated, supported, and stretched in equal measure and helped to develop the essential skills of creativity, critical thinking, resilience, independence, and confidence that are so important for future success.
Outstanding Characteristics
The only all-girls' prep school preparing for both 11+ and 13+ in SW London. Broomwood girls are happy, confident, rounded individuals who are well prepared for future success. 'Excellent in all areas' in recent ISI Inspection. Together with Broomwood Hall Lower School and Northcote Lodge, re-branding as BROOMWOOD from September 23, inspiring children aged 3-13 to '#BeYourBEST'. Part of the Dukes Education family.
---
---