Dame Bradbury's Junior School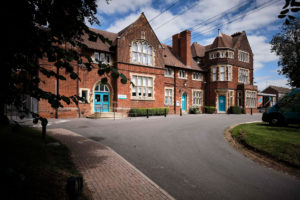 Address: Ashdon Road, Saffron Walden CB10 2AL
Website: damebradburys.stephenperse.com
Founded: 1522
Number of pupils: 258
Ages: 1-11
Fees: Per term (2023-2024): Fees start at £4,588
Head Teacher: James McCaughran
Religious Affiliation: Non-denominational
Entrance Procedure: Prospective pupils undertake an entry assessment and informal interviews with staff
Contact: Kate Shriever, Admissions for Dame Bradbury's
Email: [email protected]
School Visits: Personal tours can take place throughout the year offering families the opportunity to tour the schools and speak with our school leaders about our values and approach to education:  https://www.stephenperse.com/opendays
The Curriculum
Our curriculum is designed to give a firm grounding in all the areas of knowledge development and understanding from a young age and encourages independent, creative and reflective thinking. Subjects promote language, creative, mathematical, scientific and social understanding, with enriched and outdoor learning programmes offering a stimulating learning experience.
Games & the Arts
All pupils at Dame Bradbury's enjoy the wide ranging extra-curricular clubs on offer, from LEGO, doodling to fashion club. Every child is able to participate in the arts, including weekly music class lessons and annual performances, such as school music concert in Saffron Hall and Christmas carol services.
Pastoral Care
At Dame Bradbury's, looking after our pupils' mental health and wellbeing is at the heart of our approach to education.  We provide a safe, joyful, structured and supportive environment. Our community supports students to develop both their academic and personal potential, and to respect the needs of others. An important aspect of a pupil's wellbeing and their pastoral care is building a pupil's self‐belief, and understanding of themselves, and their own individual identity; this underpins our structures and procedures for pastoral care.
Head Teacher's Philosophy
Our pupils are encouraged to share a willingness to experiment, to question and to take on new challenges as a part of their learning journey. They leave Dame Bradbury's Junior School full of enthusiasm, equipped with a love of learning and ready to take their next steps in life.
Outstanding Characteristics
At Dame Bradbury's, creativity and fun is everywhere, from our Forest School to inspiring art facilities. Students benefit from a 130-seat professional theatre, modern sports hall and multipurpose outdoor sports spaces, with something to capture the imagination of every child.
---
---