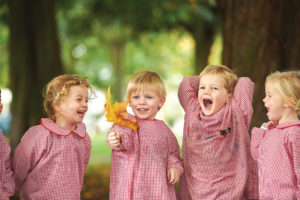 Address: Dolphin School Nursery, London SW11 6QW | West Side Church, London SW18 2ED
Website: www.noahsarknurseryschools.org.uk
Founded: 1986
Number of Pupils: 63
Ages: 2 – 5
Fees: (termly) £2,200
Head Teacher: Sam Gosden
Religious Affiliation: Christian
Entrance Procedure: Visit, then offers for siblings first, then in order of date of registration.
Contact: Vivienne Benson. Admissions Registrar.
Email: [email protected]
School Visits: Visits by appointment with the Admissions Registrar
The Curriculum
We follow the new 2022 EYFS Development Matters alongside the Birth to 5 curriculum. We use 'in-the-moment planning' which responds to children's interests, stretching those who need greater challenges and supporting those who need to embed basic skills. We use visual aids, songs, rhymes, picture books, including Bible stories and prepare children for primary/prep school.
Games & the Arts
We have a weekly PE lesson with a specialised PE teacher. We also have weekly Rhythm and Movement sessions, responding to songs with voice, instruments and movement. Art materials are plentiful and aim to develop creative flair.
Pastoral Care
'Wonderful nursery that genuinely cares about bringing out the best in each and every child. The staff are incredibly kind and nurturing and the smaller class size means each child gets the support they need.' We know each child well and they know they are loved and cared for by all staff. Noah's Ark provides a great framework for character development. Excellent behaviour is modelled at every turn, kindness that supports each other is communicated with grace and confidence. Positive interaction with peers and adults is key to the nursery.
Primary Exit Schools
Broomwood Hall, Dolphin School, Eaton House Schools, Finton House, Hornsby House, Parkgate School, The Roche, Thomas's Schools, local state schools.
Head Teacher's Philosophy
Our approach is around the individual and supporting each child to foster a love for learning. We have a unique community of staff, parents and children which encourages the children to have a real sense of independence in themselves, their minds and their learning.
Outstanding Characteristics
Loving, kind, relational, listening, nurturing and skilled teachers. Child-centred learning. Children are allowed to be themselves, finding joy in the activities that interest them and their successes and discovering a deep love of learning. They are encouraged to be independent, aspirational and positive in overcoming challenges. Kindness is at the heart of the nursery community. The children skip in and leave with big smiles on their faces and in their hearts – they love their teachers and friends.
---
---