Support your crazy Marathon-running friends this weekend and secure the best view to taunt them with sweaty pictures evermore…
The 2018 London Marathon is set to be held this (hopefully) sunny Sunday 22 April as 40,000 runners hit the streets. Secure the best spot along the 26.2 mile route for the best view possible of London's bravest this weekend – before celebrating their achievement at the best nearby pubs. Make sure you get down there early to get a slice of the action – you wouldn't want to miss this year's best outfits, after all!
Taking part in the Marathon yourself? Check out these running tips…
The London Marathon 2018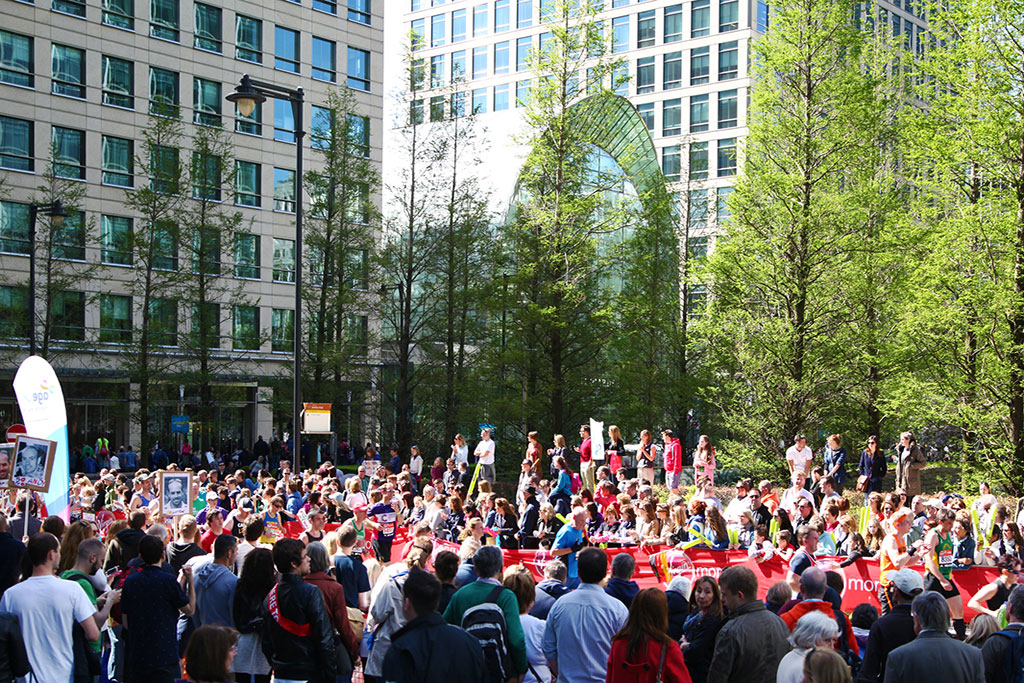 First thing's first, don't be late! These are the times that each race starts (though we recommend heading down a little earlier to avoid the crowds):
08:55 – Elite Wheelchair Races
09:00 – World Para Athletics Marathon World Cup ambulant races
09:15 – The Elite Women's Race
10:00 – The Elite Men's Race, British Athletics & England Athletics Marathon Championships and Mass Race
The official London Marathon organisers recommend avoiding the Cutty Sark and Greenwich town centre areas due to overcrowding, making it extremely difficult to find a viewing spot to catch a glimpse of your loved ones. However, if you get down there early enough they're the best places to congregate – especially as the Cutty Sark is a beautiful backdrop to the race.
The main Marathon route begins on Blackheath, goes through Greenwich before crossing Tower Bridge and continues through central London and down The Mall. After the runners have been awarded their medals, they'll head to the meeting point at Horse Guards Parade.
Where to Recover from the London Marathon
The Best Watching Spots
The Start: Greenwich
The starting line in Greenwich will undoubtedly be packed with runners and supporters from the early hours – but there's nothing like being able to give your loved one a much-needed pre-Marathon pep talk (and the atmosphere is worth going for alone). It's also much more enjoyable to observe the 40,000 strong crowd before they become a sweaty mess and start regretting their life decisions. The Queen is opening this year's Marathon too – but don't expect to catch a glimpse of her as she'll be doing so from the safety of Windsor Castle.
Closest station: Blackheath, Greenwich and Cutty Sark (both DLR)
Mile 12: Tower Bridge
Nabbing a spot on the iconic Tower Bridge as the hordes, still relatively fresh, make their way over the Thames is enough to make you brim with pride. Also a great spot for the multitaskers who can make the most of relatively empty nearby hotspots before making their way to the finish line (and pretending you they were there all along).
Closest station: Tower Hill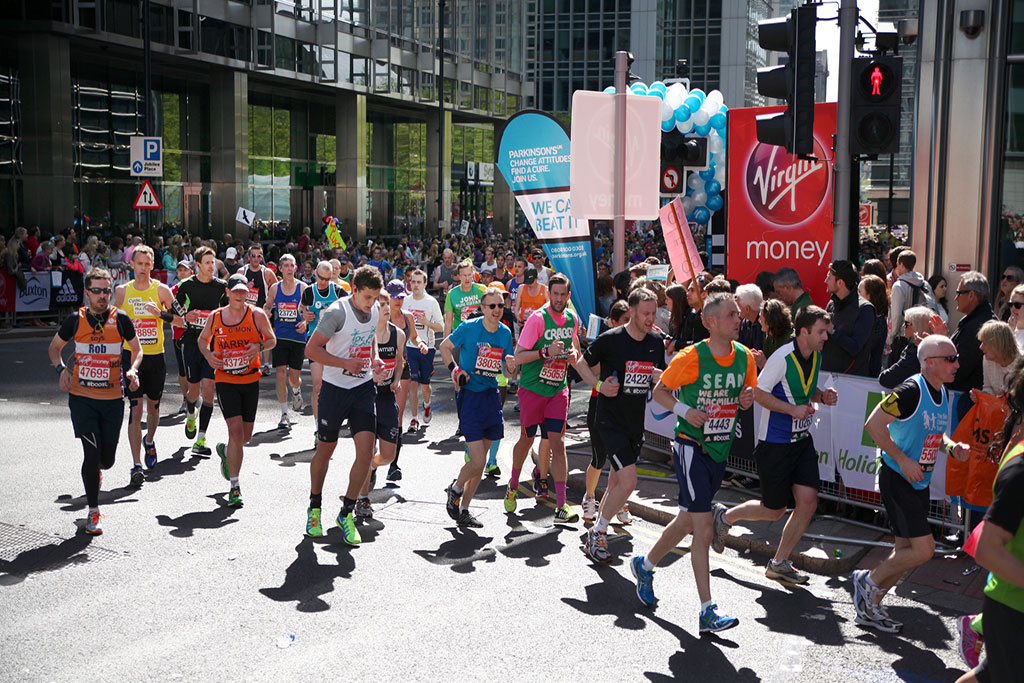 The Most Beautiful Running Routes in Britain
Mile 13/22: Wapping
Those in the know congregate a little further down from Tower Bridge where the race doubles back on itself, meaning you'll get two sightings of the runners – in significantly different moments of freshness, shall we say. An in-demand spot also for the number of riverside pubs nearby (head to Gordon Ramsay's gastropub The Narrow which is situated directly on the route).
Closest station: Shadwell
Mile 16: Canary Wharf
With just 10 miles to go, the runners will really need your support at this point. Spot the more serious participants start to speed up and make your guesses at who will come top, as everyone else starts to really feel the pain… Big whoops and smiles strongly encouraged.
Closest station: Canary Wharf or Heron Quays
Mile 21: Limehouse
A relatively undiscovered viewing spot along Commercial Road is alive with pumping music, colourful confetti and posters every year thanks to Run Dem Crew bring out the big guns to celebrate and encourage runners along their final stretch. One for the party people.
Closest station: Limehouse (DLR)
The Final Stretch, Mile 25-end: Embankment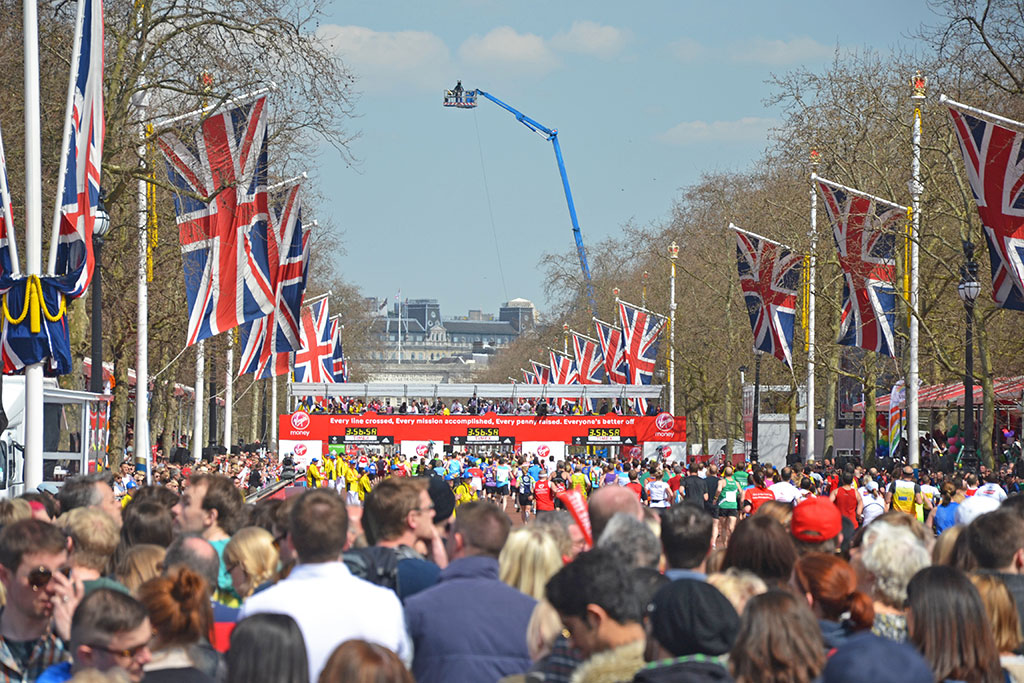 The goal is finally within reach, so encourage the brave runners who have endured a literal Marathon in their final mile. The atmosphere is pretty special; expect lots of sweat, tears and jubilation (and not just from the runners!). There's nothing quite like watching someone you love achieve such a feat, and being able to congratulate them in person immediately afterwards. Bring treats.
Closest station: Embankment or Charing Cross
Treat your favourite Marathon runner to a luxurious spa day to recover afterwards – we've compiled a list of the best London day spas for you. And don't forget to book into one of the best restaurants in town for a blow-out celebratory meal. They sure do deserve it!
Until next year…
What else is on in London this month? Check out our Culture Diary
---