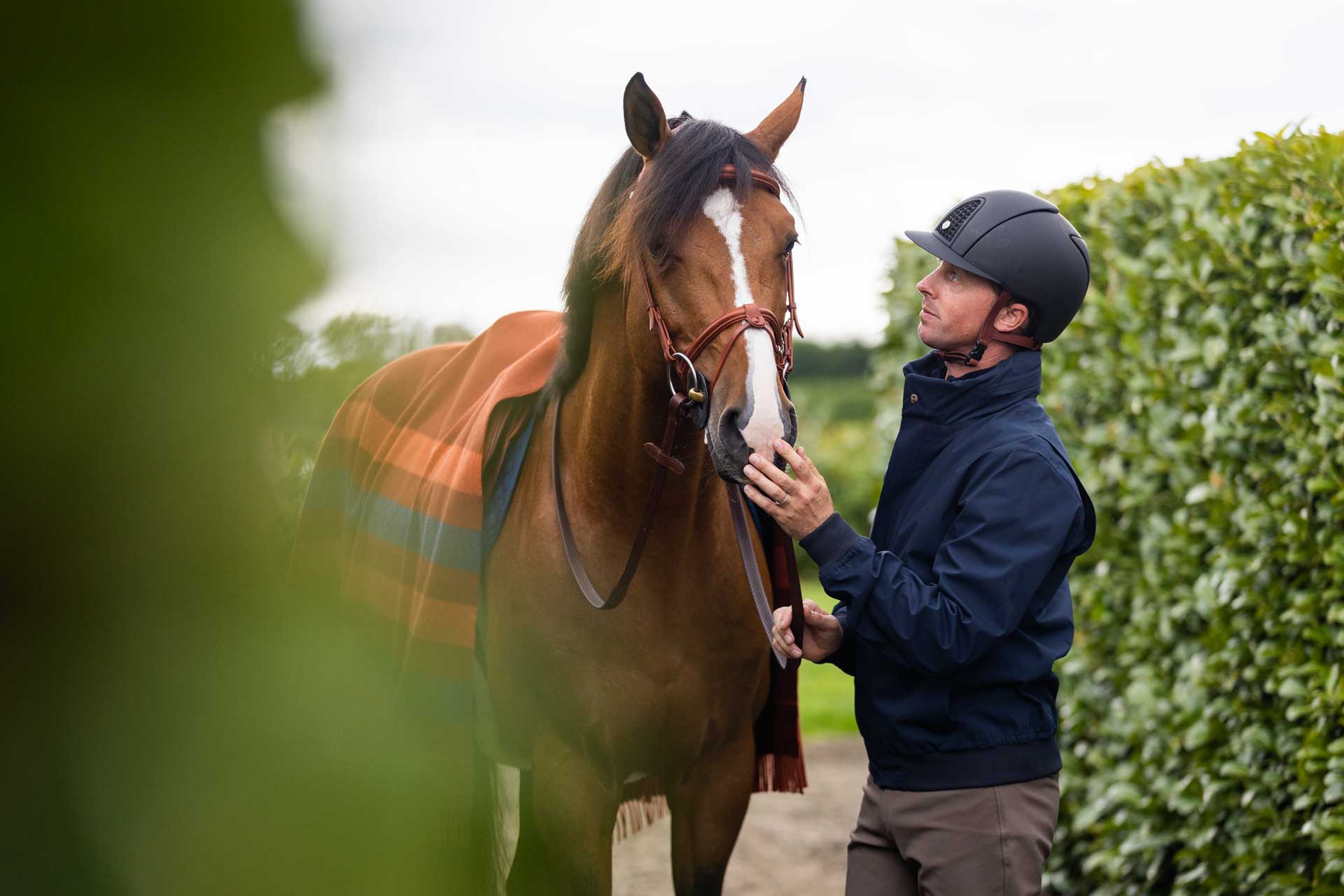 Explosive Style: An Interview With Ben Maher
---
Ben Maher, the reigning Olympic Show Jumping Champion, is Hermès' newest partner rider.
He's one of Britain's most successful riders of all time, the current Olympic Show Jumping Champion, and Ben Maher will henceforth be one of the chicest men in any arena, having been announced as Hermès' newest partner rider. Despite suffering a serious shoulder injury at the start of the year, he was back in the saddle after just six weeks of downtime, and is now back on the competition circuit and getting stronger every day. The Olympian secured a runner up spot in the in the CSI5* Rolex grand prix at the 80th annual Royal Windsor Horse Show, where Rebecca Cox caught up with Ben over lunch. 
Royal Windsor Horse Show 2023
We're sitting just a few tables away from the Duke of Edinburgh in a chic marquee underneath chandeliers and surrounded by enormous floral arrangements, but it's Ben Maher that is causing the biggest buzz in the room, being approached for photographs and receiving well wishes as he approaches the table. He's in a short break between competitive rides, but it's not the jumping that is the source of his nerves. As he sits down he tells me that his perfectly cut new Hermès suit is a snug fit and he's worried he won't have space for the three course lunch. (He did.) 
Before lunch I took a tour of the Hermès retail tent and met a young saddler carefully working on an order. Every member of the team in attendance stressed the importance of putting the animal's comfort first when it comes to saddling horses, and it was this (and not the well-cut suits) that drew Ben to the partnership. In a statement announcing the collaboration with Hermès, Ben said: 'Putting my horses' comfort and well-being first, we will closely collaborate to ensure that my saddles and other equipment are continuously adapted to my horses' needs, ensuring we can always perform at our best.' It is the personalities of Ben's horses, their excitement to jump (and how they show displeasure) that he is most animated about over lunch, and his love of horses keeps him going year after year, into this latest partnership with Hermès. 
Q&A with Ben Maher 
Congratulations on the result, how is your shoulder feeling after the weekend?
Thank you. My shoulder is feeling good, the physios have done a great job in getting me back and my team have kept the horses in top form, which meant that getting back in the ring was smooth! 
And congratulations on becoming a partner rider. What makes Hermès a good fit for you?
Being a partner rider with Hermès is a good fit because their attention to detail is second to none, and as a team we are always striving for perfection and endeavouring to improve wherever possible. We have been working closely together on the needs of each individual horse, which is very important to me.
What are you most excited about for this partnership?
I am excited to be part of the Hermès Family, it's such a prestigious brand, both in and out of the equestrian world. Once again, we aspire perfection, so to be partnered with a brand that also has this ethos makes it a good match. Oh, and I can't forget, I am excited to head to Saut Hermès next year! 
You said that you don't like to have favourites but there's something special about working with Explosion. How rare is it to form a bond like this with a particular horse and what can make or break it?
I am very lucky to have a strong string of horses this year, but yes, I think we would all have to agree, there is something very special about Explosion. I think his character is a huge part of it, he is extremely smart, and he just knows he is good. Physically, he is rare too. When you watch him jump, he can bend in ways many horses cannot, to avoid touching a rail. He is also courageously brave and quick. 
It's special to have a bond like this with a horse, and I make every effort to maintain a good bond with all my horses by training them according to their personalities. Not only do you have to be their rider, but you also must be their friend.
Do you ever meet a horse that you know you won't be able to work with?
Every horse is an individual and it is my job as a rider, to approach each horse in a way that brings out the best in them.
Has becoming a father changed your view on/relationship to your work?
I try to keep my work life and personal life separate but, my life is my horses and I have very much enjoyed having Sophie and Cooper supporting me at events around the world. 
What should we expect from you next?
In our sport, everyday gives us new challenges, there are many accomplishments that I still strive to win. I am looking forward to next year's Paris Olympics, and I'm very lucky to enjoy my job every day. 
Hermès' Equestrian Managing Director Chloé Nobécourt, said on the partnership: 'We are delighted to welcome Ben Maher, the reigning Olympic champion to our family of partner riders. Ben is an exceptional rider and a true champion, with whom we share common values such as the love of horses, the quest for excellence, humility and the commitment to keep this sport alive, which is what really drives us. We are delighted to see him competing now at the highest level with a Hermès saddle.'