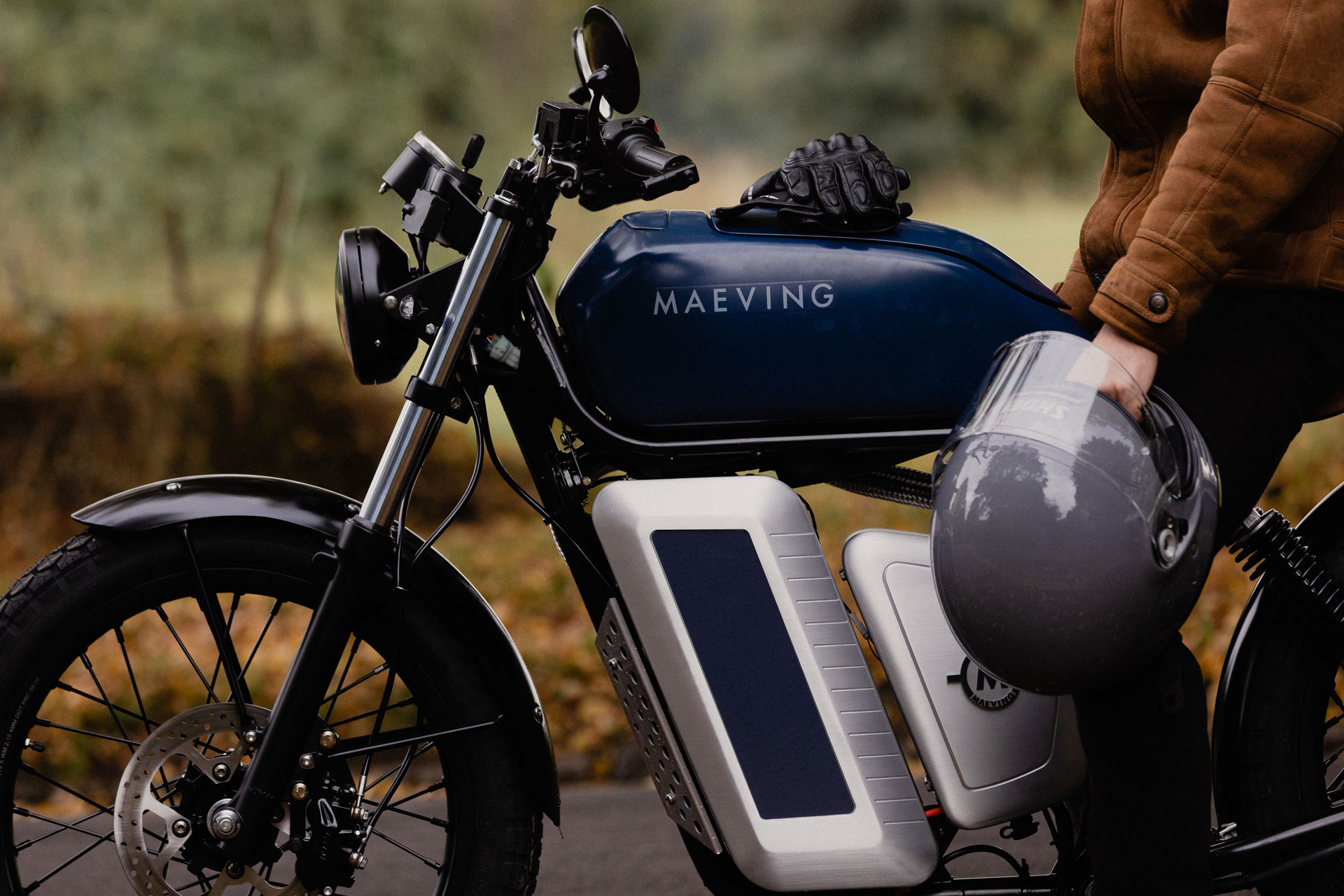 Maeving RM1 — The Green Lane
---
'an all-electric motorbike that should be on every commuter's wish list'
Saddle up – motoring editor Jeremy Taylor and sustainable fashion expert Jessica Saunders ponder an electric motorbike, the Maeving RM1
Maeving RM1 — The Green Lane
JS – Holy guacamole! What on Earth is this motorbike – it's the coolest machine on two wheels.
JT – My never-ending quest to encourage you onto a motorbike is working then. I first saw this machine at a motorcycle show in Birmingham during lockdown. There were thousands of bikes on display but this is the one I wanted to bring home.
Well, I didn't say I want to ride one but the retro styling is something else. Even better, there's no noisy engine!
The Maeving is a zero emissions, all-electric motorbike that should be on every commuter's wish list. It looks incredible and has a clever removable battery system.
So you don't plug it in like a conventional electric car?
You do – but you remove the battery and take it to a three-pin, house plug socket and connect there. The battery is where the engine used to be inside casing  while there's room for an additional one in what looks like the fuel tank, extending the range still further.
What a great idea. Are the batteries heavy?
Yes but not too bad. It means you just plug in at home, or in the office, without having to find an increasingly crowded public charger. One battery will cover 40 miles, which for many people will be enough for a daily commute anyway.
I love the attention to detail on this bike. The old-fashioned, spoked wheels, leather seat and sculpted tank – although it's not a tank!
Maeving offer some nice old-school colours too. Urban riders will love it because the RM1 is a style of bike that has become hugely popular in the trendier parts of town.
How has it performed out here in the countryside – it took you longer than usual to get to the farm shop earlier this week?
You noticed that did you? Well, yes, the Maeving tops out at 45mph, which is fine in the city but a slightly nerve-wracking on a fast A-road with a lorry up the back wheel. Or on a hill, when time sometimes stands still. But it's not meant for that environment, so all is forgiven. The ride quality isn't up to modern standards either.
But the bike has won plenty of admiring glances from neighbours – and they don't even ride a motorbike. No gears to grease, no oily bits – perfect.
On a practical not, riders don't need a full motorcycle license to ride the RM1 either. It's also super light, very easy to manoeuvre and surprisingly affordable – especially compared to an electric car. £6,995 to be exact.
And how does one stop it being stolen, like so many motorbikes and scooters in London?
A good chain and lock, although the Maeving also features an anti-theft tracker complete with phone app. Plus, take the battery out and it's not going anywhere, unless there's a van involved.
You'd better put one on your Christmas list. And because it only has one seat, I won't have to ride pillion either.
Jessica Saunders is Director of Programmes at London College of Fashion, studying for a PhD in sustainable e-textile design.