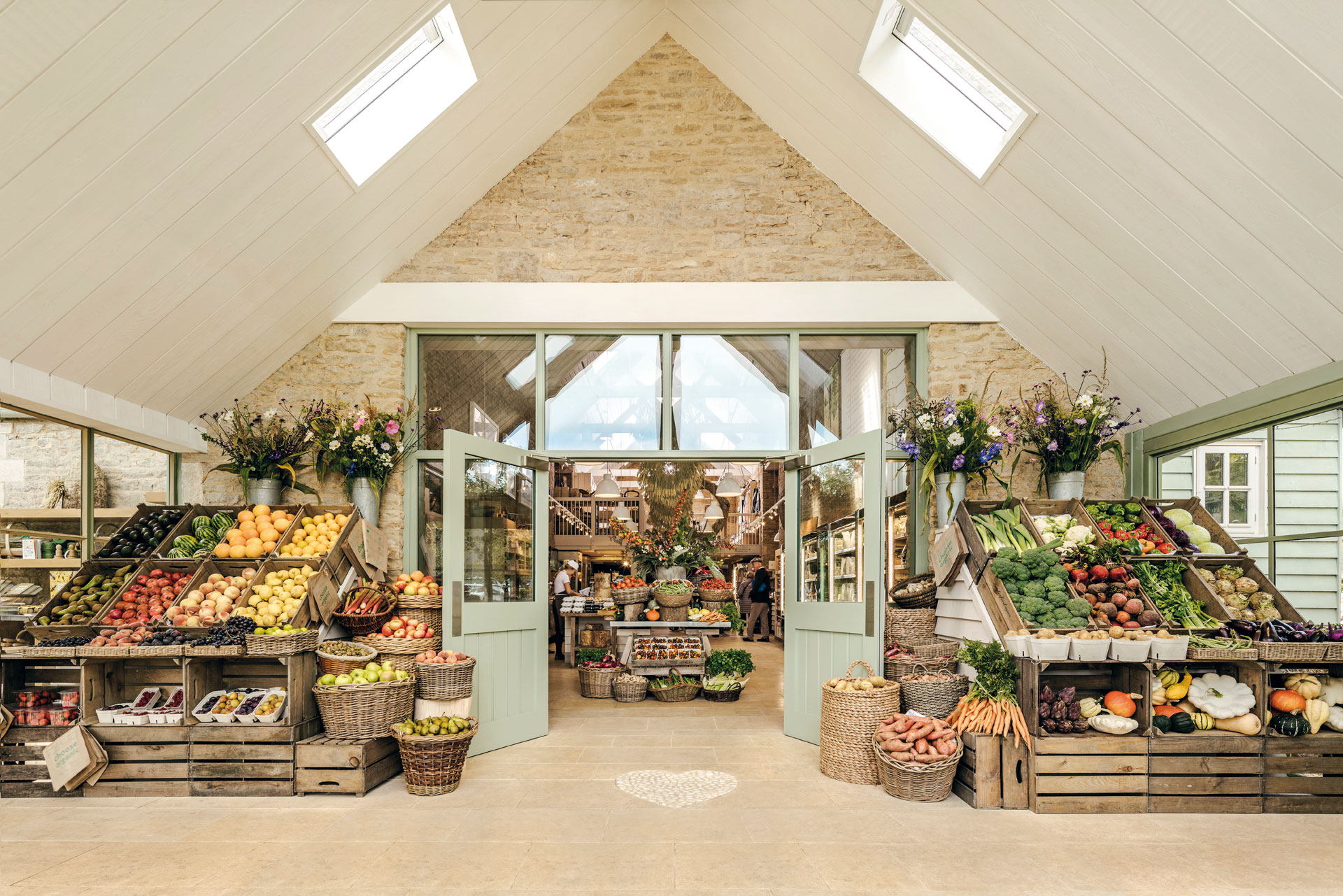 The UK's Best Farm Shops
As fresh as it gets
Local has become a buzzword in the food sphere in recent years. The benefits are clear: buying and eating local produce is better for both the environment and our tastebuds – and it helps support small businesses. With that in mind, we've collated a handful of the best farm shops in the UK, known for selling some of the freshest food around.
The UK's Best Farm Shops
London: Artfarm's Farm Shop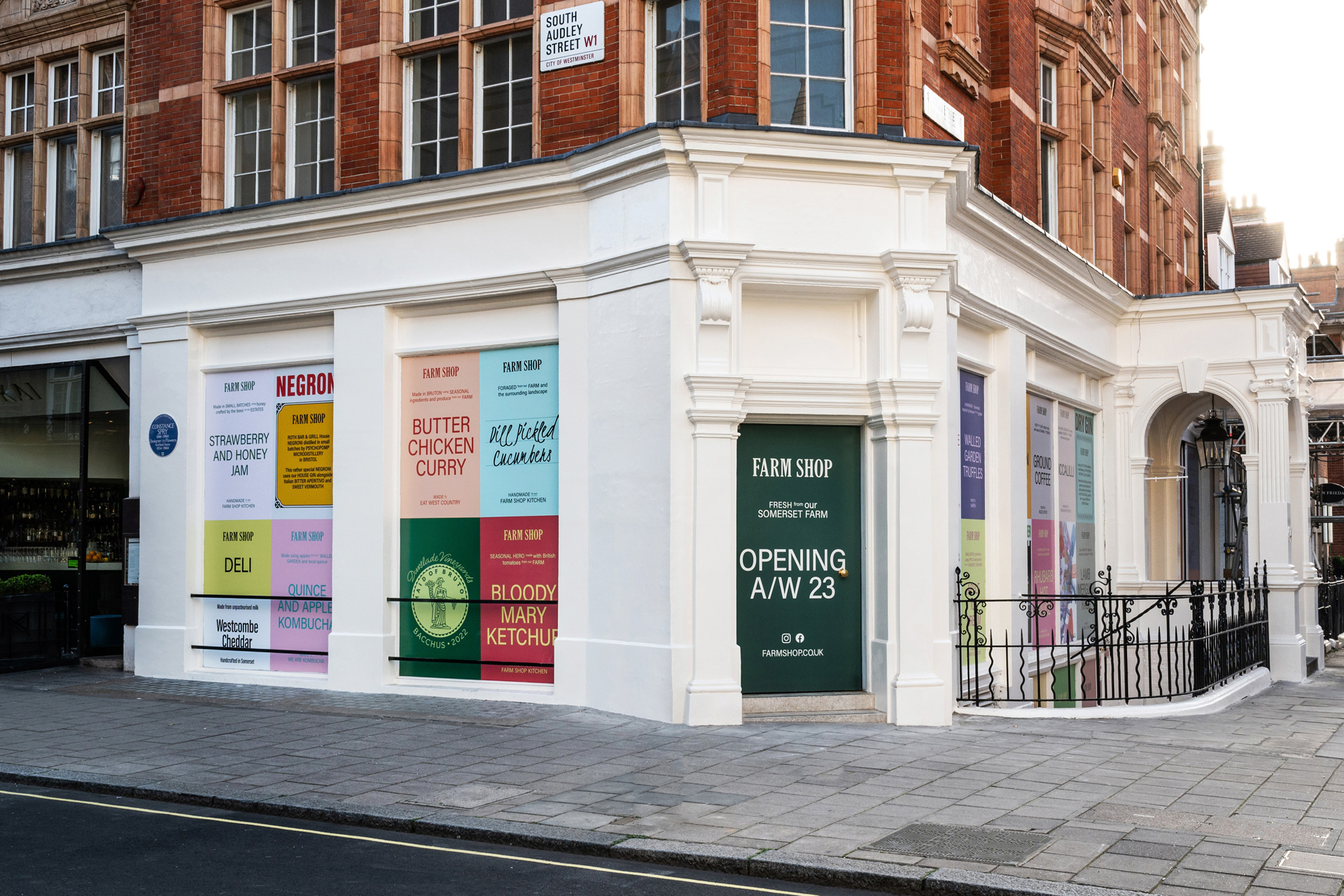 Coming to London this November is a new farm shop from Artfarm, the hospitality company behind names like The Fife Arms. The 4,000 square foot space is opening in a historic building in Mayfair, just round the corner from Artfarm's other venue, The Audley Public House, and will serve as a city offshoot of Farm Shop (below) in Somerset, with many ingredients coming from the farm there. Think wine created from grapes grown on the estate, fridges filled with cheese and meat, honeycomb from the farm, and plenty of fresh fruit and vegetables. On the ground floor, you'll find a separate butchery room selling high welfare meat, while the lower ground floor will house temperature-controlled cheese and wine rooms. All this made you feel peckish? Grab one of the cheese toasties or hot beef sandwiches available on-the-go.
64 South Audley Street, London, W1K 2QT; dursladefarmshop.co.uk
Somerset: Farm Shop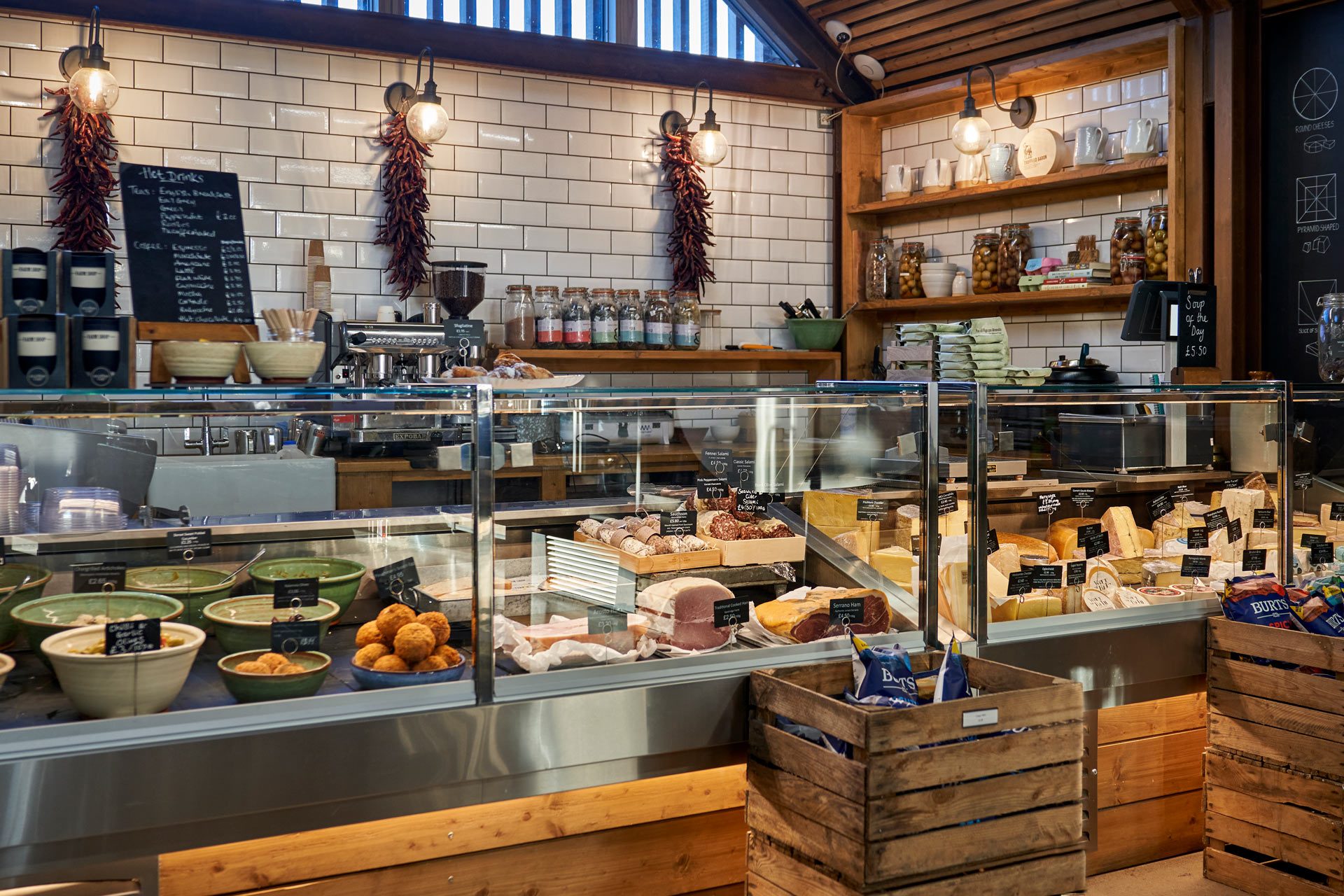 Opened two years ago within Hauser & Wirth in Somerset, on the edge of Bruton, Farm Shop is firmly rooted in the local community, aiming to showcase the best growers, farmers and makers in the area. Part of Durslade Farm, a long-standing farmland owned by Iwan and Manuela Wirth, the shop sells produce either made in-house, reared or grown on the surrounding estate, or from a nearby local supplier – from fresh fruit and veg to dairy, meat and fish, plus an enticing array of pastries and breads. In-house forager Kenny Jens has created a selection of hyper-seasonal goodies, there's honey from the farm's bees, and you can also buy freshly cut flowers – plus a small selection of homewares and cookbooks hand-picked by the team.
Dropping Ln, Bruton BA10 0NL; dursladefarmshop.co.uk
London: The Fat Badger
The Gladwin Brothers are known for bringing the countryside to London via their local and wild restaurants, which are dotted all over the city and showcase nose-to-tail, root-to-fruit cooking. And now visitors can shop this fresh produce, thanks to the arrival of a new farm shop in Richmond, located in one of the group's branches, The Fat Badger. Here you can buy an abundance of organic produce, with specialist fish and meat counters providing customers with cuts of meat, game, fish and shellfish depending on what's in season. There will also be recipe cards on display to give people inspiration on how to cook the produce at home – and anything leftover in the shop is used in the restaurant's ever-changing menu. The farm shop will also host masterclasses and workshops, including a butchery class from Oliver Gladwin himself, with the aim of showcasing their farm to fork ethos in action. 
15-17 Hill Rise, Richmond TW10 6UQ; thefatbadger-restaurant.com
Newbury: Clodagh Store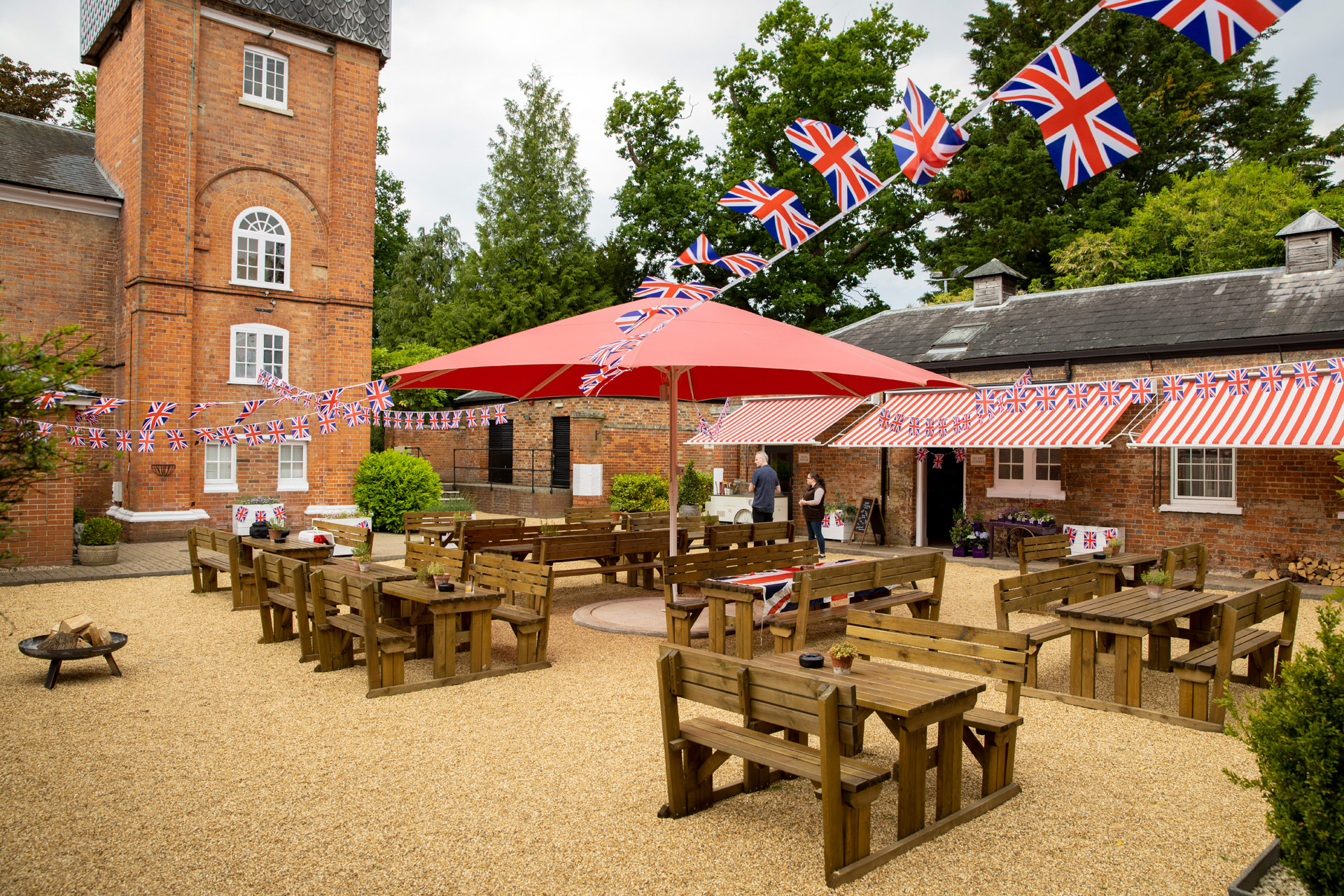 This Morning's resident chef Clodagh McKenna has launched a shop in the courtyard of The Retreat at Elcot Park, an idyllic country house hotel in West Berkshire. You'll be able to pick up produce from her nearby farm, including artisan cheeses, cold meats and cakes – plus her acclaimed recipe books to give you some cooking inspiration. The shop also sells freshly baked bread, teas and coffees, alongside Clodagh's personally curated selection of homewares, like glassware and table linens. 
Elcot, Newbury RG20 8NJ; retreatelcotpark.com
Sussex: Cowdray Farm Shop & Café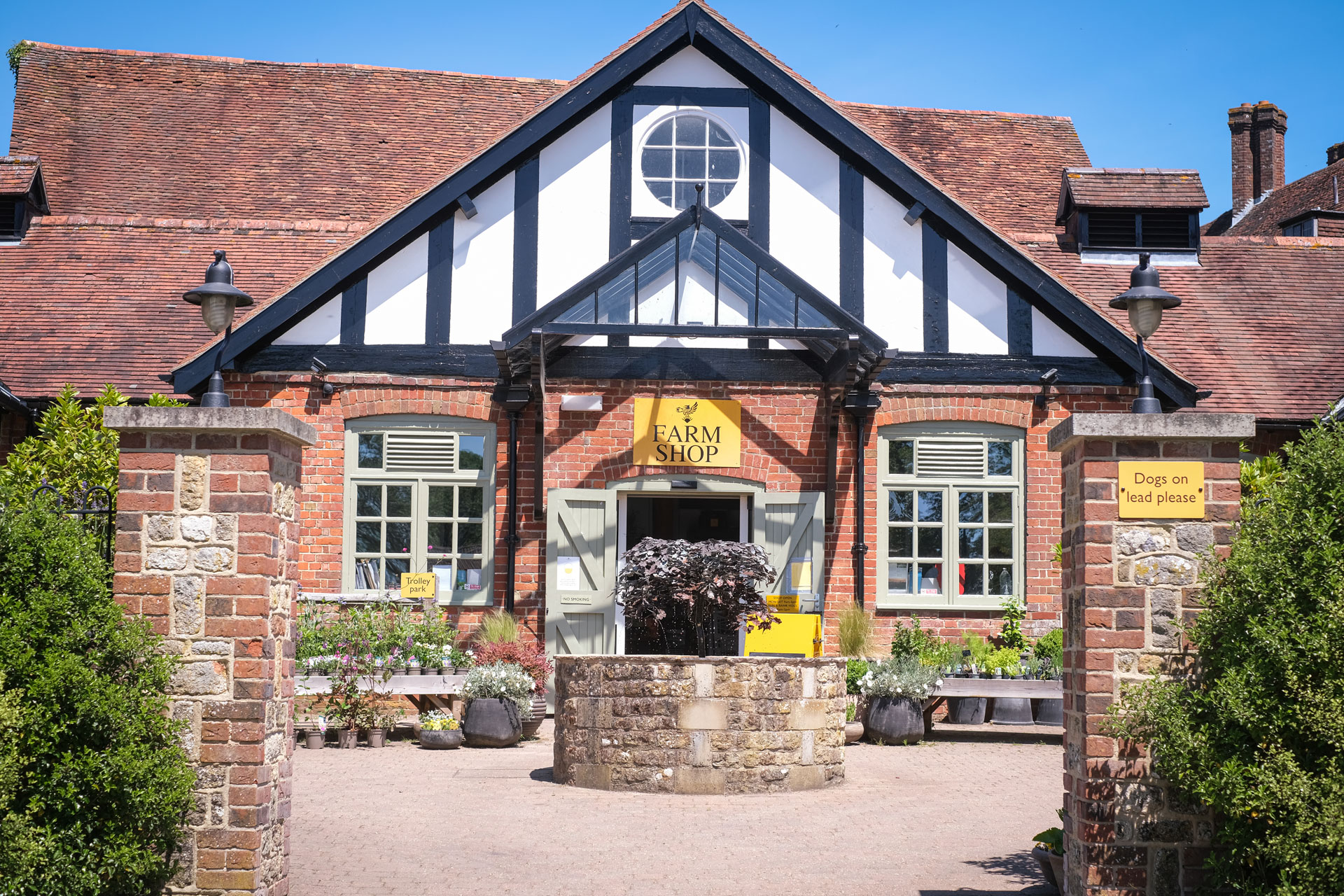 With its own deli and butchery counters, Cowdray Estate's Farm Shop is a showcase of all the excellent local produce west Sussex has to offer. It sells produce reared and grown on the estate itself, from lamb and beef to vegetables and foraged ingredients, plus Cowdray honey, jam, marmalade and coffee. You can also pick up bouquets from local florist Kate Owens of Verdley Flowers, try pastries baked in-house and even sit down for a home-cooked meal. In a bid to reduce waste, visitors are encouraged to bring their own containers to fill, and choose from unwrapped fruit, vegetables and bread.
Cowdray Estate, Midhurst, West Sussex; cowdray.co.uk
Somerset: TEALS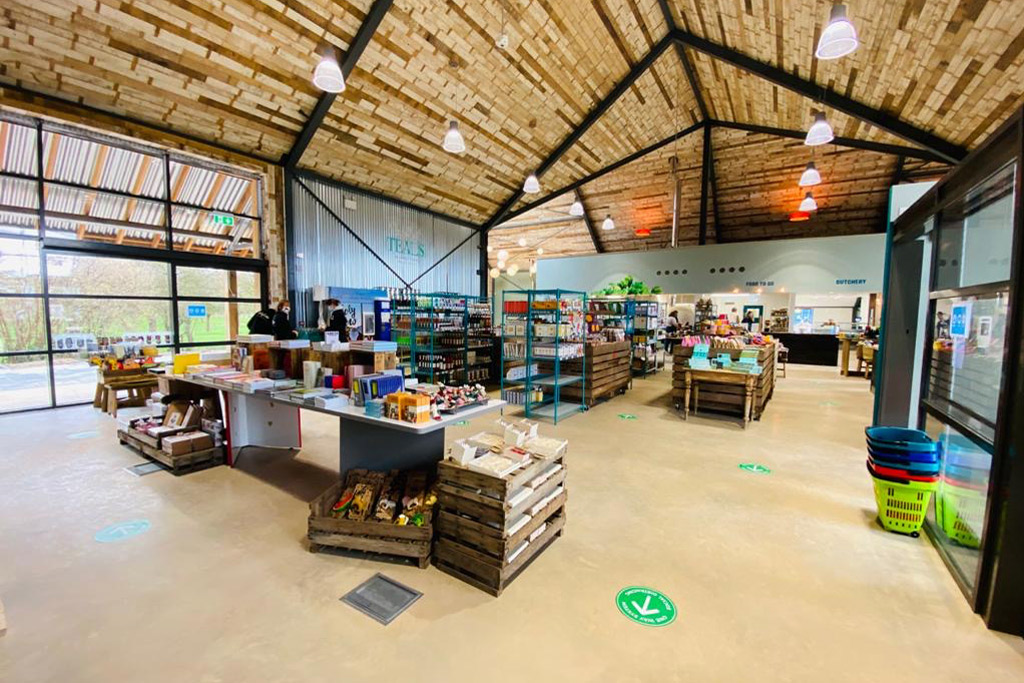 From handmade butters made in Dorset to fruit vinegars made in Somerset, new farm shop TEALS is a celebration of local produce from the South West and beyond. Launched by couple Ash and Nick Sinfield, the store focuses on small batch, family-run, artisan brands with a strong ethical ethos. Think Guatemalan coffee from Girls who Grind, an organisation which empowers women in the coffee industry and buys exclusively, alongside black bee honey, gluten-free granola and raw keto almond macaroons.
1 Orchard Lane, South Cadbury, Somerset, BA22 7FS; teals.co.uk
Peak District: Chatsworth Estate Farm Shop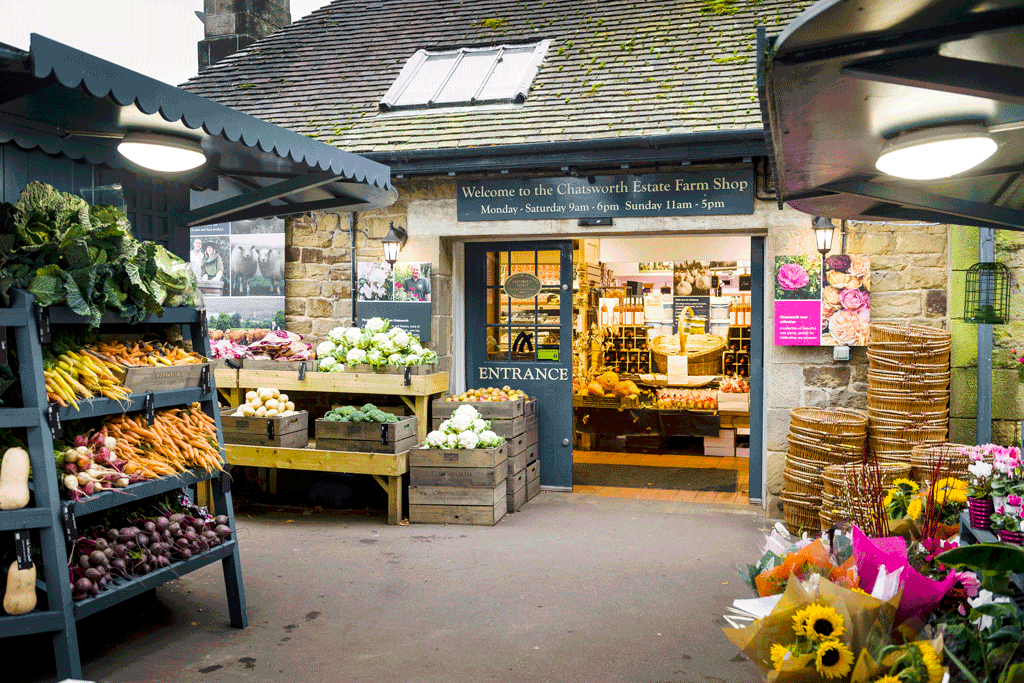 When initially established by the Duchess of Devonshire in 1977, the Chatsworth Estate Farm Shop only sold meat from the estate farms. These days it's a rather more extensive affair: you can buy everything from local honeys to venison steaks to freshly-made pies, with over 60 per cent of produce either produced or prepared on-site. Chatsworth is home to a number of livestock farms, meaning the meat is all local, while fruit and vegetables are supplied by Tomson's of Buxton. Other delights include a fresh fish counter, a delicatessen and a patisserie, as well as a café which uses ingredients sold next door.
Pilsley, Bakewell DE45 1UF; chatsworth.org
Northern Ireland: The Dairy
Driving through the Gleno valley you may be lucky enough to chance upon The Dairy, a whitewashed building perched between Carrickfergus and Larne. Headed up by Sandra McDowell, the farm shop showcases the vast range of local produce Northern Ireland has to offer, selling everything from chutneys to chocolates to bread, alongside meat sourced from Sandra and her husband's farm. There's also a quaint little cafe serving breakfast, lunch and traditional roast dinners on Sundays, and a pretty courtyard with outdoor seating for sunny days. Afterwards, make a trip to the beautiful Gleno waterfall, just a few minutes drive away.
5 Waterfall Road BT40 3LE; thedairygleno.com
Somerset: Kimbers Farm Shop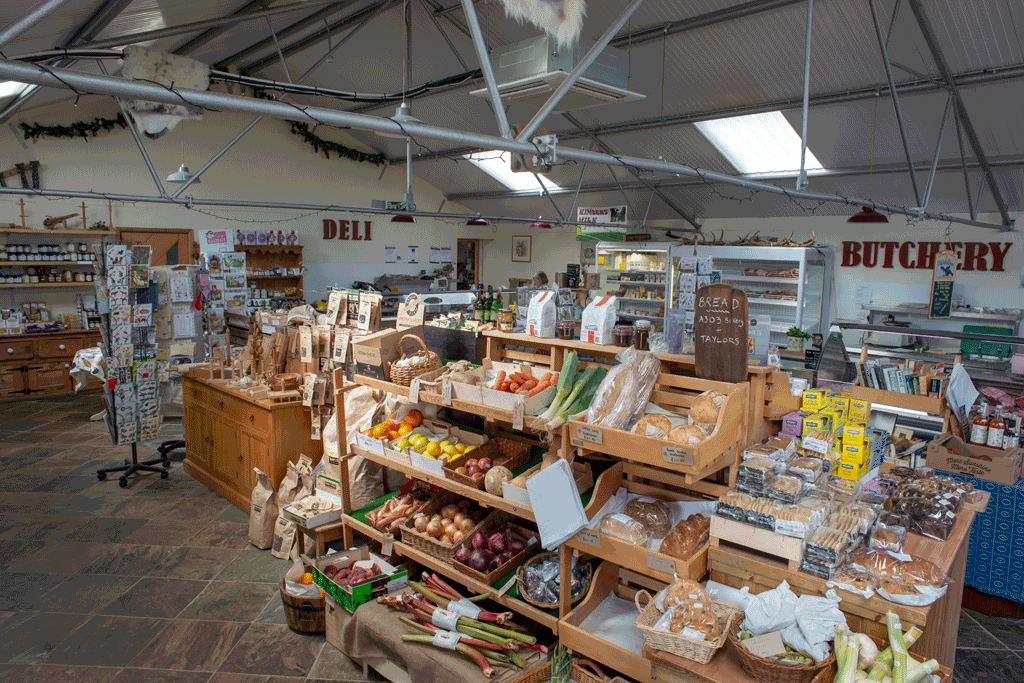 Another gem is Kimbers' Farm Shop in Wincanton, run by a family who have been farming the same land for over 300 years. The shop is known for selling top quality meat, with the option to make your own hamper from the meat and pantry section. You'll also find a dairy here, selling fresh cheese, milk and butter from the local farm in Somerset.
Charlton Musgrove, Wincanton BA9 8HD; kimbersfarmshop.co.uk
Gloucestershire: Daylesford Farm Shop, Kingham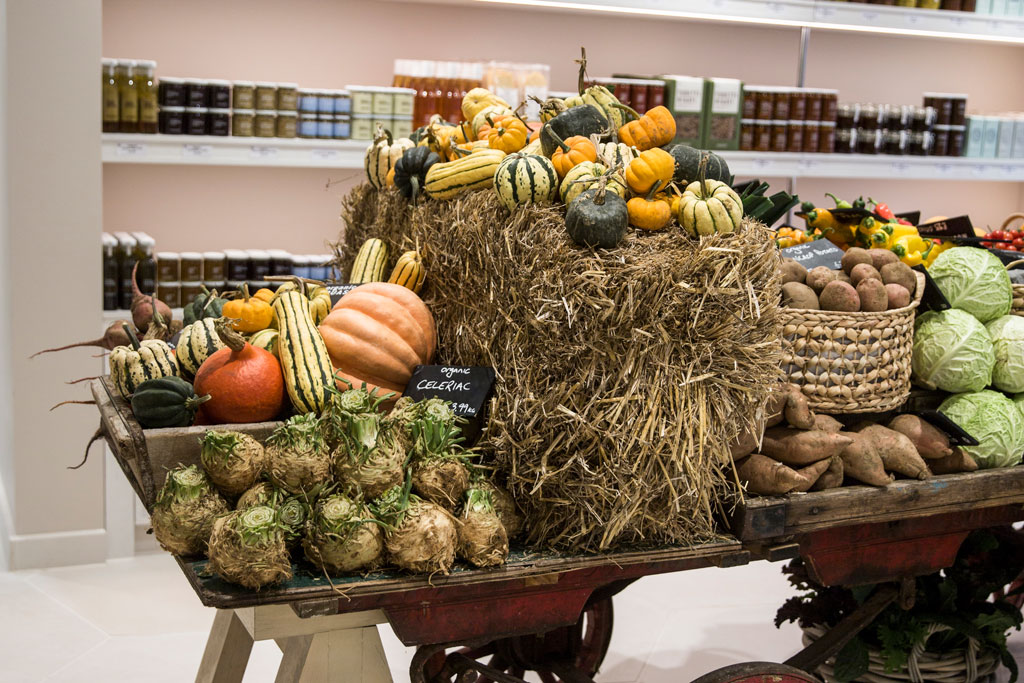 Perhaps the most famous farm shop in the UK is the Gloucestershire branch of Daylesford, often dubbed 'The Harvey Nichols of the Cotswolds.' Since being founded in 2002, Daylesford has grown to become one of the most sustainable farms in the UK. They were pioneers in the farm to table movement, and their organic offering today is better than ever. At Daylesford near Kingham you'll find a shop, dairy, creamery, converted barn café, and farm where animals roam freely on organic pastures. Fresh fruit, vegetables and herbs are picked each morning from the market garden, before being taken just a few yards to the on-site shop and used to make dishes for the café.
Daylesford near Kingham, Gloucestershire GL56 0YG; daylesford.com
Berkshire: Cobbs Farm Shop at Hungerford
With a pick-your-own farm and huge wooden play barn, children will love Cobbs Farm Shop & Kitchen, located in Hungerford. Meanwhile adults can peruse the well-stocked farm shop, which features a delicatessen, butchery, fishmonger and florist. You can buy luxury dairy ice cream, freshly baked bread, preserves, chutneys, smoked fish, cheese and meats, before exploring the vineyard – their English sparkling wine, Alder Ridge, has won awards.
Bath Rd, Hungerford RG17 0SP; cobbsfarmshops.co.uk
Reading: Wellington Farm Shop
Perched on the Berkshire-Hampshire border, Wellington Farm Shop is a foodie's heaven. It was founded in 2005 by chef Lady Honor Montagu, who worked with the likes of Marco Pierre White in the past – and has been committed to sustainability long before it was fashionable. Much of the produce here is grown on the Estate itself, the rest being selected from local producers. There's lamb from the Estate's Welsh Black Mountain flock, cheese from Neal's Yard Dairy, free-range Beechwood farm eggs and local handmade ice cream. You can also pick up a wide selection of fresh fruit and vegetables, honey made using beehives from the Estate, and delicious fresh cakes from the nearby Rosebud Bakery. If you can't wait to sample the goods, head to the cosy café, open for breakfast, lunch or tea and cake.
Welsh Ln, Reading RG27 0LT; wellingtonfarmshop.co.uk