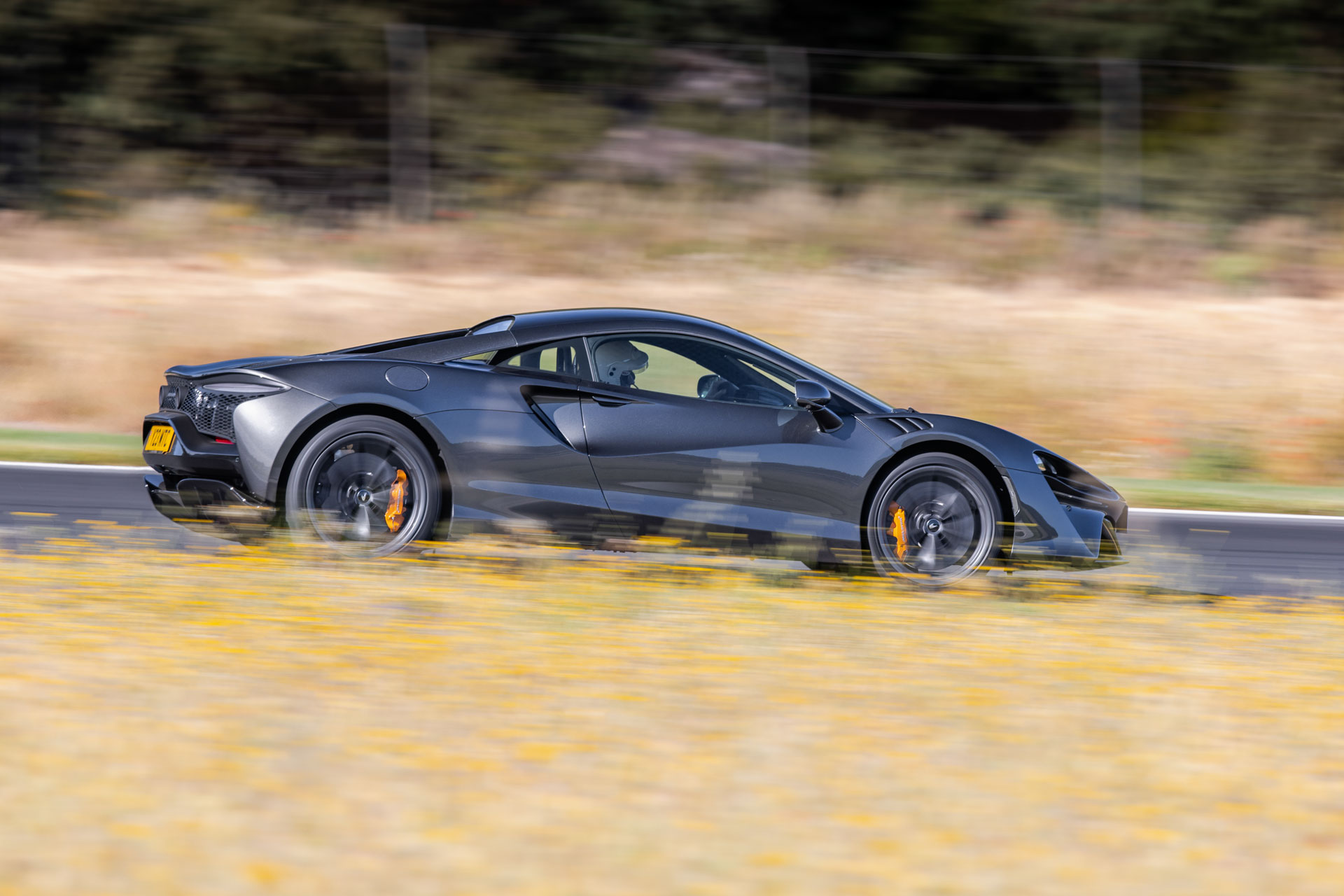 McLaren Artura — The Green Lane
---
How can a £190,000 supercar, be in any way 'green'?
Motoring editor Jeremy Taylor persuades sustainable fashion expert Jessica Saunders that the new McLaren Artura is good for the environment
McLaren Artura — The Green Lane
JS – Okay, this time you have gone too far. How can a £190,000 supercar, with a V8 engine and a top speed of 205mph be in any way 'green'?
JT – Let me explain. What you are ogling here is McLaren's first, commercially-available hybrid. That twin-turbo V8 petrol engine is ably supported by an electric motor mounted in the housing of the eight-speed gearbox. Interestingly, there is no mechanical reverse gear – the e-motor provides backward motion too.
Almost interesting but it's not McLaren's first petrol-electric hybrid is it? I remember they built the astonishing P1 back in 2012?
Correct. The now legendary P1 produced a bonkers 903bhp. Built in limited numbers, it came with a price tag of £866,000 but is today worth in excess of £1.5 million and a collector's piece.
So, the 671bhp Artura is less of a showpiece, statement machine and a genuine supercar that anybody with £200,000 can purchase?
Exactly. Artura is the first, full production McLaren hybrid supercar. It's loaded with fresh technology yet looks very familiar. Beneath that svelte bodywork, Artura also reveals how McLaren is building towards a hush-hush, silent and electrified future. Underneath that aluminium and carbon fibre shell is an advanced plug-in hybrid, the two-seater laying the foundation for a new generation of models to be built at McLaren HQ in Woking.
And this one has batteries – as well as an engine. Doesn't that make it heavier?
Artura is 50kg heavier than a 'standard' McLaren 570S. However, considering the hybrid systems add 140kg, the designers have managed an incredible job keeping the overall weight trimmed to relatively trim 1,498kg.
Yes, but the benefits of an electric motor in this instance aren't aimed at improving economy, or saving the planet. Officially, this is the most efficient McLaren ever, returning up to 61mpg. That's nonsense in the real world.
True but the 19-mile electric-only range does have fringe benefits. For example, you can now start a supercar silently in the morning, without waking the neighbours. And while some poseurs like to shout with their twin exhausts, I promise there's nothing cooler than silently gliding through a sleepy Spanish village where I drove the car powered only by battery.
So, it's a winner then?
There's no doubting the performance – 0-62mph in three seconds – but apart from missing the aural drama of a McLaren V8, the Artura also feels strangely sanitised. It's a feature of every electric car I've driven and we will just have to get used to it.
What's different inside – I've always found McLaren's look the same in the cockpit.
An all-new infotainment screen is light years ahead of what you will find in other McLarens. The Achilles' heel of past models, this is finally a system worthy of the car, easy to operate one-handed and very intuitive. Remarkably, Artura is also the first McLaren to feature Apple CarPlay.
A sound choice. I'll take two.
There's a bit of a waiting list but that e-motor adds even more performance. And as they say, silence is golden.
Jessica Saunders is Director of Programmes at London College of Fashion, studying for a PhD in sustainable e-textile design.
READ MORE ELECTRIC CAR REVIEWS: 
Mercedes-Benz EQS Review / Polestar 5 / The Hispano Suiza Carmen/