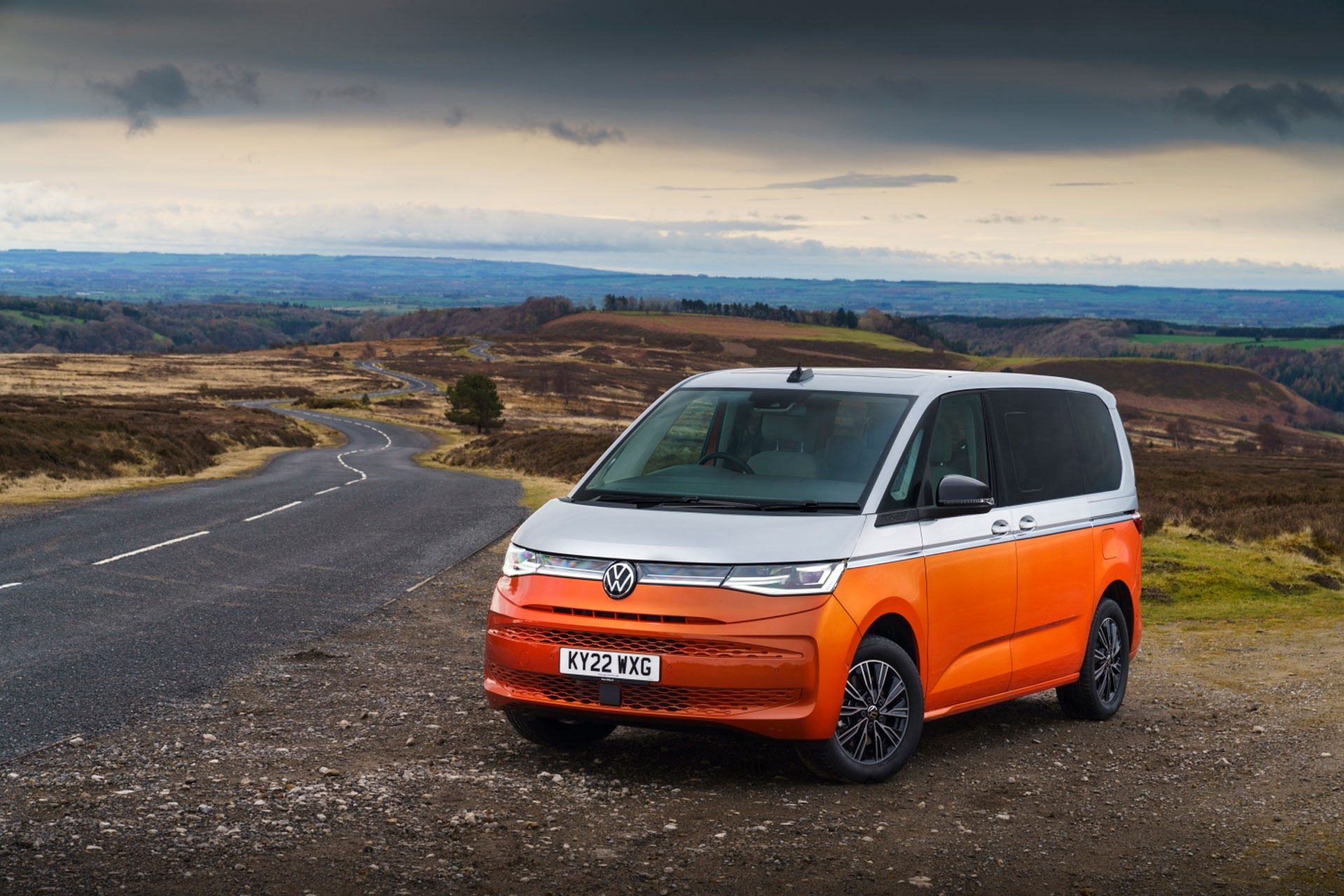 Volkswagen Multivan Life eHybrid — The Green Lane
---
'This is the people-mover of choice for those handling school runs on a military scale'
A VW van is classless transport for big families – motoring editor Jeremy Taylor and sustainable fashion expert Jessica Saunders drive the latest plug-in hybrid, the Volkswagen Multivan Life eHybrid. 
Volkswagen Multivan Life eHybrid — The Green Lane
JT – Once upon a time I owned a classic, split-screen VW camper van built in 1962. That car out-cooled anything on the mean streets of Weston-super-Mare.
JS – Oooh, you were living a wild life then, way out west! Did your trusty steed have a name, like a cowboy's horse?
I sense you are mocking but yes, it was called Van Morrison – because the restoration was completed by a Mr Morrison. Just not the grumpy Northern Irish singer of the same name.
Which brings us neatly to this week's test drive. The Multivan is the latest 'bus' from Volkswagen that does everything a large family might require of a vehicle.
Indeed, a VW van is virtually the company car near us in Stroud! It's not the cheapest option at around £50,000 but this latest model is a plug-in hybrid that boosts economy and covers 30 miles on electricity alone.
But it's not a classic camper van. It's what we used to call an MPV or people-carrier, with seven seats, acres of space, comfort and refinement.
That's right, the Multivan is all about versatility but these days with car-like handling and refinement. VW still offer a van version but this one is for families or taxi drivers, with a 2-2-3 seating lay-out.
The front two are captain's seats – which means they have arm-rests, while the three-seat back row is a bench. I love the fact access to the rear is via a pair of huge electric sliding doors.
And all the seats will slide back and forth on floor rails. The table between the middle pair of seats will slide too – in fact, you can remove all the back seats and table to create a vast luggage area as well.
I remember you once needed big biceps to lift the seats completely out but they are much lighter in this Multivan. And this one is a plug-in hybrid, so we can charge it at home?
Power comes from a modest 1.4-litre petrol engine that gets an extra bit of shove from the 13 kWh battery pack. That's roughly the equivalent of 210bhp altogether, giving the Multivan a decent turn of speed – as well as strong economy of around 43mpg. It certainly doesn't feel underpowered but generally works best with petrol engine and battery pack combined.
For me, the VW is most at home on a long motorway journey. Those seats are so comfortable and the cabin is quiet. On stop-start A-roads, the small 1.4-litre engine sounds noisy until it gets up to cruising speeds.
Even so, the VW is a very accomplished machine. Eventually, it will be replaced by the new ID Buzz – Volkswagen's all-electric retro-van that's destined to be a massive seller. Until then, this is the people-mover of choice for those handling school runs on a military scale in the Cotswolds and beyond.
Jessica Saunders is Director of Programmes at London College of Fashion, studying for a PhD in sustainable e-textile design.
SEE MORE
Mercedes-Benz EQS Review / Polestar 1 Review / The Hispano Suiza Carmen/Audi RS e-tron GT
Main Image: Courtesy of Volkswagen