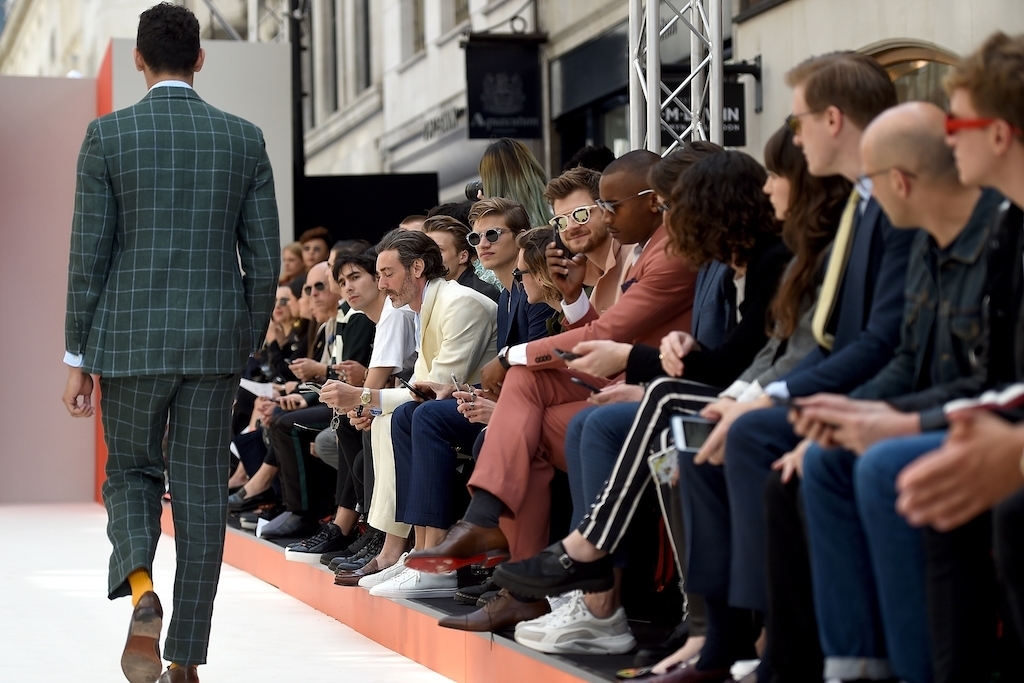 A Guide To Digital London Fashion Week
---
The online events you won't want to miss
As with many other significant events, London Fashion Week has been forced to shake up its original format to conform with lockdown guidelines. But this year's digital-only autumn-winter showcase has its perks, namely that the shows won't just be reserved for the front row – anyone can tune in.
The C&TH Sustainable Fashion Hub
A Guide To Digital London Fashion Week
Taking place from Friday 19 to Tuesday 23 February via the London Fashion Week online platform, this year's five-day autumn-winter event is set to feature 95 designers, integrating menswear and womenswear together.
What's more, the British Fashion Council has gone above and beyond to ensure that this year's digital event includes a whole host of engaging multimedia content separate from the shows. London Fashion Week's DiscoveryLAB, for example – branded by the BFC as "an experiential zone that spans the intersection of fashion, art and technology" – is taking place online for the very first time with a series of daily 10-minute 'digital sessions' involving the likes of menswear label Carlota Barrera and sustainable and gender neutral fashion brand Linus Leonardsson.
View this post on Instagram
LFW Highlights
These are the digital shows, presentations and podcasts to lock in your LFW diary.
Preen by Thornton Bregazzi
Thea Bregazzi and Justin Thornton, the duo behind Preen by Thornton Bregazzi – loved by the likes of Naomi Watts, Michelle Obama and the Duchess of Cambridge – presented their SS21 Kintsugi-inspired collection via a dream-like video which featured a whole host of soft pastels, ruffles and florals. We can't wait to see what they've dreamed up next. Catch the show at midday on Sunday 12.
My Style: Justin Thornton and Thea Bregazzi of Preen
View this post on Instagram
Molly Goddard
For fans of eccentricity and colour (and that iconic Killing Eve dress), Molly Goddard's London Fashion Week exhibit is always one to look forward to. Don't miss the brand's AW collection launch on Saturday 20 at 5pm.
View this post on Instagram
BFC Fashion Forum Podcast
If, between the films, presentations and DiscoveryLAB sessions, you have time for a little more London Fashion Week (it is lockdown, after all), tune into the BFC Fashion Forum Podcast. The series delves into a number of issues facing the fashion industry today, from diversity to sustainability, and features a range of high-profile guests, including Erdem Moralioglu MBE and Stella McCartney OBE. Listen here.
Sonia Carrasco
Continuing her efforts to demonstrate the importance of climate change, Spanish designer Sonia Carrasco's autumn-winter 21 collection has been titled after the coordinates -75.500000, -106.750000, a reference to the Antarctic's vital and endangered Thwaites Glacier. Presented in a video starring dancer Carla Cervantes, expect innovative tailoring, artful handmade tapestries and a series of evocative natural and saturated tones. Tune in at midday on Saturday 20 February. 
Burberry
This year, illustrious British brand Burberry will showcase its newest men's collection via an independent digital presentation. Taking full advantage of this year's genderless LFW format, the brand will be joined by the likes of Edward Crutchley, Nicholas Daley and Dunhill all showcasing their latest collections, with additional London Fashion Week men's shows set to recommence later this year. View the presentation at 1pm on Monday 22.
View this post on Instagram
LFW Designer Diaries
A YouTube series exploring the lives of preeminent designers, the LFW Designer Diaries, (now in its third series) has attracted a variety of intriguing guests, from Yuhan Wang to E. Tautz designer Patrick Grant. A compelling inside look at the work and inspiration behind the London Fashion Week artisans. Watch the videos here.
View this post on Instagram
Simone Rocha
Whilst we wait in eager anticipation for Simone Rocha's H&M collection to launch (also set to debut her first ever menswear edit), the Irish designer's digital London Fashion Week show should give us a glimpse as to what we can expect. Tune in at 4pm on Monday 22nd.
View this post on Instagram
Temperley London
Renowned for its elegant occasion wear and feminine silhouettes worn by Beyonce, the Duchess of Cambridge and Arizona Muse, Temperley London will unveil its '60s and early '70s-inspired AW21 collection via a digital film, with influence from a number of musical style icons. See the film at 4.30pm on Friday 19.
For the full schedule of London Fashion Week events, londonfashionweek.co.uk
Featured image: GettyImages
Sustainable Fashion Collaborations & Collections / 7 Fashion Podcasts To Listen To Now