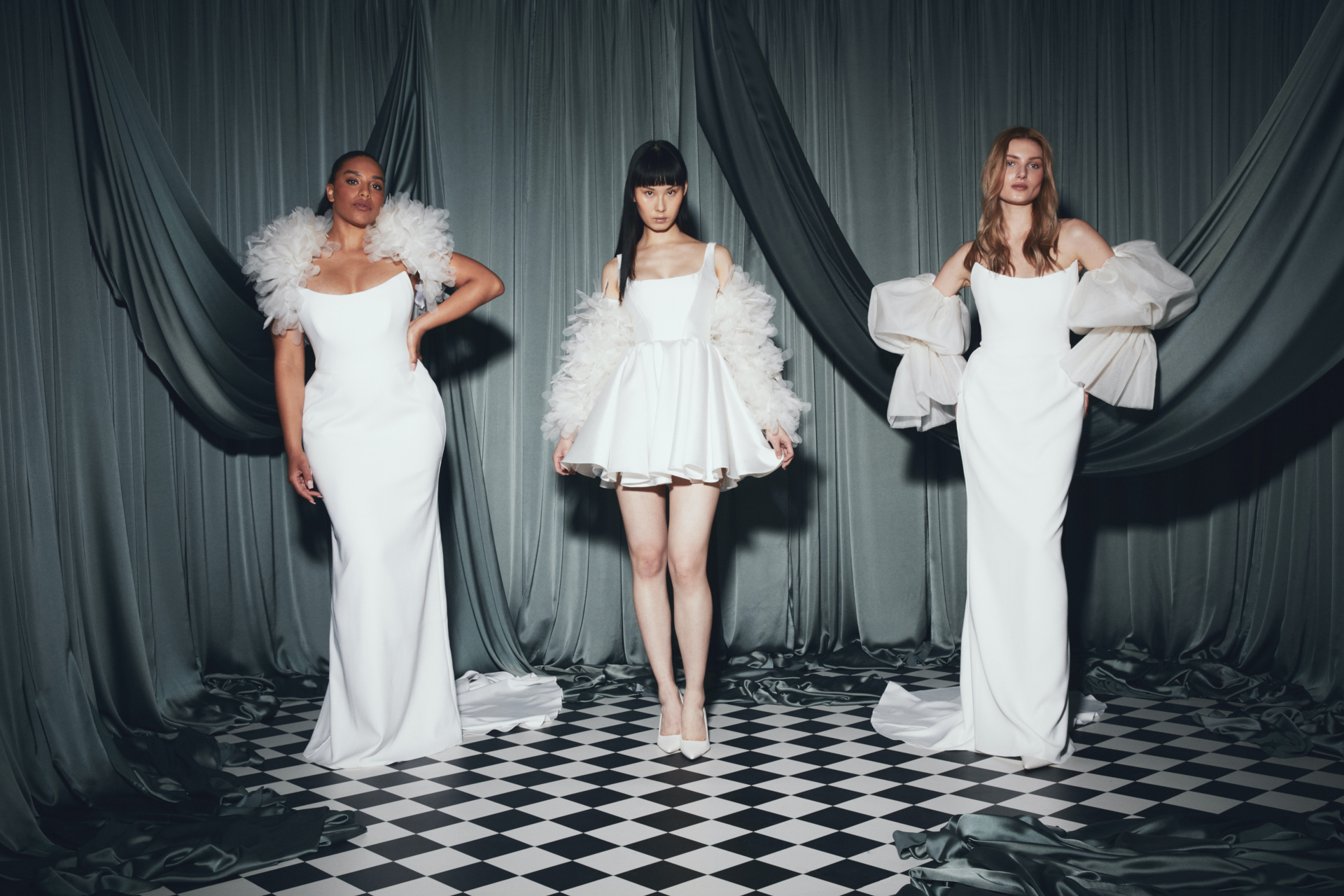 The 10 Biggest Bridal Trends For 2024, As Told By Wedding Dress Designers
Wedding season is around the corner
Getting hitched in 2024? If you're still on the hunt for the perfect dress, look no further. We've asked some of the industry's leading wedding dress designers what they think will be big in the world of weddings next year, so you can be the trendiest bride around. Here are the biggest bridal trends of 2024.
The Country & Town House Responsible Buyers' Guide
Which Bridal Trends Will Be Big In 2024?
Brides are set to make a statement with their wedding wardrobe in 2024, from colourful gowns and sculptural effects to sexy details spanning plunging necklines, mini skirts and slits. Sound good? These are the trends to look out for next year:
Top Trends At A Glance
3D Florals
Pastels
Capes
Ornate Sleeves
Split Skirts
Scoop Necks
Voluminous Veils
Mini Dresses
Multiple Looks
Square Necklines
1. 3D Florals
Florals, for spring? Nope – we're talking florals all year round in 2024. This year will show us that flowers aren't just for bouquets and table settings, as they become a big part of the bridal wardrobe. '3D floral lace will be making its way across full gowns and fit and flares alike, creating a really fresh romantic look,' says wedding dress designer Caroline Castigliano. 'Beading, sequins and applique details – shaped into flowers, leaves and vines – feature strongly in the 2024 wedding dress trends. Adding texture and interest to classic silhouettes, this trend adds exquisite detailing that will elevate your look.'
2. Pastels
Another bridal trend that will bubble to the surface in 2024 is colour. So long white, goodbye ivory and see you later cream – this is the year of the bridal pastel palette. 'Many designers are experimenting with colours, and pastels in particular – especially soft pinks and baby blues,' confirms Caroline. 'One way that we like to incorporate colour is through layering soft blush tones beneath sheer ivory layers for a subtle wash of colour. Next year, we will also be introducing prints onto silk organza with soft watercolour and pastel shades alongside classic ivory.'
3. Capes
If veils aren't your thing, you're in luck: the focus this year with shift to its regal cousin, the cape. 'Capes are going to be a key wedding dress trend for 2024 and can offer a fantastic opportunity to change the look from day to night,' says Caroline. 'There are many different variations from full length to short, waist-length styles. A long, delicate, Chantilly lace cape such as our Euphoria cape, can also offer a really contemporary alternative to a long veil – adding some length and drama to a bridal look for the ceremony, which can easily be removed for the celebrations.'
4. Ornate Sleeves
Drifting in and out of fashion over the years, sleeves are expected to run the show in 2024. 'Sleeves are very much on trend now. Think delicate georgette sleeves that create cover (but still let you see the depth of the skin colour through the silk), tailored, fitted sleeves for a sleek and sophisticated silhouette and voluminous puff sleeves that add instant impact and fairy tale romance.'
Ally Voss, founder of bridal boutique Clover London, also vouches for the unwavering puff sleeve fad. 'The 80s is firmly back in fashion – and it's bigger than ever in the world of weddings,' she says. 'For brides after a bigger statement, puff sleeves are the answer. They have been popular since we launched in 2021 and they don't seem to be going anywhere.'
Where long sleeves and puff sleeves have had some recent popularity, the next few years will see more interest in detachable sleeves – giving brides multiple (and flexible) looks in one. 'This new trend for sleeves adds a twist to classic designs,' adds Caroline. 'Sleeves can either be permanently attached to the gown, or they may be removable accessories that add versatility to the bridal look.'
5. Split Skirts
More twists on tradition will come in the form of split skirts in wedding gowns, adding a sexy (and fun) spin on the classic wedding dress. 'This trend is huge right now, with many gowns these days cut with splits to show the leg,' says Caroline. 'You can see them most commonly on fishtails, A line gowns and full skirts to create a modest sensuality. Sexy wedding dresses are back!'
6. Scoop Necks
Speaking of sexy, bridal trends will also shape necklines in 2024 with an emphasis on lower, bolder cuts. 'Brave scoop necks are the picture frame of the décolletage,' emphasises Kate Halfpenny, designer and founder of Halfpenny London. A scoop neckline is characterised by a rounded neckline that dips lower in the front than the back, accentuating the chest and throat.
7. Voluminous Veils
Whether you plan to stick to tradition or want to up the ante when it comes to your veil game, Kate emphasises that brides are keen on making a statement with their accessories come 2024. 'Veils are a must,' she tells us. 'Our latest veil, Periwinkle, is ordered daily by our brides – showing that there's a much bigger demand for this bridal accessory than in recent years.'
8. Mini Dresses
Not a traditional bride? If the idea of a long, floofy ball gown isn't your thing, then you'll be pleased to know that mini skirts will be all the rage next year. 'Short dresses are still a vibe, don't you dare party without one,' says Kate. This style of dress is perfect if you plan to have a big party at your reception, are committing to a warm weather destination wedding or simply want something a little different.
9. Multiple Looks
Many brides are also looking to get the most our of their wedding wardrobe, with transformative looks that can be refreshed throughout the day. 'Brides often come into the studio asking after more than one bridal look,' says Ally. 'Layering pieces like organza blouses and detachable sleeves are perfect for helping a bride put multiple looks together, and can be combined with various skirts and tops to make a custom silhouette.'
10. Square Necklines
Ally also predicts a movement towards square necklines when it comes to wedding gowns. 'A square neckline is a contemporary take on a traditional bridal neckline and gets a lot of attention in our studio,' she says. 'They are so flattering for whatever your bust size and most of the time can be worn without a bra, which is a popular request from brides.'
Featured image: Halfpenny London – Balance Chapter Two