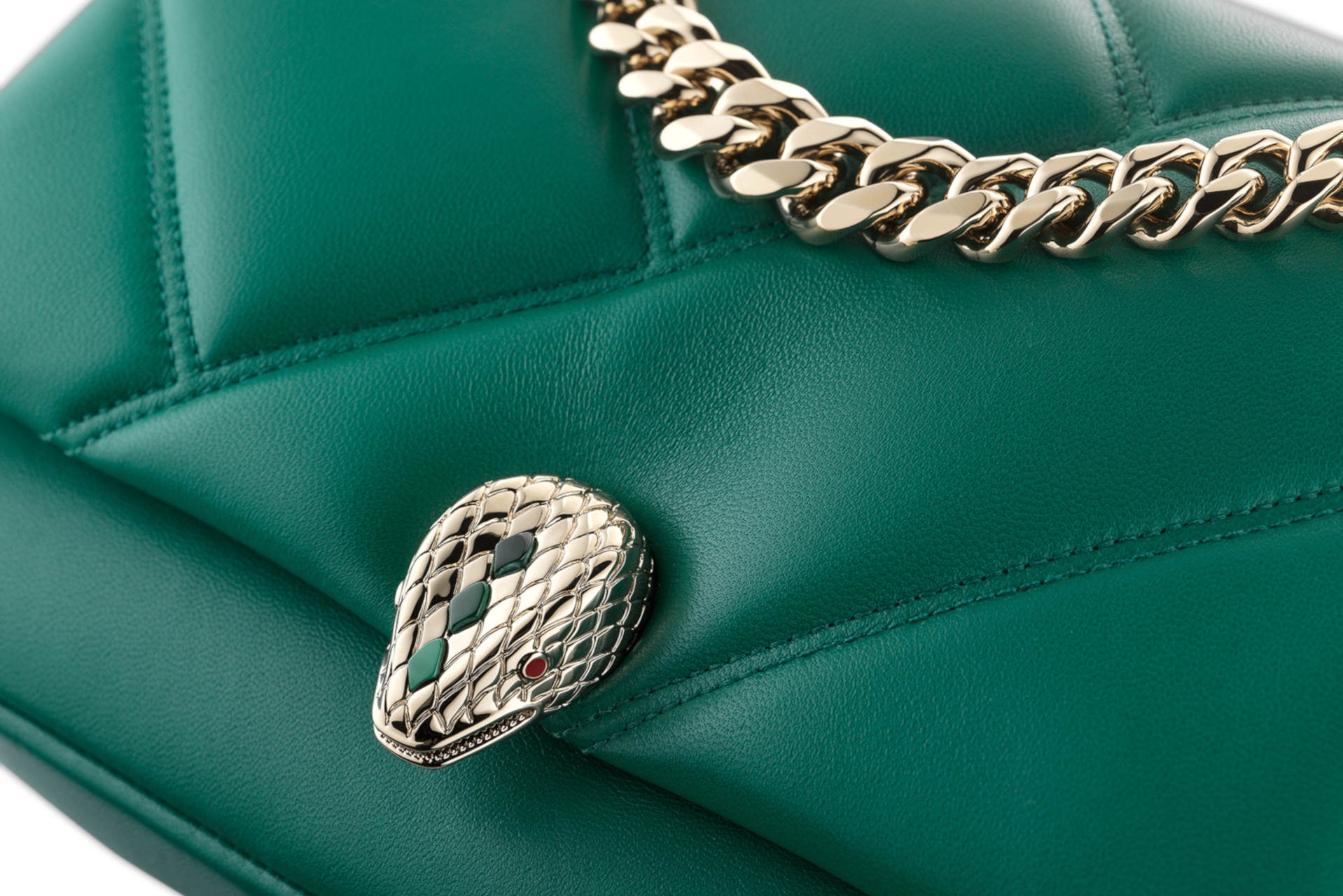 Green with Eco-Envy: BVLGARI's Serpenti Bag Reimagined
---
The capsule collection of the season
Green isn't just a colour for Italian luxury brand BVLGARI – it's a lifestyle. Continually reinventing itself over the years to reflect the core values of the current moment, BVLGARI's newest offering, an updated version of the famous Serpenti handbag, is a testament to its ongoing push to become a sustainable brand.
Best Sustainable Bag & Accessories Brands / Luxury
BVLGARI x Selfridges: The Serpenti Maxi Cabochon Limited Edition Bag
Iconic luxury brand BVLGARI are set to launch their first eco-friendly capsule collection on 1 August exclusively with Selfridges, with a revamp of one of their most famous bags, the Serpenti, taking centre stage. The new Serpenti Maxi Cabochon is the first bag from the brand to be created with an all-round sustainable approach – and the UK are the first to see it.
The Serpenti line of accessories has been a BVLGARI favourite since its conception in the 1940s, making waves throughout the fashion world for its associations with female empowerment. The iconic snake design, a repeated motif throughout BVLGARI's repertoire, has since gone through multiple transformations – but none quite like this.
Like many fashion houses, BVLGARI has been taking the steps needed to create a greener production environment within the industry. Their ongoing sustainability push has encouraged the brand to explore new ways to create their products, with the Serpenti Maxi Cabochon leading the way.
The Serpenti Maxi Cabochon comes in two sizes, with both sporting a vibrant design made from quilted jade green leather. Each bag is topped off with a thick chain handle, shoulder strap, and BVLGARI's iconic snakehead closure. With luxury apparent in its every detail, we can only hope that the bag is just as green as its leather.
…And it is! The leather used to create each bag comes from tanneries that operate in compliance with the Leather Working Group, who centre their production methods on factors related to environmental performance. Components such as energy and water use, waste disposal and recycling, and management of redistributed substances are all carefully considered to produce a more sustainable means of production.
All stitching on BVLGARI's new Serpenti is made from recycled nylon threads, with a water-based glue administered during final assemblage. A lead-free metal is used to construct the snakehead enclosure, which features en pendant degradé malachite inserts obtained from the same stone to avoid waste and create a chromatic scale of greens.
The packaging is also a treat for eco-lovers. The bags will be shipped in 100 per cent bamboo fibre protective packaging and a cardboard box deriving from responsibly managed forests, and will come with an organic cotton bag, bioplastic rain coat, and plastic-free internal packaging.
BVLGARI's Sustainable Development Director and Chief Ethics and Compliance Officer, Eleonora Rizzuto, commented: 'BVLGARI has forged a path among luxury brands for its ongoing commitment to sustainable and ethical practices in every aspect of its business… BVLGARI will keep working to continuously improve in terms of innovation, competitiveness and environmental performance, striving for products leaving the lowest possible footprint throughout the entire value chain.'
SHOP
The Serpenti Maxi Cabochon bag will be available to buy exclusively on selfridges.com from 1 August, falling in line with the department store's Good Nature campaign. 
DISCOVER MORE