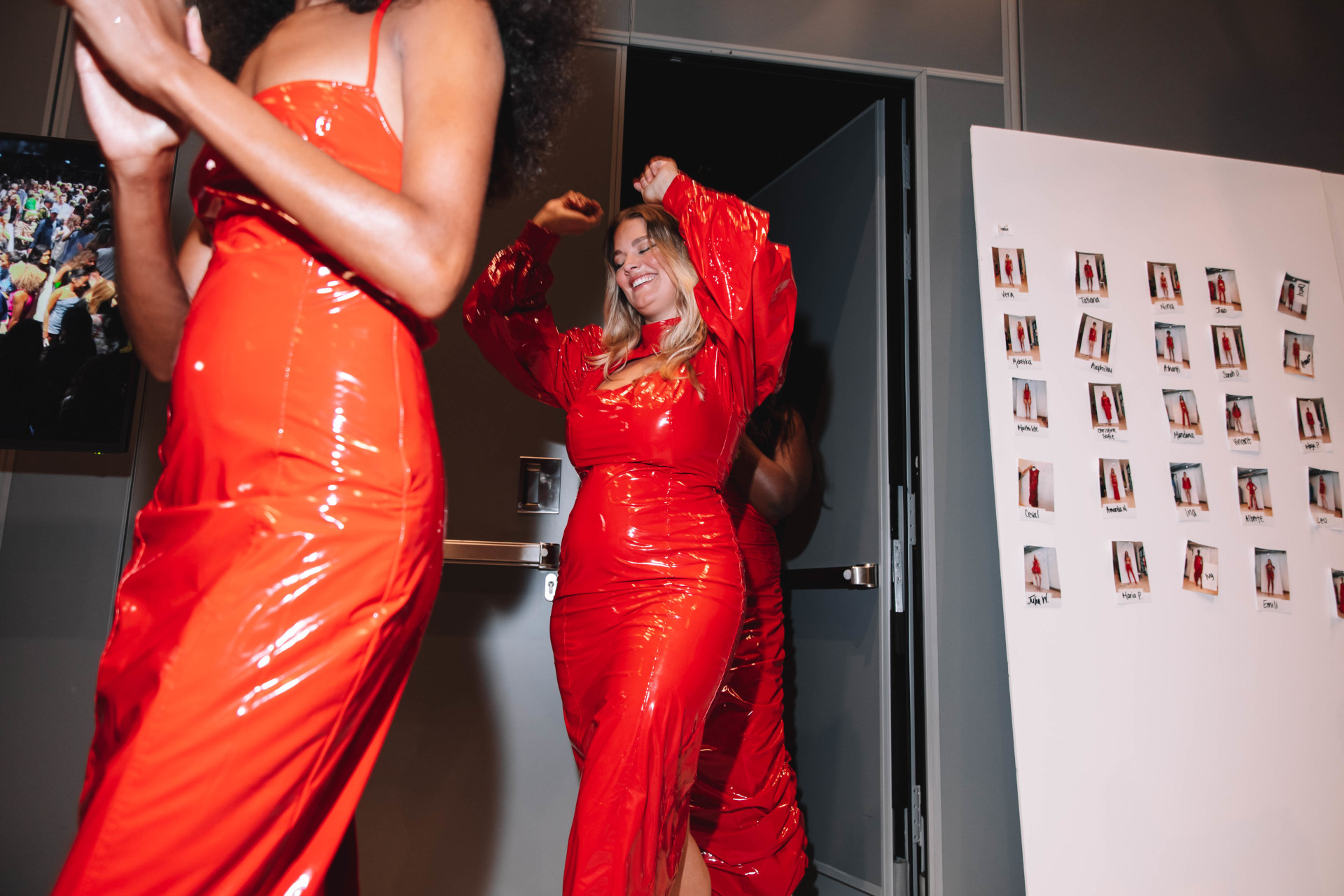 Diversity Thrived on the Runway at Copenhagen Fashion Week SS23
---
Today's designers are acknowledging that all bodies are beautiful
Those hot on the pulse of Fashion Week will be well-keyed in to the buzz surrounding the SS23 presentations at Copenhagen, where brands surprised and delighted audiences with their diverse selection of models. Is this the runway of the future? We sure hope so. These are some our favourite boundary-breaking moments from CPHFW.
5 Times Diversity Thrived on the Runway at Copenhagen Fashion Week SS23
The fashion industry hasn't always been the kindest when it comes to representing all bodies. For decades, the runway has been the home of statuesque women with long legs, toned stomachs and strong strides – and no room was seemingly spared for those that did not fit this standard. Only recently have designers began to move en masse towards more inclusive collections, giving models of all shapes and sizes the chance to take their place on the catwalk.
At Copenhagen SS23, we saw more brands than ever try to be more diverse in their model casting – and their efforts didn't go amiss. The internet has been applauding CPHFW since early last week, with the hashtag #cphfw soaring up to 63.4 million views on TikTok alone. Compilation videos of the various runways, BTS moments and collection reviews have catapulted this season's presentation into the spotlight, with many taking to the comments to praise the brands' 'walk the walk' attitude to inclusivity.
Below, we've rounded up a few of our favourite brands from Copenhagen Fashion Week SS23 who helped to show that fashion is for everyone.
GANNI
GANNI's SS23 presentation, titled 'JOYRIDE', was a love letter to Copenhagen's most popular mode of transport: the bicycle. The brand's Creative Director, Ditte Reffstrup, explained that her best creative space could be found during her daily commute into work, as she whizzed through the city on her bike: 'There's a feeling about being in the city in summertime that I can't quite explain, the energy is pulsing, it really gets your beat going,' said Creative Director, Ditte Reffstrup.
Welcoming models down the runway on bicycles (and foot), the presentation spanned 30 looks that played with curved lines, prints, oversized silhouettes, bold colours and lots of denim (courtesy of a collaboration with Levi's). Curvy and plus-size models led some of the most striking looks from the collection, which celebrated a palette of ocean blues, greens and purples. Y2K detailing, in all its rectangular sunglasses, pointed collar and double-denim glory, continued to reign supreme.
Rotate
Storming the runway with a massive party, Copenhagen-based brand Rotate looked to mother-daughter duo Lisa Bonet and Zoë Kravitz for its SS23 presentation – and as such is another collection rife with style staples from the 90s and 00s.
Glitter, gauze and glossy textures took centre stage, with models dressed in low-slung trousers, faux-fur coats and midriff-flossing bralettes. Artfully positioned cut-outs created sexy silhouettes that were brought to life by vibrant bursts of colours and light-catching sparkles, as well as sheer fabrics and lace. Body diversity was celebrated with plus-size, muscular and slim models all taking to the runway in show-stopping fits. Rather than cover up the models' unique features, they were celebrated with clothing that showed off broad shoulders, curves and stomachs. The overarching message? All bodies are sexy.
GESTUZ
In the midst of Europe's ongoing heatwave, Scandi favourite GESTUZ looked at our sweat-soaked skin and recalled the oiled-up music icons from the late 90's and early 00s. Citing Destiny's Child, TLC and JLO as its muses, 'Heat Haze' combined party fits with utlitarian silhouettes for a glamorous-grunge aesthetic.
Think 'LA on a hot summer day' and you'll have GESTUZ's SS23 collection in mind: low-slung cargo pants draped over metallic bodysuits (with many, many cut-outs), floss-like thongs peeking over waistbands, long skinny scarfs trailing to the floor and, of course, that all important slick-skin look. The brand was praised on mutliple points for its model choices, in particular for casting a mixture of slim, plus-size and amelia models, who all took to the runway together (and owned it).
AERON
Holding its presentation in the gardens of the Danish Design Museum, AERON's SS23 collection was part of the brand's wider strategic realignment to becoming a responsible luxury knitwear leader and featured year-round staple pieces with a classic yet modern design.
As the AERON's first ever standalone show, the brand decided to focus on signature pieces from its archives – think crocheted jumpsuits, knitted co-ords and fringed edging, as well as design details like A-monogrammed buckles, rivets and buttons. Models of all ages, sizes and backgrounds took to the runway in a nod to the brand's goal to create a wardrobe befitting the modern woman.
Helmstedt
Heading over to the Royal Danish Theatre for its SS23 presentation, Helmstedt decided to ditch its signature pastels in favour of something 'quirky and crazy and weird'. Inspired by the Spejder, the Danish boy scouts, the collection went deep into earthy tones and motifs – think frogs, snails, mushrooms, beetles, swamps and river beds – and played with boxy, child-like silhouettes. The overall effect was a fun and youthful collection, that echoed the brand's exploration of new waters.
Helmstedt did things a little differently this season by introducing family dynamics to the runway, with models walking alongside children in co-ordinating outfits as they all smiled for the camera. The modern woman, who today navigates the intertwining roles of mother and working professional, quite cleverly finds herself a home in this explorative narrative.
Featured image: Rotate SS23 (c) Tonya Matyu
DISCOVER MORE
8 Fashion Podcasts To Listen To Now / The Must-See Fashion Exhibitions of 2022