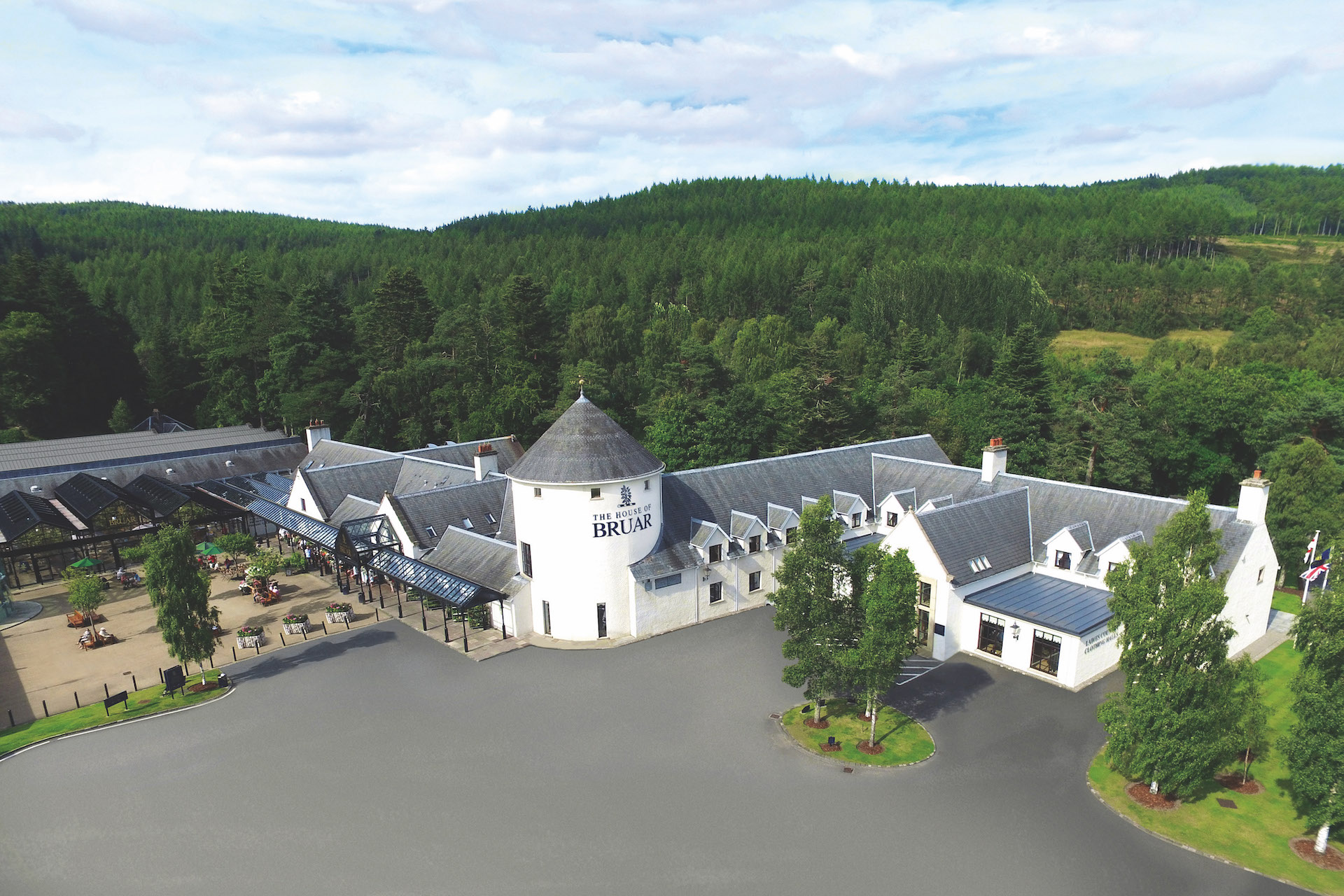 How House of Bruar Became A Scottish Success Story
---
Visiting the 'Harrods of the Highlands'
The House of Bruar is one of Scotland's best-kept secrets, finds Amy Wakeham as she ventures north to visit the 'Harrods of the Highlands'.
How House of Bruar Became A Scottish Success Story
Highland Fling
Located on a bend of the A9 as it twists its way through heather-strewn highlands, the whitewashed walls of House of Bruar are home to a brand that, over the last 25 years, has quietly become one of Scotland's best-kept secrets.
Founded by husband-and-wife duo Mark and Linda Birkbeck in 1998, House of Bruar remains a family-run company to this day, with sons Patrick and Tom joining their parents in the business. It registered a healthy £29.3 million turnover in the year ending January 2021, with over two million people walking through the doors of its Perthshire store, located next to the Falls of Bruar.
Its unique location at the feet of the Cairngorms serves as both the foundation stone of the brand's identity and the secret of its success, helping it to beat the bricks and mortar downturn faced by other retailers.
Yet, when Mark bought the site – then home to a rundown hotel that he had demolished – many people voiced their doubts.
'The whole world, without exception, thought we were mad,' says Mark. 'We're in the middle of nowhere here; Inverness is 90 miles to the north and Edinburgh and Glasgow 90 miles to the south.'
But yet his gamble paid off, with the shop an attraction in itself luring in curious customers to browse its extensive range of quality country clothing (it stocks both own brand and big names like Barbour and Schöffel), tuck into freshly cooked meals in the restaurant, stock up on smoked salmon and haggis in the food hall, and explore the gift selection.
There's also an art gallery, fish and chip shop, and whisky hall. 'It just shows the impossible can be done,' says Mark.
It's less good luck and more shrewd good sense. The A9 is the main artery in and out of the Highlands, meaning anyone driving north to a shooting weekend or fishing trip has to pass by the House of Bruar – and stop by to stock up on everything from wellies to shooting jackets.
The brand's painstaking attention to detail, which encompasses all areas of the business, also makes it stand out, and has resulted in a loyal fanbase. 'One of our biggest triumphs is our repeat customers,' explains Tom Birkbeck, Creative Director. 'We offer a level a service and standards that you really don't find anywhere else. And those standards are not just within the shop, they're also within the grounds – we have people out on the roadside litter picking three times a week.'
'If you're trying to project an image of order and beauty and tidiness you have to go further than just your product,' adds Mark.

The company is also the biggest employer in the region, with a staff of 290 people, a number that goes up in its busiest period, before Christmas.
As well as the physical store, House of Bruar also sends out a catalogue of its latest clothing collection to three million subscribers every autumn – still going strong, confirms Tom, even in the digital age – as well as selling direct from its website.
At the heart of the brand are its wool and cashmere ranges, a field that Mark has decades of experience in – he started his career driving around the UK selling Scottish knitwear from the back of his car, and previously owned Jumpers, a knitwear brand worn by the likes of Princess Diana in the Eighties. Alongside this is a timeless collection of traditional tweeds and plaids, as well as leather shoes and boots. For the most part, natural fibres are prioritised, and heritage fabrics sourced from UK and Irish suppliers.
'We're not part of a throwaway culture,' says Tom. 'We want our jackets to be passed down through generations. We're making quality garments at a good price, which you don't want to throw away from season to season.'
After 25 years in one spot, longevity is something House of Bruar is certainly good at, and something the Birkbeck family wants to continue in the years – decades – to come. There's murmurs of expansion, but 'the future of the business will always be on this site,' says Mark.
He's confident there'll always be an appetite for country living, and the clothing that comes with it. It remains popular 'because it's aspirational,' he says. 'When people are successful, the first thing they want to do is walk, shoot and fish. One common statement since Covid is people saying they love the countryside and wanting to get out and breathe fresh air.'
After a quick pitstop at House of Bruar to stock up their wardrobe with knitwear and tweeds, of course.