Alice Rose meets the First Lady of West London to talk sustainability and how she has started a fashion revolution, from the top down. Our Q&A with Livia Firth from 2014 proves that she was way ahead of the sustainable fashion movement…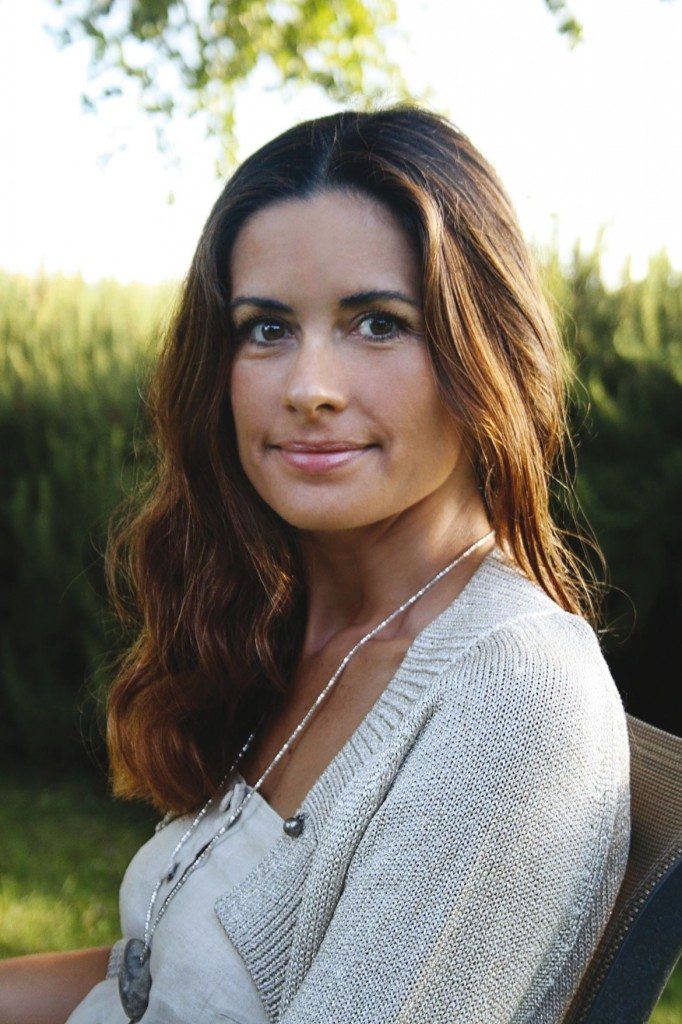 I'm meeting Mrs Firth, I say to the gentleman on reception at the private members' club, hoping I look like the type who lunches with wives of A-list Oscar winners. 'Her office has just called to say she'll be here at 1.30pm,' he says. An hour late. How Hollywood. How disappointing. At the photoshoot two months earlier, she had seemed genuinely friendly and down-to-earth. I settle in for a long wait but then in swoops Livia, all smiles, melodic Italian accent and glossy dark hair, punctual to the minute.
Livia Firth's Eco Age
West London is home to its fair share of celebrities, but Colin and Livia Firth are Top Trumps. Through their shop and consultancy, Eco Age, they've been great supporters of the local church fete. Mr Darcy and Mark Darcy, wet shirt and reindeer jersey, A Single Man and The King's Speech – and, of course, that Oscar. 
But unusually, so is Mrs Firth. Shrewdly, Livia has turned our appetite for celebrity to her own advantage, using her spousal appearances on endless red carpets to promote the cause of sustainable, ethically produced fashion. She's an unabashed eco warrior – chic and charming, yes, but no less feisty for it. She talks nineteen to the dozen, between mouthfuls of Caesar salad – dressing on the side, tap water, no ice. ('You know what?' she says sweetly to the waiter, 'you can put the bread over there. Ladies don't eat bread unfortunately. Banned, banned, so banned.')
She's had an 'incredible month.' As she says, September is busy 'for every mother in the world – it's the beginning of school, all that thing with the uniform.' But then add to that 'all the different film festivals – Toronto and Venice for Colin – and then all the fashion weeks.' She's just flown back from New York, where she was picking up an award from the UN's Fashion4Development organisation, but she's resolutely un-jetlagged. 'It's funny – I think jet lag is a state of mind. When you have children [they have two sons] there's no time for jet lag.'
The Best Vegan Beauty Products
Green Carpet Challenge
Livia set up Eco Age with her brother Nicola Guiggioli, in 2009. They closed the shop a couple of years ago, but the eco-consultancy flourishes, advising clients from Wembley stadium to the British Film Institute and Chopard. From this sprang the Green Carpet Challenge. 'Two things happened almost simultaneously,' Livia explains. Firstly, she met journalist and eco-queen Lucy Siegle. 'We opened the shop and literally on day one I emailed Lucy and said "I want to talk to you because you're my hero".'  Secondly, Colin got the nomination for A Single Man at the Golden Globes. 'I was like, well OK, all these major red carpets – let's try and be inventive. There's now a GCC brand mark, which signifies that a product meets their exacting ethical, environmental and sustainable production standards. The first award went to Gucci for a collection of anti-deforestation handbags. 'The entire collection sold out before it even hit the shops.' Says Livia.
Most recently, Livia has launched the GCC capsule collection. Five stellar British designers – Victoria Beckham, Roland Mouret, Erdem, Christopher Bailey and Christopher Kane; ten beautiful, sleek, wearable designs in black, white and grey; all in sustainably produced fabrics. The collection was the result of a conversation with legendary US Vogue editor Anna Wintour at Paris Fashion Week. 'I was venting my frustration with working with stylists,' Livia says, 'I said to her, if I had a collection of ready-made clothes it would be so much easier. And she said, well let's just do that.'
The aim of the collection, Livia explains, is to work with the designers to 'help them to start joining the dots.' Did Victoria Beckham get the sustainability thing, I wonder? 'Totally. Her team is quite small compared with the others and she's very hands-on. She was curious about fabrics and textiles – what makes one eco compared to the other.'
Organic living
Unsurprisingly, given its high-profile designers and star-studded supporting cast, the collection flew off net-a-porter's shelves. Of course, a £4,760 Erdem dress is beyond the means of most of us. 'It is expensive,' Livia admits. 'Someone pointed out to me the other day that all revolutions start at the top. I was like, actually yes it's true. You can't call it a revolution but you know organic food at the beginning it was sold in only in…' Wholefoods, I suggest 'exactly, yes – and now you find it in you know Tesco so you have to start up to then come down.'
The real villain in her world is 'fast fashion' – cheap, disposable, buy-it-wear-it-dump-it clothing – but she is realistic about the challenge of bringing her message to the high street. 'Fast fashion and ethical fashion don't go together. There's no way that you can produce those volumes at those prices in an ethical way'. She's a global ambassador for Oxfam, and has visited factories in Bangladesh, Ethiopia, Zambia and Kenya with the charity. We touch on the Rana Plaza factory fire in Bangladesh earlier this year. 'When you have 1129 people, mostly women, dying in one single accident in the name of fashion – you think, there's something wrong. I saw those women – they produce 100 pieces an hour. The prices are ridiculous…and then they end up in the rubbish after one season. It's a perpetual circle of poverty. They make you think that it's democratic in our countries, buying things at those prices, but it's a democracy of fools.'
'I'm lucky,' she continues, 'because I've just turned 44 – I grew up in an era when fast fashion didn't exist. So you think how did we get dressed when we were teenagers? We were still pretty cool, weren't we? We were still going out, going to parties. Unfortunately we have been brainwashed truly and literally in the last fifteen years to think that there is no alternative [to fast fashion] and if you think differently you are either an elitist or a weirdo.'
The Best Healthy Restaurants in London
Clear out your closet
The GCC collection might be expensive, but Livia's on a mission to get us all to save money by not buying clothes we don't need and won't wear. She mentions Jamie Oliver's new money-saving meals campaign. 'It's common sense – keep your fridge clean and tidy so you see what is in it so you don't have to buy extra food that then you throw away. The same thing can apply to the wardrobe.
She's charmed celebrity mates into taking up the Green Carpet Challenge. 'Emily Blunt is a dear friend, Meryl Streep is a friend, so I say "will you do it? Come on!" And then they get so excited.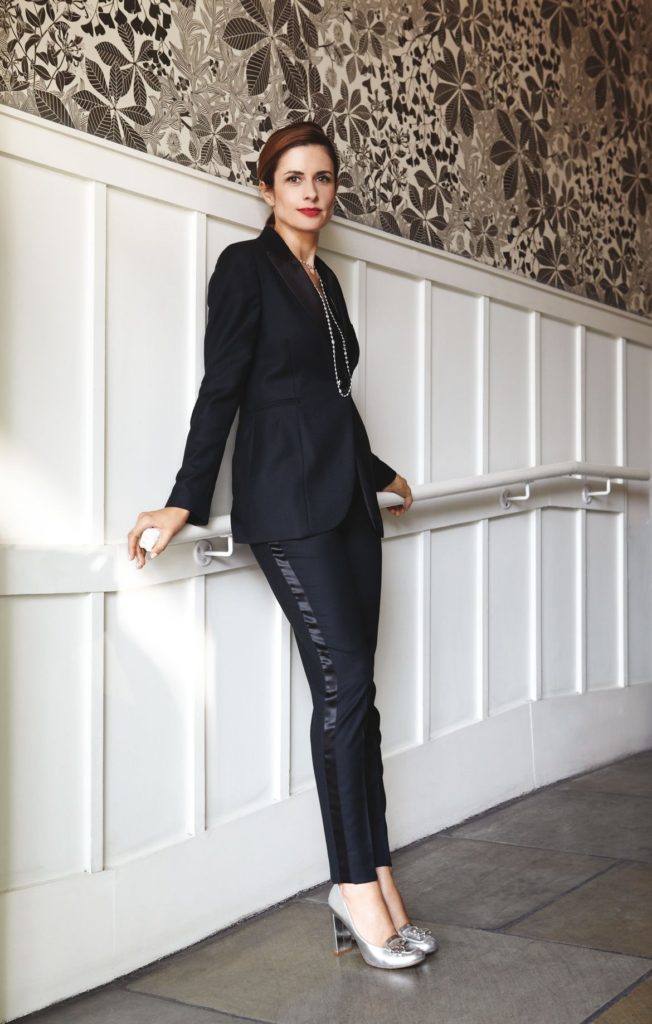 It's a feminist thing, I say – you're not just Mrs Firth, decorative wife of… 'I'm going to use that! Join the GCC and become a feminist.' Do the red carpets become a bit, well, boring after a while? 'No, I love it because I have a purpose – for me the red carpet is a huge, beautiful story to carry, to shout about.' Accepting her award in New York, she wore a dress she'd designed herself. Does she plan to do more of that? Surely this would be a way to bring sustainable fashion to the mass-market: Livia Firth for Topshop? 'Yes, well if someone asks me, I'll do it,' she laughs. 'Please hire Livia!'
The Importance of Shoes
What do her boys think of her campaigning career? 'It's a mixture,' she says. 'With the kind of life we have, when we're at home it's very much trying to keep things as normal as possible and never bring the outside in. But I'm curious to know how much of the eco/ethical stuff filters through into her daily life. 'I have a tumble dryer but I actually do hang all the clothes. No Italian has a dryer, it doesn't exist – it's very American and English. It's really cultural.' She's not a vegetarian, 'but I don't eat red meat' mostly for ethical reasons.
As I switch off my tape recorder and stand up to go, she admires my shoes – Hobbs, I tell her, ten years ago. She approves. 'In Italy, everyone will always tell you never, ever, ever save money on shoes – you spend on shoes, they last a long time. You buy well then you're never uncomfortable.'
First published in a 2014 issue of Country and Townhouse.
---