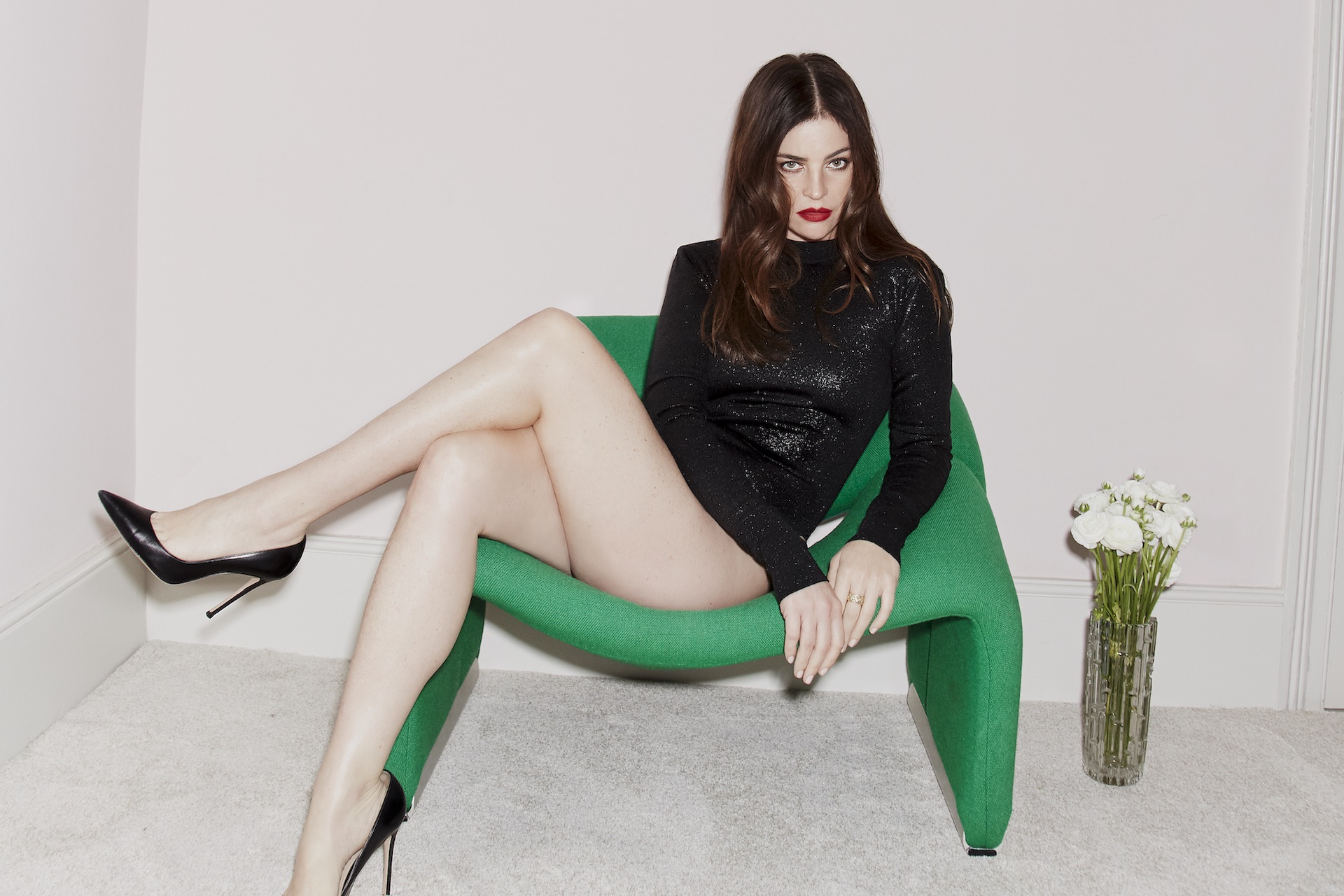 Julia Restoin Roitfeld Is Bringing Back The Art of Dressing Up
---
Her new collection of recycled party dresses for Hervé Léger just needs a cocktail and a dance floor
Julia Restoin Roitfeld's new collection for Hervé Léger is party perfect – but with a sustainable twist.
It's not even ten in the morning, and I've put on a full smokey eye, artfully tousled my just-got-out-of-bed (quite literally) hair and donned a suitably Rive Gauche black roll-neck jumper. It's lockdown three, and this is the first time I've put on make-up and jewellery since New Year's Eve. The reason? I'm about to Zoom with Julia Restoin Roitfeld, poster girl for French chic, and – bien sûr – I want to look the part.
As the daughter of Carine Roitfeld, erstwhile editor of Vogue Paris, and Christian Restoin, founder of elegant shirt brand Equipment, style quite literally runs in Julia's blood. She grew up immersed in the creativity of fashion shoots for Vogue; she got an internship at The Face, aged just 14, and she gained a degree in design from Parsons New York.
Today we're talking about her new collection for Hervé Léger, the French maison beloved for its feminine bandaged cocktail dresses, which has been helmed by designer Christian Juul Nielsen since 2018.
'I've always loved the heritage of the brand – it has so many iconic pictures and dresses,' explains Julia, from her new home
in north London, where she relocated from New York last summer with her daughter, Romy Nicole, and her boyfriend, Ash frontman Tim Wheeler. 'I wanted to recreate that recognisable style but add a twist,' she continues, 'so I suggested we make it from recycled fabrics. Hervé Léger was on board straight away.'
In tune with Julia's ongoing passion for the environment (she has a blog, Less Is More, in which she advocates living a more conscious, minimalist lifestyle), the 20-piece collection for Resort 2021 is made using sustainable yarns and recycled packaging in accordance with the Global Recycled Standard.
She is aware, however, of the clash between advocating for sustainability and bringing out a new fashion range. 'It's sad not to create new clothes – fashion is what allows you to dream and new things are what inspire you,' she explains. 'But I think we should try to do it with a little bit of consciousness and with sustainability at its heart.'
Above all, she wants to show there's another way to do fashion that's not just about rabid consumption. 'I think you can be sustainable not just by buying eco-conscious clothes but by being very aware of the amount of things you buy. Less is more: buy less, buy better. It's not about being really strict, but every little change helps.'
Julia sees herself as a bit of a role model, pointing out a new path to tread for fashion fans and the industry as a whole. 'I think people are inspired to know that you can work in fashion, but you don't need to chase trends,' she points out. 'And you can still have a good outfit without having to buy too much. I think it's good to lead by example… and redefine the fashion industry a little bit.'
It's certainly an industry that is undergoing enormous change at the moment, as the world wakes up to the huge environmental impact of clothing manufacture. And that shift has only been exacerbated by Covid, which saw fashion weeks cancelled all over the world with shows moving online, if held at all. So does Julia think a digital-first approach is the future? 'I think there's too much energy put into fashion shows, there's definitely a way to make them more sustainable,' she replies. 'There shouldn't be so many – perhaps one a year, all in one city.'
Naturally, Julia's been to countless shows over the years, ever since she sat next to her mother on the front row as a child. Which was the best? She pauses. 'When I first moved to New York [to study at Parsons], the Marc Jacobs show was the one to attend. I'll always remember A/W'05's, at the Armory. It was when it was still okay to be three hours late – people were waiting; it was packed full of celebrities and Tonight Tonight by The Smashing Pumpkins was blaring out. It was all very exciting.'
These days her life in London is less razzle-dazzle, more home schooling and playing dress-up with 11-year-old Romy. 'All I want to do is go out again, not to fashion parties but just to [normal] parties and concerts, and dress up,' she says, echoing how we're all feeling. 'I'm so tired of being in jeans and a T-shirt. I can't wait to put my make-up on, do my hair and feel pretty. We all need that.'
With impeccable timing, Julia's collection for Hervé Léger landed at the end of April, when the UK had tentatively started to reopen. She's most looking forward to wearing the two-piece suit – 'which was quite hard for Christian to achieve in a soft knitwear material… [because] it's more casual to wear while still being quite elegant and masculine.' Another favourite is the black bodycon bandage dress, inspired by a style Kate Moss wore in the Nineties. 'I'd been looking for a similar one everywhere and I couldn't find it, so I'm really happy we got to create it so I can have my own.'
They say that, post-Covid, we're going to experience another Roaring Twenties, as we collectively rush out to hug family and friends, and dance off all the frustration, grief and despair of the past year or so. Handily, Julia has given us the perfect outfits to wear to embrace this brave new world – one which I, after a million mornings writing alone at my kitchen table, really can't wait to arrive.
Shop the full collection at herveleger.com