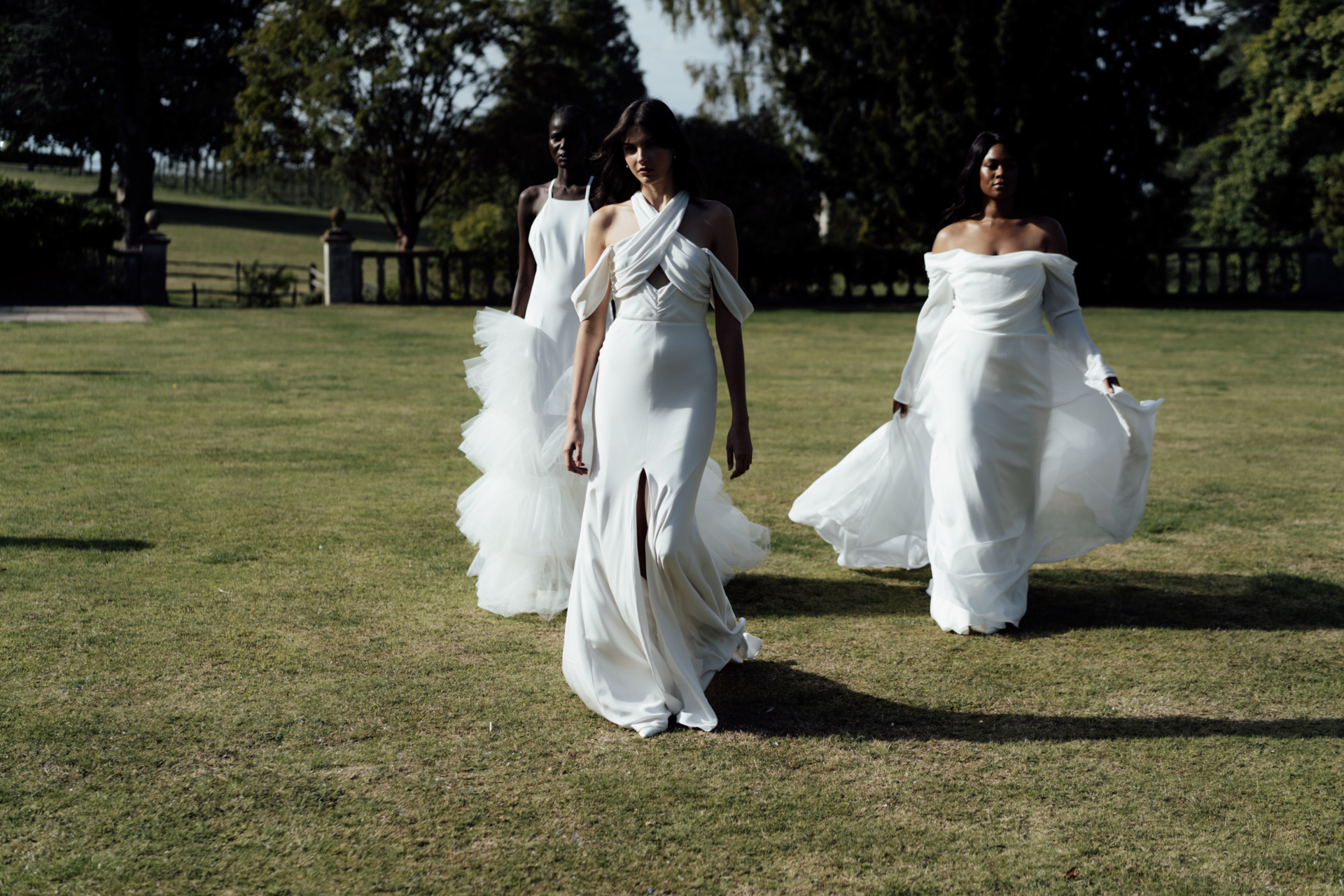 'Brides can be anything they want to be': Kate Halfpenny On Her Bridal Career So Far
Kate also shares her brand vision and plans for 2023
For many women, their wedding day is one of the biggest moments of their life – and their wedding dress is the most precious item in their wardrobe. 'The bride can choose any elements they want and create a dream look that represents who they are,' says British wedding dress designer Kate Halfpenny. 'All we'll do is give them the tools to do that.' We sit down with the designer to talk about her bridal career (which spans nearly two decades) to date, what it's like working with brides and advice she has for designers just starting out. 
Kate Halfpenny On Her Bridal Career So Far
Hi Kate, lovely to see you! Could you please start us off by introducing yourself to our readers?
Hello! I'm Kate Halfpenny, and I'm the founder and designer of the brand Halfpenny London. I launched the brand in 2005, having spent almost 20 years as a celebrity stylist and costume designer for mainly music videos and TV commercials. I did my degree back in the late 90s and specialised in bridalwear, so it has always been a passion and a love of mine. 
I jumped in with both feet in 2005, and it remained a bit of a passion project until 2012 when I founded the brand officially and gave up my other career. We recently celebrated the 10th anniversary of our first shop opening on Woburn Walk, which is crazy.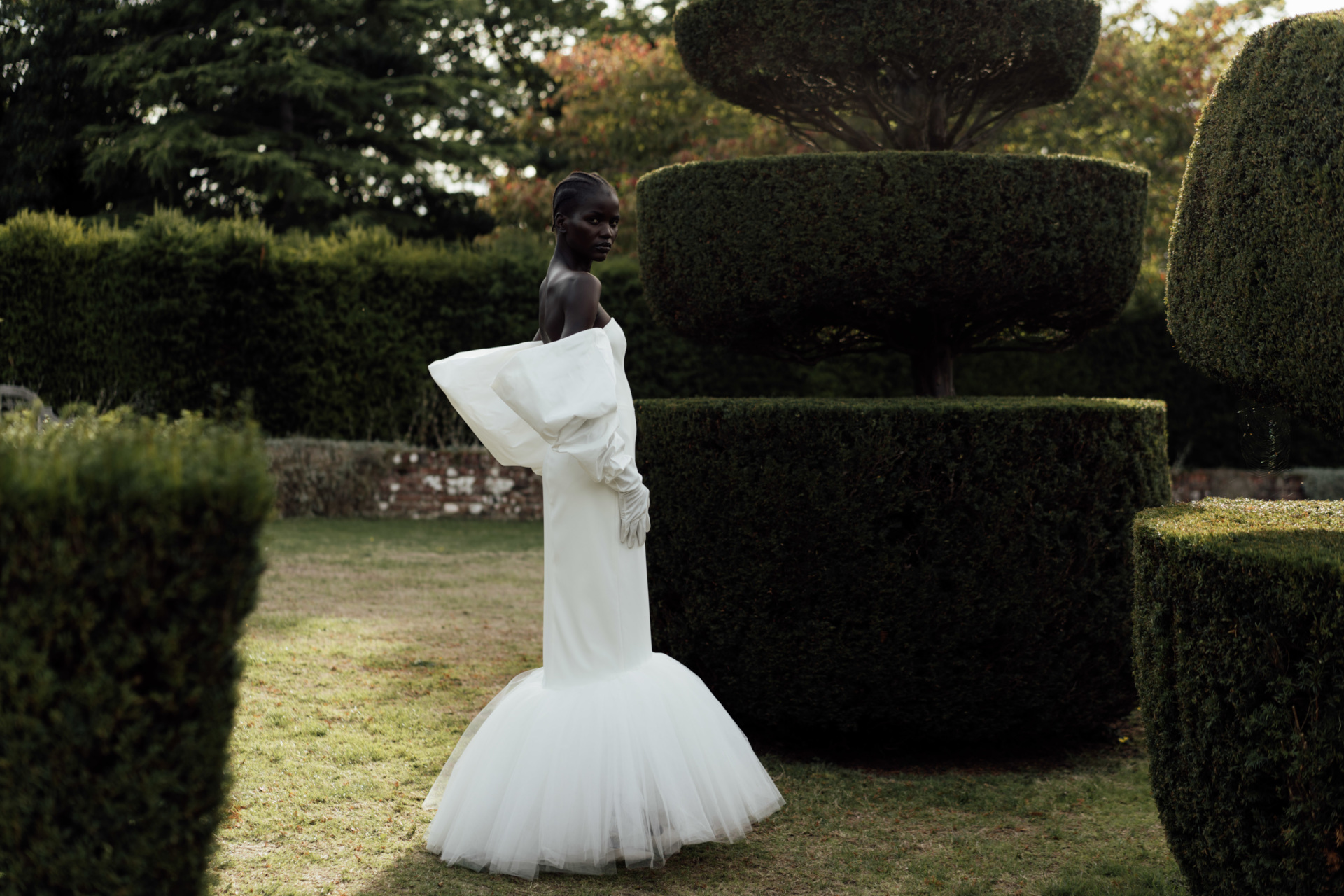 Wow, what an amazing milestone! So, what led you to launch Halfpenny London in the first place? 
I loved being a stylist and a costume designer and it really has informed my design process over the years, but my love of romance and bridal has always been there. I used to design wedding dresses on the side of my career, but when it started to get really busy my husband was like, 'You've got to take the plunge, move it out of the house and just go for it!' and I've never ever looked back.
I just love having the privilege of creating wedding dresses and being involved in the most important clothing day in many people's lives. They trust me to make them feel the very best version of themselves and I love that.
Well, you seem to be doing an amazing job so far…
We couldn't be busier. I mean, the brand has been growing year on year, doubling in size and we now have 30 members of staff – which, when I think about how I used to do everything on my own for the first seven years or so, is just bonkers. I gradually employed a seamstress, got somebody to help me with brides on a Saturday and then in 2012 we finally set up a physical bridal boutique. We have nearly 40 stockists around the world as well, including Harrods, and it's just bananas, really.
And what do you want your brand to be known for?
Making beautiful, handcrafted, British-made, inspiring bridalwear that empowers women.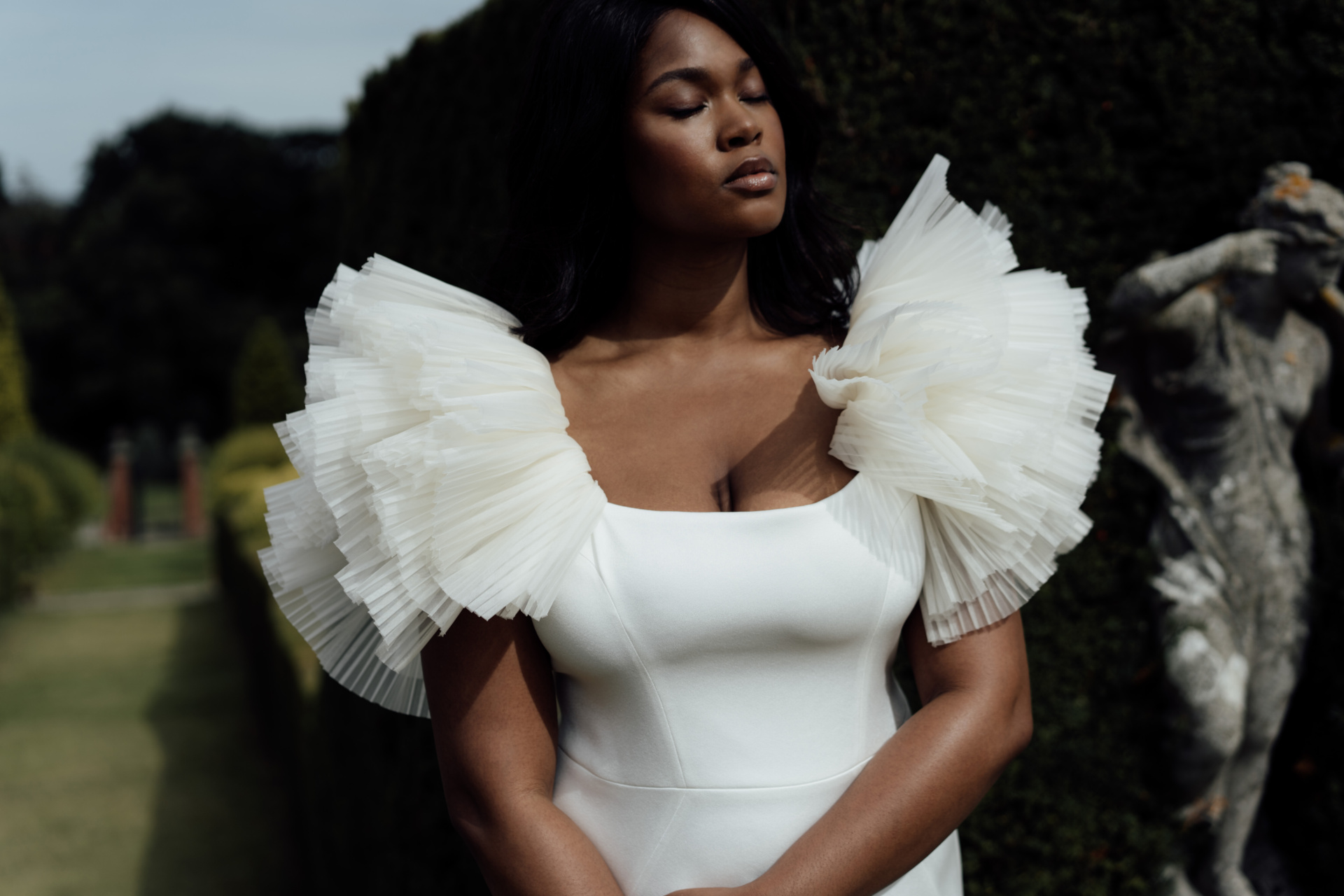 Describe Halfpenny London in three words.
Empowering. Expressive. Modern.
Halfpenny designs are synonymous with interchangeability. What are the benefits of being able to mix and match your bridal wardrobe?
I think the main thing is that brides really love to be able to change up their look when they want to. The way that I've designed my collection allows you to add and remove pieces to make that multi-purpose dress, giving you three or four looks throughout your day. People just love those opportunities where you can add an accessory for the dinner and then switch from an overskirt in the evening down to a slinky dress (or the opposite way round!) or add the big puff sleeves or a giant bow on the back for the party. I think that the opportunity to have as much fun with that expensive outfit that you've invested in is first and foremost the main benefit of interchangeability.
But these days, people are also loving the opportunity to wear those elements of their dress again and add them into their existing wardrobe. It gives a garment a much more circular. We've started offering a service where brides can come and shorten their gowns after the big day and make them a bit more event- and party-worthy. A lot of my collections consist of tops, skirts and overlays too, which are even easier to add into your non-wedding wardrobe. You can just pop your beautiful corset on with a pair of wide-leg black trousers to somebody's party, to your 40th birthday party or even a Christmas dinner. 
Of course, why wouldn't you want to wear your most treasured piece of clothing again?
Yeah, exactly. I just think it's sad when somebody just puts their wedding outfit in a box and sticks it under the bed. If you're not going to wear it, then maybe consider renting it out or letting a friend wear an element from it. We have lots of brides these days that come with their friend's veil, which is really beautiful. I love the thought of people being able to share a love for these items.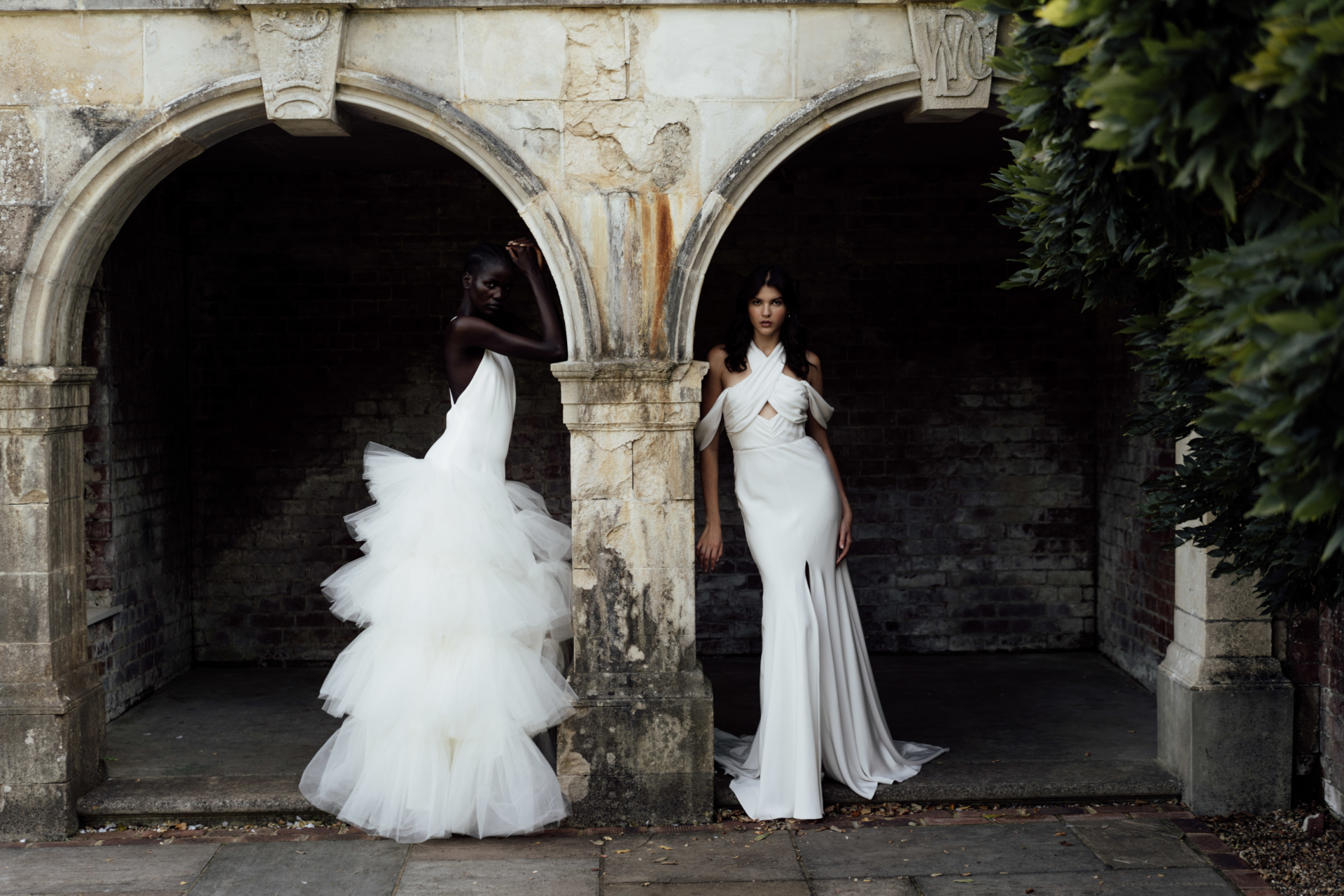 Do you have any stand-out pieces or favourites from your collections that you go back to time and again regardless of season?
100 percent, there are two items actually. The first is the Cheryl dress. It's almost 20 years old, but it still looks as elegant and effortless as when I first designed it. And over the years my brides have styled it in so many different ways. It just gives it a new life and a new season and modernises it. They'll team it up with overskirts, put a cape over, wear incredible veils or add a bow and it will look wonderful every time. It's just stunning. 
When I'm feeling more maverick it has to be the Riri skirt, which is all big frills. I created it for Rihanna around 15 years ago, and it's been so loved and is more relevant now than ever really with the frills, silhouettes and textures that brides are currently loving. So, it's those two pieces really that I think are gorgeous and that, more importantly, the brides still love.
Any tips for first-time wedding dress shoppers?
The aim when it comes to wedding dress shopping is to look and feel like the very best version of yourself. I often suggest to my brides before they come in to look at their own wardrobe and consider the styles they really love. Look at those party dresses they've worn, that give them confidence and accentuate the parts of their body they really want to show off. Don't just go for a drop waist dress because you're told you should or the trend says so – especially if, for example, you've got an amazing waist that you want to show off. It's about that empowering moment where a dress shows off all of your best bits and just makes you feel amazing. So it's really worth looking at what you would normally wear for a start.
On the polar opposite side of that, I would also definitely recommend trying wildcards. Do your research before you go out, try multi-brand stores where you can try on loads of different designers to reaffirm what you love. Or if you know that you like a brand like Halfpenny, which has so many different styles, then it's a really great place to be as well. You can work with the stylist to really push the boundaries of what you want to wear. 
To summarise, my top tips are:
Do your research. 

Don't go to too many places.

Look at your own wardrobe as a starting point.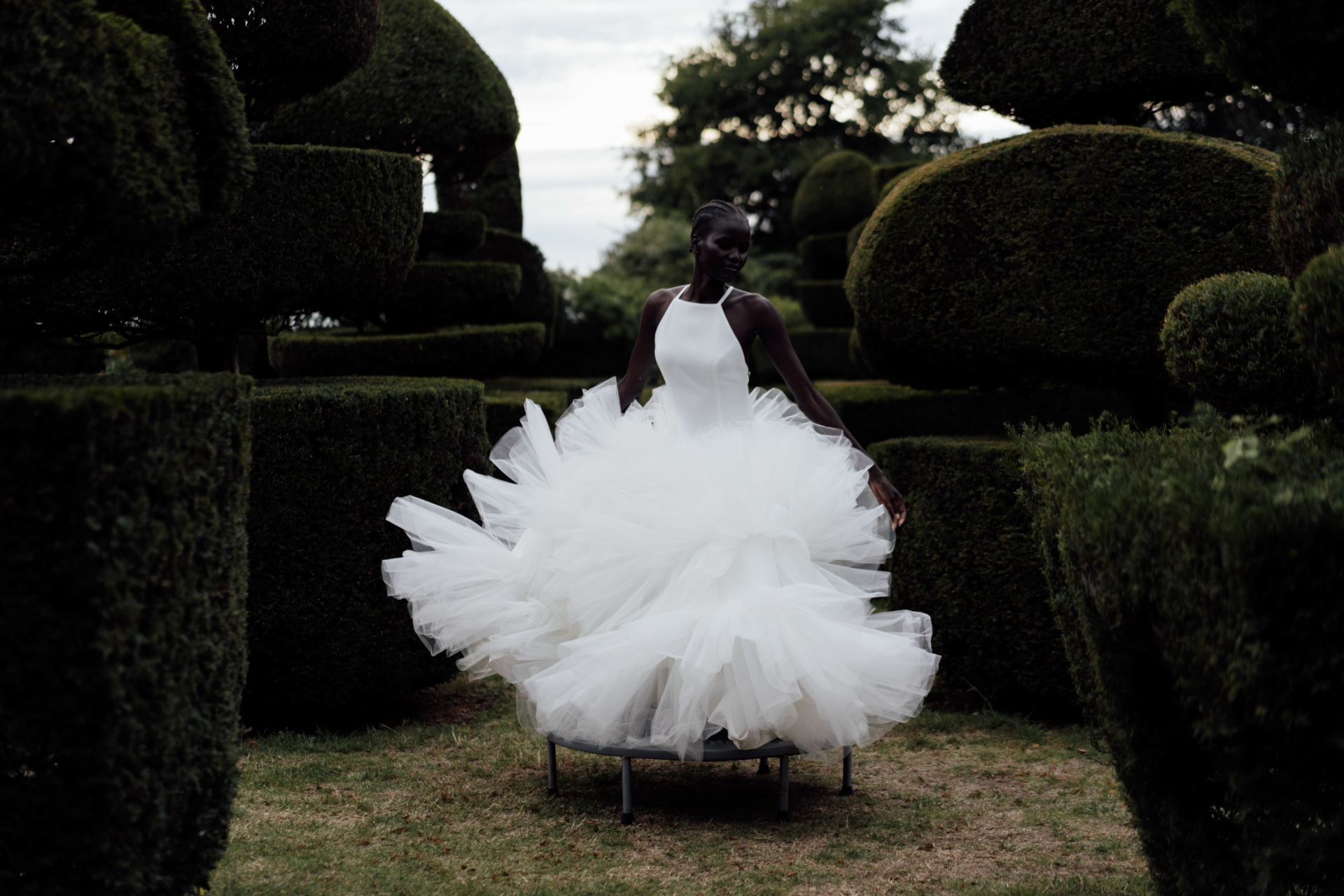 What's the experience of working with brides like?
It's magical. I love it. My favourite bit is when they find the dress, of course, because you can just feel all of the love and the emotions that run in that room, whether it's just you and the bride or the whole family. I also love that we become everything other than a dress designer in a bridal store. We act as a sounding board for so many things in their wedding plan, as well as an emotional crutch when things get stressful. We're also the last people to see the bride and do that last fitting, when emotions are running high. It's a real privilege to work with these women and be there to support them. You don't work in the wedding sphere if all you want to do is give a dress to somebody. It's so much so much more than that.
We've heard you say that there's no such thing as the 'Halfpenny Bride' – why is that?
Because often people say, 'Okay, she's 25 to 35. She works in the creative industry. She lives in Fulham.' That doesn't resonate with me. The nuances and the diversity within my brides are what I celebrate. And within my collection. There's a dress for everybody. There's a style and a look and an outfit for everybody. We can dress five sisters from the same family because there's something completely different within the collection that each one of them falls in love with. So, we don't have a Halfpenny bride, we are just a brand for everybody. We're the brand that will find the dress that makes you feel all sparkly and magic. There isn't just one Halfpenny bride, the only thing our Halfpenny brides share is that she has the dress that gives her the confidence to feel and look amazing.
Love that! What kind of message do you want brides to be able to take away from your collections?
That they can be anything they want to be. They can choose any elements they want and create a dream look that represents who they are. All we'll do is give them the tools to do that.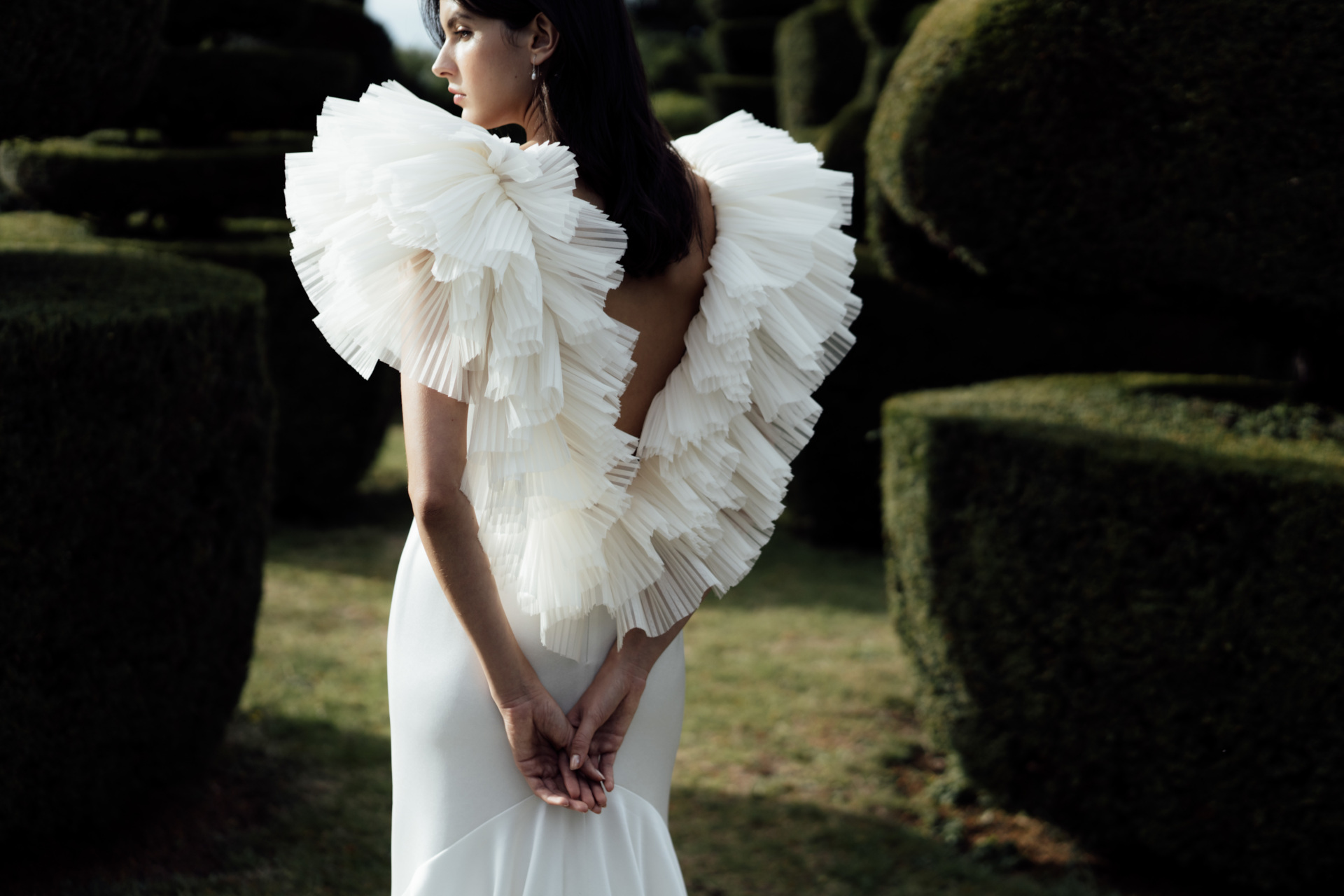 Are there any bridal trends you see taking centre stage over the next year?
I think our attitudes to wedding dresses have changed. After the pandemic, when people were having these small weddings, we thought we'd see more slimline dresses and more tamed down bridal moments. But really, I think the opposite has happened. People, now more than ever want that celebration, that moment, that joy, those layers and the mega-ness of dresses are getting more incredible. Brides are adding more unique changes, you know? The sleeves, the bows, the frills. I think in terms of trends what I'm seeing is a shift towards real statements – statement accessories, statement layers and frills. Just more, more, more.
Any advice you'd give to designers just starting out?
Yes, I would say be authentic. Comparison is the thief of all joy. So don't focus too much on what others are doing and just do you. If you've got something that you want to share with the world, then go for it. 
What can we expect from Halfpenny London in the near future? Any exciting projects lined up?
We just launched a little colourful edit of dresses at Harrods (ideal for bridesmaids and events), which is going really well. We've created more newness which is launching in the late spring, early summer with Net-a-Porter – some shorter dresses and some fun stuff there. That's our top line. 
Internally, we're levelling up and increasing our aspirational collections and our brand story. So, you can expect to see more inside the design room and how we create each of our collections in Woburn Walk. We've also got some top secret partnerships happening as well, and we're working on some new categories which we can't wait to share more about.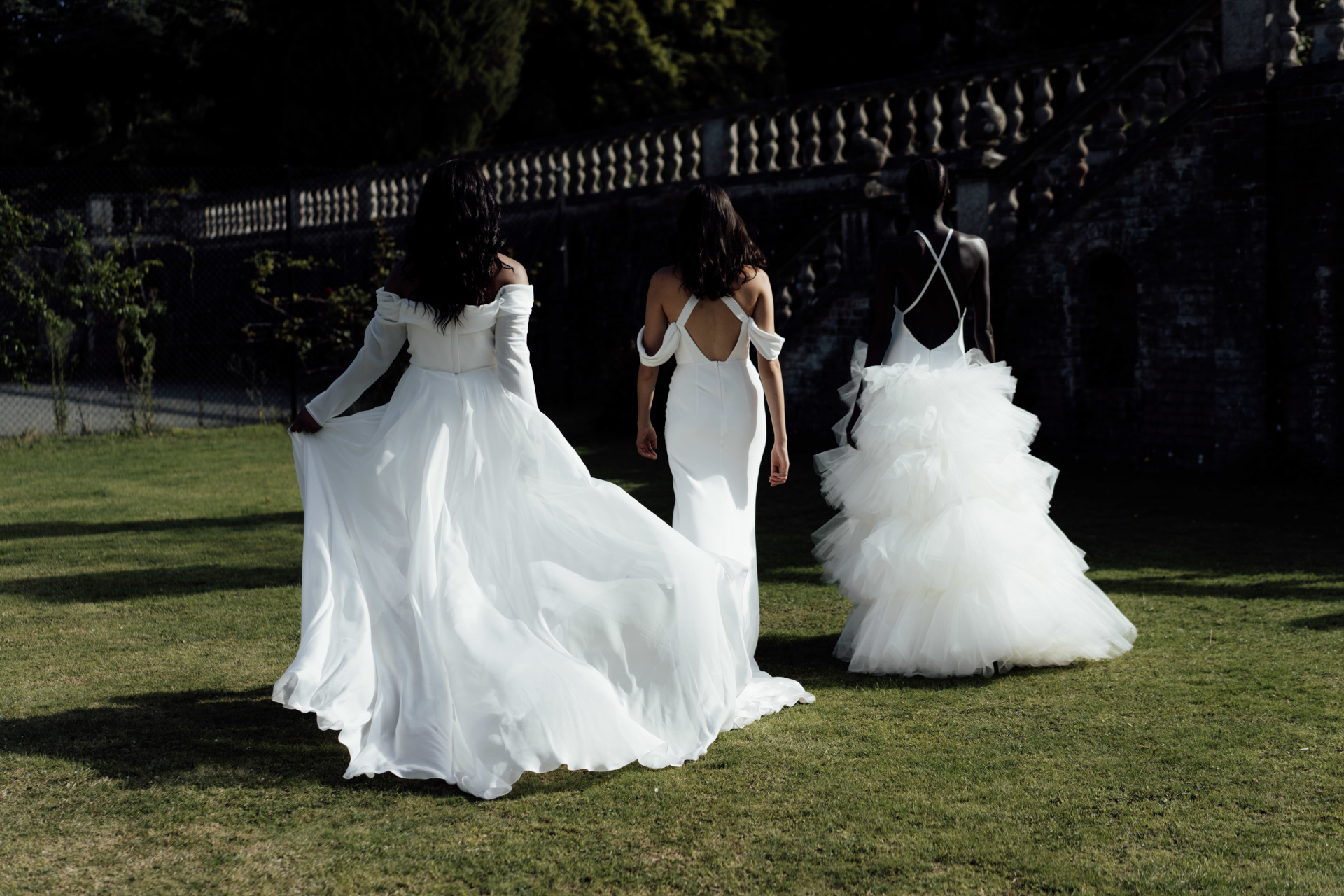 Any parting words for our readers?
Keep watching this space. Expect more creativity and more incredible gowns.
EXPLORE
You can keep up to date with Kate's work at Halfpenny London at halfpennylondon.com
Images courtesy of Halfpenny London