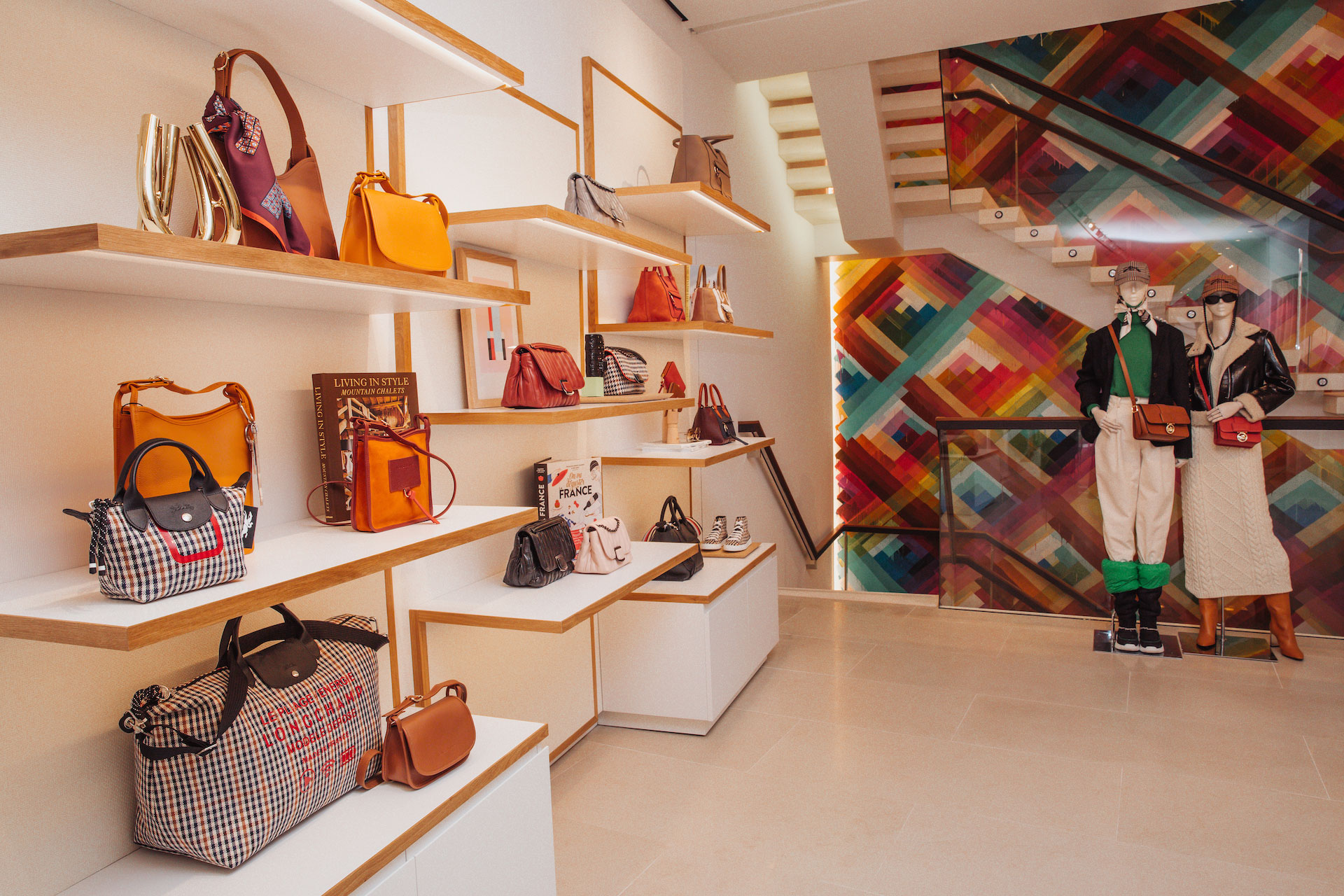 Longchamp Brings Parisian Chic to Bond Street
Sitting down with the brand's Creative Director, Sophie Delafontaine
Country & Town House caught up with the Creative Director of Longchamp, Sophie Delafontaine, to talk about its refreshed Bond Street boutique, defining the Longchamp Woman, and her 30-year career at the beloved French fashion and accessories brand.
Q&A with Sophie Delafontaine of Longchamp
What's the inspiration behind Longchamp's new-look Bond St boutique?
It was the moment for us to refocus on our Parisian roots and being a family business – we really wanted to express a brand that is warm and welcoming. So we came up with the idea of a Parisian apartment, like we were welcoming our customer at home. We wanted it to feel more in a living room than a store. This feeling is created by the furniture, the carpet, the lights, but also details like the fact we don't have any sales counters in the new store. I wanted to have more of a link between the sales associate and the customer, and for customers to sit, have a coffee, and enjoy themselves.
What's the story behind the art?
Art has always been important to Longchamp and present in our boutiques, but here [in the updated Bond St boutique) we increased it. We kept the colourful Maya Hayuk wall [from the previous store, see main image] but we also added a table in the window that's from a great French designer, Pierre Renart, and some paintings from several different artists. It's a way of introducing art and craftsmanship to our customers and helping them to discover new artists and designers.
It's very colourful. What does colour mean to Longchamp as a brand?
We have one colour, green, which has been part of the Longchamp DNA for many years – you can see it in our packaging, and it's part of the new boutique too. There's the dark green, which represents authenticity and know-how, and the light green, which represents energy and creativity.
We've also brought in lots of other colours through the objects on display and the art on the walls. Longchamp has always been very colourful. Since [our foldable bag collection] Le Pliage was first introduced 30 years ago, it has always been available in many different colours. I always start designing a collection by first looking at the colour palette, before the storytelling.
Which colour of of Le Pliage do you wear?
I like the green. It's a colour that matches with everything: you can wear it with all the dark colours (black, navy, brown, grey etc) but also with all the pastels.
You've been at Longchamp for almost 30 years. How has the brand changed in that time?
We've never done revolution at Longchamp, always evolution. My grandfather started the company 74 years ago with a tobacco store, and today we're an international brand. When I arrived (in 1995) I think I brought a touch of femininity to the collection. My father used to design it, and he was well-known for his sense of ingenuity, quality and functionality. And I think I brought a fashion spirit to that. For me, it was key to express who the Longchamp woman is, to describe her, and to give her an attitude. With this we became more of a lifestyle brand, introducing a whole universe. The boutique in New Bond Street is really the place that finalises this transformation into a lifestyle brand, because it's not a boutique, it's the apartment of the Longchamp woman.
What was the design inspiration behind the AW22 collection?
I was really inspired by the atmosphere of ski resorts, and I imagined the Longchamp woman going skiing for a weekend. I wanted to combine the cocooning spirit of a chalet, the sense you're in a very warm environment, with the energy of the slopes and a more dynamic feel, through technical and colourful materials. We mixed fabrics like houndstooth, which is very masculine and warm, and a compact wool and shearling, with nylon and embroidered horse motifs.
What's your standout piece in the new collection?
Our new Box-Trot handbag. The structure is very pure and simple, but the gusset is still very soft, so it moves with you. The medal in the middle is inspired by the press button on Le Pliage; it zooms in on the horse rider in the logo. It's a bag that really expresses the Parisian spirit that I wanted to show in the entire collection.
What does sustainability mean to Longchamp?
It's always been a very important aspect to the company. I think my grandfather was the first person to do upcycling, because he had leftover stock of wooden pipes, and started covering them in leather to make a collection in different colours. He used the leftovers to make something new, and it became very successful.
Leather is very important to us, and we only work with tanneries that have the LWG [Leather Working Group] certification, which ensures they're following strict environmental rules.
We also use a lot of nylon, and two years ago we decided to change to recycled nylon. It was a huge commitment for Longchamp, because we use a very specific material for Le Pliage, which has to be super strong and of the highest quality.
For Longchamp, longevity is key. Sustainability is not only the materials we use, but also how the products are going to live on, season after season. It's really in our DNA.
What are you looking forward to wearing this autumn/winter?
I love the reversible jacket from the new collection. It's a nylon jacket, and it's so light yet warm – I'm always cold in the winter. You can wear it by itself or under a coat.
See the full AW22 collection at longchamp.com, and visit the new boutique at 28 New Bond St, London W1S 2RJ