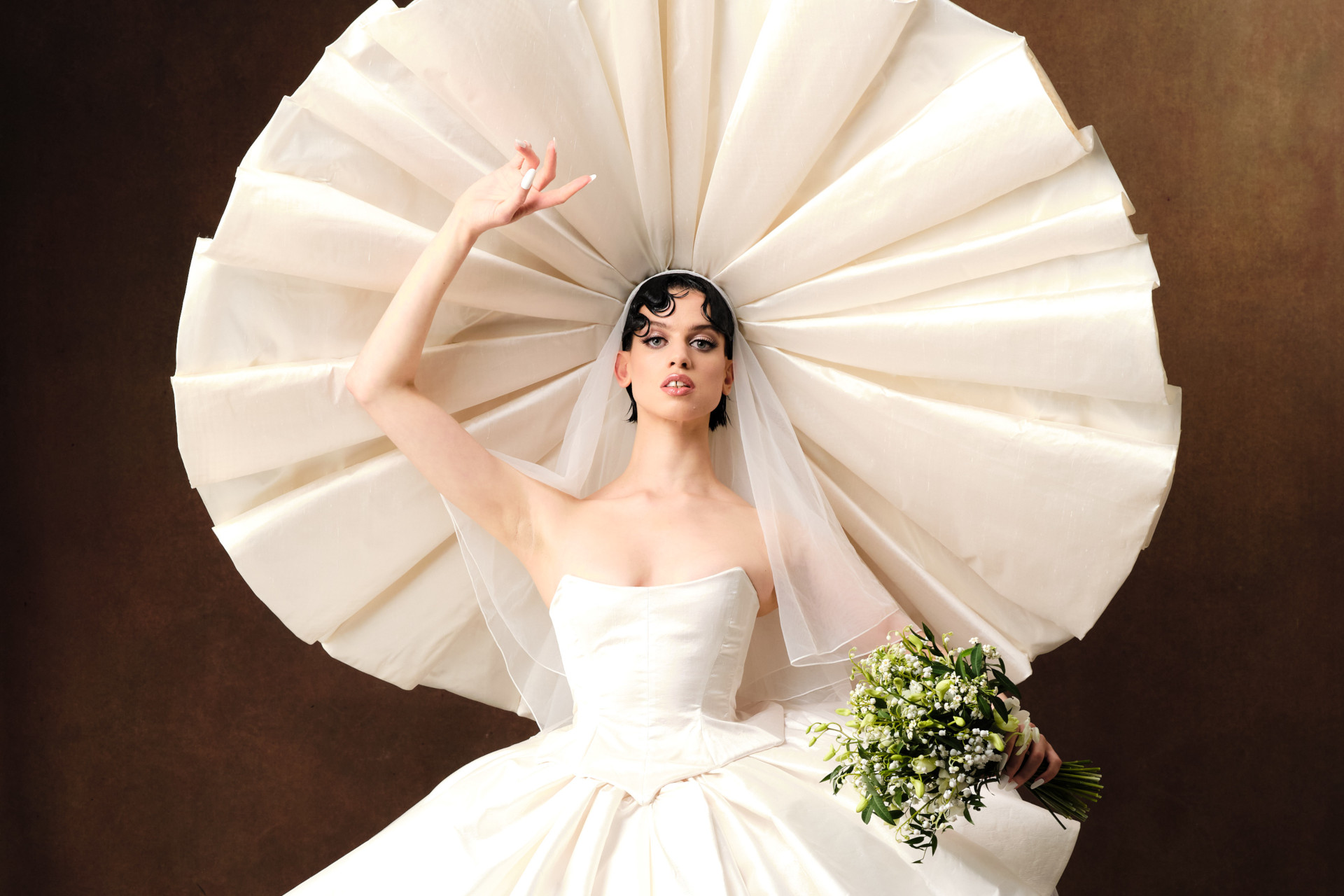 Moments That Blew Us Away at London Fashion Week SS23
From debutante balls to British punk revivals
Fashion Week is well underway here in the UK capital, and designers are coming out in full force to share their creative vision and inspirations for the season ahead. Out of over 100 designers on show this year, there are only a few that have made us do a double take. These are the London Fashion Week SS23 highlights to catch up on now.
Moments That Blew Us Away at London Fashion Week SS23
THURSDAY
Daniel w. Fletcher
Launching his most sustainable collection yet, Daniel w. Fletcher showed us exactly how stylish you can be in responsibly sourced clothing. Created entirely from deadstock fabrics, 'Stand and Deliver' was an ode to the city of London and the fashion landscape it has cultivated over the years. With visual references spanning Savile Row Tailors and gentleman's fashion as well as the Swinging Sixties and punkish seventies, Fletcher's collection painted a vibrant picture of the UK capital that only brings excitement for its next chapter. Read more about the collection here.
Harris Reed
Perhaps its most theatrical collections yet, British-American designer Harris Reed was one of the first to present at LFW. The show marked Reed's first ever runway show, and marked a greater shift towards performative showcasing in fashion. Set to a live performance by Queen frontman Adam Lambert, the show was entrenched in expressions of queerness and gender fluidity – all of which were amplified by the collection's main inspiration: the debutante ball. 'Mise En Scène' saw dressmaking quite literally turned on its head, with crinolines and corsets reshaped and trains elevated to create orb-like headpieces (made in collaboration with Vivienne Lake) around each model. This was another collection on the LFW schedule that was also made entirely from deadstock fabric.
FRIDAY
Bora Aksu
Taking to the London Scottish House in Westminster, crowd-favourite Bora Asku presented a military-inspired collection that saw its signature feminine fits blend seamlessly with masculine detailing. Opened and closed with the sound of military drums, the looks on show featured 1930s style military jackets, trench coats and shirting set against flowing silk skirts, lace and pastel colour palettes. Also interwoven into the Bora Aksu SS23 narrative were the works of creatives Henry Darger and Marcel Dzama, which provided character (see Darger's The Story of the Vivian Girls for an idea) and colour references. Conveying a transtition from youth to the 'masculine influences of adulthood', the collection was one that told a depthful story with enough easter eggs to have us Googling for days.
SATURDAY
RIXO
Bringing a bit of sunshine to the city on Saturday, RIXO took us all on a trip to the sunny shores of India with 'Postcards from Goa'. Speaking on the collection, co-founder Orlagh McCloskey said: 'I visited Goa whilst on a trip to India visiting our supplier, and fell in love with the place immediately. I knew that I wanted to incorporate the beautiful ceramics and tiles, as well as all the vibrant colours into our summer collection straight away.' The collection is indeed packed with the brand's signature bohemian prints and patterns – now given a summery edge – and was also one of the most diverse brands when it came to representation. The collection was worn by models of all sizes (each garment will be stocked in sizes UK6 to UK24), ages and backgrounds, and the overall vibe of the presentation was one big party – just what we needed to keep the excitement for LFW going.
Molly Goddard
British designer Molly Goddard made the Seymour Leisure Centre her very own red carpet for Fashion Week. Inspired by her long-term fascination with the laid back glamour of pre-internet red carpets, Goddard presented a collection that brought back some of our favourite Y2K celebrity staples – think patterned jeans tucked under skirts, polka dotted sheer dresses, ballet flats and cowboy boots. Working up from blushing spring pastels to vibrant summer tones, the collection also paid homage to American fashion designer Charles James and 'the exploration of creating shapes on the body, changing proportions of the body'; a strand which came to life with Goddard's iconic ruffles.
Huishan Zhang
We were given a glimpse of a utopian future at Huishan Zhang's SS23 runway show. Looking to the 22nd century – in particular the vision of a 'neon cityscape' – the designer shucked off his typical sway towards romance and instead opted for a more graphic approach. Asymmetrical silhouettes took centre stage (the Chinese Cheongsam in particular stood out), dressed up in neon or check and adorned with feathers, and ornamental embellishments took the form of glittering sequins used to symblise binary code in a nod to our high-tech future. Zhang summed up his collection: 'I've been feeling very intrigued by the idea of how my vision of women's clothes will evolve in the future. But I don't want to wait. I want to find out now.'
SUNDAY
KWK by Kay Kwok
Futurism took centre stage during the SS23 presentation for KWK by Kay Kwok. The designer, who originally hails for Hong Kong, launched his label in 2013 but spent several years away from the fashion week runway until recently. Rebranding as KWK, Kwok turned heads with his sci-fi aesthetics and dystopian narrative for AW22 – and he continued to command our attention this season. The new genderless collection  played on Kwok's signature experimental forms, with swooping silver sculptures worn by the models descending the runway. These sculptures were intertwined with oversized puff sleeves and skirts, metal plates and accents, and a colour palette that veered between pastel hues and rich brights. This was a collection rippling with movement and unbound by convention, and was excitingly provocative from start to finish.
Simone Rocha
Where fairytales and escapism were central themes of its AW22 collection, Irish designer Simone Rocha let 'urgency' lead the narrative of her new season. Described by Rocha as 'a reaction to distress', the collection was created from the designer's wish to translate the complex emotions felt over the last few years into clothing. The result was a frantic clash of contrasts: silver sequined flowers pressed into blush-pink tulle, belted straps trailing over ruffled skirts and ballet-style shoes reimagined in jelly perspex. Movement – both physical and metaphorical – was key in this vision for the coming season. Rocha herself had some insight for the brand's next steps, as she debuted her long-awaited menswear line. Upholding all of the signatures that make her womenswear so coveted – yes, there's still pearls, ruffes and bows aplenty – it appears the designer's eagerness for newness and disruption paid off.
Rejina Pyo
Audiences were taken to the newly added top floor of HYLO, a multi-use workspace near Moorgate, for Rejina Pyo's SS23 catwalk. Titled 'Love and Work', the urban cityscape through the windows provided a suiting backdrop to Pyo's take on the modern woman. Celebrating her in all her complexities and passions, the collection was an ode to this sophisticated – yet very real – ideal. 'Love and Work' was characterised by everyday winners, from stylish suits defined by feminine tailoring to elegant silk dresses and delicately crocheted resortwear, with artfully crafted clothing that many women could see themselves thriving in whether at work, out at dinner, meeting with friends or jetting of on their next big adventure.
WATCH
You can watch all of the London Fashion Week SS23 highlights via londonfashionweek.co.uk
Featured image: Harris Reed SS23 (c) Marc Hibbert