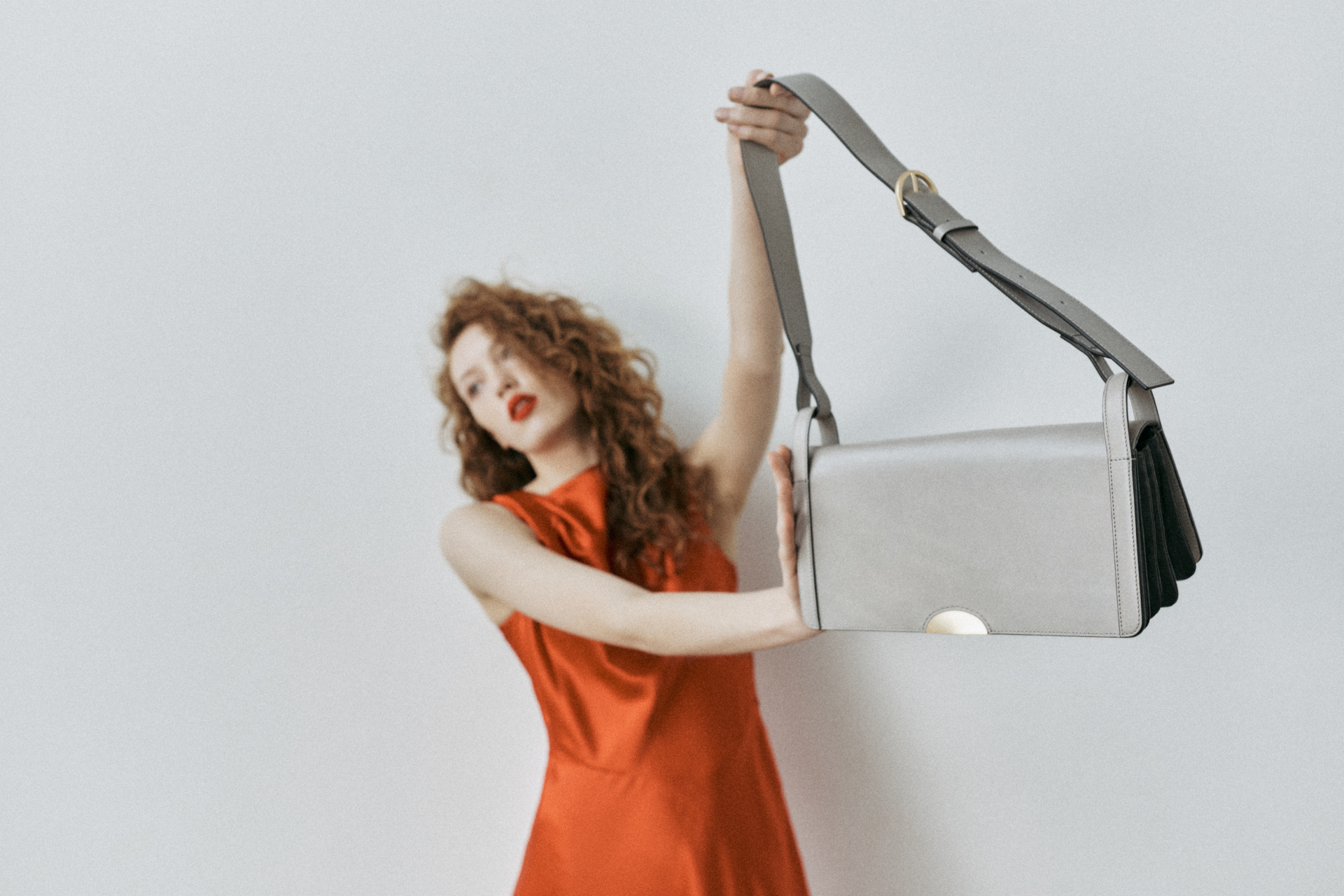 Meet Natalie Smith, Founder of Sustainable Handbag Brand Naru Studios
---
The future of British accessories is here – and it's greener than ever
Here at C&TH, we always try to champion the very best of British. So, it's truly a pleasant surprise when brands can knock us off our feet with their commitment to people and planet. Although Naru Studios has been on the scene for only a few months, it's quickly making a name for itself as an eco-conscious alternative to traditional accessories manufacturing in the UK. To get to know the brand better, we sat down with founder Natalie Smith to talk inspirations, supply chains and how to avoid greenwashing.
Meet Natalie Smith, Founder of Naru Studios
How did Naru Studios come about?
The idea for Naru Studios had been percolating for many years. My interest in sustainability was sparked at the age of seventeen after winning an award at college, where I was studying Fashion and Clothing Design. My design was created from vintage garments, and it was my first insight into upcycling textiles and the principles of sustainability. This moment led me to my love for accessories design and inspired me to never stop learning about implementing sustainable and ethical practices in my journey ahead as a designer.
During my studies at Cordwainers at the London College of Fashion, and later through a decade of working as a designer for global brands, I was intrigued and excited by the endless possibilities that accessories design brings, but equally dismayed by their lack of sustainable practices and transparency. I always came up against a wall with these companies when it came to the bottom line. It was clear that I couldn't make a change from within the system, so two years ago I made the decision to create Naru Studios as a sustainable alternative for the luxury accessories industry. We launched in May 2022, and this autumn we will be offering a 'rent from conception' platform which is a first for a luxury handbag company in the UK.
Describe Naru Studios in three words.
Quality. Honest. Minimal.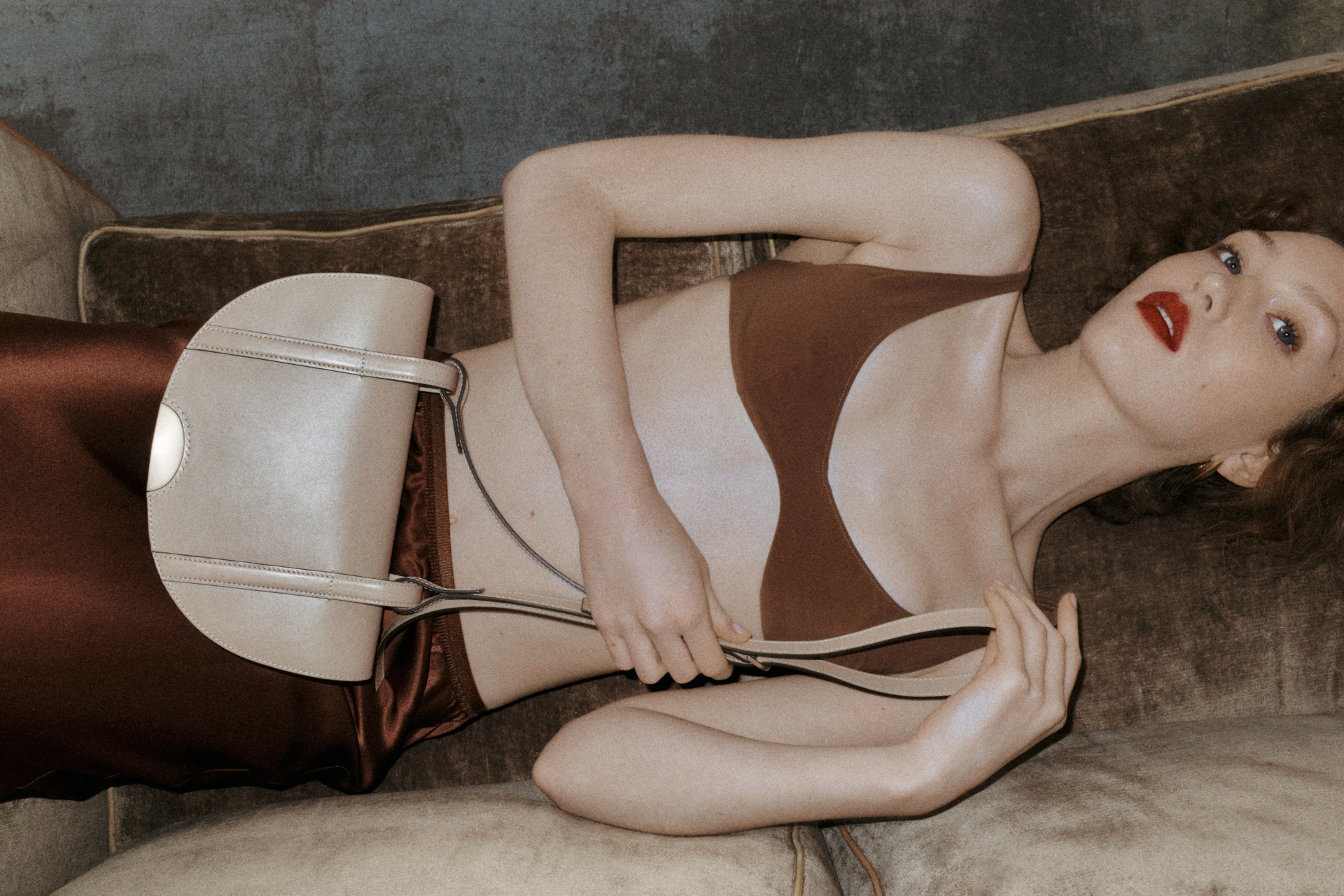 How do you source the materials to create your bags? What's the design process like?
To arrive at the most sustainable solution, I work closely with a pool of materials experts and tanneries in Europe, as well as a team of artisans in East London who create the final iterations of the bags.
By collaborating with companies such as Deepmello and in the very near future Grady + Robinson, I'm able to trace where our leather is coming from, which means I can ensure we are working with small-scale, organic or regenerative farms in Scandinavia, Germany and the UK.
We've partnered with tanneries that use vegetable tanning methods, where the leather is free from plastic and polyurethane or chromium dye. These traditional methods include using bark from mimosa trees sourced as a by-product from sawmills, or otherwise rhubarb roots which come as waste from the food industry. We apply a protective organic lacquer which adds character to the leather – which is rare, as most brands use a plastic coating which makes the leather difficult to biodegrade. This means that some of our bags can degrade in just a year and half (when placed in the right conditions).
I am also working with materials experts to create bags made from sustainable, plant-based leather alternatives, such as lab-grown mycelium, for future iterations of the bags. I see this as essential for the future of fashion, as currently plastic leather alternatives take up to 500 years to degrade, eventually resulting in microplastics.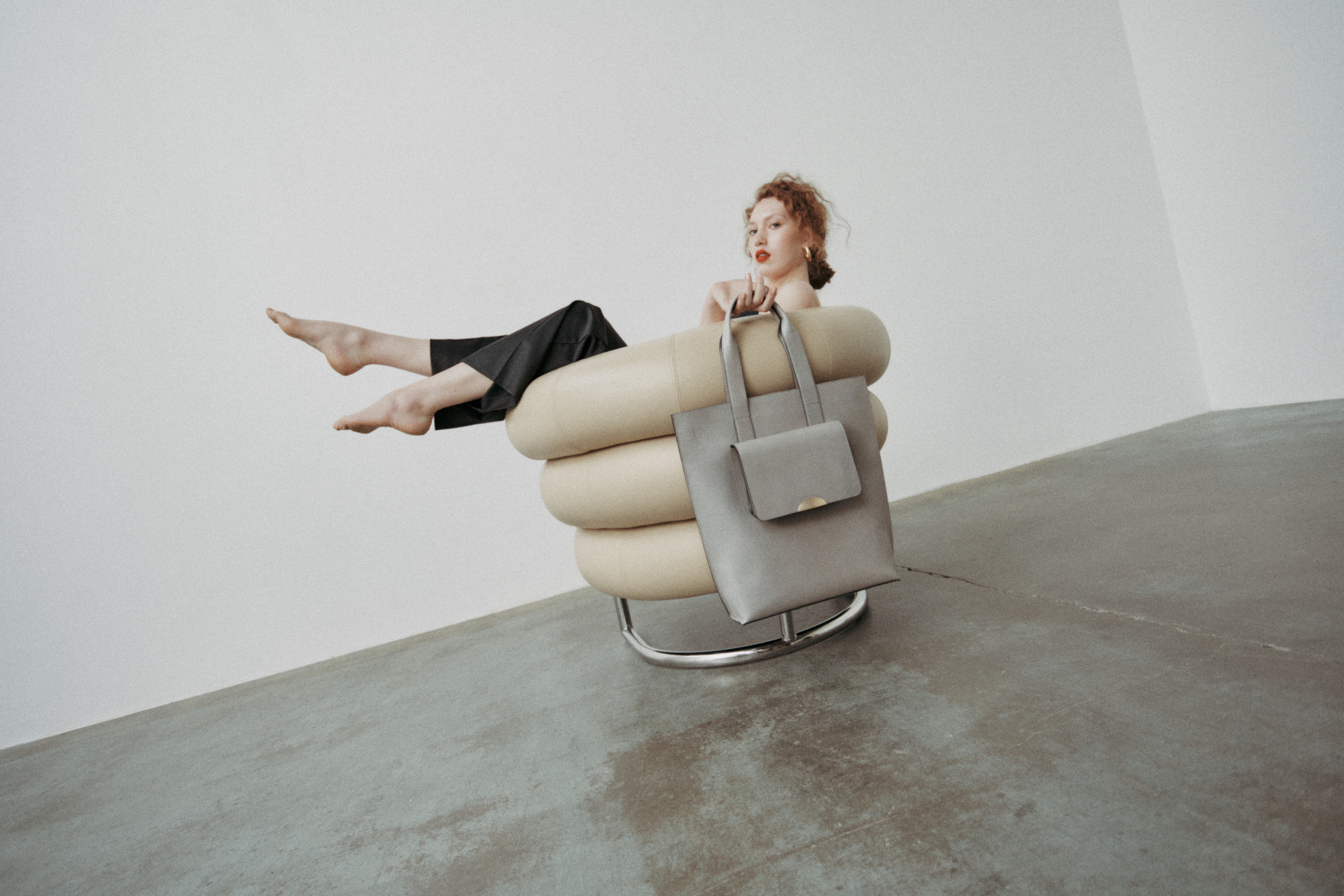 Can you tell us about Naru Studios' new rental platform?
We are very excited about the launch of our rental platform this September. We will be the first accessories manufacturer in the UK to offer the choice to rent our products directly from the Naru website as well as buying outright.
Learn more about Naru Studios' rental platform here
Do you think rental could be the future of fashion?
Yes, I think renting rather than purchasing is a growing fashion trend. The most sustainable garment or accessory is the one that we already have in our (or someone else's) wardrobe and I think people are becoming increasingly conscious of this. We don't need to continuously buy more, but rather we should be finding ways to expand the lifecycle of an items through initiatives such as rental schemes.
How important is a circular economy when it comes to the fashion industry?
We can't go on using finite resources as we are, so yes, I believe the circular economy is essential. Not only that, it's also exciting. It provides opportunities for the fashion sector to adapt to changing customer expectations in creative ways. For us as a business, it's so rewarding to know that the leather we use can be returned to the earth without leaving a trace, and all metal fittings can be infinitely recycled. We love looking for regenerative and organic farms to work with, finding ways to reuse waste products in the manufacturing of our bags and even seeing the bags come back to us for an 'MOT' if they need any repairs.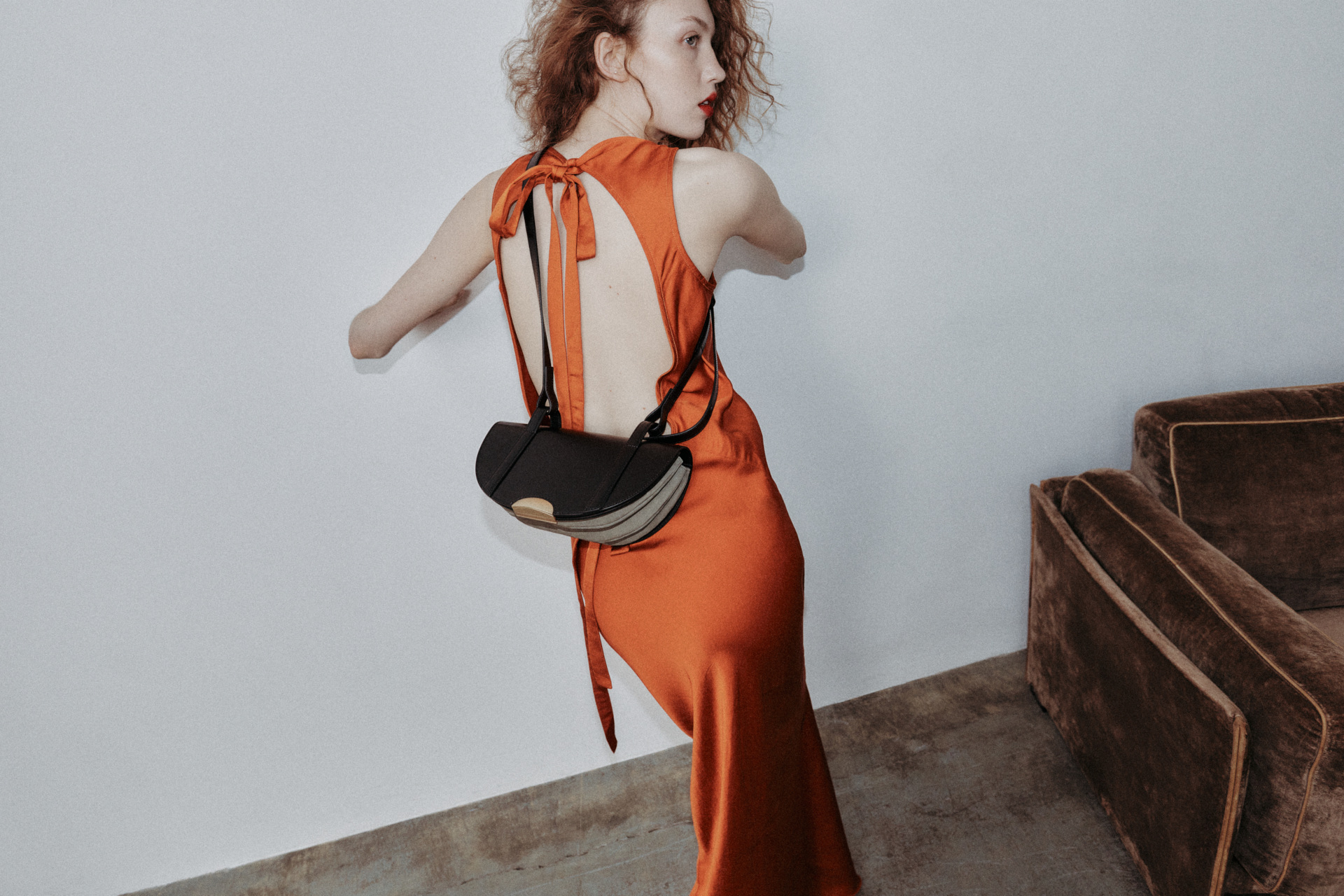 What makes you feel positive about the future?
What makes me happy is that consumers are becoming more environmentally conscious. This in turn is influencing designers to work towards more sustainable practices. Pressure from the bottom up is what will really move the dial when it comes to creating change in the fashion industry.
How can we, as consumers, spot and avoid greenwashing when shopping?
It can be really difficult for customers to spot greenwashing because there is so much information out there and many brands are sadly using sustainability as a marketing tool rather than implementing honest change to their company as a whole. My personal advice is to try and take a little bit more time when shopping for new items and to get to know the company more before purchasing anything. I would try to take more time researching into the product: where it was made, who made it and what materials are being used. There are some incredible people out there using their platform to educate and communicate their research in the most transparent ways, such as Aja Barber, Aditi Mayer, Cora Hilts, Arizona Muse and Lily Cole. They keep me inspired and on track with my 'slow fashion' buying habits. I've learned that if a brand is truly doing their bit, they will probably be more than happy to tell you about it, so you can always reach out to find out about their eco credentials.
What should we be doing to help the climate change fight?
There are a few easy things that can be done from your home. Firstly, I would say try to reduce your meat, dairy and fish consumption on a daily basis and choose plant-based alternatives where possible. Personally, I consider myself as a 'flexitarian' and eat mostly plant-based at home. I always research into the restaurant that I am dining at to find out where the meat or fish has come from and how it was farmed. I live in the Cotswolds so am lucky that there are some wonderful local farm shops nearby where I can buy seasonal and organic produce from.
Secondly, I would start to question how much packaging (in all its forms) is in your home, especially plastic. It is so easy to pick up the best deals in the supermarket but how much unnecessary packaging can't be recycled and just goes to landfill? If you need inspiration for this, have a look at 'The Package Free Shop' founded by Lauren Singer, @trashisfortossers. The most crucial thing is to change our perspective. We must abandon the notion of throwaway culture in favour of circular concepts that regard the life cycle of an item as a closed loop.
Overall, I think it is just about forming new habits and trying to enjoy the time researching and learning more about how you can make change within your sphere of influence. It can feel overwhelming to make so many changes at first, so it's important that you don't put too much pressure on yourself because it takes time.
EXPLORE
Images courtesy of Naru Studios
DISCOVER MORE
The Best Sustainable Fashion Brands / The Best Rental Handbag Sites