Behind the Seams: Preen by Thornton Bregazzi for Great British Brands
---
How the Great British Brands 2021 cover dress was made
Inspired by the Japanese art of Kintsugi, the story behind this year's Great British Brands cover dress is perhaps more relevant than ever. Lucy Cleland meets the designers – Thea Bregazzi and Justin Thornton of Preen by Thornton Bregazzi.
Preen by Thornton Bregazzi for Great British Brands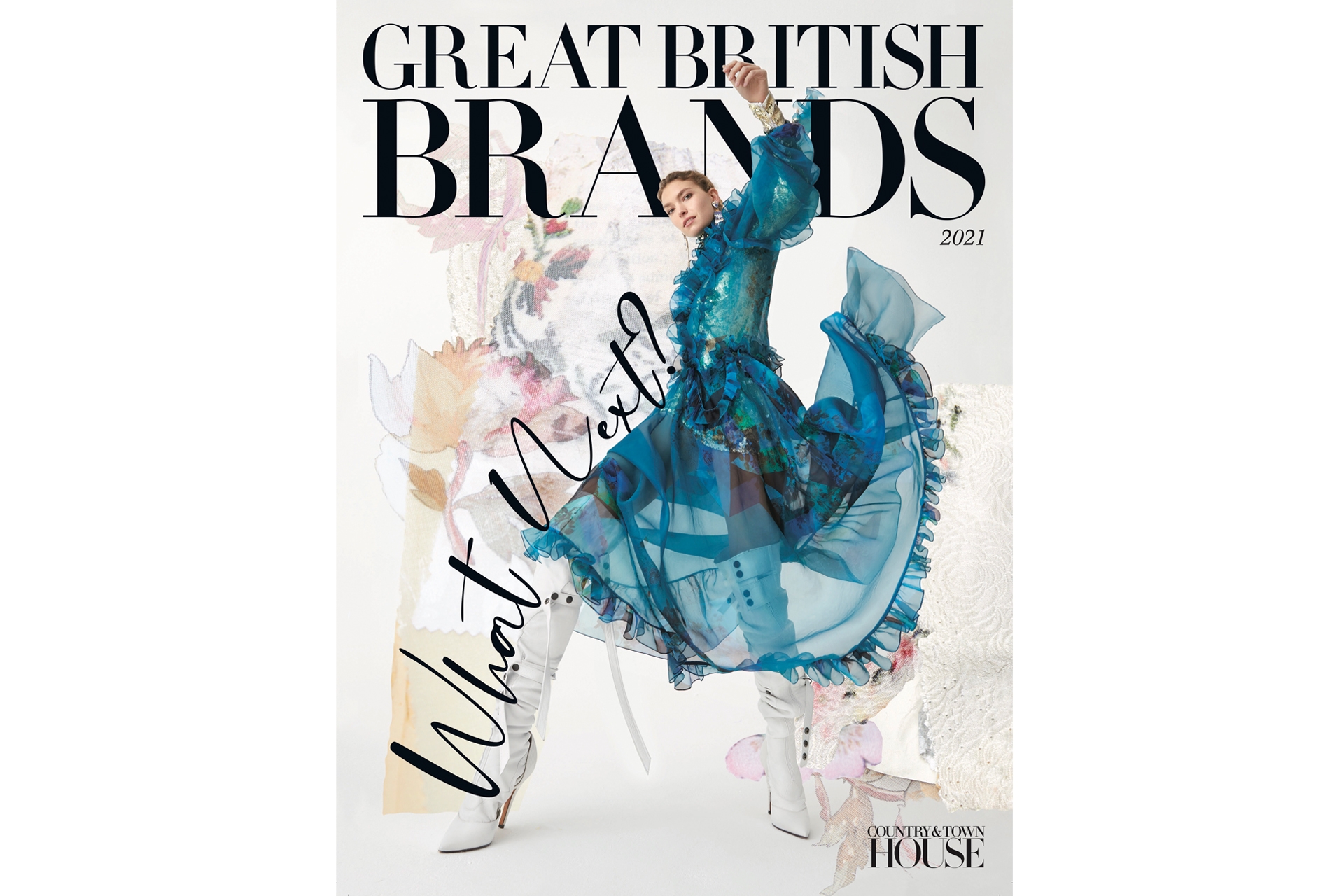 Arizona Muse makes the art of modelling this Preen by Thornton Bregazzi dress look as effortless as a bird soaring up to the sky. But she's not just a clothes horse paid to model a beautiful dress for this year's Great British Brands cover shoot in a West London studio. Arizona is known for championing the companies and brands that do the right thing when it comes
to the use of materials, treatment of staff, traceability and transparency in one of the biggest polluting industries in the world – fashion. She's pleased that when it comes to husband-and-wife team Thea Bregazzi and Justin Thornton, best known for their whimsical confections with added grit, or 'dark romance' as they prefer to call it, the couple are working really hard to make their brand – beloved by A-listers (and the rest of us) the world over – ever more sustainable.
Launched 25 years ago, Thea confirms that the idea of not wasting resources is nothing new to them. 'We have always worked with recycled garments. In the early 1990s, Justin's first job was for London designer Helen Storey, where he worked on her recycling range, 2nd Life. This was the first of its kind at a designer level.'
Bid for the Preen by Thornton Bragazzi dress now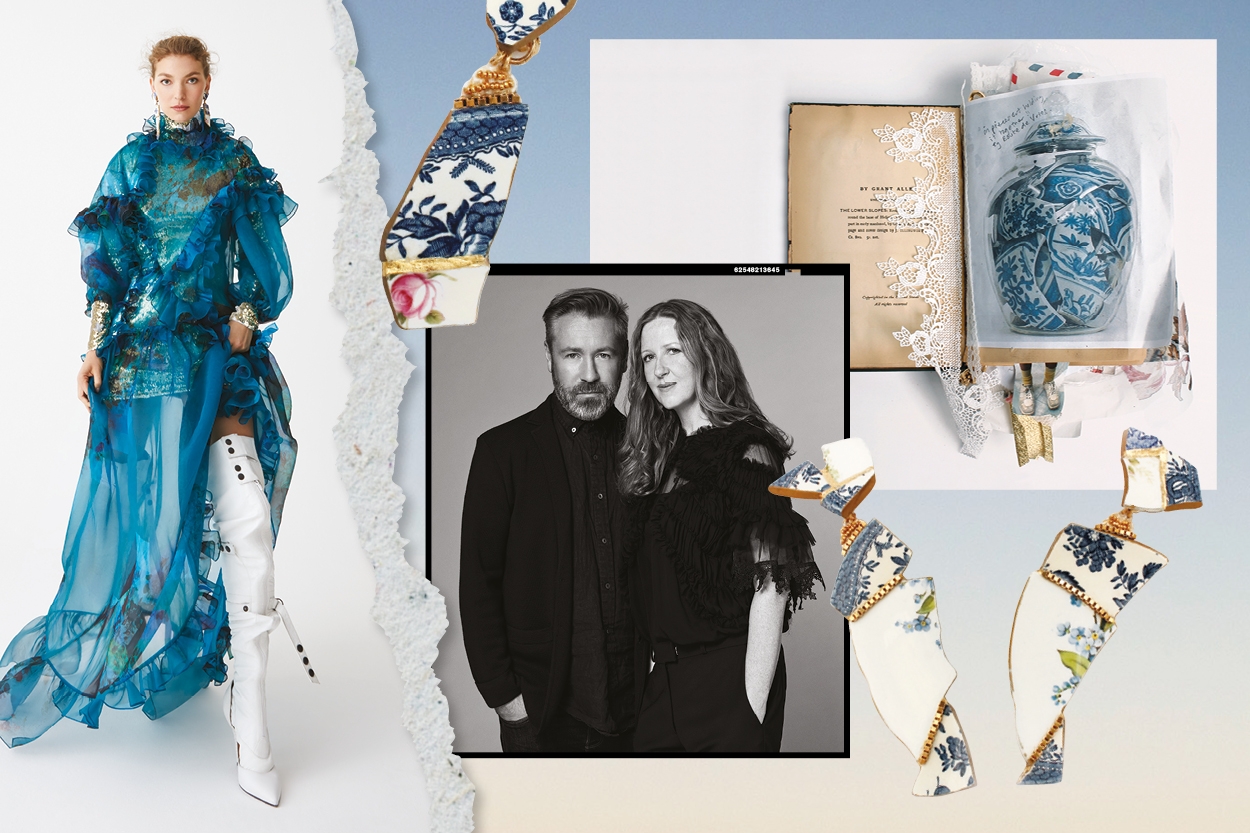 That innovation stuck. Justin continues: 'When Thea and I began Preen in 1996 we carried on with these recycling ideas. In our first collections we used second-hand tweed suits, upcycling them into fitted jackets and pencil skirts. We have always wanted to give tired and unwanted clothes a new life.' It wasn't until three years ago that they were really able to ramp up better practices across the board, with factories under pressure to produce more sustainably. 'We are now using as many sustainable fabrics as we can,' says Justin. At first, it was hard to get them but now it's much easier. Our A/W'20 collection was 80 per cent made from recycled fabric, deadstock or materials made from plastic bottles and textile waste. We also only make to order and never produce excess stock. We've always had a "make do and mend" mentality.'
And what about that showstopper dress – made specifically for our cover from recycled single-use plastic material and based on a design in the S/S'21 collection? 'When we began we were focussing on the idea of taking something broken and rebuilding it,' says Justin. The earrings exemplify this since they're literally made from pieces of smashed ceramics.
'It was full lockdown and we started to work on a creative idea unsure whether we would show a collection or not, but just to keep busy,' says Justin. 'We were also home-schooling our two daughters, Fauve, 11, and Blythe, 7, who were charged with making patterns from found objects in the house. When we dropped one of Thea's pieces of vintage crockery, it smashed into pieces and the girls began sticking them together.'
'It reminded us of Kintsugi,' he explains, 'so we showed the girls some of this Japanese art form. They loved it and started painting the cracks with gold. Thea suggested they make earrings for us and that's how it started. We got in touch with our friend, the jeweller Vicki Sarge (vickisarge.com), and she made them into the most beautiful pieces for us.'
Subscribe to the Great British Brands newsletter
Sustainability aside, what of Britain's other big challenge, Brexit – which, depending on your viewpoint, could be seen as another chance to smash something and rebuild it? The designers say that, while they have no truck with the decision to leave the EU, they plan to carry on and try their hardest against what they feel is a devastating blow to both the country and, specifically, their industry.
'We are both born and bred British,' [and that's quite rare!] 'and you can pretty much always tell a British designer – they can be a bit out there, they don't conform and they tend to have that quirky sense of humour. We won't give up easily but we are really disappointed to be leaving [the EU].'
As this is our What Next? issue, what can we expect from Preen in 2021? 'We are focussing on the here and now,' says Justin. 'We can't plan as we used to so we are just taking time to adjust and refocus. Our homeware line Preen Home has been very successful so we're planning to build on the range; we'd also love to do a sports collaboration and we'll be working more on our direct-to-consumer communications.
A more considered approach then, hopefully with less of the vortex spin of the relentless annual fashion collections, and more time for creating and repurposing pieces with materials that would otherwise be neglected and wasted. And, of course, delivering joy for the Preen wearer, who knows they not only get impeccable design but impeccable practice too.
You can bid for the Preen by Thornton Bregazzi dress here, with all proceeds going to Choose Love
READ MORE
A First Look at Great British Brands 2021: What Next / The C&TH A-Z of Sustainability