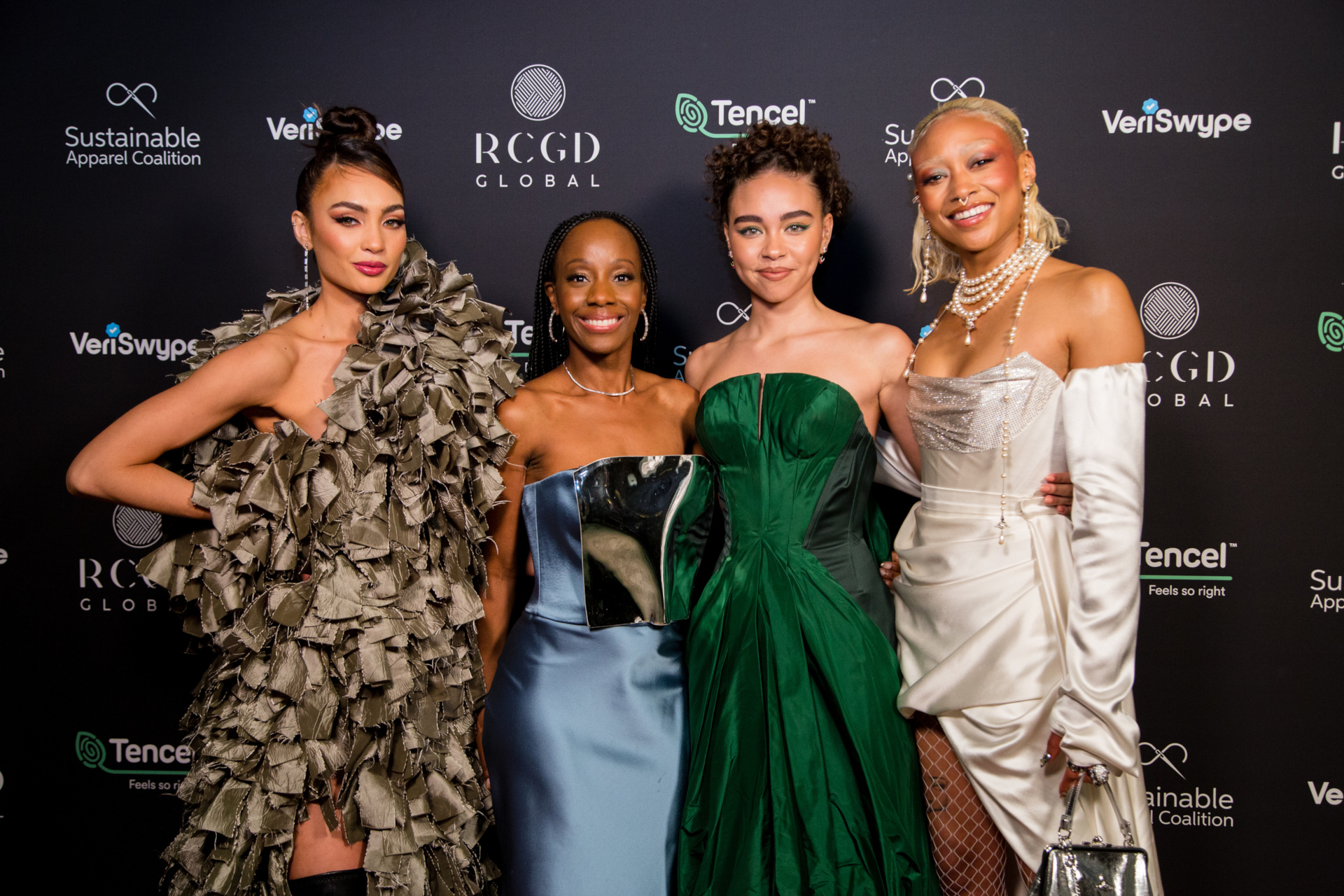 RCGD Global's Samata Pattinson On Creating The 2023 Oscars' Sustainable Style Guide
'The Academy has been working for years to be more environmentally conscious'
One of the biggest highlights of the award season took place last night: the 2023 Oscars ceremony. While many of us set our sights on the winners of the evening, we had our eye on the newly rolled out 'champagne' carpet – and the stars that took to it in their stunning evening attire. But did you know that the attendees of the 95th Academy Awards were given an official Sustainable Style Guide to help them make their styling choices before they hit the carpet? We sit down with Samata Pattinson, CEO of RCGD Global and the author of this year's Sustainability Dress code, to find out just how the Academy is implementing changes to create a more eco-conscious ceremony.

RCGD Global's Samata Pattinson On Creating The 2023 Oscars' Sustainable Style Guide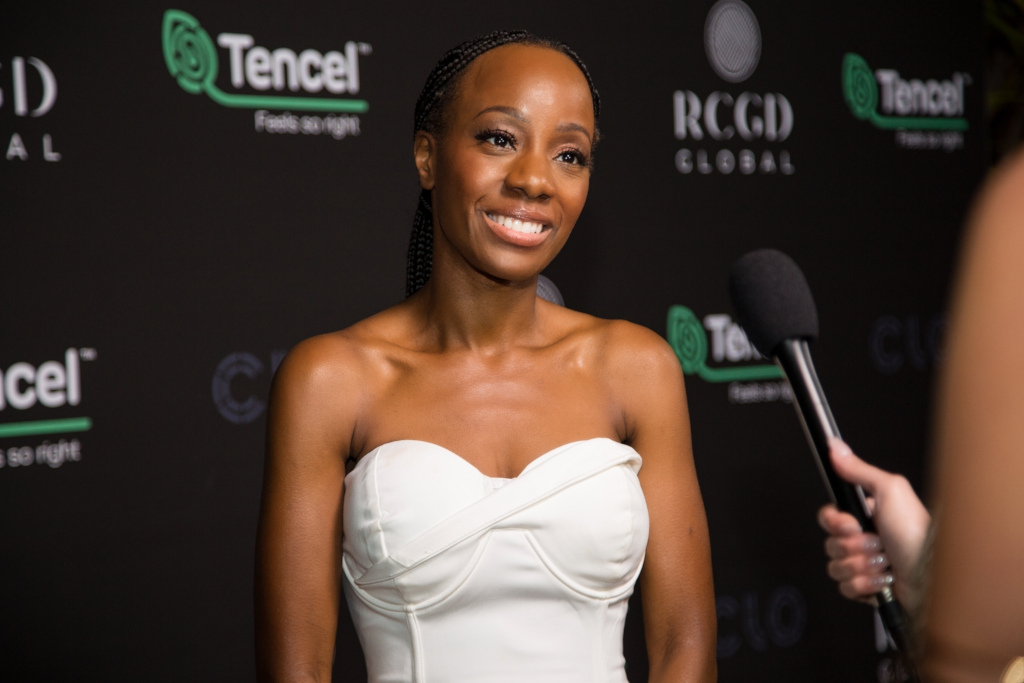 Hi Samata, thank you for chatting with us today! Can you start us off by introducing yourself to our readers?
I'm a British-born Ghanaian entrepreneur and the CEO of RCGD Global. I have dedicated my life to the field of sustainability, across design, media and entertainment, and I'm a cultural sustainability activist, published author, producer and writer. I won the Red Carpet Green Dress Global design contest founded by Suzy Amis Cameron in 2011, and, since then, sustainability has been more and more important in my work and life.
And, for those that don't know, what does RCGD Global do?
RCGD Global is a women-led global change-making organisation we describe as working from 'moment' to movement, bringing global cultural sustainability to the forefront of conversation and action within the fashion and design world. Celebrating its 14th year of the Red Carpet Green Dress campaign initiative at the Oscars this year, our work with RCGD Global work has developed to include collaborations with global and small independent brands, partnerships delivering sustainable design solutions, including our own textile offerings for retail, and educational work with the emerging design community, including workshops like our most recent collaboration with Fashion Takes Action. In 2022, we introduced a merchandising arm to our business, enabling us to enter the music industry to help support eco-conscious artists on greening their tours.
RCGD Global has cultivated a very exciting partnership with the Academy of Motion Picture Arts and Sciences. How did this come about?
We have officially been delivering this campaign since 2012. Suzy wore the first sustainable gown back in 2010 and when I won the contest the next year we showcased my organic silk, cranberry dyed gown at an event called Global Green. It was the following year in 2012 that Suzy and I teamed up to pitch a partnership with the Academy and it's been a relationship that has only grown stronger over time. This more official partnership came naturally. We wanted to expand our sustainability efforts through business solutions and this synergy allowed us to reach a wider audience and create a space to share resources and information.
As part of this collaboration, our Sustainable Style Guide has been distributed among the attendees of all Academy events this awards season, which gives our mission much more visibility and gives an extra push to our efforts of making Red Carpet dressing more sustainable. We hope this will have a knock on effect on how brands produce occasion wear, jewellery and evening accessories – showing a plethora of ways production chains as well as consumer buying habits can impact the end garment in a person's wardrobe.
The extended guide was also created in conjunction with our GlamHive partnership, to give it longevity long after awards season is over. Via our GlamHive styling partnership, anyone interested in learning more about how to dress sustainably can book a virtual or physical styling appointment with one of their renowned VIP stylists as a guide. This intersection of styling and education enables us to practise what we preach, so to speak.
View this post on Instagram
You have a big role at this year's Oscars ceremony, both as a co-host for the 2023 RCGD Global Pre-Oscars Annual Celebration and as the author of the official Sustainable Style Guide. Does this feel like a very exciting moment for you?
It is indeed a very exciting moment for Suzy, myself and us as an organisation. After years of hard work, it is great having the opportunity to share the results with a wide and really influential audience. It is a huge responsibility, but we have been preparing for this for years.
Our Pre-Oscars Annual Celebration is one of my favourite moments, as we get to gather together friends of the organisation. We learn a lot from each other and our views on sustainability and it is great to count on our ongoing partner TENCEL as well as two new partners, the Sustainable Apparel Coalition and VeriSwype, for this year's celebration.
You're helping to give sustainability a spotlight at the Oscars this year with the dress code. Could you please talk us through how you created the dress code?
Our Sustainable Style Guide comes from many months of research and years of experience, coupled with conversations with industry experts. I particularly enjoyed engaging stylists who flagged certain challenges, like sometimes they have short notice to pull a look or they have to buy in from brands! Our goal was to put together a guide that included all the information we had about the subject and to make it accessible to everyone, to come with solutions rather than problems. Lots of information can be overwhelming, especially on a topic like sustainable fashion, so we turned all those insights into an interactive guide. The full guide on our site not only provides facts, but also solutions, examples, and calls to action. It gives readers tips and recommendations to build a more sustainable wardrobe, on the Red Carpet and beyond: from what to look for in a tangible garment, to good sustainability frameworks to consider including certifications and human rights standards. Our dream would be to see other carpets and events adopt our guide – it is a free resource that is there to help!
When it comes to event dressing, what does sustainability mean to you?
Event dressing is especially interesting from a sustainability perspective as people have traditionally seen it as a place where they had to wear a new look every time. It is this ephemeral condition that surrounds event dressing that makes it especially problematic as it leads to a single-use model. That is why for me it is key to push sustainability in these spheres. This can mean supporting independent or women-led brands, repeating outfits, taking it to a tailor to restyle or customise it, renting or borrowing from friends and family, wearing an archive piece, or buying high-quality and sustainable pieces that you know you will wear again. It also extends to supporting certain movements, plant-based fashion or slow, anti-fast fashion.
View this post on Instagram
What impact would you like to have with the new dress code? Is there a message you'd like attendees to come away with?
We hope to have reached more people and given them the tools to reflect on their dressing choices. We hope beyond the Oscars they begin to consider some of the alternatives we explain in our Sustainable Style Guide for day-to-day, it's all about taking small steps in the right direction. We want to show people that being more conscious and respectful of the planet and its people doesn't compromise style and a luxe feel.
The solutions that our ongoing partner TENCEL offers are a great example of that; their fibres are used in so many different branded products worldwide that in many instances a consumer might not even know they are wearing a sustainable garment – the fabric is so similar it's impossible to tell the difference.
It's said that the red carpet is a great platform for sharing ideas and messages in a creative way. Do you agree?
I completely agree. We have seen on many occasions celebrities making statements on the Red Carpet, and their impact is always really powerful, especially thanks to the media attention these events get and people's reactions on social media.
For years, we have embodied our message through our ambassadors and the gowns they wear. This year's talents Bailey Bass, star of Avatar, and Chloe East, star of The Fablemans, are both young advocates of sustainability who have grown up in a world where issues like climate change is front of mind. These young voices are critical to the conversation around the planet's health.
Also supporting our campaign at the 2023 Oscars is Zoe Saldana. The acclaimed Avatar actress further embraces her sustainability journey, by sharing an accessible message of awareness but also the importance of recognising that people are on their own respective journeys, and learning along the way. We don't want to be part of something that feels judgemental, we want to be seen as a go-to resource and organisations delivering solutions so the message is about practicality and do-ability.
We have amplified this effort thanks to our partnership with the Academy and our Sustainable Style Guide. Our message is the same, but we expect to influence more people to follow our guidelines or at least think more carefully about what they are wearing. Sometimes simply making one conscious decision to change an element of the look rather than striving to be 100 percent sustainable – which is an unattainable goal – is more real.
View this post on Instagram
Are there any other exciting new changes that the Oscars are making this year?
In terms of sustainability, the Academy has been working for years to be more environmentally conscious. With our partnership and our 'Sustainability Evening' dinners, which launched in November and are hosted by Suzy, the incredible Jeanell English and I at The Academy, we aim to actually build a framework that will help make the entertainment and film industry collectively become more sustainable. We are working with costume designers, producers and screenwriters, all to find ways to show people and the planet come first. The Academy has already adopted some measures such as serving mainly plant-based meals at their events and going paperless for most of their communications.
How can we make similar changes with our events wardrobes at home? Can the same tenets you outline in your dress code be used?
We built our Sustainable Style Guide with citizens and talent alike in mind. The tenets put forward by the guide explore all areas of sustainability: from conscious buying habits, celebrating artisans and supporting small businesses, choosing brands for inclusivity, and diversity, re-wearing your wardrobe, DIY creativity, mending instead of buying new, shopping second hand, across to certifications, social flags to be mindful of and even what to do with special pieces once you are done with them.
Any parting words for our readers?
In the fight for a more sustainable future, even small changes can make a big impact. I truly believe that one day soon sustainable fashion will be the standard, not the exception.
Quick Fire
Who is your style hero?
I love Lisa Bonet.
A designer you're obsessed with right now?
My stylist Cassandra Dittmer recently introduced me to Kate Barton.
An item of clothing or accessory in your wardrobe you could never travel without?
A piece of fabric; I tie them into headwraps all the time.
Most memorable outfit you've ever worn?
I recently wore a beautiful piece by LA-based House of Amma – they are a mother daughter duo and make beautiful pieces locally here in LA.
EXPLORE
You can find out more about the work Samata (@iam_samata) and RCGD Global do at rcgdglobal.com
Images courtesy of RCGD Global