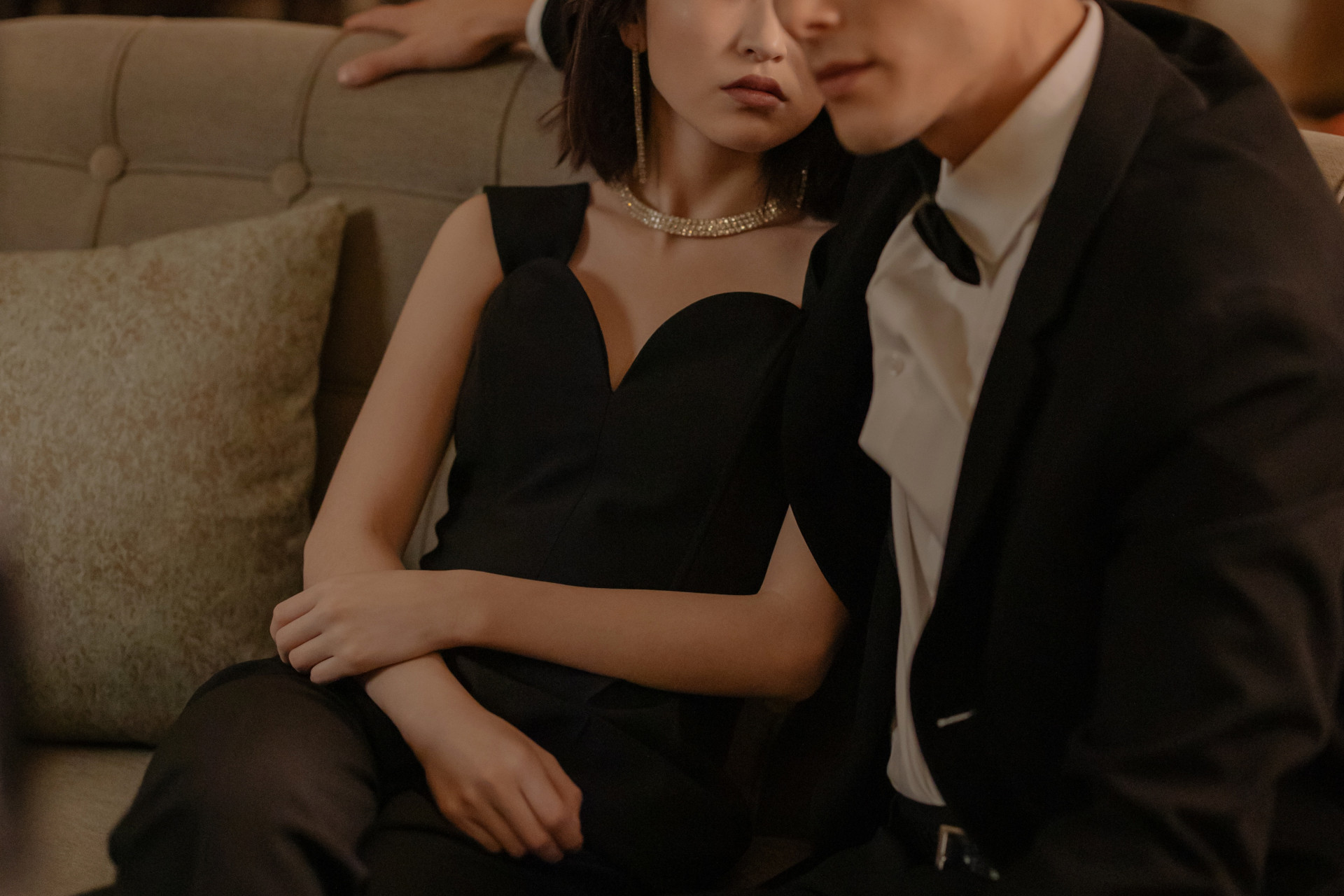 A Night to Remember: How To Dress For A Black Tie Dress Code
Advice for him, her and they
In an age where Zoom, WFH and online dating rule the roost, finding an opportunity to don formal attire for an evening of sophisticated glamour is near non-existent. But while we're all for lazy days sat on the sofa in our joggers, we can't avoid the call of the black tie event forever. With the social season in full swing, we can expect more invites to special events than ever. The challenge? Finding something to wear. Find out how to crack the black tie dress code with our guide below, with ideas for dress-devotees and suit-slickers alike.
How To Dress For A Black Tie Dress Code
What counts as a black tie event?
Before we get into the nitty-gritty of what to wear, let's check whether it's a black tie event you've been invited to. Occasions that fall under the black tie umbrella include:
Black tie events are tricky in that the event itself can often determine the level of formality needed (for example, you might wear gloves to the opera, but they might look a little odd at a wedding if you aren't the bride). If unsure, you can ask your host to clarify the type of event for you so that you can get an idea of what kind of attire they are expecting.
Dressing Up?
As is expected for this kind of event, a dress is the big go-to for those that want to don a skirt on the big night. Most dress guidelines are aimed at women, but identifying as such is not a requirement for getting your gown on.
Dress
Formal occasions typically call for a long, floor-grazing dress, but a slightly shorter dress can be an acceptable choice if the event is slightly more relaxed. As black tie is also usually an evening event, you should avoid fabrics like cotton or jersey and instead opt for evening-appropriate materials like velvet, silk, lace, tulle or chiffon.
Contrary to what the name implies, you don't have to dress in black. Colour and pattern are down to you, unless there's a specified theme of palette, and there's no set-in-stone restrictions of straps, slits (as long as it doesn't skim your crotch), necklines or cut-outs. Just make sure to respect the host's wishes and keep things classy.
Shoes
While it may be tempting to crack out your neon green platforms, anything overtly glitzy or crazy isn't really suited to a black tie event. Heels are the typical footwear of choice for those attending in a dress, and – depending on the style of your gown – should be a classic style that doesn't outshine the rest of your outfit. Many black tie events involve a lot of standing too, so make sure you find a pair of comfy heels (or at least break them in before you go).
A heel isn't necessarily required (your feet will thank you if you choose flats, anyway), and you can always opt for low-heeled sandals, kitten heels or court shoes. Depending on the venue, lower heels could be the best option – no one really wants to lose a shoe to gravel, slats or sand, do they?
Accessories
While not a requirement (unless specifically asked), accessories can help elevate your outfit to the level of formal glamour needed for a black tie event. When it comes to jewellery, you can get away with wearing the pieces you usually reserve for a special occasion – this is an occasion for drama, after all. Crack out the cocktail rings, shimmery bracelets, vintage necklaces and dramatically oversized earrings and see what works best with your outfit of choice.
If you want to keep all the drama up top, try threading some shimmer through your hair with pins, brooches or headbands. These tend to make an ideal combo with relaxed updos, but can be just as effective on loose waves and textured hair.
And because we still live in an era where our dresses don't automatically come with pockets, you'll probably need to consider finding a bag. Something small, like a clutch, is best practice, and should be matched up with your dress or shoes (or both) to unify the final look.
Suiting Up?
If you'd prefer to get suited and booted for your next soirée, that's not a problem. Those wearing a suit will likely follow men's black tie guidelines, but don't let the gendered terminology put you off. Anyone can rock up in a suit, as long as the style is still formal and chic.
Suit
The typical go-to for black tie events is the 'dinner suit' – or 'tuxedo', if you're from the US – which consists of a formal jacket and matching trousers. You can combine the two-piece with a waistcoat, but this is optional (unless it's at the request of the event organisers). Most dinner suits will also feature satin in some way, combined with a different base material. But again, this is optional. If you want to keep things traditional, you can go for the classic black suit, but you can also jazz it up with a splash of colour if that takes your fancy. Bonus points if it matches your partner's outfit for the night.
It's also perfectly acceptable to wear a kilt to a black tie event, so long as it is done correctly. If you belong to a specific clan, make sure you're wearing the right tartan. It can be a bit odd wearing a random clan's tartan if they have no relation to you, and some big organisations and branches of the military even require you ask permission to wear their tartan beforehand. There are universal tartans you can get your hands on though if you just want to get in on the fun. Formal kilts are worn around the waist and wrapped over the shoulder, but it can also be worn just on the bottom half. Bear in mind that the traditional Scottish kilt is worn with woollen socks turned down at the knee (with garters and flashes) and a sporran (a pouch which hangs round the waist).
Shirt
Tradition dictates that a dinner suit be worn with a dress shirt. By dress shirt, we mean one with pleating, a winged collar and holes at the sleeves for cufflinks. White buttons are the norm, but who are we to stop you if neon pink fastenings have your head turning?
Now, while its advised you don't go topless under your jacket (but again, we won't stop you), you can swap out the starched linens for a minimalist turtleneck. Be warned this will eliminate the option of wearing a tie, however.
Cummerbund
While not always a required piece of kit for a grand night out, a cummerbund is a great way to honour traditional dress codes. The cummerbund hides the waist and creates a powerful V-shape at the chest – and is just an overall very sleek addition to your evening attire.
Shoes
Just like the rest of your outfit, your shoes need to be smart and polished – so do NOT think about wearing the beat-up trainers you wear to the office. Black is always a winner – as is anything patent – and popular styles include court shoes, opera pumps, Oxfords and Venetian loafers. Really, all you need to do is channel your inner 007. If these fall a little flat for you, though, you can always jazz things up with a velvet slipper.
Accessories
Dinner jackets are almost always worn with a bow tie, which can be any colour and pattern except all white (these are white-tie events only). Much to your inevitable dismay, ties should be neatly hand-tied, so make sure to give yourself plenty of time to perfect your skills – or find a decent tutorial before you commit.
Some people go without the tie (in other words, an 'air tie'), and this can work for some outfits. As is rule of thumb, if it looks better without the tie then go for it – but if the overall look is too messy, then it's probably best to stick to tradition.
Another accessory to consider is the humble cufflink. You should pop one through the designated hole on each sleeve, so that they peek out slightly from the arm of your jacket. Black tie events call for classic metals, like copper or gold, as well as paired back shapes for a sophisticated finish. If you're after something a little extra, opt for a lapel pin in a matching metal or design.
Where Can I Source My Wardrobe?
As pretty as it is, formalwear can cost a pretty penny – and will likely never be used again after the event has passed. You can opt for more eco-friendly alternatives (and find some real treasures) on rental and resale platforms. We've rounded up our favourite here.
If you're up for something with a bit of history behind it, you can also try digging around in some vintage shops for some inspiration.
Featured image: Cottonbro Studio, Unsplash