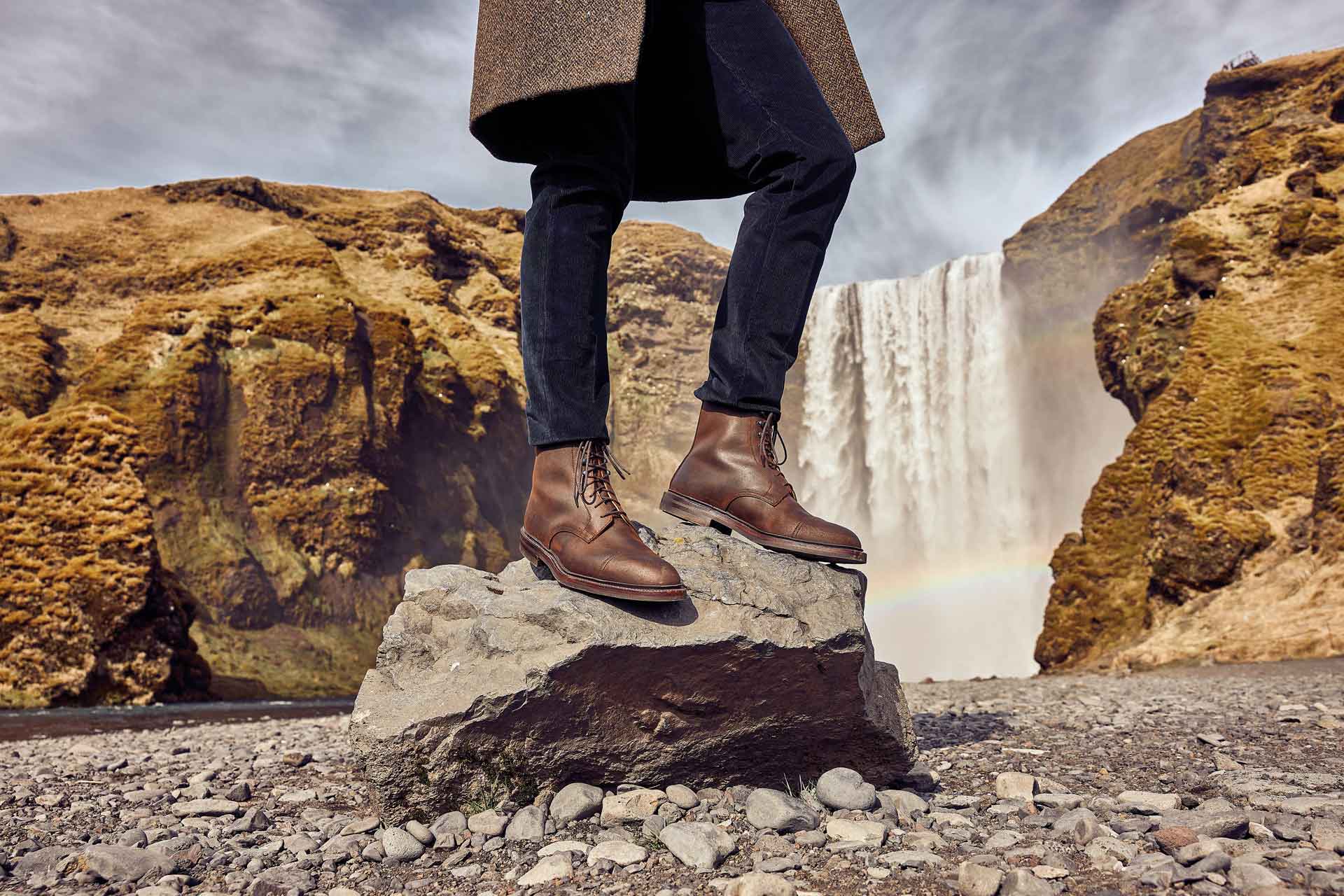 The Story Behind Crockett & Jones, The Heritage English Shoemaker
---
Crockett & Jones is a Great British Brand 2023
Crockett & Jones is an entry in our Great British Brands 2023 book. 
Crockett & Jones: Great British Brand 2023
'Crockett & Jones stands for the quality of our materials and construction. A pair of our classic Oxford-style shoes is as good today as it was over a decade ago. The more we build on our core strengths the more we're recognised in the market. However, like most brands, we're facing supply chain disruption and price rises and are still not back to normal. Luckily, during lockdown we took the important step of rebuilding our website and converted a building to house our new e-commerce department. 
'We've built the European business steadily for 30 years. Japan's a big market and we've been gradually growing in Hong Kong, Australia, Bangkok, Singapore and China. Today we've got a strong, loyal, global customer base, with shoe fanatics prepared to spend over £500 on a pair of shoes, though ours are as sensibly priced as possible, regularly attracting multiple purchases. There's a subtle balance between moving with the times and not losing our Englishness. Over the last ten years, the athletic, casual look has taken over and sneakers became such a market force that people thought they'd threaten the shoe industry. But we knew there would always be enough customers for our quality shoes so we gained by standing firm. 
'Having said that, post-Covid and with global warming and hotter offices, there's an even bigger trend away from formal menswear. So, we've developed more relaxed loafers with flexible soles and softer linings, which have been very successful online and will be in stores from spring. We're also making more casual boots with a cleated rubber sole, as well matched with denim as with a woollen suit. Today our e-commerce is thriving and we have 13 stores around the world, and many more stockists to boot, but customers love shopping in our stores for our knowledgeable staff and excellent service.' Jonathan Jones, CEO
Brand Timeline
1879
Crockett & Jones founded in Northampton by Charles Jones and Sir James Crockett, producing men's boots.
1924
The Duke of York (later George VI) visits the factory and the brand is honoured with Royal Patronage.
1990
The brand receives the Queen's Award for Export Achievement, at the Silver Jubilee of the Queen's Award Scheme.
2017
In April 2017 Crockett & Jones is proudly awarded a Royal Warrant by HRH The Prince of Wales, now Charles III.
DID YOU KNOW? 
Sir Ernest Shackleton wore Crockett & Jones footwear for the second time on his Endurance Expedition, which was famously stranded in the Antarctic.

Crockett & Jones produced three million pairs of boots and shoes for World War I. 

In 2012, Crockett & Jones supplied four styles to the Bond film Skyfall, then all the footwear for Spectre in 2015, resulting in a 2020 official partnership with EON Productions for No Time to Die. 

Crockett & Jones is the largest employer in North Northamptonshire with over 300 factory and operations staff based at its Perry Street, Northampton factory. 

Today, Crockett & Jones produces more than 100,000 pairs of shoes or boots a year. 
CROCKETT & JONES
92 Jermyn Street, London, SW1Y 6JE
+44 (0)20 7839 5239