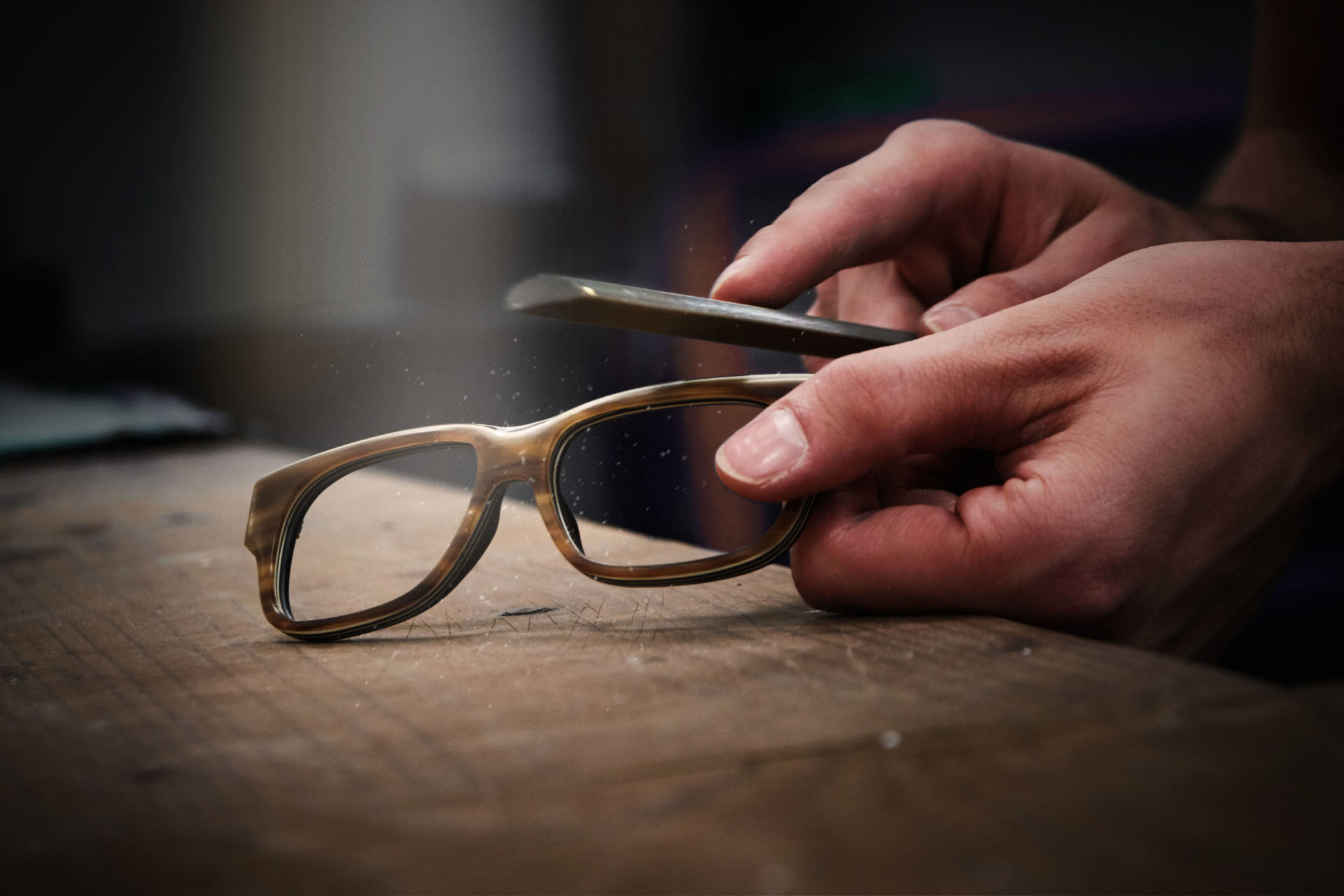 Celebrating 20 Years of Bespoke with Luxury Eyewear Brand Tom Davies
---
Tom Davies promises a bespoke experience like no other at his eyewear clinic
For Tom Davies, glasses are more than just a means of seeing; they're a stylish mode of self-expression. And while a good pair of glasses will go a long way, bespoke frames will last you a lifetime. With his self-named clinic marking two decades in business this year, Tom Davies has a lot to celebrate. We sit down with London's expert in eyewear to look back over his career, the evolution of bespoke and what to expect from a visit to his clinic.
Celebrating 20 Years of Bespoke with Luxury Eyewear Brand Tom Davies
With five boutique stores scattered across London, Tom Davies has made quite the name for itself as the leading bespoke opticians. It's founder, Tom, kicked things off in 2002 after having designed bespoke frames for friends and family – and soon went on to kit out some of the biggest bespectacled names out there, including musicians Ed Sheeran and Matthew Bellamy, culinary legend Heston Blumenthal, and movie legends Angelina Jolie and Carrie Fisher.
And speaking of Hollywood, a number of Tom Davies' bespoke frames have featured in blockbuster films and helped create the look of some of our favourite onscreen characters. Neo, Trinity and Morpheus don their signature black sunglasses as they take down the Matrix, Henry Cavill's Clark Kent keeps his hero identity under wraps with his signature black frames, and multiple pairs of glasses track Emma Stone's transformation into the infamous Disney villain Cruella de Vil.
But 'glasses glamour' is certainly not limited to fantastical films, celebrity chefs and rockstars; Tom creates bespoke frames for anyone that wants to invest in an eyewear wardrobe. Interested? Here's everything you need to know, as told by Tom himself…
What is bespoke eyewear?
When I started out two decades ago in eyewear, I was struck by the fact people didn't really love their glasses, despite how they looked and performed. I quickly decided that I was going to make eyewear that people would really want to wear, and bespoke was the only way I could really achieve this. Imagine frames which could make you look younger, more dynamic, and were more like a cherished accessory than a medical device (which don't pinch your head or slip down your nose). How can this be achieved with an off-the-shelf product when everyone is so different? It can't be. So, I started making glasses bespoke to each customer, based on their needs – and the business is now celebrating its 20th anniversary, which is amazing.
Can you tell us about the experience we can expect in store?
Perhaps the thing people notice the most is the time we spend with them. For example, our eye exam lasts for about an hour. What is wrong with your eyes and what your brain thinks is wrong are sometimes separate things. We need to design a prescription for your work, life and personality. We believe that your vision is more than being able to read some letters on a screen, so, in the hour we have together, we'll also take you through some health checks (we can check for future illnesses like dementia, high blood pressure and diabetes, to name but a few).
After the best eyetest in the world, one of my designers will help you find some frames. You don't need to shop yourself (although you can if you want to!), we will present all the frames in the store which could work for you. Then we set about making adjustments to make them perfect. We sometimes change very little, we often change quite a lot.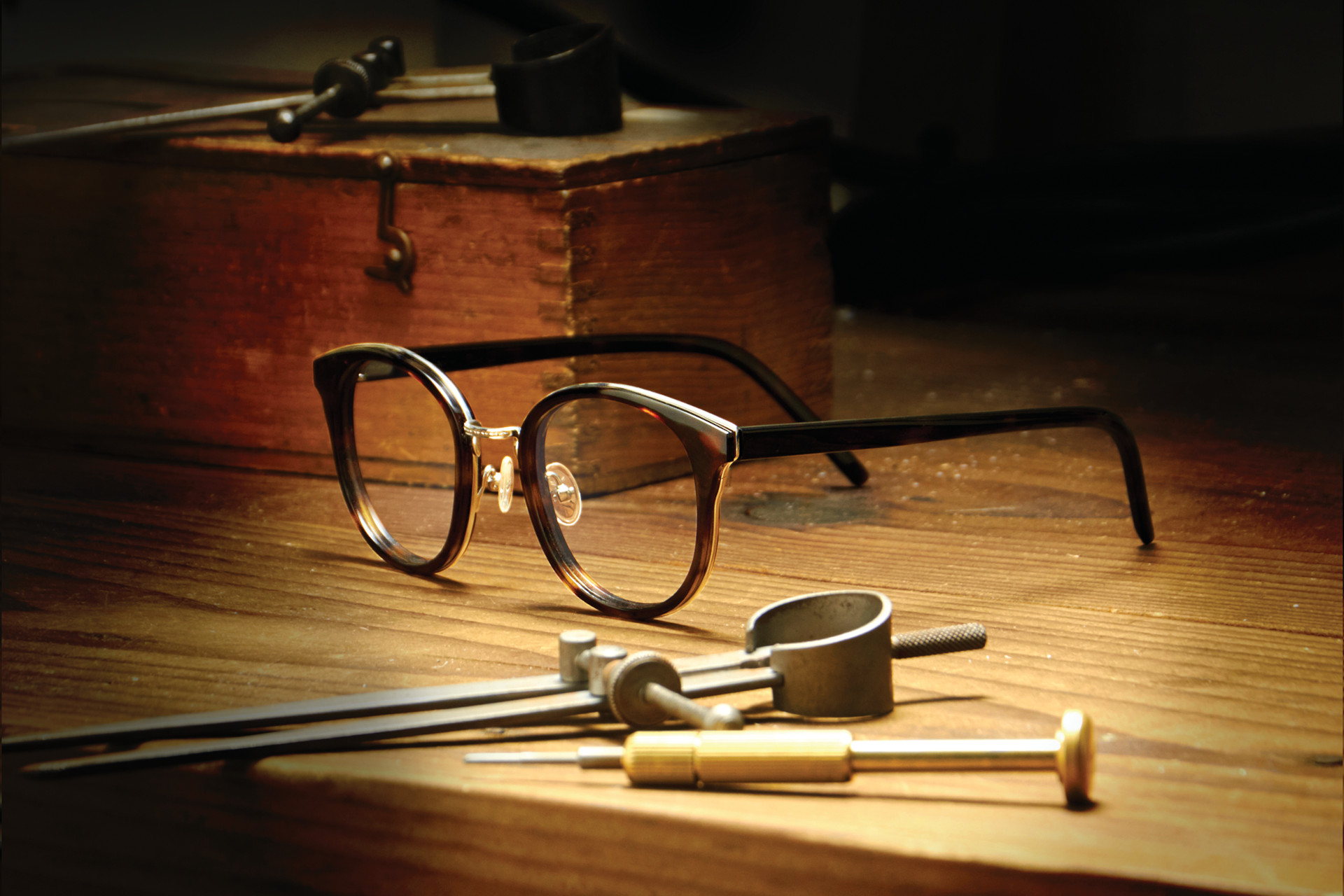 What steps are involved to get to the final pair of frames?
It always starts with a style you like. Then we look at your natural features – this is your brow line, how you wear your hair, your skin tones, bags under your eyes, head width, ear position – everything is considered. There will also be a discussion about you and your life. We will advise on what the frames say about you and what they communicate, and we can amplify personality traits or we can soften them. It's all very personal to you.
And what should we have in mind before booking a bespoke design consultation?
The whole process will take about six weeks, and will require an extra visit. Bespoke frames will also cost twice as much as regular glasses, but it's a small investment for something which will change your life.
Ideally, you'd also like to consider investing in two pairs. Glasses can be so powerful in terms of your image and personality, and when you only have one frame you tend to limit yourself in terms of self-expression. I recommend you keep at least three frames running – two new pairs and an existing pair – to start you on your journey to an eyewear wardrobe.
What role does ZEISS play in your clinics?
When I opened my first store in Sloane Square, I thought: 'what is the best eye test in the world?' ZEISS not only invented the varifocal, it also invented a lot of the test equipment we use today. My clinics have hospital grade equipment in them (a lot hospitals actually refer customers to us as the kit we have is better than theirs) and this equipment feeds directly into the creation of bespoke lenses. If you want the best vision possible, combining the equipment and lenses with a bespoke frame is really the ultimate in eyewear. I love the frames but there is no one better than ZEISS for the vision.
Any highlights from your career that you feel have elevated the reputation of bespoke?
I've made people cry when they see themselves in their glasses, and they're are often amazed by the difference in their vision. I'm also quite proud of instances where we've saved people's lives with early diagnosis of life-threatening conditions other opticians have missed. My business thrives off recommendations and referrals, and what we do dosn't exist in any other business. I'm so proud of my team and everything we do, so we're always celebrating one thing or another.
Has the experience of creating and finding bespoke eyewear changed at all in the last 20 years?
Bespoke has always been there; early glasses were all bespoke. I think the difference is the linking up of our bespoke service with the clinical side of things. That total control over the end-to-end product is what's really evolving. We are planning additional new clinical services as well as developing new exciting products. The trick is not to stand still. There is always something new to keep us on our toes.
And how do you think it will evolve in the future?
One of the biggest changes has been the amount of frames people are buying. With bespoke you have total control over the product. For some that means buying frames for different looks, for others its for different uses, such as Zoom calls, going out or just playing golf. 20 years ago, people bought one frame for all purposes and expected them to last at least three years. These days, people are starting to realise the importance of eyewear and how it can be a positive and cherished accessory. My job is simply to make sure everyone's frame is a winner.
DISCOVER
To find out more about Tom and his work, please visit tdtomdavies.com
Images courtesy of Tom Davies