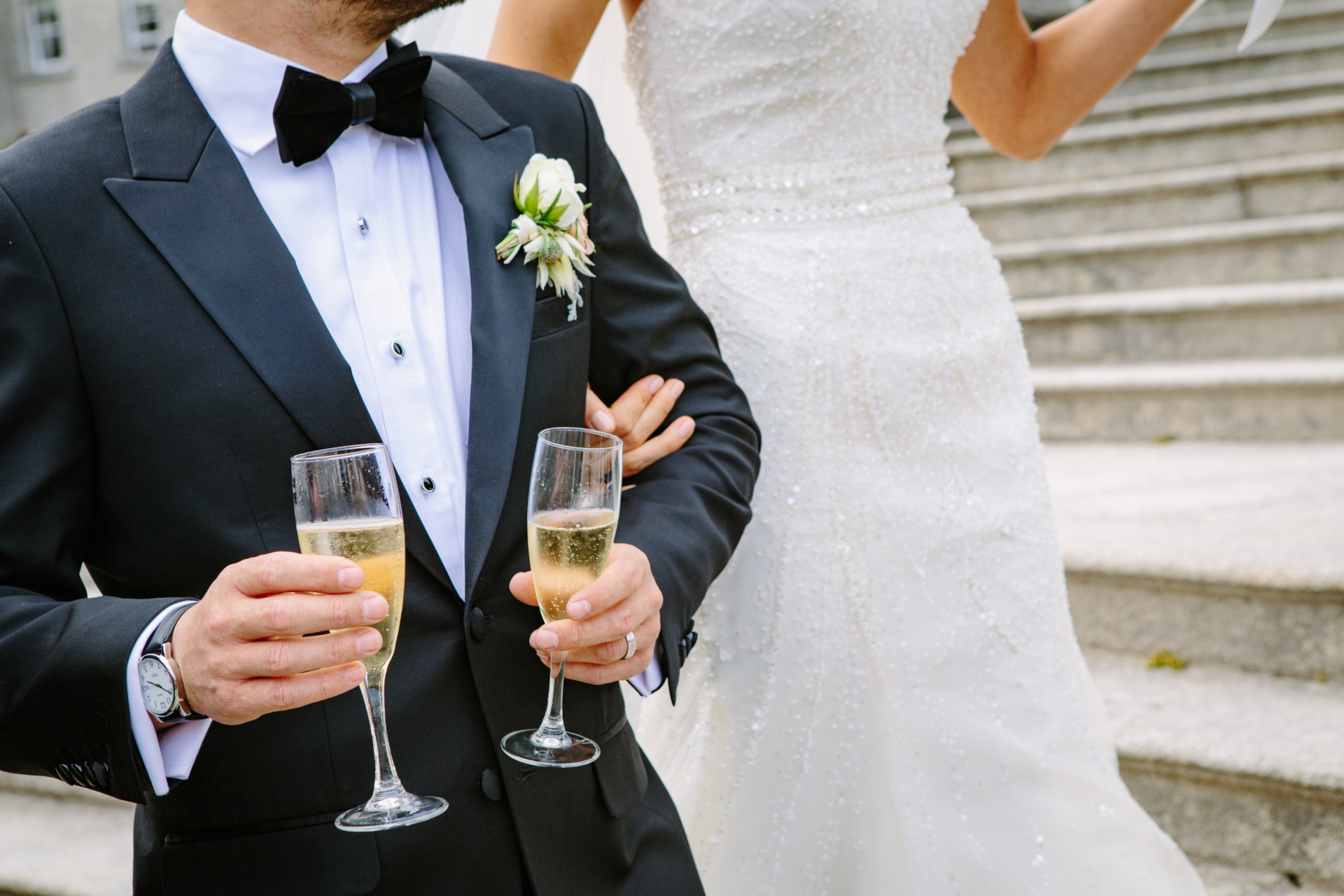 Gorgeous Grooms: 11 Of The Best Wedding Suits For Men
---
How to make your wedding wardrobe your strong suit
With wedding bells drawing nearer and preparations in place, the one thing left for the lucky groom to do is find his suit for the big day. If you're umming and ahing about what to wear, you're in luck: we've put together a streamlined guide to finding the perfect men's wedding suit, as well as our favourite seasonal suiting picks to get you started.
A Guide To Wedding Suit Shopping
Suit Style
The first thing to consider is the style of you wedding suit. Depending on the formalness, location and season, you might want change your go-to style for something a little more occasion-appropriate. After all, you won't want to be wearing a shirt, waistcoat and tails on the beach in Spain, do you?
Lucky for you, we've outlined some key styles below:
Formal Weddings
Morning suits feature a long, formal jacket with tails, and are worn with a waistcoat and striped trousers. This style hails from the mid 19th century and is favoured by the likes of the British royal family for special occasions.
Evening tailcoats (or dress coats) is similar to the morning suit, but where the latter is single-breasted and fastens, the former features a double-breasted model with a sharply cut-away skirt and silk-faced lapels so that it doesn't fasten.
Tuxedos are a popular choice for grooms (and a certain famous British spy who likes his martini shaken, not stirred). This is a timeless style that can be worn at multiple other formal occasions and is typically paired with a black tie, although this can be updated to fit a specific colour theme if you so wish.
Dinner suits are a sleek and minimal choice, usually worn in black by grooms on their wedding day. There's a lot of flexibility with styling here, with options for single- and double-breasted blazers available to choose from.
Semi-Formal
A blazer or suit jacket usually takes the place of tuxedos and dinner jackets at less formal affairs. Whether single- or double-breasted, worn with a shirt and slacks or as a three-piece with a waistcoat, these can look sleek and elegant without being too dressy.
Wedding suits, funnily enough, are also a popular choice for the big day. Again, these are less formal than the likes of the tux, but still feature the all-important tailored jacket and suit trousers. There are many variations of the wedding suit, meaning they also tend to work for other semi-formal occasions later down the line.
Casual
Two-piece suits are ideal for more relaxed ceremonies or a quick change at the reception. Anything goes with this suit, from colourful styles and patterns to mix-and-matching of the blazer, waistcoat, trousers and shirt combo.
Colour, Texture & Pattern
While tradition may insist on a black tux, a grey morning suit or a navy two-piece, grooms these days are keen to try something new when it comes to their wedding day. As with a wedding dress, a suit should reflect the person wearing it and give some insight on their personality – and colour, pattern and texture play a big part in this.
Grooms that want the best of both worlds can opt for a more traditional jacket for the ceremony and something more casual for the reception, such as a smoking jacket or a colourful tuxedo. Shades of green and blue are always popular in this case, but don't be afraid to push the boat out and try something more fun.
There's also nothing wrong with staying wholly traditional (a black tux is a classic for a reason, after all) or contemporary (stay true to what you like, rather than what everyone else wants). As long as you're happy with the overall look and nothing clashes with any colour schemes going on in the background, you're good to go.
Seasonal Shades
In the colder months, you might find yourself drawn to heavier fabrics that will keep you warm and toasty throughout the ceremony. With velvet, for example, you can find jackets and trousers in rich jewel tones that really complement autumnal or wintery themes, and with wool you can play with check and texture in various shades.
Summer or destination weddings can even be an even bigger opportunity to try new suit styles. More casual styles in fabrics like linen will be much more comfortable compared to the likes of wool or velvet, and are usually available in much lighter colours like beige, peach, sage and stone.
Wearing White
You can even go matchy-matchy with the bride-to-be and try out a white suit for the occasion, or a light pair of trousers and white shirt if the weather is warm enough. Just make sure to coordinate with the bride properly; if her dress is ivory, your suit should also be ivory (not white).
Kilts
One of the most common ways grooms introduce colour into their wedding wardrobe (in the UK, at least) is through kilts. The knee-length, skirt-like garment dates back as far as 16th century Scotland and comes in a tartan fabric that corresponds to the colour, check and weight of a certain family clan. Almost every every country in the world has some tartan link, but the most common are connected to Scottish, Irish, Welsh and English names.
Kilts usually reserved for special occasions, so a wedding is as good a time to crack one out as any. As per tradition, it's recommended to pair a kilt with a Prince Charlie jacket and waistcoat or an Argyll kilt jacket, as well as hose, garter flashes and a sporran.
Top Tip
It's also worth noting that if you already know the colour themes for your wedding (think flowers, place settings, bridesmaid dresses), then you'll want to opt for a suit in a colour that complements, rather than clashes, with the setup. When trying on suits in shops or at home, you can always grab a swatch of your colour theme to hold up against the fabric and see what works.
The Best Wedding Suits For Men