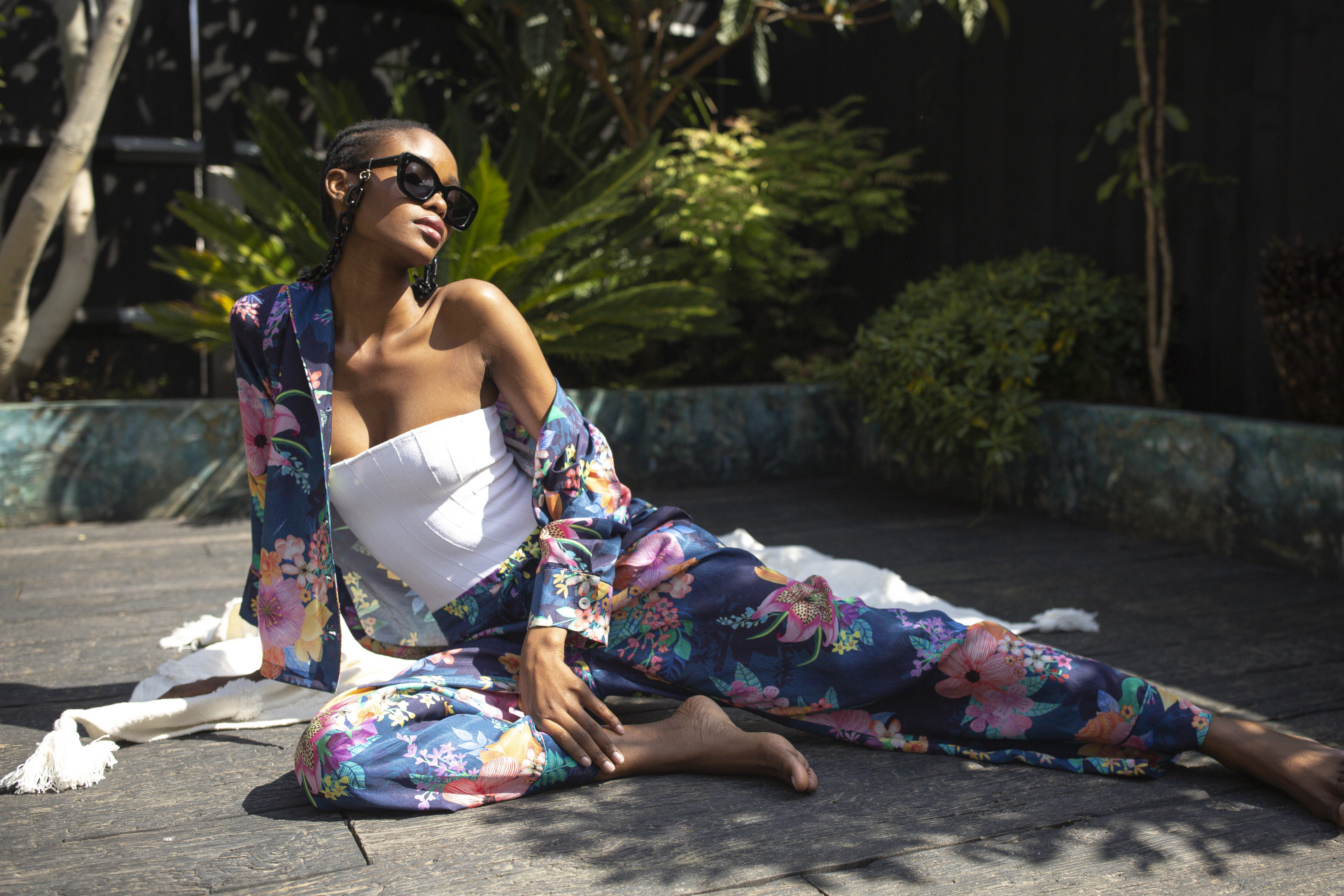 What is Vegan Fashion?
---
Are vegan materials the future of fashion?
What exactly is vegan fashion? The term has cropped up more and more in recent years, and is almost automatically linked to sustainable practices by the brands using it – whether or not this link is genuine. To find out more, we've enlisted the expertise of Gabrielle Cave, who has a degree in Textiles and Surface Design, and is the founder of Orchard Moon, a vegan silk fashion brand based in London.
What is Vegan Fashion?
'Vegan fashion is clothing and accessories which have been made without the use of any animal products or animal by-products,' says Gabrielle. 'The global vegan women's fashion industry is estimated to be worth 396.3 billion (US) dollars as of 2019 and is estimated to grow 13.7 per cent every year between 2020 and 2027. There is a growing cultural acceptance that animals are thinking, feeling beings who deserve to be treated with kindness and respect and not simply to be consumed as commodity.'
But despite its rather straightforward definition, there are a lot of misconceptions surrounding vegan fashion in general – especially when it comes to sustainability. 'There is the perception that vegan fashion automatically qualifies as being sustainable, but that is not the case. Just because something has been made without the use of animals or animal by-products doesn't mean that there are any guarantees of ethical or environmentally friendly production methods.'
Where do vegan materials come from?
'Vegan materials can be sourced from anywhere and everywhere,' Gabrielle continues. 'Everyday fibres like cotton and linen are naturally vegan because they are plant-based and don't contain any animal products. Orchard Moon uses sustainable fibres including TENCEL™️ and lyocell filament, which are derived from the wood pulp of trees from sustainably managed woodlands.'
Orchard Moon is renowned for its work with vegan silks, which are used to create colourful sets of pyjamas and loungewear for its customers. Gabrielle is passionate about avoiding regular silks: 'Vegan materials are not a compromise, and our vegan pyjamas feel super silky just like the real thing but are completely cruelty-free.
'Luxurious loungewear is typically made from silk, because it feels so good and is a natural fibre; but not everyone knows that silk is not vegan or cruelty-free. Silk is made using silk worm cocoons, and the silk worm caterpillars (the bombyx mori moth larvae) are killed while they are inside the cocoon using boiling water. It takes about 3000 silk worm cocoons to make just one pair of pyjamas. It is estimated that nearly one trillion silk worms are killed every year to create enough silk to feed the global demand.'
Can vegan fashion truly be considered sustainable?
Unfortunately, the answer isn't clear-cut. There are vegan materials that are better for the planet than others, without having a detrimental impact on animals. 'There are really great vegan alternatives for silk and silk-like fabrics which we specialise in, including TENCEL™️, lyocell, acetate, certified viscose and cupro which are cruelty free and don't damage the environment.'
But there are also vegan alternatives that aren't great in terms of their environmental impact, emphasises Gabrielle. 'Synthetic vegan alternatives for leather and suede, such as PU and PVC, are widely available but they are not necessarily environmentally friendly. PU and PVC materials have been around for many years, but only recently been given the 'vegan' moniker in an attempt by fast fashion brands to cash in on a trend and suggest it is more sustainable than it really is. It's an example of greenwashing, which is pervasive in the industry right now.'
So, should we all be opting for vegan materials going forward?
Gabrielle highlights that, more generally speaking, the real problem lies with our habit of over-consumption. 'Globally, we consume about 62 million tonnes of textiles per year, and 87 per cent of it ends up incinerated or dumped in landfill. Whether vegan or not, clothes dumped on landfill take decades to degrade and emit greenhouse gases.'
Addressing our habits and being more conscious of exactly what we're putting in our shopping baskets is the best starting point. 'Choosing high quality, ethically made pieces and taking really good care of them is the most environmentally friendly and sustainable thing you can do as a consumer.
'Look out for more environmentally friendly fabrics such as Tencel, lyocell, ecovero viscose, organic cotton and linen, ramie and hemp, and when choosing accessories look out for cork, wood, natural rubber, and natural fibres and try to avoid oil based materials such as polyester, nylon, PVC, PU and polyamide which release microplastics into the environment.'
There's some hope for the future, too. The fashion industry is getting better at introducing sustainable alternatives to the wider industry as well, meaning that we'll hopefully have more options when it comes to clothing that is both vegan and planet-friendly. 'There are some really amazing technological innovations available now including banana fibre, orange fibre, cactus leather and bio-based vegan leather alternatives. There's also been more in development including mushroom leather and microsilk which is really exciting for the textiles industry. We can engineer our way to a more sustainable fashion industry with technology.'
DISCOVER
Shop and learn more about Orchard Moon at orchardmoon.com
Featured image: Orchard Moon